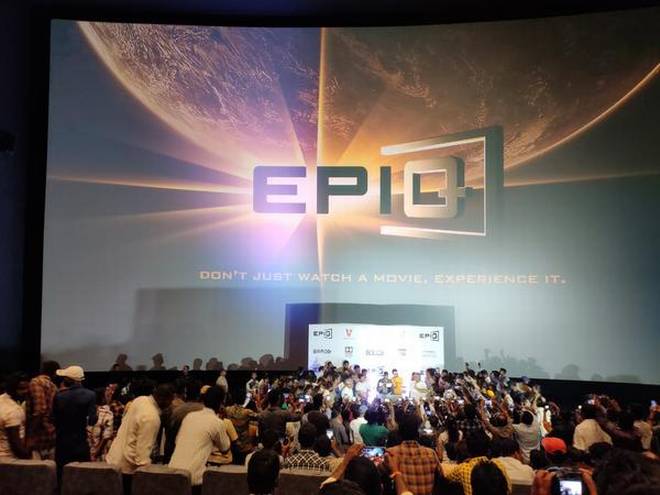 Imagine a screen 100 feet wide and 54 feet high. Well, actually, you don't need to imagine it any more. For, this is a reality. V Celluloid has come up with a screen of the aforementioned dimensions at Sullurupeta in Andhra Pradesh in the premium large-screen format of Epiq, powered by Qube. The screen opened yesterday (30th August) with Saaho.
The cinema is owned by Vamsi who is also one of the two producers of Saaho. The formal launching was done on 29th August in the midst of political dignitaries, makers of Saaho and Ram Charan, producer of Syeraa Narasimha Reddy.
The cinema has seating as in a stadium for the ultimate viewing pleasure of every person in the cinema hall. Vamsi selected Sullurupeta as the venue for not just India's but also South Asia's largest screen as he feels, the centre has the potential of servicing such a luxurious cinema.
Senthil and Jayendra Panchapakesan of Qube were a picture of joy at the launching as the largest screen of India is a result of the efforts of the two of them and their team at Qube. It entailed two years of work to make this a reality, they informed. Sujeeth, director of Saaho, beamed, "When you make such large-canvas films as Saaho, it is sheer delight to watch the film on as large a screen as this one." When asked whether his film was bigger or the new screen, he quipped, "Watching my film on this screen is the biggest experience." Jayendra of Qube remarked, "We don't want people to just watch a film, we want them to experience it. Epiq allows them to be a part of the film because it is a larger-than-life experience." Added Senthil, "Watching a film on Epiq is as interactive as a movie-watching experience can get." And indeed that was the case when scenes from films like Saaho, Syeraa Narasimha Reddy, and Hollywood's Angel Has Fallen and Ad Astra were screened for the invitees at the event on 29th.
The public in South India worships its heroes and so the focus in any film function shifts to the popular hero once he arrives on the scene. Ram Charan is no exception. The superstar had the crowds in a frenzy once he arrived at the launching of Epiq. The bouncers had a tough time controlling the public inside the auditorium all through the time Ram Charan was in the cinema hall. Clearly, if there was anything that was bigger than the screen on 29th August at Sullurupeta, it was the craze for the demi-God that Ram Charan is.