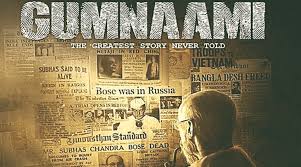 Released last week, Shree Ventatesh Films' Gumnaami (dubbed from the Bengali film of the same name) is about the mystery surrounding the death/disappearance of freedom fighter Netaji Subhas Chandra Bose.
Srijit Mukherji's story and screenplay are interesting but since it is still a mystery whether Bose died in 1945 or 1981 or later, the drama in the film remains inconclusive. Besides, a lot has been said, over the years, about the mystery relating to Bose. Dialogues are okay.
Prosenjit Chatterjee does very well as Netaji Subhas Chandra Bose. Anirban Bhattacharya is fair as Chandrachur Dhar. Tanusree Chakraborty lends decent support as Ronita Dhar. Others are adequate.
Srijit Mukherji's direction is so-so. Music and background score (by Indraadip Dasgupta) are okay. Soumik Haldar's camerawork is nice. Pronoy Dasgupta's editing could've been crisper. Dubbing is fairly good.
On the whole, Gumnaami has less appeal for the Hindi-speaking audiences. It will, therefore, go largely unnoticed.