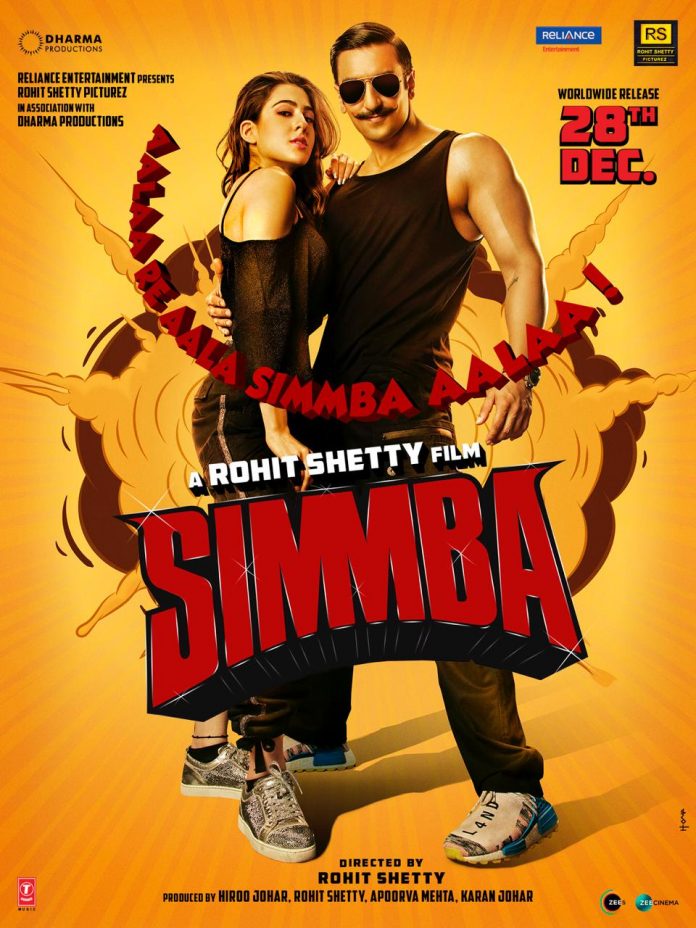 Reliance Entertainment, Rohit Shetty Picturez and Dharma Productions' Simmba (UA) is a cop story and is inspired by Telugu hit Temper.
Sangram Bhalerao, also known as Simmba (Ranveer Singh), is a corrupt cop and is posted by the home minister (Uday Tikekar) to the Miramar police station in Goa with the express instruction to not mess with Durva Ranade (Sonu Sood), the local don there. Almost the entire police station consists of corrupt cops and so, as head of the cop station, Simmba has no problem in making the place his home. However, there is one honest hawaldar, Nityanand Mohile (Ashutosh Rana), who can't see eye to eye with the corrupt Simmba.
Shagun (Sara Ali Khan) runs a tiffin service which provides food to the cops at Miramar police station, and Simmba falls in love with her at first sight. Soon, Shagun also falls in love with Simmba. Like Simmba, Shagun is also an orphan.
One day, Aakruti Dave (Vaidehi Parashurami), a medical student who doubles up as a night teacher for kids from poor families, goes to the Miramar cop station to complain against a pub run by Durva Ranade because Durva and his two brothers, Gaurav (Saurabh Gokhale) and Sadashiv (Amrit Singh), smuggle drugs by making her innocent students their carriers. Aakruti endears herself to Simmba who starts treating her like a younger sister.
As bad luck would have it, Aakruti is raped and murdered by Gaurav and Sadashiv Ranade after being caught red-handed one night by the duo, trying to gather evidence about their drug dealings by shooting a video on her mobile phone. This incident shakes Simmba so terribly that he swears revenge. He now challenges the very Durva Ranade and his brothers, whose paid stooge he has been. In fact, he now wakes up to the importance of being clean and principled.
In court, Simmba soon realises that Durva is so powerful that buying out cops and destroying evidence is a left-hand job for him. Driven by his brotherly love for Aakruti and the spirit of revenge, Simmba takes law into his own hands to avenge the rape and murder. Even as it seems that Simm­ba is doing the impossible, he succeeds but only partially. Now, there's the fear that Simmba's game would be up in the court of law. Judge Smita Palukar (Ashwini Kalsekar) heeds the suggestion of defence lawyer Joshi (Ashok Samarth) and orders a special investigation into the murders of Gaurav and Sadashiv Ranade at the hands of Simmba. Appointed to head the special investigation is Singham (Ajay Devgan) who not only investigates but also comes to the rescue of Simmba.
The film is inspired by Telugu hit Temper, the story of which was written by Vakkantham Vamsi. The story of this film, by Rohit Shetty, is interesting and although it is oft-repeated, the new angle of punishing the rapists is both, contemporary and quite fresh. Besides, Rohit Shetty has added a lot of ladies' sentiments in the story, making the drama a family fare. Since the crux of the story is a rape, he has very cleverly shown female members in different families, including the family of Durva Ranade, and their reactions to the heinous crime.
Yunus Sajawal's screenplay, with additional screenplay by Sajid Samji, is both, engaging and interesting. It is so fast-paced that it doesn't give the audience time to think. The first half is replete with light moments which keep the viewers fully entertained. Simmba's incorrect English dialogues, that too, spoken in Maharashtrian style, add to the humour quotient. The track of Simmba breaking into parodies of hit Bollywood songs is well-thought and will bring a smile to people's faces. The angle of Simmba 'making' the families of his adversaries his own families deserves special marks.
The film takes a serious turn just a little before interval when Aakruti is raped and murdered. The second half is serious but yet, very engrossing and engaging. It also offers scope for emotions. The scene in which Simmba asks Vaman Rao (Arun Nalavade), an old man whom he (Simmba) had wronged, to beat him, is exhilarating and very emotional. Equally exhilarating is the scene in which Simmba's aide, Santosh Tavde (Siddharth Jadhav), asks him to punish the rapists. The scene in which Simmba asks the lady cops to teach Gaurav and Sadashiv Ranade the lesson of their lives is also hair-raising. There is also the scene in which head constable Nityanand Mohile salutes Simmba – which shakes the audience emotionally and makes the weak-hearted cry tears of joy. Several of the above scenes will draw huge rounds of applause in the cinema halls. Of course, the loudest round of applause comes when Singham (Ajay Devgan) enters the scene. The cinema halls will resound with thunderous applause when Singham comes on the screen for the first time. In fact, there will be 'mini earthquakes' felt in the cinemas at Singham's entry. The climax, after that, is simply earth-shattering and the audience will experience a rush of adrenaline throughout the action-oriented climax. Even the courtroom scene thereafter is very fulfilling. The last twist in the tale (not being revealed here) is not just new for the Indian audience but it will also bring the house down with excitement. All in all, the screenplay is so phenomenal, especially after interval, that it will make the viewers' hearts dance with joy.
Farhad Samji's dialogues in the first half are light-hearted and very entertaining. His dialogues post-interval are weighty and several of them are clapworthy.
Ranveer Singh plays to the gallery and his character is so endearing that he becomes the darling of the audience in no time. If he is lovable in light scenes, he is simply outstanding in emotional, dramatic and melodramatic scenes. He breathes fire into the action scenes. With this film, Ranveer's popularity among womenfolk and masses will zoom up to dizzy heights. His "mind ijj blowing" dialogue will be loved by the viewers and so will his "Tell me something I don't know" dialogue. Sara Ali Khan gets limited scope but comes like a whiff of fresh air. She looks both, pretty and glamorous, and acts with effortless ease. Both the lead actors are graceful dancers. Ajay Devgan is absolutely mesmerising in a special appearance. His personality (as the uniformed Singham) is magnetic. His performance is fire-brand. Ashutosh Rana shines in the role of Nityanand Mohile, with a first-rate performance. Sonu Sood does a fine job as Durva Ranade and stands his own. Siddharth Jadhav is superb as Santosh Tavde. Vaidehi Parashurami makes her presence felt in the role of Aakruti Dave. As her father, Nandu Madhav has his moments. Ashwini Kalsekar is effective as judge Smita Palukar. Ashok Samarth does well as defence lawyer Joshi. Ganesh Yadav lends good support as lawyer Savalkar. Saurabh Gokhale (as Gaurav Ranade) and Amrit Singh (as Sadashiv Ranade) are adequate. Arun Nalawade stands out in a brief role as Vaman Rao. Neha Mahajan is natural in the role of Kavya. Ulka Gupta leaves a mark as Nandini. Uday Tikekar is effective as the home minister. Vipin Sharma does very well as corporator Cameron. Sarita Joshi is lovely as Durva's mother. Shriswara Dubey is realistic as Durva's wife. Suchitra Bandekar leaves an impression as Mrs. Mohile. Vijay Patkar (as Alok Borkar), Anil Mange (as Purab), Sulbha Arya, Aarti Kulkarni (as the lady working in Shagun's Good Food), Sahil Joshi (as Chhotu), Sneha Joshi (as lady cop Gauri), Dheeraj (as Ravjeet Singh) and the rest lend good support.
Rohit Shetty's direction is extraordinary. His narration makes the drama believable. He has given the film a huge canvas and has spared no efforts to make it a visual delight. There are a number of scenes which show Shetty's genius as a filmmaker. Music (Tanishk Bagchi, Lijo George and DJ Chetas) is very good. The remixed version of 'Aankh maare' is already a rage and the remixed version of 'Tere bin' is also melodious. The other songs are definitely appealing. Lyrics (Shabbir Ahmed, Rashmi-Virag and Kumaar) are in synch with the mood of the film. Song picturisations (by Ganesh Acharya and Raju Khan) are eye-filling. Special mention must be made of Ganesh Acharya's choreography of 'Aankh maare' because, like the song, the dance steps have also become very popular. Besides, bringing in the actors of Rohit Shetty's Golmaal films, viz. Arshad Warsi, Tusshar Kapoor, Shreyas Talpade and Kunal Khemu, is a good gimmick. Music supervisor Azeem Dayani needs separate mention. Amar Mohile and Thaman S.'s background music is phenomenal. It enhances the impact of the dramatic, emotional and action scenes manifold. Jomon T. John's cinematography (with additional camerawork by Girish Kant) is outstanding and makes the film look grand. Rohit Shetty's action design and Sunil Rodrigues' action and stunts are thoroughly exciting without being too gruesome. In other words, even the family audiences and ladies will enjoy the action, stunts and thrills. Swapnil Bhalerao and Madhur Madhavan's production designing is fantastic. Bunty Nagi's editing is super-sharp.
On the whole, Simmba is a super-hit fare. It will be loved by the classes, the masses and the families, by the young and the old, by the men, women, girls and guys. It will fetch bumper profits for all concerned. The word-of-mouth will be so strong that collections are bound to shoot up after the ordinary start in the morning shows on the first day. To use Simmba's language, the film is a runaway 'mind ijj blowing' hit!Business in Maharashtra will be the best due to the Maharashtrian flavour of the film.
Released on 28-12-'18 at Regal (daily 4 shows) and other cinemas of Bombay by Reliance Entertainment. Publicity: extraordinary. Opening: good. …….Also released all over. Opening was so-so at most of the places, but it picked up markedly as the day progressed.