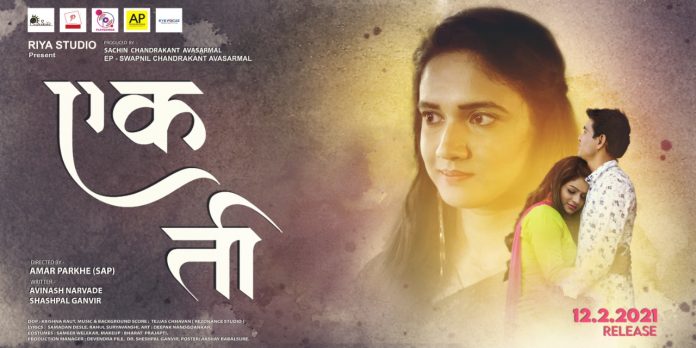 Riya Studios' Ek Ti (Marathi; UA) is a love triangle. The story is about one boy and two girls.
Avinash Narvade and Sheshpal Ganvir have penned a routine story and an equally lacklustre screenplay. Even the duo's dialogues lack fire.
Tushar Baisane is ordinary. Rupali Jadhav does an average job. Pranjali Birari is so-so. Aniket Kelkar lends decent support. Prema Kiran is quite good. Vijay Kadam performs ably. Yash Gawade, Akanksha Sakarkar, Sheshpal Ganvir, Kunal Meshram, Swati Kadam, Rafiq Sheikh and Poonam Bedse lend routine support.
Amar Parkhe's direction is not upto the mark. Tejas Chavan's music and background music are functional. Lyrics (Samadan Desle and Rahul Suryavanshi) are alright. Krishna Raut's camerawork is fair. Sets (Deepak Nandgaonkar) are of an average standard. Editing is loose.
On the whole, Ek Ti does not have much to make a mark at the box-office.
Released on 12-2-'21 at Cinepolis Thane (daily 1 show) and other cinemas of Bombay thru A.P. Communications. Publicity & opening: dull.