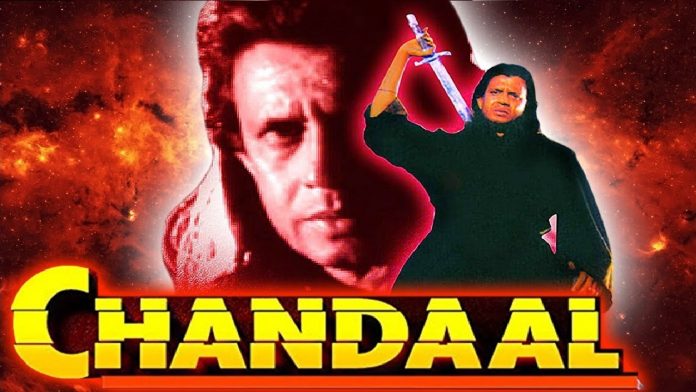 CHANDAAL
Aabha Films' Chandaal (A) is the usual revenge drama of a wronged police officer. A don kills the family members of the police inspector because the latter has, in the discharge of his duties, killed his (don's) son and also chopped off his hand. The blame for the murders of the family members comes on the honest police officer who is, therefore, jailed. A lady-journalist pleads his case with the President and succeeds in getting him freed after five years. To his horror, he finds that his house has been converted into a cemetery. The ex-police inspector then decides to himself don the mantle of the chandaal and also seeks revenge on the don and his other sons.
The story is routine and oft-repeated. Screenplay, even though one of convenience, does not let the viewer get bored, at least in the second half, because it is quite fast-paced. There are, however, a few dull moments before interval. Dialogues are good at places.
Mithun Chakraborty does a good job. Sneha is fair. Rami Reddy is alright but filmmakers should realise that his dubbing (dialogue delivery and diction) is so poor that the impact of his acting is lost. Punit Issar is okay. Altaf Raja, in a song sequence, is alright. His song ('Kar lo pyar'), although having no proper situation, is very good. Asrani's comedy, aimed at front-benchers, lends some relief in the second half. Hemant Birje, Jack Gaud, Avtar Gill, Kasam Ali, Ashwin Kaushal, Lekha Govil, Pinky Chinoy and the rest provide adequate support.
T.L.V. Prasad's direction is mechanical. Music (Anand Milind) is fair but there's not even one number which could be rated as hit or semi-hit. The better songs, besides Altaf Raja's, are 'Husn tera hai kudiye', 'Tu ladki hai teekhi mirchi' and 'Ras malai'. Song picturisations are routine and the romantic ones are all dream sequences. Camerawork is of a reasonable standard. Production and other technical values are appropriate. Action scenes are fairly nice but too many cinematic liberties have been taken in stunts.
On the whole, reasonably priced Chandaal should do reasonable business on the strength of patronage of the masses.
Released on 13-3-'98 at Alankar and 17 other cinemas of Bombay by Hum Films thru Balaji Enterprises. Publicity: good. Opening: good (due to Holi holiday). …….Also released all over.
LATEST POSITION
Monsoon (dubbed) is doing very well in C.I. (opened this week in Gwalior to very good response).
Zor 4th week Bombay (6 days) 4,43,646 (61.65%) from 3 cinemas (4 on F.H.); Ahmedabad 50,825 (2 unrecd.); Pune 2,75,459 from 3 cinemas (1 in matinee), 1st week Barsi 50,947 from 2 cinemas (14 shows at both the cinemas); 4th week Delhi (6 days) 3,55,475 from 3 cinemas (4 on F.H.); Kanpur 84,559 from 2 cinemas, Lucknow 1,37,888, Allahabad 36,000; Calcutta (6 days) 1,07,480; Jabalpur (6 days) 36,644, Amravati (6 days) 35,235, Akola 25,773, total 3,21,106, Raipur (6 days) 23,565; Bhopal (6 days) 43,345; Hyderabad 2,42,027 from 2 cinemas (1 in noon).
Kama Sutra – A Tale Of Love (dubbed) 5th week Bombay (6 days) 7,51,624 (54%) from 4 cinemas (3 on F.H.); Ahmedabad 1,12,297 (3 unrecd.), 1st week Bharuch (gross) 2,15,924; 5th week Pune 1,21,490 from 2 cinemas (1 in matinee); Delhi (6 days) 13,03,448 from 9 cinemas; Kanpur 77,726, Lucknow 1,08,179, Allahabad 33,000; Calcutta 2,23,795 from 2 cinemas; Nagpur 48,487, 1st week Jabalpur (6 days) 1,91,952, 2nd Jalgaon 71,086 (1st 1,85,000); 5th week Indore (6 days) 40,000, Bhopal (6 days) 41,904.
…………
_________
Titanic (E.) is extraordinary. 1st week Bombay 14,99,336 from 2 cinemas (collections of 1 cinema are for 6 days only); Calcutta (6 days) 3,00,180.
SATYEN PAL CHAUDHRY BEREAVED
Producer Satyendra Pal Chaudhry's 17-year-old son, Viraj, committed suicide on 9th March at his residence in Bombay. After he had consumed poison, the boy was rushed to Nanavati Hospital where he died late evening. The pressure of the oncoming examination (he was studying in Std. XII) is said to be the cause of the suicide. The chautha ceremony on 12th was largely attended by industry people.
UPENDRA TRIVEDI ELECTED MP
Gujarati film actor Upendra Trivedi won the Lok Sabha elections from the Bhiloda constituency in Sabarkantha district of Gujarat. He contested independently and defeated his nearest rival by a handsome majority.
CHANDAN SINGH TYAGI ELECTED MADEA PRESIDENT
Chandan Singh Tyagi was elected president of the Movie Action Dummy Effect Association at its sixth annual general meeting held on 8th March at Natraj Studios. Arun Patil was elected senior vice president, and Vijendra Tyagi, vice president. Anthony Fernandes was elected general secretary, and R.I. Shaikh and Ajay Dwivedi, joint secretaries. Gulab Shingare was elected treasurer.
Ashok Patil, Suresh Gohil, Tanveer Ahmed, Rajendra Tyagi, Sadanand Poojary, Maxy Fernandes, Mohd. Salim, Javed Sayyed, Babu Sistla, Mahendra Yadav, Narayan Sharma and Mohd. Iqbal were elected other members of the executive committee.
Chandan Singh Tyagi, Anthony Fernandes and Ajay Dwivedi will represent the MADEA in the General Council of the FWICE. Anthony Fernandes will represent it in the executive committee of the FWICE.
SOUTH BEAUTIES FOR BACHCHAN
It is mere coincidence but not a small one, this. Amitabh Bachchan's new films have him paired with South India beauties. He recently signed Suryavamsham (the Hindi title is unknown) opposite Tamil and Telugu film actress Soundarya. Mehul Kumar's Kohram stars Jaya Prada and Tabu (she is a Hyderabadi). His Bade Miyan Chote Miyan co-star is Ramya Krishna. Soon to be released Lal Baadshah has Amitabh in a double role; while the senior Bachchan is paired opposite Radhika, the younger Bachchan is opposite Shilpa Shetty (she is a Mangalorean). In S. Ramanathan's untitled film, Amitabh's co-star is Vijayashanti. Priyadarshan has signed Shobhana opposite the big B for Dariya. Incidentally, Shobhana (Malayalam film beauty) has already done a music video, 'Kabhi Kabhi', with him. Last but not the least, the Amitabh-starrer yet to see the light of the day, Yaar Meri Zindagi, co-stars Sudha Chandran. 
YOU ASKED IT
What should the budget of a Mithun starrer be?
– Less than Rs. 2 crore.
How many releases should a hero ideally have in one year?
– Three to four.
Will the Hindi (dubbed) and Tamil (original) versions of Jeans be released simultaneously?
– The Tamil version will come on 10th April while the Hindi dubbed version is fixed for release either on 24th April or in May.
Haven't we had too much of foreign shootings in films these days?
– But producers have been shooting in different countries and on newer locations, so what's the harm?
IN & OUT OF BOMBAY
Mr. Shyam Shroff and Mr. Shravan Shroff of Shringar Films, Bombay, are in the USA and will be back after six or seven days.
Mr. Kishore Kala of Vinayaka Films, Jaipur, will come to Bombay on 16th March.
Mr. Pawan Todi of Vinayaka Films, Jaipur, currently in Calcutta, will come to Bombay on 16th.
Mr. Naraindas Mukhija of Shree Navchitra Distributors P. Ltd., Jaipur, will reach Bombay (636-0106) on 17th/18th March.
Producer Boney Kapoor has gone to Madras and Hyderabad.
Film agent N.S. Bhalla returned from his foreign trip on 11th March.
DO YOU KNOW?
* This must be a record of sorts. Producer Rajiv Babbar has so far made six films, all of them with Mithun Chakraborty as hero. His seventh film also stars Mithun and he has announced his eighth, MAA KASAM, again with Mithun Chakraborty.
WHAT A DELIGHT!
* Delite cinema in Delhi has screened three films of Mukta Shakti Combines, which have completed 100 days. RAJA HINDUSTANI ran for 16 weeks, and PARDES and ISHQ, for 15 weeks each. Indeed, a delightful cinema for Mukta Shakti Combines, this Delite!
* Actor and singer Aroon Bakshi has turned a music director by scoring music for a Punjabi non-film album, 'Bol Mitti Dya Baavya', to be released by Venus next month. Dharmendra has given commentary for the album in which one song is penned by his brother, Ajit Singh.
* Considering that it is a non-star cast film, BARSAAT KI RAAT has had a massive publicity campaign. Bharat Kapoor has not left any medium — television, radio, airports, railway stations, bus-backs, street publicity, magazines etc. — untouched. Truly, a creditable attempt.
* KAMA SUTRA has created a city record by collecting 50,225/- on the first day at Jayant, Jabalpur.
* ISHQ has collected a whopping 35,49,915/- in 15 weeks at Novelty, Lucknow.
* DESH RE JOYA DADA PARDESH JOYA is the first Gujarati film to be showing with 37 prints in Gujarat and Saurashtra.
* SARKARNAMA (Marathi; tax-free) has created a record in 2nd week too by collecting 35,017/- (nett) in 21 shows at Shiv Shankar, Miraj.
Music For The Ears
Narrative That Draws Tears
The Unprecedented Success Story Called 'Desh Re Joya Dada Pardesh Joya'
The long and almost never-ending queues of people outside cinemas of Gujarat and Saurashtra, which are screening Govindbhai Patel's Gujarati blockbuster, Desh Re Joya Dada Pardesh Joya, are reminiscent of the euphoria which had been witnessed almost three decades ago for the Upendra Trivedi starrer, Jesal Toral. People from nearby villages used to come in bullock-carts to towns and cities screening Jesal Toral and they used to camp in the cinema compounds. If they did not get tickets for the 12 noon show, they used to wait for the 3 o'clock show, and if they were similarly unlucky in the 3 p.m. show, they used to simply wait and try their luck in the 6 o'clock show or 9 p.m. show. But they would not return home without seeing the film. They used to carry their food with them and the ground of the cinema compound was where they used to eat it.
History is repeating itself after many, many years. Desh Re Joya Dada Pardesh Joya is a mega hit in the truest sense of the term. It has already crossed the crore-mark and at the rate at which it is going, it should touch the 2-crore mark in a matter of a few weeks more. It has broken all the box-office records and is also the first Gujarati film to be running with 37 of its prints engaged in Gujarat and Saurashtra! No Gujarati film producer can boast of having taken out so many prints of his film in the past.
DRJDPJ has opened up a new chapter in the history of Gujarati films. People are flocking to the cinemas as if they were visiting a carnival or a fair. No sooner does the current show become house-full than those waiting in the queues ask the management to open the ticket windows for the next show! The unprecedented crowds are the same whether it is Ahmedabad, Surat, Baroda, Nadiad, Anand or Bharuch in Gujarat or Rajkot, Junagadh, Jamnagar, Bhavnagar, Veraval, Botad or Una in Saurashtra.
In Ahmedabad, Baroda, Surat and Rajkot particularly, the upper class audience is patronising the film in a really big way. They come in cars, a sight hitherto unknown to the Gujarati film world because Gujarati films have almost always been patronised by the lower class and rural audience.
Why is the film such a roaring hit? Why is it creating such a stir and what is it in the film which is attracting such huge crowds? Most viewers felt, it was the film's story and its music which were the two biggest plus points. The film shows the love between a grandfather and his grand-daughter who is married off in a family which lives abroad. The grand-daughter is unhappy in her married life but does not let this be known to her family members in India. This has struck a chord in the viewers' hearts. The treatment of the subject, when the family members come to know the truth, is also excellent. Especially, the sad song, picturised on the entire family, has been moving the audience to tears. Most of those who have seen the film also cite the absence of vulgarity/cheapness/obscenity as another reason for liking it. This has also made the film a family affair.
What is really creditable about DRJDPJ is that it is the maiden directorial venture of lucky producer Govindbhai Patel. And it boasts of no star names like Naresh Kanodia in its cast or Mahesh-Naresh in its music score. Arvind Barot, a well-known folk singer of Gujarat, has achieved remarkable success by setting the meaningful and tear-jerking lyrics in rich folk tunes. The film's audio cassettes are also selling like hot-cakes and it is a fact that Govindbhai is minting money from both the sides — box-office returns as well as sale of music cassettes (he has himself marketed the audio cassettes). Reportedly, about six to seven lakh albums have already been consumed by the market.
Desh Re Joya Dada Pardesh Joya will be released in Bombay city and suburbs on 10th April in three cinemas (Alankar matinee, Uday, Ghatkopar and Mehul, Mulund). Let's see, how the Bambaiya Gujju bhais and behens treat this super-hit.
Condemnable Apathy
The death of a young stunt artiste a fortnight ago throws light on the callousness of a large majority of the industry people. It also exposes the indifference of the association of stuntmen, the Movie Stunt Artistes' Association. Of course, it also reveals the humane side of a producer but this very revelation also brings to light the bitter truth that there aren't many producers like Gupta — men with a heart.
The accident took place on the set of producer Kulbhushan Gupta's Pardesi Babu. That it was a freak accident is borne out by the fact that the stunt artiste, who was in his early twenties and was used to doing daredevil stunts, fell off from a bench just two feet high. That was the beginning of the poor boy's journey to his end. The freak accident landed him in a hospital where he battled for life for 18 days. Kulbhushan Gupta spent about Rs. 1.5 lakh for his treatment because the accident, although a freak one, happened on his set. He approached the Movie Stunt Artistes' Association but the latter has no system of medical assistance. Gupta was shocked when he was told that the Association paid Rs. 40,000 to the family of a deceased stuntman but had no provision for paying for the treatment of a member. Did this amount to saying crudely that the Association would do nothing to save its member but would rather wait for him to die and, nevertheless, contribute Rs. 40,000 after doing nothing to save his life? The Association also asked the producer on whose set the accident has taken place, to pay Rs. 2 lakh as compensation to the victim's family.
A question which arises here is that another producer may have not given the injured stuntman the top quality treatment which Gupta gave him and, in the process, spent a lakh-and-a-half. That producer, too, would have to pay Rs. 2 lakh after the stuntman's demise, and Gupta is also being asked to pay Rs. 2 lakh. Put differently, isn't a humane person being penalised, and a heartless producer being treated leniently? Why does the Association think that its members' lives are worth something only after they are no more? It is a rather horrendous thought for an Association to look in the other direction while its member is battling with death, and offer money after he is no more. More horrendous, if one considers the risky nature of the job of stuntmen.
Equally horrifying was the apathy of the stars of Pardesi Babu. Neither Govinda nor Raveena Tandon nor Shilpa Shetty came forward to offer any monetary help — not when their co-worker was hospitalised, not even when he bid adieu to the world. Many of our stars would have behaved exactly the way the three abovenamed did. Compared to the poor stuntman, what the stars earn is phenomenal. But you require a big heart to contribute for a noble cause; simply a big pay packet is not enough. Who is the actual hero then? Govinda or the stuntman who laid down his life while doing what Govinda (or, for that matter, any of our stars) fears to do.
The Movie Stunt Artistes' Association needs to revise its policies. It can have a contributory fund from which medical expenses of those injured while at work can be met. Producers and the stuntmen can contribute to the fund. Life insurance is still a far cry — why, nobody knows. And our 'poor' artistes deserve to hang their heads in shame for their cold behaviour.
P.S.: Even as this piece goes into print, news trickles in that a stuntman's right palm was completely blown off when a bomb, which he was holding, exploded in his hand on the set of Majboor on 9th March.
– Komal Nahta
3-E
Education-Entertainment-Enlightenment
The 'Titanic' Story
That the Hollywood blockbuster Titanic derives its name from the luxury liner which actually sank in 1912 is common knowledge. But not many know of an uncanny similarity between the sinking of the Titanic ship in 1912 and the contents of a novel published in 1898 by Morgan Robertson. The novel lies in a tattered and frayed condition in a glass-enclosed case in Philadelphia's Maritime Museum. The novel, a work of fiction, recounts the story of the sinking of a big, fast and luxurious ship, delineating all the details and events leading up to what the book describes as the greatest ocean disaster in history. In the novel, Robertson describes a colossal ship believed to be unsinkable, embarking on its maiden voyage in the month of April. It is out to set a record and it has on board some of the wealthiest and most influential society figures from Europe and America. It is speeding along the northern lanes of Atlantic travel when it suddenly crashes into an iceberg and goes down swiftly. An inadequate number of lifeboats (only 24) are on board, and, consequently, there's a heavy loss of life. The name of the ship is Titan. Fourteen years later, in 1912 in the month of April, the world-famous Titanic went down. The details of Robertson's story paralleled the actual events of the sinking of the Titanic with uncanny faithfulness. The fictional Titan had 3,000 persons aboard, the Titanic had 2,207. Both were considered unsinkable because of their allegedly watertight compartments, and both made their maiden voyage in April. The length of the Titan was 800 feet, the Titanic was 882.5 feet long, and both used three propellers. The speed of Titan at impact with the iceberg was 25 knots, the Titanic's was 23. The displacement tonnage of the Titan was 75,000 while of the Titanic was 66,000. While there were only 24 lifeboats aboard the fictional Titan, the Titanic, too, had grossly inadequate lifeboats — only 20!
Dada Dubbing Marathi Hits
Believe it or not but the king of double-meaning dialogues in Marathi cinema, Dada Kondke, is planning to dub his Marathi hits in Hindi. Dubbing work of one of his films has already commenced at Empire Audio Centre. Dada had made some films like Aage Ki Soch and Andheri Raat Mein Diya Tere Haath Mein in Hindi too. The Hindi film buffs will now get to see many of Dada's old Marathi hits.
'Titanic' Perks
Titanic has completed its glorious first week in Bombay at Regal and Cinemax cinemas despite the examination period. While Regal is screening a Dolby digital print, Cinemax is showing a DTS print. The latter cinema has some additional features to offer Titanic viewers. The video wall in the foyer of Cinemax shows the making of Titanic before the film begins as well as in the interval. In the auditorium, the music of Titanic (specially recorded on 6 tracks) is played in the interval. As if that isn't enough, there's a violinist in the foyer, who plays the Titanic music live. Little wonder then that the advance booking for the second week at Cinemax was somewhat better than at Regal. Incidentally, when Titanic was booked at Cinemax subject to Chhota Chetan (which will release at Cinemax on 17th April), it was felt that six weeks would be a sufficient run at the trendy cinema. But at the rate at which the film is going, it shouldn't be a surprise if six weeks turn out to be an insufficient period. More so, because March-end and early April will see a lot of examinations getting over. As it is, students are already asking Balkrishna Shroff (of Cinemax) to reserve tickets in bulk for them for the days after their examinations.
Hit In Kerala
While on Chhota Chetan, this 3-D film of the early eighties has created a mini havoc in Kerala in its revised version. It is common knowledge that the film has been mixed in Dolby sound, and some additional shooting with Urmila Matondkar and others has also been done. Chhota Chetan, in its new form, has won the audience's hearts in the South. Let's see what happens in Bombay, Delhi and West Bengal on 17th April.
Indian Titanics
Here's an intelligent joke from Javed Akhtar, to keep you laughing:
Two Hindi film trade people were discussing the Hollywood blockbuster Titanic. One of them wondered aloud: "What's so great about Titanic? I wonder why there's so much talk about the film. After all, it's just a ship in the film, which sinks. Here in India, so many of our films themselves sink without a trace, and yet nobody talks of them!"
Holi Jokes
Since it is the Holi week, the column wouldn't be complete without some Holi jokes.
Q: Why did Juhi Chawla not celebrate the colour of festivals?
A: Because saat rang hardly brought colour to her career.
Q: Why did Aamir Khan refrain from playing Holi?
A: Because he is already a Rangeela hero.
Q: Which colour did Amitabh Bachchan not smear on others when playing Holi?
A: Red. Because that's his colour, the colour of Lal Baadshah.
Q: What does Rakesh Roshan apply on the faces of his enemies on Holi?
A: Of course, koyla!
Q: Why does Mehul Kumar detest playing Holi?
A: Because he detests anything that reminds him of rang. Remember Lahoo Ke Do Rang?