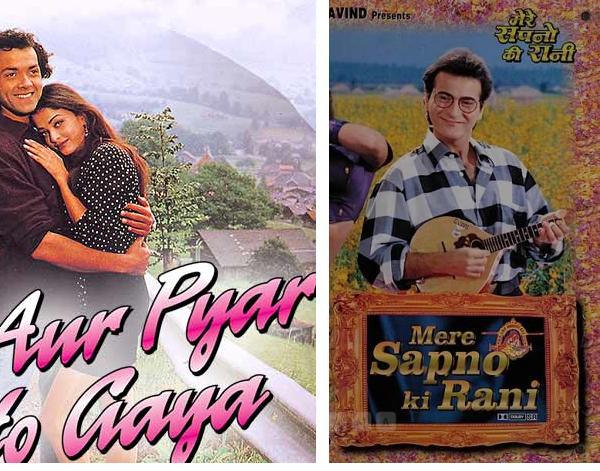 …AUR PYAR HO GAYA
Essem Entertainment Inc.'s …Aur Pyar Ho Gaya is a love story inspired from the Hollywood film, Only You. A girl from India sets out to test the credentials of her to-be husband in Switzerland but she is fooled by another guy who poses as the prospective husband. She falls in love with him after making sure that he bears a good moral character, but is shattered when told that he is not the guy whom she had come to meet. Two two split and then meet again. Back in India, a few days before their marriage, there's a misunderstanding which threatens to separate the lovers. The guy realises his folly in spurning the girl's love, just in time to win her back.
The story (Rumi Jafri) is thin, and the screenplay (written by Honey Irani) relies rather too heavily on coincidences. It would appear, after seeing this film, that life is full of coincidences, and anything and everything under the sun is possible. Several turns and twists in the drama, if not initiated by coincidences, are such as would seem too unbelievable. For instance, the girl leaves India for a foreign land, without even knowing how the guy whom she has to meet looks and with just the knowledge of his name and business. She suffers from a rather dangerous disease (she is a somnambulist, that is, she sleep-walks) but when it comes to going abroad, no member of her doting family bothers to accompany her. The reason why the guy spurns her love in the pre-climax and calls off the marriage is too flimsy to appeal to the masses because the fault, if one may call it so, lies with the girl's father and not with the girl at all. Besides, the question which immediately crops up in the audience's mind when he calls off the wedding is: if the boy could cheat the girl by posing as the prospective groom, why can't he bear a bit of insult of his mother — and this, when the mother is ready to overlook the insult. As for the coincidences, they are far too many — the luggage of the guy and the girl is identical, the guy and the girl's father meet in a saloon as unknowns, before they meet in the latter's house, etc.
Notwithstanding the rather weak screenplay, the film does have some really good comedy scenes which evoke a lot of laughter. Two such scenes are that of the saloon and when the girl's grandmother tries to convince the parents of another prospective groom that her grand-daughter is not the best girl for their son. Another highlight of the film are the breathtaking foreign locations which have been captured oh so beautifully on celluloid by cameraman Manmohan Singh. Dolby DTS mixing is yet another asset because the sound effects are splendid.
Bobby Deol does a fair job. He is a bit awkward in comedy scenes. Aishwarya Rai looks a heavenly beauty and mesmerises with her stunning and gorgeous looks (her costumes are fantastic) and figure. She makes a commendable debut with a promising performance and also dances gracefully. She's a girl who, in her very first film, gives the impression that she is destined to go places. Anupam Kher impresses a lot in the scene in which he comes face to face with Bobby Deol in the former's house. Otherwise, he is okay. His choti comedy looks silly, at times. Shammi Kapoor acts with aplomb. Shammi is very cute and endears herself with a good performance. Beena plays her role with utmost conviction and is restrained. Priya Tendulkar and Avtar Gill lend good support.
Rahul Rawail has concentrated more on the visuals than on content. He ought to have Indianised the Hollywood film. His attempt looks like a body beautiful in which the soul is missing. Computer graphics in the climax look jarring. Even otherwise, the climax (inspired from the English film, Liar, Liar), which ought to have been hair-raising, is dull and cold.
Nusrat Fateh Ali Khan's music is a mixture of entertaining and boring songs. Although there are too many songs, not even one is a super-hit number. 'Koi jaane koi na jaane' is the best song.'Meri saanson mein basaa hai', 'Luk-chhup ke main galli-galli' and 'Jaagi huyee fizaayen' are also appealing numbers. But a couple of other songs are boring. Song picturisations do not have much variety. Emotions are completely absent. Production and technical values are of a very high standard.
On the whole, high-priced …Aur Pyar Ho Gaya is a film for cities mainly, not having a completely Indian flavour and emotions. It, therefore, will entail most of its distributors to losses. Business in Bombay and South should be better.
Released on 15-8-'97 at Eros and 14 other cinemas of Bombay thru Raj Enterprises. Publicity & opening: excellent. …….Also released all over. Opening was dull in many circuits like U.P., C.P.C.I. but very good in Delhi.
MERE SAPNO KI RANI
Shri Raaghavendra Movie Corporation's Mere Sapno Ki Rani is a love triangle. Remake of the Telugu blockbuster Pelli Sandadi, it is the story of a boy who romances a girl but is to be married to her elder sister. The film has too much of a hangover of Hum Aapke Hain Koun..!, especially in the first half.
The pre-interval portion is light and although the comedy is entertaining, it gets repetitive at times. The real drama starts in the second half and it keeps the audience guessing till the last scene. Two main drawbacks of the film are lack of emotions and an overdose of songs. The drama actually moves ahead through the songs, and the director has conveyed a lot without dialogues and scenes but through songs. This could have appealed immensely had the music been super-hit but that isn't the case. It is for this reason that at least three to four songs can be advantageously trimmed.
Sanjay Kapoor is quite relaxed and gives a fair performance. Urmila Matondkar is the life of the film. She looks pretty and does a first-rate job as the younger sister in love with Sanjay. Madhoo also looks good and plays the elder sister ably. Of the comedians, Satish Kaushik, Shakti Kapoor and Satish Shah impress the most. Anupam Kher also does well. Laxmikant Berde has limited scope. Asrani, Paintal, Rakesh Bedi and Rajesh Puri evoke laughter with their dialogues. Kulbhushan Kharbanda is restrained. Manmoujee, Dinesh Hingoo, Satyen Kappu, Dina Pathak, Himani Shivpuri, Vandana Ghai, Shalu Kashyap and Anita lend able support.
Raaghavendra Rao's direction is fair. He should have infused more emotions in the script. Dialogues are quite good. Music is good but given the excessive number of songs, a couple of hits was the need of the film. 'Yeh pyar yeh pyar' is the best number, followed by 'Chamma chakka', 'Choli ke peechhe', 'Swapna sundari' and 'Aaja meri baahon mein'. Song picturisations are very beautiful and eye-filling. Camerawork is also extremely nice. The film looks very colourful because of exceptional locations and colourful costumes. Production values are of a good standard.
On the whole, Mere Sapno Ki Rani has some masala for ladies and families but lack of emotions and an overdose of songs rob it of universal appeal, which will tell on its business prospects. Having taken a lukewarm start at most places, it can hope to fare well in a couple of circuits only. Business in Bombay and Maharashtra should be the best. In the rest of the circuits, it will find the going tough.
Released on 15-8-'97 at Novelty and 15 other cinemas of Bombay thru Balaji Enterprises. Publicity: superb. Opening: very good. …….Also released all over. Opening was poor in most circuits and fair in a couple of them. In Delhi, opening was good.
LATEST POSITION
PARDES has met with a mixed reaction and has failed to live up to people's great expectations…. Both the releases of this week have had lukewarm starts in majority of the circuits.
Pardes started dropping from 3rd/4th day onwards. It has done fair in 1st week in Bombay, Delhi-U.P., East Punjab and South, but dull in Bengal and C.P.C.I. Rajasthan. 1st week Bombay 38,05,494 (94.04%) from 10 cinemas (6 on F.H.); Padra 1,68,495, Jamnagar 96,354; Pune 11,55,664 from 5 cinemas, Kolhapur 1,55,000, Solapur 2,68,610 (90.67%), Satara 1,54,067 (83.68%); Hubli 100%, Belgaum 100%, Dharwad 100%; Delhi 35,18,102 (90.01%) from 8 cinemas (1 on F.H.); Lucknow 2,70,487 (100%), Agra 2,10,304, Meerut (6 days) 1,83,795, record, Bareilly (6 days) 1,56,513, Gorakhpur 1,72,000 (85.57%); Calcutta (6 days) 17,40,103 from 17 cinemas (15 on F.H.); Nagpur 6,46,550 from 4 cinemas, Jabalpur (6 days) 1,50,135, Akola 1,78,500, Bhilai (6 days) 1,28,159, Jalgaon (6 days) 1,45,988; Bhopal 3,45,386 from 2 cinemas, Ujjain 99,345; Bikaner 2,15,868; Hyderabad 30,61,516 from 12 cinemas (1 in noon, 1 on F.H.), share 17,55,000; Vijayawada 3,34,455, Guntur 1,47,636.
Daadagiri has done quite well in several centres other than major cities. 1st week Bombay 20,46,449 (65.25%) from 12 cinemas (6 on F.H.); Rajkot 49,000; Delhi (6 days) 13,96,162 (55.18%) from 9 cinemas (2 on F.H.); Lucknow 83,499, Agra 87,037, Meerut 1,05,849, Bareilly 73,090 (47.45%), Gorakhpur 71,000 (47.92%); Calcutta (6 days) 6,44,252 from 10 cinemas; Nagpur 2,49,327 from 4 cinemas, Akola 1,08,094; Indore (6 days) 1,63,640 from 2 cinemas (1 on F.H.), Bhopal 1,51,439 from 2 cinemas; Jodhpur 2,10,000, Bikaner 85,881; Hyderabad 7,14,376 from 9 cinemas (3 in noon).
……….
Anaconda (dubbed) 3rd week Bombay 5,75,741 (70.68%) from 2 cinemas (3 on F.H.); 1st week Pune 1,45,096; Belgaum 1,21,198 from 2 cinemas; 3rd week Delhi (6 days) 2,39,812; 1st week Lucknow (E.) 1,37,641 (100%), Agra 2,00,113; 3rd Nagpur 2,26,757 from 2 cinemas; Hyderabad 1,45,553; Vijayawada (E.) 3 weeks' total 1,50,508.
Yes Boss 4th week Bombay (6 days) 24,43,934 (76.68%) from 9 cinemas (3 on F.H.); Rajkot 82,161 from 2 cinemas (1 in matinee), Jamnagar 46,936, total 2,72,130; Pune 2,98,110 from 3 cinemas (1 in matinee), Solapur 77,278 from 2 cinemas (1 in matinee), 3rd week Satara 34,734 from 2 cinemas (1 in matinee, 1 in daily 1 show); 4th week Hubli 72,347, Belgaum 73,254, 3rd Karwar 41,267; 4th week Delhi (6 days) 12,60,816 from 6 cinemas; Lucknow 2,00,816, Bareilly 21,850 (14.67%), Gorakhpur 35,000; Rohtak 8,289; Calcutta (6 days) 1,37,958; Nagpur 82,075 from 2 cinemas, Jabalpur 67,563, total 4,11,431, 3rd week Chandrapur 50,554 (2nd 68,746), total 2,45,961; 4th week Bhopal 84,444; Hyderabad 3,75,199 from 2 cinemas (1 in noon); 1st week Visakhapatnam 1,56,044, Nellore 1,82,668.
Gupt 6th week Bombay (6 days) 9,70,016 (72.38%) from 5 cinemas (3 on F.H.); Jamnagar (matinee) 9,500; Pune 4,62,238 from 3 cinemas (1 in matinee), Solapur 74,278, 1st week Barsi 57,302 from 2 cinemas (1 in daily 1 show), 4th week Satara 69,412 from 2 cinemas (1 in matinee); 1st Bijapur 89,600; 6th week Delhi (6 days) 2,70,254; Lucknow (35 shows) 1,43,498, Agra 1,15,890, Bareilly 27,664 (12.60%), Gorakhpur 37,000, 3rd week Hardwar 28,000 (2nd 39,768); 6th week Calcutta (6 days) 1,20,206; Nagpur 74,714, 5th week Amravati 82,593, total 6,79,375, 6th week Akola 35,062, total 4,33,791, Bhilai 30,092, 3rd week Durg 36,749, 5th Jalgaon 43,129; 6th week Indore (6 days) 93,000, Bhopal 65,296; Hyderabad 4,00,901 from 3 cinemas (1 in noon).
Border 9th week Bombay (TF, 6 days) 12,01,290 (77.13%) from 5 cinemas (4 on F.H.); Baroda (TF) 53,648, 7th week Rajkot (TF) 1,25,615, 9th Jamnagar (noon, TF) 10,026; Pune (TF) 6,52,286 from 4 cinemas (1 in matinee), Kolhapur (TF) 97,324, Solapur (TF, matinee) 34,574, 5th week Barsi (TF, 7 shows) 10,347, 8th Satara (TF, matinee) 13,603; 9th week Belgaum 33,964; Delhi (6 days) 15,91,218 from 8 cinemas (1 unrecd.); Lucknow 2,68,016, Agra 56,460, Gorakhpur 65,000; Rohtak 17,100; Calcutta (6 days) 49,219; Nagpur (TF) 1,35,225, Jabalpur 67,288, total 15,01,621, Akola (TF) 89,224, total 11,09,756, 4th week Bhusawal (TF) 60,000, 2nd week Gondia 72,817, total 1,66,269, 9th Chandrapur (TF) 70,004, 3rd week Sagar (5 days) 44,685; 9th week Indore (6 days) 86,745, Bhopal 91,111; Hyderabad 2,89,852 from 2 cinemas (1 in noon); Vijayawada 2 weeks' total 4,63,488, Guntur 3,82,902.
'JUDAAI' JUBILEE
Boney Kapoor's Judaai is celebrating silver jubilee at 12 centres this week. The places where it has entered 25th week are Bombay, Ahmedabad, Baroda, Surat, Rajkot, Bhavnagar, Pune, Solapur, Kanpur, Hyderabad, Aurangabad and Latur. Directed by Raj Kanwar, the film stars Anil Kapoor, Sridevi, Urmila Matondkar, Kader Khan, Farida Jalal, Paresh Rawal and Johny Lever. Music: Nadeem Shravan. Lyrics: Sameer. It is produced by Surinder Kapoor.
PAKISTAN BESTOWS HIGHEST AWARD ON DILIP KUMAR
Dilip Kumar was honoured with Pakistan's highest civilian award, 'Nishan-e-Imtiaz', on the occasion of the golden jubilee of its Independence. Melody queen of yesteryears, Noorjehan, was similarly honoured.
Dilip Kumar, who is among 59 persons who have been honoured with various Pakistani civilian awards by President Farooq Ahmed Khan Leghari, is the first Indian actor to have been conferred with the highest Pakistani civilian award. This, despite the fact that the screening of Indian films is banned in Pakistan since 1965.
Simultaneously, at the golden jubilee celebrations of its Independence day, Pakistani premier Nawaz Sharif called for peace with India.
Gulshan Kumar Gunned Down By Terrorists
Music industry king Gulshan Kumar was shot dead at about 10.30 a.m. on 12th August by two youths near a temple off the Juhu Versova Link Road at Andheri, Bombay. He was 41 years old.
Four persons, including Gulshan Kumar's driver, were injured. All four are out of danger.
The music baron was stepping into his Maruti Esteem after offering prayers at a small Shiva temple which he himself had helped build some years ago, when he was pumped with 15 bullets. According to the crime branch of the police, the killers are believed to be members of the Abu Salem faction of the Dawood Ibrahim gang. It is believed that Gulshan Kumar was shot dead because he refused to part with "protection money" of several crores of rupees which the Dubai-based gang wanted to extort.
The assailants are believed to have fired with sten guns. Gulshan Kumar ran for cover towards a neighbouring chawl and tried to enter one of the tenements but a panic-stricken resident shut the door on him. He then tried to enter a nearby room but was followed by the killers who pumped him with bullets. He slumped to the ground, blood oozing out of his body. The killers fled in a taxi after forcing its occupants and driver out of the vehicle.
The bleeding music tycoon was rushed by shocked local residents to Cooper Hospital where he was declared dead on arrival.
Gulshan Kumar had reportedly sought protection from the Uttar Pradesh police but had made no formal or even verbal complaint to the Bombay police. Due to his business interests in Delhi and Bombay, he kept shuttling between the capital city of India and its commercial capital and maintained houses and offices in both the cities. His bodyguard, provided by the U.P. police, had been absent from work for the past two days due to illness.
Gulshan Kumar's murder has taken place within 20 days of the abortive bid on the life of director Rajiv Rai. News of Gulshan Kumar's death spread panic in industry circles. The horrified Bombay film industry observed a Black Day on 13th to protest against the growing insecurity of their members and the growing terrorism. All production activities in Bombay were suspended on Wednesday in a show of solidarity. Cinemas, however, continued to function.

EMOTIONAL FAREWELL FOR GULSHAN KUMAR
The body of Gulshan Kumar was taken from Bombay (where he was gunned down) to Delhi on 13th August and consigned to flames at Nigambodh Ghat the same day. Emotional scenes were witnessed when his son lit the funeral pyre. Earlier, mortal remains of the music industry king were mounted on a bedecked truck which was brought to the ghat in a huge procession from his residence.
SECURITY FOR INDUSTRY PEOPLE BEEFED UP
Perturbed by the spate of threats to the lives of industry people and petrified by the murder of Gulshan Kumar on 12th August by the Abu Salem faction of the Dawood Ibrahim gang, the film industry held a meeting on 13th at IMPPA House to demand police security for it and to protest the killing. The meeting was attended by a number of industry bigwigs.
A delegation of the film industry called on Maharashtra dy. chief minister Gopinath Munde at Mantralaya on 14th August to impress upon the government the need to step up security for film people. Munde, who holds the home portfolio, assured the industry that the state government would not let anybody hold the film industry to ransom. He told press persons that protection was already being given to seven artistes, including Amitabh Bachchan.
Munde also explained that apart from giving protection to individuals, the city police would also be asked to ensure adequate security in and around film studios. He appealed to producers and artistes to inform the police about threats from gangsters, and ensured that protection would be given as soon as complaints were received by the police. He also informed that while one of the four killers of Gulshan Kumar had been arrested on 13th August and remanded to police custody till 27th August by additional chief metropolitan magistrate Veer Singh Taware, the others would be nabbed soon.
AMARLAL CHHABRIA NO MORE
Producer Amarlal P. Chhabria expired on 12th August at a private nursing home in Bombay where he had been admitted for a liver problem. He had not been keeping well since the last few months. He was 58 and is survived by his wife, two sons, a daughter and two brothers.
Amarlal had made several films of which Kunwara Baap, directed by Mehmood, was a runaway hit. He also financed Mehmood's Do Phool and Sabse Bada Rupaiya. He had a long association with Mehmood whose Ginny Aur Johny was also produced by Amarlal Chhabria. Among the other films produced by him are Janta Hawaldar, Patton Ki Bazi, Sannata, Mujhe Shakti Do and Lamboo Dada. At the time of his death, he was producing Honeymoon, a serial for Zee TV.
Amarlal had introduced playback singer Anwar in his Janta Hawaldar. He had also given break to music director Rajesh Roshan in Kunwara Baap.
His chautha was held on 15th August in Bombay.
HARMEET KATHURIA DEAD
Film journalist Harmeet Kathuria passed away in Jammu on 11th August. He had not been keeping good health for quite some time and had gone to Jammu to meet his parents.
Harmeet used to write for several magazines. Many years ago, he used to write the column 'Information Meets' in Film Information in which he used to interview film personalities. Harmeet was a bold writer and used to write as fearlessly as he used to speak bluntly.
PRODUCTION NEWS
'Haseena Maan Jayegi' Shooting Starts
Director David Dhawan will start the initial shooting schedule of Rahul Productions' Haseena Maan Jayegi on Aug. 17 in Bombay. Many scenes will be picturised in a bungalow at Madh Island and different locations, featuring Govinda, Satish Kaushik and Kader Khan. Sanjay Dutt and Karisma Kapoor play the other leading roles. One more heroine is to be finalised. Anupam Kher plays a key role in the film which is being presented by Bharat Shah and produced by Smita Thackeray. Music by Nadeem Shravan, story-screenplay by Yunus Sejawal and Imteyaz Hussain, lyrics by Sameer, dialogues by Rumi Jafri, cinematography by K.S. Prakash, editing by A. Muthu, and sound by Vinod Potdar are the other major credits.
'Gharwali Baharwali' In Nepal, Hyderabad
Director David Dhawan will start a month-long shooting schedule of Tutu Films' Gharwali Baharwali from Aug. 20 in Nepal and Hyderabad. A song and many scenes will be picturised featuring all the artistes. With the conclusion of this schedule, the entire talkie portion of the film will be complete. Starring Anil Kapoor, Raveena Tandon, Rambha, Satish Kaushik and Kader Khan, the film is being produced by Tutu Sharma. It has music by Anu Malik, and is being written by Rumi Jafri. Cinematography by K.S. Prakash, editing by A. Muthu, lyrics by Nitin, and art by Ashok Kumar are the other major credits.
'Hindustan Ki Kasam' On Indo-Pak Border
Devgans Films' Hindustan Ki Kasam is currently being shot in Delhi, Agra, at the Golden temple in Amritsar and the Indo-Pakistan border. The proceedings and celebrations of 50 years of India's independence are being captured on camera in Delhi and Agra for the film. It stars Amitabh Bachchan, Ajay Devgan, Sushmita Sen, Farida Jalal, Shakti Kapoor, Shahbaaz Khan, Navin Bawa and Gulshan Grover. It is being produced and directed by Veeru Devgan, and presented by Bharat Shah. Writer: Janak Hriday. Music: Sukhwindara Singh. Lyrics: Anand Bakshi.
YOU ASKED IT
When you earn foreign exchange in US dollars as licence fee for export of films, what benefits do you get, now that the system of granting of import licences against such earnings has been discontinued?
– The exporter gets duty drawback to the tune of about Rs. 7,500/- to Rs. 9,000/-per print.
Why did a film like …Aur Pyar Ho Gaya have a bumper advance booking in Bombay and Delhi but not get even a decent opening in C.P. and C.I.?
– The craze for the film was mainly due to Aishwarya Rai, the ex-Miss World. The concept of beauty queens is quite alien (yes, it's true!) in towns and smaller places. Secondly, even though it stars Bobby Deol, the film is a love story devoid of action.
Don't you think the percentage ratios of various circuits need to be re-defined?
– Yes, if you look at the businesses of recent releases like GUPT, PARDES, JUDAAI, MAACHIS, KOYLA, YES BOSS, HERO NO. 1, etc., you will notice that businesses of the various circuits don't match their ratios. Therefore, percentages of the different circuits need re-definition.

3-E
Education-Entertainment-Enlightenment
Panic As Never Before
The film industry is in the grip of panic as never before, following the murder of Gulshan Kumar. Its members have been receiving threatening calls, and the attempt on Rajiv Rai's life three weeks back had sent shock waves in the industry. The gunning down of music baron and producer Gulshan Kumar on 12th August has left the industry completely speechless. Financiers, especially, are withdrawing as they don't want to come in the limelight. Repercussions of Gulshan Kumar's murder are going to be felt for months to come as the already tight money market will become tighter still. Tough days are ahead for the industry.
Bobby's Hat-Trick In C.I.
So, Bobby Deol has completed his hat-trick. …Aur Pyar Ho Gaya is his third release and this one too, like his earlier two films (Barsaat and Gupt) did not get a decent opening in C.I. Poor Bobby, he had better visit the Mahakaal temple in Ujjain (which falls in C.I. territory). Maybe, thereafter, his films will get better openings in C.I. By the way, …Aur Pyar Ho Gaya had a dull opening (on Thursday) in C.P. Berar and U.P., too.
A 'Ban'tastic Award
That Dilip Kumar has been honoured with the highest civilian award of Pakistan, 'Nishan-e-Imtiaz', is a matter of joy for the whole of India. After all, it is the first time that an Indian actor has been conferred with the award. But it is also paradoxical that while Pakistan has chosen an Indian actor to receive the award, it has banned the screening of Indian films since 1965. Dilip Kumar or, for that matter, no Indian star is permitted to act in a Pakistani film or even perform on stage in that country. On the other hand, India has permitted Pakistani artistes to act in Indian films and also perform in India. Quite rightly then has Film Federation of India (FFI) secretary K.D. Shorey remarked, "Dilip Kumar should either decline to accept the Pakistani award or use the opportunity to make the Pakistani government lift its over-30-year-old ban on the Indian films and artistes."
Urmila's South Connections
Urmila Matondkar, who shot to stardom with Rangeela, has had South connections ever since. Rangeela was directed by South-based Ramgopal Varma. Her next release, Judaai, was the remake of a Telugu hit, Shubhlagnam. Mere Sapno Ki Rani, released this week, is also a remake — that of the Telugu blockbuster, Pelli Sandadi. And due for release next week is Daud, again directed by Ramgopal Varma. Incidentally, Varma has just recently shifted base to Bombay.