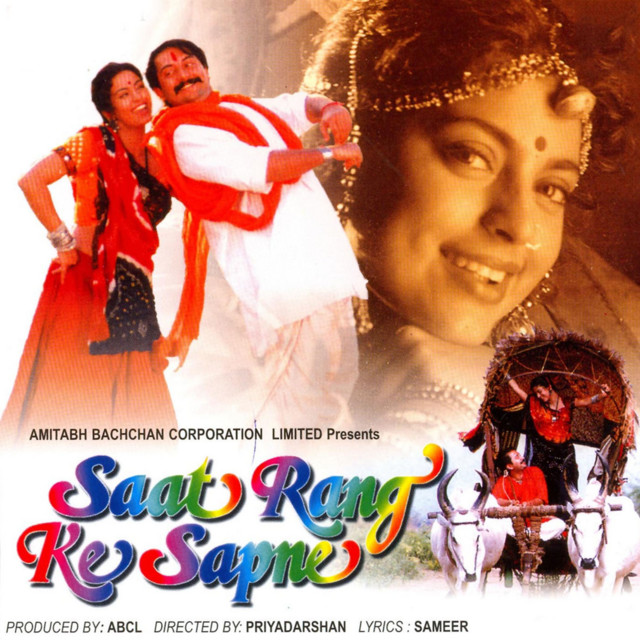 SAAT RANG KE SAPNE
Amitabh Bachchan Corporation Ltd.'s Saat Rang Ke Sapne is a love triangle, set in a village of Rajasthan. A young girl (who does nautanki for a living) and boy (servant) fall in love with each other. The young boy's master, who is much older, also loves the same girl. How the master starts hating his servant (whom he used to otherwise love like a brother) because of his affair with his beloved and to what levels he stoops to take him out of his path form the latter part of the drama. Ultimately, the master realises his folly, and the young girl and boy unite in matrimony.
The plot has inherent drawbacks which make the film a case of neither-here-nor-there. It starts as a comedy and light-hearted entertainer but there's so much tension, melodrama and seriousness after interval that the entire flavour of the first half is lost. Why, characters change like one changes one's clothes. The master is shown a happy-go-lucky and fun-loving, golden-hearted man in the first half, but he becomes a vicious villain in the second half. As against the serene first half, the post-interval portion abounds in hysteria. The emotions simply fail to touch the heart because they look fake and are for a wrong reason. Further, the love story of the master and the girl will not appeal to the viewer and looks rather far-fetched, if only because Anupam Kher (playing the master) looks too old for the role.
Some comedy scenes are really brilliant. However, there are a few comic punches which will appeal mainly to the class audience.
The ever-dependable Arvind Swamy is not in his element. He does a fair job. He looks too stout to be a hero. Juhi Chawla lives her role and impresses immensely. She looks pretty too. Anupam Kher acts ably but, as said above, his image does not suit the lengthy romantic role. Farida Jalal performs very well. Satish Shah's comedy is excellent. Govind Namdeo is extremely natural and effective. Mink does a good job. Tinnu Anand, Paintal, Aroona Irani and Sukumari lend the required support.
Priyadarsan's shot compositions and takings are marvellous as usual and he has also brought out the colour of Rajasthan just too beautifully on screen. However, his selection and treatment of the script leave plenty to be desired. Otherwise a stickler for perfection, even that perfection is missing in the film. For instance, a couple of dialogues (by Rajasthani characters) are spoken in Bhojpuri dialect! Editing is so poor, one wonders whether the director gave the editor a free hand to do his job. The film seems to go on and on endlessly and can be edited heavily. In fact, it shouldn't be a surprise if distributors take the initiative in this direction themselves.
Music (Nadeem Shravan) is good. The title song is the best and its picturisation is fabulous. 'Aati hai to chal' and 'Ba ba batao na' are quite appealing. The 'Jhoothi jhoothi' song is boring. Ravi K. Chandran gives the viewer heavenly locales on celluloid with his super camerawork. The desert landscapes are beautiful. Sets are natural.
On the whole, Saat Rang Ke Sapne has form (colours, beautiful locations, excellent photography) but its content is far from satisfactory and its undue length, too disturbing. The romantic angle of the young girl and the middle-aged master could have appealed as a small part of the plot but does not impress at all as the main plot. The colourful film, therefore, has dark prospects.
Released on 20-2-'98 at Eros (one show daily) and 9 other cinemas of Bombay by ABCL thru Shringar Films. Publicity: excellent. Opening: fair. …….Also released all over. Opening was extremely poor everywhere.
SAAZISH
Damani Pictures Pvt. Ltd.'s Saazish (UA) is a story of two brothers, one a grave digger in a village, and the other who is studying in the city to become a doctor. The two brothers love each other very much and the grave digger (elder one) sacrifices everything in life to see his dream — of making his younger brother a doctor — fulfilled. All hell breaks loose when the younger brother is murdered in mysterious circumstances. The elder brother, shattered and clueless, sets out for his brother's medical college and tries to solve the mystery. One by one, more persons are murdered in the college but ultimately, the mystery behind the heinous crimes is solved.
The first half tries to be a family drama with emotions, but most of the sentiments and/or their situations are contrived. The second half is a suspense drama but the chill of a suspense story is missing. Another very big drawback of the film is that most of the major characters in the film are Christian. Films with Christian characters usually have very limited appeal. Another defect is the extremely slow pace; the drama moves so slowly that the viewer loses interest after a point of time. Dialogues are so-so.
Mithun Chakraborty acts well but his hair-style doesn't suit him. Vikas Bhalla is fair. Pooja Batra would do well to wear clothes that suit her tall and lean structure. She is average in acting. Kashmira Shah fails to impress in any department. Her dress sense too is quite funny. Helen and Aroona Irani perform ably. Homi Wadia is okay. Mahavir Shah, Ishrat Ali (should stop being so loud everytime), Liliput and Sachin lend average support.
Debut-making director Sudhir R. Nair's shot takings are reasonably good but his script sense as also sense of tempo leave a lot to be desired. Jatin Lalit's music is pleasant. 'Khushi ka rang chhaya hai' is melodious. The other songs are fairly hummable. Song picturisations, however, are average. Action scenes are few but well composed. Camerawork and other technical aspects are okay.
On the whole, Saazish is an unexciting fare with bleak chances.
Released on 20-2-'98 at Dreamland, Novelty (matinee) and 17 other cinemas of Bombay thru Devgan's Entertainment. Publicity: fair. Opening: poor. …….Also released all over. Opening was dull everywhere.
2001
Om Films' 2001 (A) is a suspense film. It is the story of two police officers who are assigned the task of solving the mystery of a spate of murders in which the murderer leaves the same clue — the figure 2001 — at the place of the crime. The first half has suspense, drama and some romance too. The revelation of the suspense comes after interval and it is quite childish, especially the significance of the figure 2001.
Characterisations haven't been worked upon. Moreover, the film relies on too many coincidences to move forward. The suspense fails to excite or frighten the viewer. The audience, as a result, finds it difficult to get involved in the drama. Climax is average.
Romance is established only in songs. Emotions fall flat. Some dialogues are good. A few comedy punches do entertain.
Jackie Shroff does quite well. Dimple Kapadia is alright. New hero Rajat Bedi looks fair, acts quite freely and performs action stunts ably. He needs to loosen up a bit more in dances. Tabu is cute in a less significant role. Suresh Oberoi does an extremely good job as the villain. Gulshan Grover, as another villain, is also immensely nice. Deven Varma is in form. Mohan Joshi, Sadashiv Amrapurkar, Upasna Singh, Navneet Nishan, Mukesh Khanna (in a friendly appearance), Sharat Saxena and the others lend able support.
Direction is okay. Music is of the popular genre. 'Teri ye bindiya', 'Tu qatil' and 'Teri meri dosti' are the likeable songs, and their picturisations are reasonably good. Background music does not befit a suspense film. Action scenes are alright.
On the whole, 2001 does not have the chill and thrill of a suspense drama and will, therefore, not catch the fancy of the audience.
Released on 20-2-'98 at Alankar and 14 other cinemas of Bombay thru Dilsa Distributors Combine. Publicity: very good. Opening: fair. …….Also released all over. Opening was alright at some places but dull at others.
LATEST POSITION
The election fever seems to be taking its toll on the box-office.
Zor, after a great start, dropped badly at most of the places mid-week. 1st week Bombay 38,40,173 (90.46%) from 11 cinemas (10 on F.H.), Juhu, Bombay 6,08,136 (74.71%); Ahmedabad 13,00,319 from 7 cinemas, Rajkot 1,65,550, Jamnagar 1,32,850; Pune 12,69,753 from 6 cinemas (1 in matinee), Solapur 3,58,430 from 2 cinemas; Hubli 100%, Belgaum 1,16,507 (100%); Delhi 48,29,709 (78.87%) from 14 cinemas (1 on F.H.); Kanpur 5,82,397 from 3 cinemas, Lucknow 3,86,375, Agra 2,60,500, Allahabad 1,80,500, Varanasi 1,86,529, Bareilly 1,53,962 (68.40%), Dehradun 1,78,000, Hardwar 1,11,000; Amritsar 1,95,750; Calcutta 5,16,451 from 2 cinemas (other cinemas undisclosed); Nagpur 6,98,268 from 4 cinemas, Jabalpur (6 days) 1,77,018, Akola 1,97,170 from 2 cinemas, Dhule 1,32,665, Raipur 1,91,880, Bhilai 1,09,080, Durg (6 days) 1,10,256, Chandrapur 1,81,017, Yavatmal (6 days) 78,407; Indore 2,80,000 (3 on F.H.), Bhopal 4,43,014 from 3 cinemas; Jaipur 10,85,113 from 6 cinemas, Bikaner 23,83,863; Hyderabad 33,01,282 from 18 cinemas, share 17,82,700.
Kama Sutra – A Tale Of Love (dubbed) is excellent in Delhi-U.P. and East Punjab but drops in other circuits. 2nd week Bombay 26,28,873 (66.13%) from 9 cinemas (5 on F.H.); Ahmedabad 2,68,225 from 2 cinemas, Baroda 1,25,441, 1st week Adipur 1,07,101; 2nd week Pune 4,99,116 from 3 cinemas, Solapur 80,454; Hubli 98,367, Belgaum 87,865; Delhi 33,71,840 from 7 cinemas (1 on F.H.); Kanpur 2,09,796, Lucknow 2,49,261, Agra 85,658, Allahabad 1,26,636, Varanasi 1,29,178, 1st week Bareilly 1,06,982 (56%), Dehradun 1,67,883, 2nd week Gorakhpur 82,400; Calcutta 14,09,182 from 13 cinemas; Nagpur 1,44,314, Akola 49,235 (1st 1,54,085), Raipur (6 days) 85,433, Bhilai 66,771, 1st week Gondia 34,382, Wardha (6 days) 78,428; 2nd week Indore 1,01,011 (1 on F.H.), Bhopal 1,11,207; Jaipur 3,08,119, 1st Bikaner 1,62,781; 2nd week Hyderabad 7,82,185 from 4 cinemas; Vijayawada 2 weeks' total 5,38,368.
………..
Desh Re Joya Dada Pardesh Joya (Gujarati, TF) is mind-blowing. 6th week Ahmedabad 8,52,114 from 5 cinemas, Asodar 88,624, 4th week Patan 72,144 (3rd 72,951), Baroda 1,79,404 (3rd 1,48,344), 2nd Nadiad 88,724 (1st 79,147), 1st week Anand 1,38,428, Bharuch 1,04,200, 4th Jamnagar 1,74,581, total 6,54,581, 6th Rajkot 2,22,488, total 12,92,435, Bhavnagar 2,33,573 (5th 1,92,947), Jamnagar 1,32,264, Morvi 1,34,995, 3rd week Botad 1,21,627.
OM PRAKASH SERIOUS
Actor Om Prakash slipped into a coma on 19th February and has been admitted in the ICU of Lilavati Hospital at Bandra, Bombay.
SANJAY DUTT WEDS RHEA PILLAI
Sanjay Dutt married his long-time girlfriend, Rhea Pillai, at an impromptu wedding ceremony at Mahalaxmi Temple, Bombay, in the early hours of 15th February. The couple was at a Valentine's Day party when they decided to get married right away. A pundit was hurriedly summoned and the marriage, performed according to Hindu rites.
WEDDING BELLS FOR SHABBIR KUMAR'S DAUGHTER
Marriage of Rubina, daughter of playback singer Shabbir Kumar, with Saqib will be solemnised today (21st February) in Bombay at Spring Field High School, near Rizvi College, off Carter Road, Bandra.
AMITABH INAUGURATES CINESTAR CINEMA
Amitabh Bachchan formally inaugurated Cinestar, the new mini cinema at Kandivli (West), Bombay, on 17th February. A special show of ABCL's Saat Rang Ke Sapne was held on the occasion. It was thrown open for the public from 20th February with Saat Rang Ke Sapne.
Owned by Rashesh and Himanshu Kanakia and controlled by Shringar, the cinema has 281 seats and is equipped with Dolby digital and DTS sound systems.
In the inaugural speech, Amitabh expressed happiness that the system of having a shopping complex and a cinema in the same premises, as in foreign countries, had been introduced in India too with Cinestar. The cinema is located on the second floor. It is built on the same premises where once stood Sona cinema. There is also a terrace cafetaria outside the auditorium.
Shravan Shroff of Shringar proposed the vote of thanks. A memento was presented to Amitabh Bachchan on the occasion.
Cinestar is the second cinema of the Kanakia brothers, the first being Cinemax (at Goregaon, Bombay) which was inaugurated in December '97.
Cinestar is attractively done up and has excellent sound quality, besides a large screen. Comfortable cushioned push-back seats are yet another trump card. Its phone no. is 864-7164.
'BAPUJI' CHINUBHAI SHROFF NO MORE
Bombay and Gujarat distributor and exhibitor Chinubhai C. Shroff breathed his last at Valsad (in Gujarat) on the morning of 18th February in his sleep. He was 79 and is survived by his wife, a son and two daughters.
Popularly known as Bapuji, Chinubhai had gone to Valsad a day before with his partner in exhibition, Dara P. Mehta. He retired on 17th night but complained of sleeplessness to his friend who was with him. Around 4 o'clock in the morning, he got up to go to the toilet and thereafter, tried to sleep again. His friend, who tried to wake him up at 8 a.m., was shocked to see that Bapuji was dead.
Born at Patan in North Gujarat in June 1918, Chinubhai came to Bombay as a child with his parents. He studied in the city up to matriculation. He started film distribution in 1948 with Khidki and continued the business till 1960. In 1965, he joined Gaffarbhai Nadiadwala's Bombay distribution office as its manager. Thereafter, he worked as the distribution manager of Swaroopchand Jain's distribution office in Bombay, Shakti Film Syndicate.
He entered exhibition business subsequently with Apsara cinema, Baroda. Later, in 1970, he joined P.D. Mehta group as a partner and remained in partnership till his end came. He also distributed several Gujarati films between 1975 and 1985.
Chinubhai was an amiable person, jolly and also very co-operative. He used to not think twice before coming to the rescue of one in need.
Dream Merchant
It's election time and there's no topic more exciting than election talk these days. Naturally then, I had to dream about elections and since films is my first love, I dreamt of elections and the film people.
I dreamt that the Congress Party approached Salman Khan to campaign for the party and Salman agreed to oblige. In the first election meeting, which he addressed in a village of Madhya Pradesh, he won people's hearts when he said that he identified with the Garibi Hatao programme of the party. "To feel the pain of the garib janata," he said, "I'm also living like a poor man these days. You must've seen my A O jaane jaana song from Pyaar Kiya To Darna Kya in which I don't have a shirt to cover my body, and even my pants are torn and tattered." Salman further went on to say that in the film industry, he had enlisted the support of Mamta Kulkarni, Pooja Batra and Kashmira Shah among females, and Akshay Kumar among males. "They, like me, have all agreed to wear the bare minimum in sympathy with the poor of the country," he announced amidst applause.
Juhi Chawla was in Uttar Pradesh with Atal Behari Vajpayee. In her accented English interspersed with Hindi, Juhi giggled, "See, we all have dreams of a rich India, a prosperous India. Like you, I, too, dream. Recently, I've dreamt a dream of seven colours, maine saat rang ke sapne dekhe hain. And I hope, you all too see Saat Rang Ke Sapne," concluded Juhi, not able to resist the temptation to talk of her new release. Vajpayee nudged Juhi in time to make her realise that she shouldn't get any reference of Amitabh Bachchan Corporation Ltd. in her colourful speech as Amitabh was known for his Congress connections.
Sangeeta Bijlani declined to campaign in Bombay and said, she would address an election meeting in Bihar as she had taken a great liking for Biharis after hubby Azharuddin had been forgiven by them for calling them chor. But poor Sangeeta got all mixed up about who she was campaigning for. She ultimately landed canvassing support for her Chandni serials."Just as nobody is big or small, so also no screen is big or small," she shouted, adding, "So just as you made Chandni a hit on the big screen, you should make my Chandni a hit on the small screen too. If you can applaud Azhar on TV, you can appreciate me too on the same television screen." Before she could begin her next sentence, L.K. Advani declared that the maiden had bowled the audience over and that she should now retire.
The Samajwadi Party approached Aamir Khan to campaign for them but the perfectionist that Aamir is, he asked them to give him statistics about the voters in the constituency he would be addressing, before he prepared his speech. Said Aamir, "Give me details about how many males and how many female-voters there are in the constituency, the break-up of males in the age group of 18-25, 26-35, 36-50 and over 50 years of age and likewise for females. I also want the voters to be divided according to their incomes i.e. those in the annual income bracket of less than Rs. 12,000, those between Rs. 12,001 and Rs. 24,000, those between Rs. 24,001 and Rs. 75,000, those between Rs. 75,001 and Rs. 1,25,000, those between Rs. 1,25,001 and Rs. 5,00,000, and those above Rs. 5,00,000." Before Aamir could continue, the Samajwadi Party representatives got up and told Aamir, they would like to use his services in the next elections because by then, all the statistics would be ready.
Madhuri Dixit was flown to the Gurdaspur constituency in Punjab to canvass for her co-star of Dayavan and father of her co-star of Mohabbat. Her speech was better than even the speech she made at the Filmfare awards function last month. She called on the people to exercise their right to vote as "it is a sacred right. I would say that those who do not vote must be given mrityudand," she thundered. "It's my pukaar to you all," she shouted, "that you must vote for Vinod Khanna." Immediately thereafter, Madhuri and Akshaye Khanna began dancing to the 'Don't break my heart' song of Mohabbat. The crowds shouted in one voice. "We won't break your heart, Madhuri-ji".
Karisma Kapoor, the newest heart-throb of the nation, shared the dais with none other than Sonia Gandhi herself at Shivaji Park in Bombay. The Rani Hindustan began her speech with the song: Pardesi Pardesi jaana nahin / Mujhe chhod ke, mujhe chhod ke. Even as people were wondering what she was up to, Karisma clarified, "My hit song of Raja Hindustani is being used to tease Sonia-ji simply because she comes from Italy. But I assure you, Sonia-ji will not leave the country, as being propagated by the BJP. And, assuming for a moment that she does, I will fly to Italy (at the expense of one of my many producers), and tell Sonia-ji, 'Aa ab laut chalen." There was thunderous applause. Karisma got even more charged and continued, "Waise toh politicians pagal hai lekin aapko Congress ko vote dena hoga kyon ki silsila hai desh ke karodon rupaiyon ka." Karisma ended her speech with a parody of her Hero No. 1 song: Sonia kitna Sonia hai / Tere jaisa mera dhan / Tu meri tu meri tu meri tu meri / Tu meri Leader No. 1.
The United Front made the mistake of carting along Sooraj Barjatya to Uttar Pradesh. In his trademark soft voice and unassuming style, Sooraj began, "Kyon itni sari parties, kyon ye voton ke liye bheekh maangna. Kyon nahin sab parties mil ke government bana lein? Agar aisa ho to hum Barjatyas politicians ke saath saath hain. Nahin toh, main toh sirf itna kahoonga: Hum aapke hain koun..!"
– Komal Nahta
3-E
Education-Entertainment-Enlightenment
Four A's In 'Taal'
Finally, Subhash Ghai has made up his mind about who will play the other hero in his Taal. Not just made up his mind, Ghai has also finalised the guy. At the muhurt of Taal, it was only Akshaye Khanna's name which was announced — not formally, though. Subhash Ghai was not decided about the other hero in this two-hero-one-heroine project because, as he once mentioned, "It is a very complex character, and I'm not sure who will be able to do justice to the role." It is now Anil Kapoor who will be essaying that 'lifetime's role". And as if the two A's (Anil and Akshaye) weren't enough, Subhash Ghai has also signed an 'A' heroine, Aishwarya Rai. So Ghai's Taal is already triple A, what say? Maybe, Ghai should spell it T-A-A-A-L or rather T-A-A-A-A-L because music director A.R. Rahman is no less a star!
Longer Run
On the one hand, we have producers beaming trailers of their films for months together on satellite channels. And on the other hand, films are being discontinued after one, two or three weeks' runs in cinemas. Which means, the trailers are running more than the films!
Hit Disaster
And finally, this one to keep you smiling through the week.
Isn't it strange — the greatest Hollywood HIT of recent times and, maybe, to become the biggest hit of all times, Titanic, is a DISASTER film.