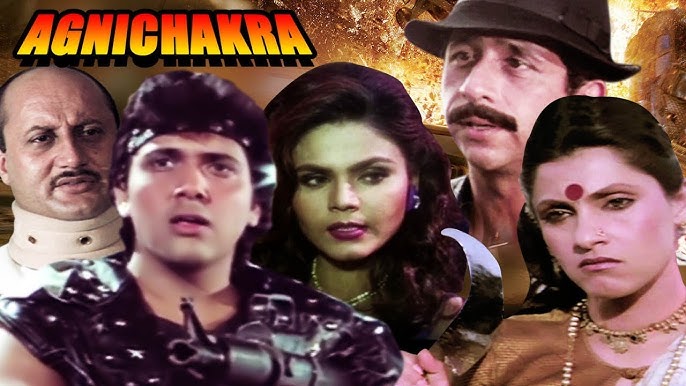 AGNICHAKRA
Jyoti Art Production's Agnichakra (UA) is the usual story of good versus evil. An honest and upright police officer is killed by some terrorists whom he is out to exterminate. A new officer is appointed in his place to complete the unfinished task. There is also the murdered officer's younger brother who swears revenge against the culprits. The third group of revenge-seekers comprises a co-officer of the murdered police officer, his beloved and another young man.
The story has absolutely no freshness whatsoever. Screenplay cares little for continuity and is a hopeless attempt at writing. Dialogues are commonplace. The film has taken many years in the making and it shows not only in continuity jerks but also in the appearances of the stars who come in varying shapes and sizes in different scenes.
Govinda does well in the first half. He, however, doesn't impress thereafter and also gets less scope after interval. Naseeruddin Shah acts with a lot of sincerity. Dimple Kapadia passes muster. Vishal Khanna does not impress. Anupam Kher is okay. Pramod Moutho does an average job and so does Satish Shah. Raj Kiran, Beena, Brando Bakshi, Soni, Ruhi Sawant, Bindiya Gill, Somy Ali (she springs up from nowhere in a song sequence), Manmoujee, Birbal and the rest don't add anything to the dull proceedings.
Direction is so-so in the first half but in the second, the aim seems to have been simply to complete the film any which way. Music is a letdown like the rest of the film. Photography and other technical values are average. Action scenes look outdated.
On the whole, Agnichakra is a poor fare.
Released on 26-9-'97 at Shalimar and 7 other cinemas of Bombay thru Solanki Movies. Publicity & opening: dull. …….Also released all over except C.P. Berar. In Calcutta, the film could not open on Friday due to the non-arrival of prints. It is likely to open there today (27th September).
DHIRUBHAI SHAH ARRESTED UNDER COFEPOSA
Music company owner, video distributor and producer Dhirubhai Shah was arrested under the Conservation of Foreign Exchange & Prevention of Smuggling Activities Act (COFEPOSA), 1974 on 23rd September night for his alleged involvement in a Rs. 22-crore hawala racket. The Bombay city police detained him for alleged violation of foreign exchange regulations. He has been committed to the Yerawada jail in Pune.
The order for his detention and committal was issued in April 1996 but Dhirubhai had been absconding since then. A metropolitan magistrate had proclaimed last month under the Criminal Procedure Code that his property be attached. Dhirubhai was also questioned by the crime branch of police in connection with the recent murder of Gulshan Kumar.
ANOOP KUMAR DEAD
Actor Anoop Kumar passed away on 20th September at 4.15 a.m. following cardiac arrest in a hospital at Juhu, Bombay. He was 72 and is survived by four daughters and a son. He had been ailing since almost two months.
Anoop Kumar belonged to the famous Ganguly family and teamed up with brothers Ashok Kumar and Kishore Kumar in Chalti Ka Naam Gaadi. He played the role of the eccentric brother who keeps popping into the frame with funny one-liners.
He made his debut in Zaraa Palat Ke Dekho in 1950. He also acted in Firdaus, Dekh Kabira Roya, Junglee, Prem Pujari and the recent Rock Dancer. He had also produced Aansoo Ban Gaye Phool in 1969. In 1991, he produced the TV serial Bhim Bhawani, featuring himself and Ashok Kumar.
SC ASKS SUBHASH GHAI TO PAY PENALTY
The Supreme Court on 22nd September asked producer Subhash Ghai to pay an additional Rs. 1 lakh as penalty to the Archaeological Survey of India for damaging the Fatehpur Sikri monument during the shooting of his Pardes there. According to the court, the producer had violated certain conditions of the agreement with the ASI for location shooting inside the monument at Agra. Ghai had already paid Rs. 1 lakh to the ASI.
A bench of Justice S.B. Majmudar and Justice S. Saghir Ahmad passed the direction on a public interest litigation by residents of Fatehpur Sikri, alleging that damage had been done by the film's unit during the shooting. The court said that the additional amount of Rs. 1 lakh would be utilised by the ASI for the upkeep of the monument.
LABOUR STRIKE IN TWO BOMBAY CINEMAS
Regal and Capitol cinemas of Bombay are closed for three days since 26th September following a strike call given by the Bombay Labour Union to which the workers of the two cinemas owe allegiance. The main demand of the workers is for a hike in wages. The cinemas are owned by Sidhwas (Globe Theatres P. Ltd.).
'BORDER' 100 DAYS' PARTY AT RAJKAMAL, AKOLA
A dinner party was hosted on 24th September at Rajkamal cinema, Akola, to mark the 100 days of Border. The cinema owners, Suresh Joharle and Vitthal Rathi, invited the proprietors, managers and staff members of all the cinemas of Akola and the entire Akola trade. The C.P. distributors of Border, B.N. (Laloo) Kabra (Vishwajyoti Films, Bhusawal) and Narendra Agrawal, could not attend the function as they were in Jaipur to attend the annual general meeting of the CCCA. A month's salary as bonus was also distributed to the staff of Rajkamal, Akola as well as to A.V. Gawande, local representative of Vishwajyoti Films, Bhusawal.
Santosh Singh Jain Re-Elected CCCA President
Santosh Singh Jain was re-elected president of the Central Circuit Cine Association for 1997-98 at the first meeting of the newly elected executive committee held on 25th September in Jaipur at Ravindra Manch. Vijay Rathi was re-elected vice president. S.K. Surana and Ramesh Surekha were elected hon. secretary and hon. treasurer respectively.
Earlier in the day, at the elections to the executive committee, a total of 450 votes were polled. Of these, 48 were declared invalid. The following members were declared elected:
C.P. Berar Exhibition: Azad Laddha (polled 373 votes), S.K. Surana (368), Vijay Rathi (340) and Mahendra Jain (312).
C.P. Berar Distribution: The following were declared elected unopposed: Bharat Khajanchi, Ramkisan Kasat, B.N. (Laloo) Kabra and Dilip Mudliar.
C.I. Exhibition: Uttam Nahar (380 votes) and Ramesh Surekha (346).
C.I. Distribution: There was no polling and the following two were declared elected unopposed: Santosh Singh Jain and Vinod Malhotra.
Rajasthan Exhibition: Kishanchand Jain (267) and Mohan Godha (265).
Rajasthan Distribution: Nandkishore Jalani (354) and Mohan Godha (305).
Liyakat Ali was the most notable loser. Having contested in the Rajasthan Exhibition sector, he polled only 153 votes.
All the 16 candidates elected belong to the Santosh Singh Jain panel. Actually, Liyakat Ali was the lone strong opposition candidate, the other candidates in the fray standing bleak chances of winning. Ramdhan Mamoria and Rajendra Mamoria had withdrawn from the battle.
O.P. Goyal, Ramdhan Mamoria and Pramod Munot were co-opted to the executive committee.
Earlier, on 24th September, the CCCA's annual general meeting was held at the same venue — Ravindra Manch — in Jaipur.
Both, the annual general meeting and the elections, were 'cold' affairs. Since there was no opposition worth the name, no heat had been generated this year in the CCCA elections. There was, therefore, a record low turnout for the AGM and elections.
BATTLE OF WORDS BEFORE ELECTIONS
At the luncheon party held on 24th September at Ravindra Manch, there was a heated exchange of words between Rajendra Mamoria and Naraindas Mukhija. The latter had allegedly secured withdrawal letters from Ramdhan Mamoria and Rajendra Mamoria (both opposition candidates) on the pretext that one's letter would be deposited with the CCCA and the other would be taken on Santosh Singh Jain's panel. But both, father and son, were kept out of the panel, which hurt Rajendra no end.
Rajendra blamed Sethji (Naraindas Mukhija) of playing games and resorting to dirty politics for no justifiable reasons. Of course, ultimately, Ramdhan Mamoria was co-opted on the committee on 25th. Maybe, he would not have been co-opted had it not been for the tantrum thrown by son Rajendra.
LUCKY LIYAKAT, UNLUCKY LIYAKAT
Liyakat Ali's defeat in the elections came as quite a shock. More than the defeat, it was the huge margin by which he lost, that shocked the trade.
Just a fortnight back, Liyakat Ali had met with a terrible accident near Bikaner when the brand new Maruti Zen car, in which he was travelling, had a head-on collision with a truck. Although the car was smashed into a thousand pieces, Liyakat and Satyawan Pareek, who was travelling with him, had a Providential escape. This, incidentally, was the third accident Liyakat met with in the last three years.
So while Liyakat was lucky in personal life, he remained unlucky in public life.
WORRIED LOT
The mood at the AGM and elections of the CCCA was anything but upbeat. With films falling like nine pins, distributors and exhibitors were a worried lot. S.K. Surana, distributor and exhibitor of C.P. Berar, lamented that box-office attendance was declining because the benefit of reduction in entertainment tax was not being passed on to cinegoers. Rajasthan distributor and exhibitor O.P. Bansal remarked, "Artificial film prices had to come down to the real level. We will now hear of film prices being reduced at the time of delivery every week."
LUNCH & DINNER
Dinner for the delegates at the CCCA elections on 25th September was hosted by Rajasthan distributor and exhibitor O.P. Bansal. CCCA president Santosh Singh Jain held a lunch party on 26th for a select gathering at his Jaipur residence.
PRODUCTION NEWS
'Banarasi Babu' Complete
With the conclusion of a 5-day stint in Bangalore recently, the entire shooting of Sapna Arts' Banarasi Babu is complete. Govinda, Ramya, Asif Sheikh, Sanam, Shakti Kapoor and stuntmen participated. Directed by David Dhawan for producer Nandu G. Tolani, the film co-stars Bindu and Kader Khan. Writer: Rumi Jafri. Music: Anand Milind.
'Dus' Director Not Finalised So Far
Nitin Manmohan has clarified that no director has as yet been finalised to complete Neha-MAD Film Combines' Dus which was being directed by late Mukul Anand.
YOU ASKED IT
When distributors, due to cut-throat competition, give several lakhs more than the price they originally offer for a film, why do they feel sad to increase a couple of thousands in cinema rentals?
– Perhaps, because they realise that they've paid too high a price for the film and, therefore, want to save as much as possible thereafter.
Why is there no heat in the elections to any trade association this year?
– Trade associations are becoming less and less important in a member's life. Therefore, there's no urge to serve the industry by getting elected to the executive committee of any association.
For a 'hot' film, how much can a producer cover from sale of theatrical rights for the various circuits in terms of percentage of a major circuit?
– Upto 550 to 600% (including Overseas rights and excluding audio rights).
Laughter, The Best Medicine
With Sanjay Gupta not having made it even with Hameshaa, a film about punar-janm (reincarnation), a wag remarked: "Now Sanjay Gupta must take a punar-janm, figuratively speaking, by changing his style of filmmaking if he wants to succeed.
* * *
Raveena Tandon has recovered from brain fever (meningitis). Before that, Neelam had also suffered from brain fever. So we have proof that at least two of our heroines have brains.
* * *
Q: What did Arshad Warsi tell Chandrachur Singh after the debacle of Betaabi?
A: "Chandrachur, tere mere sapne ho gaye chur-chur!"
* * *
After the release of Main Solah Baras Ki, Dev Anand will launch Main Ek Sau Solah Baras Ka. Dev himself will play the central character in the film.
* * *
Q: Why did Mere Sapno Ki Rani not fare well at the box-office?
A: Because the audience felt, Urmila was too heavily covered with clothes.
* * *
Q: Then why did Daud flop?
A: Because the audience felt, Urmila was too scantily dressed.
* * *
Q: Why are two films of David Dhawan (DD) being released together, on 10th October?
A: One film is DD1 and the other is DD Metro!
* * *
Q: Why are all big (cost-wise) films re-edited after release?
A: Because before release, the makers think of only their money spent on filming the scenes and songs. After release, they have to think of the bored public's money.
* * *
Q: What did Rishi Kapoor tell his hero (Akshaye Khanna) and heroine (Aishwarya Rai) in the USA (where he is shooting) after the debacle of …Aur Pyar Ho Gaya and Mohabbat?
A: Aa ab (India) laut chalen!
* * *
Points To Ponder
What happened with the makers of Hameshaa two weeks back and with the producers of Mohabbat last week is suggestive of an emerging trend. We may now hear of more cases of distributors of one or the other circuits pleading inability to take delivery of the film at the contracted price. This is because film prices are false today and they have been so for the past two or three years. Producers made their money in these three years, now it's their turn to panic. To panic because their share of profit has declined, not because they are making a loss. Not as yet, at least.
* * *
It's good that Ishq has been postponed, although the reason why its release has gone ahead by four weeks (from 31st October to 28th November) isn't good. Aamir Khan hurt his leg and hand while shooting for Mela, and since a song, which remains to be picturised for Ishq, would require the participation of Aamir (besides Ajay Devgan, Juhi Chawla and Kajol), the same (song picturisation) has had to be postponed. In a way, it's good because there was too much of a rush on Diwali. There are now four confirmed releases on Diwali, viz. Dil To Pagal Hai, Ghulam-E-Musthafa, Grahan and Bhai. Incidentally, while on the song of Ishq, this same song was to have featured Amitabh Bachchan too. Why, Sudesh Bhosle even imitated Amitabh's voice beautifully in the Mr. Lova song which, by the way, should soon become a hit with the masses.
* * *
Amitabh Bachchan's next release will be K.C. Bokadia's Lal Badshah, Amitabh himself said this, earlier this week in Jaipur when he was chatting with the press which had gone there to cover the films' shooting. His Major Saab, he added, will be released early next year, after Lal Badshah.
* * *
Ram Gopal Varma has changed the leading lady of his new film, Satya. Pardes girl Mahima Chaudhry is out and in her place has come Urmila Matondkar. Don't ask why — it could start a whole new controversy, and the industry has had more than its share of controversies in the last two months.
* * *
Plus Channel had unwelcome visitors on the morning of 26th September. The income-tax department carried out raids on its premises. I'm sure, they must have found Plus in minus.
* * *
The Meri Awaz Suno finals were held last week at a well-organised function at St. Andrews auditorium at Bandra, Bombay. Like last year, two participants — a girl and a boy — were declared winners. This television show, produced by Metavision, kept its promise last year when an audio cassette of the winner (male), Pradeep Somasundaram, was released by HMV recently. A solo cassette of the female winning voice, Sunidhi Chauhan, is due for an early release. Sanjeev Kohli, the active partner in Metavision, deserves praise for arranging an enjoyable evening where the finalists regaled the invited audience. While Annu Kapoor, who has been compering the show for the last two years, makes an excellent host, he must guard against shedding tears in front of the camera. The guy even cried (tears of joy?) in the finals function but, let me tell you, nobody was moved one bit. Hold back your tears, Annu, you are more appealing without them.
* * *
Producers and distributors should do some re-thinking on the topic of releasing films on Thursday in some circuits and on Friday in other circuits. If the public report of a film is poor on Thursday, exhibitors and sub-distributors, who usually wait till Thursday afternoon for making payments to distributors of the circuits in which the film is due for release on Friday, start making excuses. This lands the distributors into trouble. Why not release films on the same day in all the circuits — whether on Thursday or Friday.
– Komal Nahta
3-E
Education-Entertainment-Enlightenment
Two Together
After a fairly long break, producer D. Rama Naidu will now start two Hindi films — the first in January '98. Anil Kapoor has so far been finalised to play the hero in the first venture which will be a remake of the Telugu blockbuster Pavitra Bandham. The heroine is still to be finalised but, to quote Suresh, the dynamic young son of Rama Naidu, "That shouldn't be a problem. It's the kind of role any heroine would yearn to do. We have some heroines in mind and we'll finalise the one who can give us priority dates."
Four-Week Delay For 'Ishq'
Producer Gordhan Tanwani has postponed the release of his Ishq by four weeks. Instead of Diwali, it will now come on 28th November. The reason for the rescheduling is the picturisation of a song which still remains to be done. Aamir Khan has hurt himself and will, therefore, not be able to participate in the picturisaton of that song. Yes, this is the same number in which Amitabh Bachchan was to have featured. But the latest news is that the makers will not be featuring Bachchan in the song which will be picturised on the four lead players — Aamir Khan, Juhi Chawla, Ajay Devgan and Kajol.
Well, actually, this seems to be a bad season for the community of artistes. A few days back, Raveena Tandon was hospitalised. A couple of months back, Rajesh Khanna burnt his legs rather badly in Delhi when a container of boiling hot water fell on them. Khanna had to undergo skin grafting to treat the burns.
Flop? Who Cares?!?
Believe it or not but Chandrachur Singh has no dates to give for at least a year. And the price he is quoting is too phenomenal to be true. This was before the release of Betaabi. After its debacle too, the scene hasn't changed. That's how the film industry functions!
Good Reports
A Bombay distributor recently visited pilgrim place Shirdi. He had undergone some blood tests, the reports of which showed that everything was normal. Said he, "These days, film reports are never good. Therefore, a good blood report is enough reason to visit Shirdi and thank the Lord."
The Bigger Bombs
And to end this column with a joke.
Q: How did Plaza cinema in Bombay survive the bomb blast in 1993?
A: It had screened bigger bombs than the bombs of 1993 — that's how!