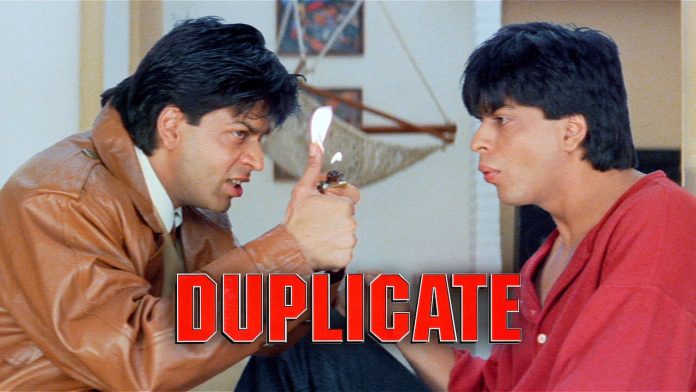 DUPLICATE
Dharma Productions' Duplicate (UA) is a comedy film. It is the story of two guys, not related to each other but who look exactly similar. While one is a simpleton, the other is a crook and a killer. The police is after the killer but they arrest the simpleton twice by mistake. Ultimately, the crook is killed by his own girlfriend. The simpleton also has his girlfriend and the comedy of errors makes the two girls romance with the wrong partners at one point of time.
The film has a number of cute and light moments which make the viewer laugh. But like too much of anything is bad, even too much laughter gets tiring after a while. There's just no romance, not much seriousness in the drama, and the comedy, at times, looks far-fetched too. After a point of time, even the crook and the police begin to behave like comedians. Nevertheless, for the class of audience, which doesn't look for a well-defined story line but can do with good comic punches in its place, the film does afford good entertainment. Of course, some of the jokes are of the type which can be appreciated only by the educated/class/city audience. Climax is weak.
Shah Rukh Khan is splendid. As the simpleton, he shines with a perfect sense of timing and a performance that requires the greatest skill. He is not as good in the role of a crook, though. In fact, there's so much of Shah Rukh in the film that his fans will take it as a feast but too much of Shah Rukh may irritate the ones who aren't crazy about him. Juhi Chawla looks pretty and does a fantastic job. Her sense of comedy, too, is absolutely praiseworthy. Sonali Bendre looks glamorous and acts ably. Farida Jalal is excellent as the simpleton Shah Rukh's mother. Mohnish Bahl is truly restrained and effective. Tiku Talsania lends good light moments. Gulshan Grover leaves a mark. Sharat Saxena, Rana Jung Bahadur, Vishwajeet Pradhan and the rest provide adequate support. Kajol's friendly appearance is too brief to register in the viewer's mind.
Given the comedy subject, direction is very appropriate. But the more discerning audience would have expected a more well-defined story and more variety of masala. Music is below the mark. Although the 'Mere mehboob mere sanam' song is well-tuned, there's no hit number and some of the other songs are slow. However, song picturisations (Farah Khan) are eye-filling, and the foreign locales, on which most of them have been shot, are a treat to watch. Special effects and computer graphics (showing two Shah Rukhs even touching each other) are splendid. Photography is of a very good standard and so are the other technical and production values. Sets are opulent. Action scenes are so-so. Dialogues are very witty at many places.
On the whole, Duplicate will appeal mainly to kids and youngsters but there will be a section of the audience which will find so much comedy too difficult to digest. At best, it will remain a city fare which will do well in 'A' class centres, especially in Bombay, Maharashtra and South.
Released on 8-5-'98 at Liberty and 20 other cinemas of Bombay thru Modern Movies. Publicity: excellent. Opening: very good. …….Also released all over. Opening was a little below the mark in Delhi, C.P. and C.I. 1st day Jaipur 2,39,670/- from 4 cinemas.
LATEST POSITION
It was a normal week. However, collections were adversely affected at several places on 7th due to Mohurram. On the other hand, collections were good on 1st May owing to Labour Day holiday.
Aunty No. 1 did well in the first 4-5 days but once the decline in collections started thereafter, it dropped rather badly. 1st week Bombay 33,19,247 (64.68%) from 13 cinemas (7 on F.H.); Ahmedabad 4,42,138 from 5 cinemas (1 unrecd.), Rajkot 73,957 from 2 cinemas (1 in matinee), Jamnagar (matinee) 14,242 (1 in regular unrecd.); Pune 8,47,510 from 5 cinemas, Kolhapur 1,63,514, Solapur 1,33,598; Hubli 1,29,986, Belgaum 1,37,645; Delhi 29,31,904 (59.59%) from 10 cinemas (1 on F.H., 1 unrecd.); Kanpur 2,81,136 from 2 cinemas, Lucknow 1,75,772, Bareilly 91,266 (42.25%); Amritsar 52,156; Calcutta 14,06,880 from 14 cinemas; Nagpur 5,92,665 from 4 cinemas, Jabalpur 1,18,453, Amravati 1,43,102, Akola 1,06,615, Dhule 1,06,013, Raipur 1,57,181 (57.91%), Jalgaon 1,39,395, Chandrapur 1,17,300; Indore 2,95,161 from 2 cinemas (4 on F.H.), Bhopal 2,71,565 from 2 cinemas; Jaipur 7,61,508 from 4 cinemas; Hyderabad 20,85,007 from 11 cinemas.
Salaakhen crashed further in 2nd week. 2nd week Bombay 23,21,905 (61.11%) from 10 cinemas (9 on F.H.); Ahmedabad 58,227 (2 unrecd.), Rajkot 1,06,750, Jamnagar 59,390; Pune 5,38,516 from 5 cinemas, Kolhapur 1,06,000, Solapur 1,51,348; Delhi 13,66,374 from 8 cinemas (2 on F.H.); Kanpur 2,04,015 from 2 cinemas, Lucknow 2,13,330, Bareilly 51,834 (23.20%), Hardwar 42,000; Calcutta 6,15,698 from 6 cinemas; Nagpur 1,33,162, Jabalpur 1,48,345, total 3,80,406, Amravati 1,34,963, total 3,80,922, Akola 80,042, total 2,86,017, Raipur 81,870, Jalgaon 1,13,442, Chandrapur 83,604, total 2,73,101; Indore 1,27,000, Bhopal 1,63,616 from 2 cinemas; Jaipur 2,90,129 from 2 cinemas; Hyderabad 6,35,522 from 3 cinemas (1 in noon, 1 on F.H.); 1st week Vijayawada 1,93,186.
Pyaar Kiya To Darna Kya 6th week Bombay 10,33,977 (46.11%) from 6 cinemas (9 on F.H.); Ahmedabad 1,07,828, Rajkot 59,611, Jamnagar 32,845, total 4,59,548; Pune 4,27,174 from 4 cinemas (1 in matinee), Kolhapur 77,600, Solapur (14 shows) 1,13,947; Delhi 5,21,013 from 4 cinemas (1 on F.H.); Kanpur 1,26,520, Lucknow 2,28,042, Bareilly 42,153 (18.73%); Nagpur 1,80,167 from 2 cinemas, Jabalpur 80,696, total 8,38,749, Amravati 1,03,304, Akola 90,037, total 7,29,000, share 5,48,026, Raipur 82,904, Wardha 45,868, Chandrapur 63,184; Bhopal (6 days) 1,29,993; Jaipur 2,04,027; Hyderabad 5,32,194 from 3 cinemas (2 in noon).
_______
Chhota Chetan (partly dubbed, revived, 3-D) 3rd week Bombay (TF) 21,32,004 (100%) from 3 cinemas; Ahmedabad 1,81,483, Rajkot 1,32,742; Pune (TF) 4,05,411, 1st week Kolhapur (TF, 6 days) 1,49,772, Solapur (TF) 1,85,193; 3rd week Delhi 9,14,840 from 2 cinemas; 2nd week Kanpur 62,871.
_______
Lakhtar Ni Laadi Ne Vilayat No Var (Gujarati, TF) 1st week Ahmedabad 2,22,791 from 4 cinemas (2 unrecd.), dull.
Shandhyug (Marathi, TF) 1st week Bombay 1,57,848 (36.01%) from 3 cinemas.
Tu Tithe Mee (Marathi, TF) 2nd week Bombay (matinee) 90,133 (65.54%).
Jeans (Tamil) is steady in Tamil Nadu and collected very well in 2nd week.
Jeans (Telugu) 2nd week Hubli 98,365, Dharwad 37,914 (1st 69,387); 1st week Tenali 1,40,750, Ongole 1,73,800, 2 week's total from Vijayawada 8,84,461 from 3 cinemas, Machilipatnam 1,98,854.
Titanic (English) 9th week Bombay 38,70,042 (84%) from 8 cinemas; 2nd week Ahmedabad (14 shows) 2,94,204 (1 unrecd.); 8th week Delhi 14,38,640 from 3 cinemas; 2nd week Lucknow 2,80,434; 9th week Calcutta 3,50,210; 1st Nagpur 2,37,300 (100%); 8 weeks' total at Vijayawada 26,37,140.
NEW MINI CINEMA OPENS IN BOMBAY
A new luxurious cinema house, Movie Time, opened on 8th May at Malad (West) in Bombay with Duplicate in two shows and Titanic in two. Situated at Jagdamba Complex, Kanchpada, the 330-seater has a beautiful exterior as well as interior and is equipped with imported Christie projectors, Xenon illuminator, QSC Dolby digital amplifier and 12 JBL speakers of 800 watts each. The seats are cushioned and comfortable and are fitted with cup-holders. There is only one class in the cinema.
Admission rate is Rs. 70. The capacity per show is Rs. 14,231.25, and the capacity for 28 shows is Rs. 3,98,475. Telephone nos.: 880-4022/4023/2164.
For booking tickets in advance, arrangements for telefax system upto Lokhandwala Complex and online booking on internet have been made.
Movie Time is owned by Lalit Kapur.
KOTA COURT DIRECTS SHAH RUKH, JUHI TO APPEAR ON MAY 21
Shah Rukh Khan, Juhi Chawla and the story writer, director and producer of Ram-Jaane have been directed to appear in the court of the senior chief magistrate (1), Kota, Brijmohan Bansal, on May 21. The order was issued by the magistrate, rejecting Shah Rukh's appeal to dismiss the case filed against him in 1997. The case was filed by pleaders of Kota — Mohammed Akram, Meghraj Singh Shaktawat, Kailash Bamania, Satyanarain Dhaman, Satyanarain Goel and others — objecting to the derogatory remarks against the pleaders in Ram-Jaane. Earlier, on an appeal by the defendants, the Jaipur high court had directed them to file their objections in the court of the magistrate, which was ultimately rejected by the magistrate.
Even Shah Rukh Khan Is Incomplete Without Hit Music
Everyone in the trade had expected Duplicate to take a bumper opening. It had Shah Rukh Khan, after all. And Shah Rukh had DTPH and Pardes behind him.
However, the opening of Duplicate on Thursday/Friday was anything but bumper. At places, it was good or very good, at other places, it was not even good.
What went wrong? Well, nothing actually. The only wrong thing was the industry's assumption that Duplicate would command a fantastic initial. What the industry got taken in by was the presence of Shah Rukh and the excellent publicity. But what the industry forgot was that Duplicate did not have hit music. What it also forgot was that even Shah Rukh Khan must have the advantage of hit music to command an initial draw.
The music of Pardes became a rage only after the film was released. Therefore, despite the presence of Shah Rukh Khan and the name of Subhash Ghai, it didn't open to bumper houses at many places. On the other hand, Shah Rukh's DTPH and Koyla boasted of hit music, and both the films, therefore, recorded phenomenal opening day collections.
So, it is a fallacy to think that Shah Rukh alone is enough for a bumper initial draw. What is needed is Shah Rukh Khan plus hit songs. Without the latter, you can definitely hope for a decent opening but not a crazy opening.
Telephone Calls For Trustworthy Confirmation
Our office telephones rang endlessly yesterday (Friday, 8th May). Not as much for the reports of Duplicate, as for knowing which of Hitler and Mard would make it to the cinemas on 15th May, that is, next week. The reason for the hundreds of calls was the uncertainty over the release of Hitler and Mard. Both these films were scheduled to be seen by the censors on the same day (8th May). At around 2.30 p.m., news poured in that Hitler had not only been seen by censors in Madras but had also been cleared for universal exhibition. The other bit of news was that Mard would not be seen by the censors that day.
Desperate distributors and exhibitors all over India wanted to know the correct position from us. While it was certain in the afternoon that Hitler had won the race to the box-office over Mard, by 4 p.m., there was a rumour that Mard was also being seen by the censors in Madras. This brought the film back in the race. Matters became more complex because many exhibitors had booked both the films, assuming that they wouldn't be released simultaneously. While distributors of both the films in almost every circuit claimed that it was their film which would come, and not the other, exhibitors didn't know whom to believe and whom not.
Why, producer K.C. Bokadia, stationed in Madras, made it a point to himself telephone all his distributors and inform that Hitler had been censored and would be released on 15th. In the meantime, by the evening of Friday, it was clear that Mard had not been seen by the censors, as rumoured.
As one rumour led to another, the level of desperation of distributors and exhibitors went up. This became evident to us when we began to receive the strangest of all requests. Like this distributor of Mard, who literally pleaded with us to do anything within our powers, but to get Mard released first! "Aap kuchh bhi kijiye, lekin Mard ko 15th ko le aaiye!", the distraught distributor said.
But no, Mard will now be seen by the Madras regional office of the CBFC on 12th May. The released date will be finalised only thereafter. It could be 22nd or 29th May or even 5th June.
YOU ASKED IT
When Chhota Chetan, in its 3-D version, is doing well in its repeat-run too, why did the 3-D technology not catch on in India?
– Because of the headache involved in distributing 3-D spectacles to cine goers. Literally also, the wearer of 3-D spectacles complains of a headache after a while!

When did the levy of entertainment tax on films begin in India?
– The first tax was levied in 1922 in Bengal, followed by Bombay in 1923. The rate was 12½%.

What is more important for a film — a hit star or hit music?
– Both are equally important for ensuring a bumper opening.

CENSOR NEWS
Varma Corporation Ltd.'s Satya was given C.C. No. CIL/3/22/98 (A) dt. 5-5-'98; length 5017.14 metres in 17 reels (cuts: 10.96 metres).
Jeans Productions' Jeans (dubbed), seen on 8th in Madras, has been issued C.C. No. CIL/1/0422/98 (U) 8-5-'98; length 4746.38 metres in 16 reels (no cut).
B.M.B. Productions' Hitler, seen on 8th in Madras, has been passed with U certificate, without cut.
Roopvati Pictures' Mard and Makewell Films International's Hatyara will be seen on 12th in Madras.
P.M. Films' Sar Utha Ke Jiyo has been offered A certificate, with cuts.
Deepak Arts' Iski Topi Uske Sarr has been offered UA certificate, with cuts.
Samna International's Zanjeer – The Chain has been offered A certificate, with cuts.
Tips Films P. Ltd.'s Jab Pyaar Kisise Hota Hai (length 4633.26 metres in 16 reels), applied on 6th and seen on 8th, has been reportedly okayed.
Pooja Bhatt Productions' Dushman (length 4262.93 metres in 15 reels) was applied on 8th.
IN & OUT OF BOMBAY
Mr. Vinay Choksey of VIP Enterprises, Bombay, is expected back from Australia after two weeks.
Mr. Ramdhan Mamoria of Shreedhan Enterprises, Jaipur, and Mr. Kishanchand Jain of Rekha Films, Jaipur, are at Hotel Neelkanth (649-5566/7/8).
Mr. Ajay Chudasama of Rajshri Cinema, Gandhinagar, left for Gandhinagar this morning (9th May).
Mr. Mohan Kasat of Mohan Chitra, Amravati, is in town.
Mr. Ravi Machhar of Sahyog Films, Hyderabad and Abhinay Cinema, Aurangabad, is in town.
Producer Mahendra Dhariwal will leave for Ooty on 10th for the shooting of his DADA and will stay at Hotel Monarch (44408).
DO YOU KNOW?
* Rival exhibitors of Baroda don't seem to be too happy with the good collections at Sagar cinema, Baroda. Perhaps, that is why every time a new film is due for release at Sagar, either a rival exhibitor puts some legal or other hurdle in the way or ensures that the print to Sagar reaches late. One or the other problem cropped up at the time of release of ZIDDI, DEEWANA MASTANA, PKTDK. On 8th May, when DUPLICATE was due to open at Sagar, a rival cinema served Sagar a show cause notice and tried to obtain a stay on the film's release. But the court dismissed the case, and the film opened to full houses in 5 shows!
* Producer-director Ratan Irani is shooting his MERE APNE in Kashmir. It is after nine years that a film unit is shooting there. A lot of film shootings used to be done in Kashmir till 1989 when militancy started there. After that, there was shooting in Kashmir but of a different kind. 
BOOM TIME IN GUJARATI INDUSTRY
* One Gujarati blockbuster, DESH RE JOYA DADA PARDESH JOYA, has given such a boost to the Gujarati film industry that there are about a dozen films either in the making or in the planning. These include films of Mundra brothers, Bhavchand Patel, Rambhai Bhimani, Dablabhai Tanna, Ashok Patel, Govindbhai Patel, Atul Rawal, S.J. Talukdaar, Rajendra Butala, Amar Kumar Jadeja etc. And the most-in-demand hero and heroine are Hiten Kumar and Roma Manik. Incidentally, DRJDPJ is expected to do a business of 10 crore!
3-E
Education-Entertainment-Enlightenment
Despondent Exhibitors
Despite the regular flow of releases, exhibitors all over the country are panicking. Reason: no film is sustaining at the box-office. In the first four months of 1998, Pyaar Kiya To Darna Kya is the only film which has done great business. No other film has so far really made any impressive mark at the box-office. Rather, some releases have put exhibitors to horrifying losses. Like, for instance, Salaakhen. It nose-dived in the second week and collected 50% of the first week's collection or even lesser! Exhibitors, who had booked the action film on fancy terms, are still rubbing their eyes in disbelief. For, they stand to lose heavily, very heavily. With films falling like nine pins, exhibitors (and even distributors) are looking up to the heavens. For, it seems, only God can help this industry. Did you say, even God cannot?
'Hitler' Wins The Release Race
The race between the three Mithun starrers — Hitler, Mard and Hatyara — has finally been put to an end by the Central Board of Film Certification. While K.C. Bokadia's Hitler was censored in Madras on 8th May, Surendra Bohra's Mard could not be seen that day by the Madras regional office. Obviously, therefore, Hitler will hit the screens next week, while Mard will come later. Mahendra Dhariwal, the producer of Hatyara, had earlier last week decided on postponing his film by some weeks. Incidentally, all the three producers of the Mithun-starrers — Bokadia, Bohra and Dhariwal — hail from Rajasthan. While Bokadia is from Merta, Bohra and Dhariwal are from Jodhpur.
Professional Low
It's a strange coincidence that whenever producer Sajid Nadiadwala starts a film, his director is, at that time, passing through a low in his profession. His Judwaa, directed by David Dhawan, went before the cameras on the day Yaraana, also directed by David Dhawan, was released and declared a loser. His Jeet (Raj Kanwar) had barely started than Kartavya, directed by Raj Kanwar, bombed. Now, Sajid will shortly start the Hindi remake of the Malayalam hit, Chandralekha, with Priyadarsan whose last two films (Saat Rang Ke Sapne and Kabhi Na Kabhi) have bombed. The remake will star Anil Kapoor, Tabu and Mahima Chaudhry.
Mithun's Mantra — More The Merrier?
While there is an increasing breed of stars who prefer doing fewer films at a time, Mithun Chakraborty seems to tread a different path. He remains, so far, the star with the most number of releases in 1998. The year is only in its fifth month and already, six Mithun-starrers have seen release. These are Sher-E-Hindustan, Saazish, Military Raaj, Chandaal, Ustadon Ke Ustad and Gudia. While the next few weeks await the release of his Hitler, Mard and Hatyara (all ready for release), another lot of Mithun-starrers like Goondagiri, Sikandar Sadak Ka and Do Numri are being readied for release in the coming two months. Moreover, it is certain that Mithun's Devta, Sabse Badhkar Kaun, Yamraaj and at least five or six of his other under-production films may be completed in time for release this year. Thus, if all goes well, Mithun's tally of 1998 releases will add up to a whopping 15 or even 20 films! Among his other under-production films are Mafia Raaj, Aag Hi Aaag, Agni Putra, Arjun Raaj, Jaan Ki Bazi, Jwar Bhata, Phandebaaz, Balram, Sautela, Waqt Ka Faisla, Warrant, Dada, Love Station, Deepak Pawar's Prod. No. 1, Sipahi Hindustan Ka and Balidaan. Well, didn't we say, more the merrier?
Incidentally, South films' hero, Prem Nazir, perhaps, holds the record for the maximum number of releases in a single year. He had — hold your breath — 39 releases in 1979! Prem Nazir may also be the hero with the maximum films to his credit. He has acted in 450 films.
INFORMATION MEETS
"Satya can make an intellectual mind think but it also has the substance to shock the masses."
– RAMGOPAL VARMA
KOMAL NAHTA
That Ramgopal Varma has an eye for technical brilliance was evident in his very first film, Shiva. Of the ten Telugu and Hindi films which followed Shiva, some clicked and some bombed, but they were all technically far superior than many other films of their times. Ramu, as Ramgopal is affectionately called, has surpassed all his technical brilliance, in his latest film, Satya. We recently had an occasion to see the stark Satya which deals with the Bombay underworld — how it functions, the personal lives of gangsters, their humane side. The film is so realistic (it even has four-letter words being mouthed by the characters) that it leaves the viewer shocked; for the thinking mind, it provides good food for thought. Its principal artistes — Chakravorty, Urmila Matondkar and Majoj Bajpai — have performed so wonderfully that you can't help singing their praises. Satya also boasts of excellent sound effects, of the kind not heard earlier in Hindi films. All said, it definitely leaves you with a hangover. Our hangover prompted us to sit with Ramu and get him to talk more on Satya. The engineer-turned-filmmaker answered all the questions except the one about, what we think, is too heavy a price fixed for the film ("that's Bharatbhai Shah's department," he laughed), in an informal chat a little before his departure for Panvel (near Bombay) for the shooting of his next film.

What was the inspiration to make a film like SATYA?
– I was toying with the idea of making an action film, something like my first film, Shiva, but on a much larger scale, when I happened to meet a gangster. When I interacted with him, I was touched by the human element of a guy from the underworld. I discovered that we generally tend to treat them as gangsters and nothing more than that, but when you interact with them, they too come across as human beings. One is horrified when one reads headlines in newspapers about underworld dons and gangsters being shot dead or shooting others dead, but when the human element of these gangsters comes in, the whole perspective changes. You then start looking at these people as human beings. My film, Satya, is more about the psychology of gangsters, it tackles the human side of the strata which society shuns and is terrified of.
Having made the film, how far do you think, you've succeeded in striking a balance between commercial and good cinema?
– The clichéd definition of good or art cinema is that the narration should be very slow and that it appeals to the thinking mind. Whereas, commercial cinema is something which appeals to instinct rather than intelligence. I would say, in a commercial film, you try to give the audience what it wants. What does the audience want? Violence, sex, fear and emotions. These four ingredients in a film are bound to affect the cine goer, whether he is in Hollywood or Bollywood. In Hollywood, the line between commercial and good cinema has been removed. A film like Godfather offers a lot to the viewer to think about (like an art film would) but it also has the capacity to move him emotionally (like a commercial film would). Satya, too, can make an intellectual mind think, maybe raise an issue, but it also has the substance to shock the masses. They (masses) would feel for the characters even if they may not understand the intricate details and the film in its whole context. What I've basically done is to take the characters and locations on the realistic level and give the film a very real look but I've given it the pace of a mainstream cinema film. I've used the background score to dramatise the whole thing. The background music, sound effects and the cutting (editing) style are all of the kind used in commercial films. Art filmmakers have a very detatched way of showing things because of which the audience doesn't feel involved.
How real have you tried to keep the characters of your story?

– As real as possible. I heard a lot of real-life incidents before beginning to shoot. But here I must add that a lot of credit for the realistic characters goes to my actors. For instance, Manoj Bajpai looks like a real gangster in the film. But I cannot deny that we also definitely had role models before us.
Except for Urmila Matondkar, there aren't really well-known faces in the film. Why only Urmila among so many fresh faces? Or alternatively, why aren't there other equally well-known actors, like Urmila?

– Right from the beginning, I had wanted to cast only new faces in the roles of gangsters. Had I shown known faces, it would have acted against the film's authenticity. I also thought that if I would not include a love angle in the story, it may start looking like a documentary on the underworld, which my film isn't. On the other hand, since the film basically deals with the underworld, I did not want to devote too much time to the love story. Since Urmila is the one in love with my hero, I could say a lot without giving too much footage to the love track. Besides, Urmila's is the only character which is not from the police force or from the underworld, where I've used lesser known or new faces.
This brings me to my next question. Why was Mahima Chaudhry replaced by Urmila?

– When I signed Mahima for the heroine's role, my script wasn't complete. Once it was more defined, I realised that I needed a more established heroine. So, I wrote a letter to Mahima, explaining her the actual position and situation and informing her that I would want to replace her. Mahima wrote back to me to say that she, too, was not interested in doing my film.
How did you think of using four-letter words at so many places in your dialogues? Were you not scared of the censors or….

– …..Did I have an advance understanding with the censors, do you mean?
No, no, what I mean is, did you shoot with alternative dialogues too?

– No, I didn't shoot the scenes with alternative dialogues. Right from the beginning, I and all the persons involved with the film were convinced that we were making an honest film. The four-letter words, used by the characters who mouth them, are a part of the language of such characters in real life. They (swear words) were never included to titillate the viewer. We were sure, our sincerity would be appreciated by the censors, and that's what has happened. The censors have passed most of the four-letter words.
Where you somewhere driven by the fact that Shekhar Kapur got away with four-letter words in BANDIT QUEEN?

– I wouldn't deny that this fact did cross my mind. I'm sure, Bandit Queen has influenced me as far as the four-letter words go, because I was also making a genuine film like Bandit Queen.
Who do you think is your target audience for the film?

– I sincerely feel, Satya will appeal to all. Its intellectual content may appeal only to the intelligentsia but its emotional appeal will be universal. I wouldn't call it just an action film. It is also about what prompts the gangsters to take to action. In a film like Ardh Satya, there was a curiosity among the general public to know how the police functions. Satya takes a close look into the lives of gangsters. So the people will be curious to know about the functioning of the underworld, which they will be able to see in my film. Moreover, the love story in the film makes it one of universal appeal.
Notwithstanding the four-letter words?

– Yes, in spite of the four-letter words, the film has universal appeal.
What special care did you take for the fantastic sound effects in the film?

– We worked a great deal on the sound. I give a lot of credit for the excellent sound effects to Media Artistes. Shridhar and his team at Media Artistes have done a splendid job. Most of the sound effects in the film have been recorded specially for it, we haven't used stock sound. Because the film is so realistic, the impact of sound gets enhanced. That is why the sound also looks so real in the film. We worked for a whole three months on the sound.
After taking so much pain on the sound, don't you feel frustrated that many cinemas in smaller places do not have even reasonable sound facilities, what to talk of modern sound?

– Yes, it is frustrating, but that cannot be the reason for not working on sound. In our industry, people adopt new things, only after somebody tries it and proves successful. Like, Dolby sound became popular after Rangeela and DDLJ. If Satya becomes successful, more producers will insist on the sound effects of Satya. Without change, there can be no progress in any field.
Aren't you scared of inviting the wrath of the underworld once your film hits the screens?

– No. I've neither glorified nor demeaned the underworld and so, I don't think anybody should be angry after seeing the film. My effort is to make the underworld guys look inside themselves.
Did you have to show your film to the police?

– Not at all. The film doesn't side with anybody — neither the underworld nor the police.
What is your next film?

– My new film will be a suspense thriller starring Manoj Bajpai and Urmila Matondkar. It is about a psychopath killer and a woman who is alone at home. The entire film has only two characters. It isn't titled as yet. I'm planning to complete it in one schedule of less than a month. Mukesh Udeshi is presenting it.