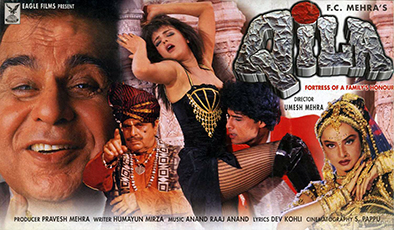 QILA
Eagle Films' Qila (A) is a murder mystery in which a judge, who is the head of a family, suspects that one of his own family members has committed the crime. The person murdered is his own brother who is a tyrant, debauch and cruel thakur. The tyrant has rejected his wife and son. He has also raped a danseuse who then gives birth to a child born due to the rape. The judge not only comes to know the truth about the murder but also saves the family honour by shielding the murderer in court, but only after resigning from the judge's post and becoming a defence lawyer. His sole aim is to keep the hitherto fragmented family together.
The first half is generally quite interesting but it does have some dull moments. The characters take too long to be introduced and their introductions take a while to seep inside the mind. The second half is quite dull because the courtroom drama is devoid of the fire it should have had. The revelation of the murderer comes slowly and by the time the complete identity has been revealed, the audience has either guessed the name or otherwise lost interest in knowing who is behind the murder. Besides, the retired judge does not use his skill to unearth the mystery, he uses it only to get justice (though poetic) to the murderer by withholding the truth from the court. Another minus point is that most of the characters in the film are subdued and suppressed.
Dilip Kumar is quite good as the judge first and lawyer later. But in the double role of a villain, he doesn't impress one bit. Dilip Kumar also looks tired and his dialogue delivery does not have the fire of yore. Rekha does a fine job. Mukul Dev gives a good show of his talent. He is natural in most of the dramatic and emotional scenes and also dances well. Mamta Kulkarni has thankfully improved  on her dialogue delivery and now doesn't rush like a speeding train. She has performed quite well. Smita Jayakar is effective. Gulshan Grover does an able job. Kunika is very good as Gulshan's wife. Malay Chakravarty is quite effective. Satish Kaushik's comedy is not up to the mark. Shahbaaz Khan, Avtar Gill, Umesh Shukla, master Sahil, Rajeshwari and Pramod Moutho lend the desired support.
Umesh Mehra's direction is good at places but falls short of expectations at other places. He has especially not been able to handle the complex second half of the drama effectively. The film's pace is terribly slow at places. Dialogues, which are a strong point in Dilip Kumar starrers, are ordinary for a major part of the film. Two songs — 'Wah bhai wah' and 'Kurte ki bahiyan ko' — are well-tuned and also effectively picturised. 'Prem hai Radha' and 'Malika hai tu', on the other hand, are dull songs. Action is routine. Camerawork is okay. Other technical values are fair.
On the whole, Qila lacks in merits. Besides, it does not have popular stars of today and has, therefore, taken a shockingly slow start. It will entail heavy losses to its distributors.
Released on 10-4-'98 at Minerva and 20 other cinemas of Bombay thru V.I.P. Enterprises. Publicity: good. Opening: dull. …….Also released all over. Opening was below the mark everywhere. 1st day Jaipur about 1,40,435/- against a capacity of 2,01,397/- (70%, good in Raj Mandir, dull in other cinemas), Ajmer about 70%.
KEEMAT
United Seven Creations' Keemat (UA) is about two young orphan boys who are good for nothing and who dream of making it big one day. One idea in this direction, which occurs to them, is to hook a rich girl and get married to her. One of them succeeds in wooing a girl but, contrary to their belief, she is not a millionairess but rather a small-time thief like both of them. During one of their many pick-pocket episodes, they get involved indirectly in a murder when the lad, whose pocket they've picked, is knocked down by a van while he is chasing them. They learn that the boy was on his way to his village and he was carrying cash with him, which was of utmost importance to his family in the village. As a token of repentance, the two boys go to the village to hand over the money they've found, to the deceased lad's family. They do not tell the family members anything about the accident. By the by, they endear themselves to the family and the as-yet-single boy also falls in love with a village belle. To their surprise, they realise that a scheming industrialist is out to vacate all the villagers from the village in order to set up industries there. The two good-for-nothing guys then vow to rescue the villagers from the clutches of the evil industrialist.
The story is a mix of Sholay and Dushmun but is a poor cousin of both these films. Screenplay is ordinary but what really saves the film from falling flat on its face are the witty dialogues (by Madan Joshi). Actually, the film loses its charm once the focus shifts to the village because from that point, not only are most of the incidents predictable, but the drama is also drab.
Akshay Kumar looks handsome (with short hair), acts very well and shines in action scenes. Some of his fights are lovely. Saif Ali Khan is really cute and he too entertains ably. Raveena Tandon looks pretty and performs sincerely and with conviction. Sonali Bendre has hardly any scope. She is average. Dalip Tahhil does a fair job. Anupam Kher is good. Moushumi Chatterjee is efficient in a small role. Johny Lever lends some hilarious moments. Avtar Gill, Kiran Zaveri, Sheetal Suvarna, Ravi Kishan, Chhotu Dada and Mukesh Khanna (in a guest role) provide adequate support.
Direction is average. No attempt is made by director Sameer Malkan to give something new to the viewer. Rajesh Roshan's music is an asset. 'De diya dil piya', 'Koi nahin tere jaisa' and 'O mere chhaila' are good songs, and the picturisation of the first-named number is superbly sensuous and eye-catching. The 'O mere chhaila' number is also very well picturised. Action scenes lend good thrill and have been effectively composed. Camerawork is of a good standard and so are the other technical values.
On the whole, Keemat has some truly good moments but not a matching script and, considering its price, will not find the going very smooth.
Released on 10-4-'98 at Maratha Mandir and 16 other cinemas of Bombay thru Shringar Films. Publicity: good. Opening: very good. …….Also released all over. Opening was good at most of the places. 1st day Jaipur about 1,71,500/- from 5 cinemas (all in 5 shows), fair.
LATEST POSITION
PYAAR KIYA TO DARNA KYA is continuing its victory march everywhere.
Aakrosh has not been appreciated. 1st week Bombay 27,41,852 (52%) from 17 cinemas (9 on F.H.); Ahmedabad 4,47,978 from 6 cinemas, Bharuch (gross) 2,31,846, Rajkot 1,75,890 from 2 cinemas, Jamnagar 1,23,234; Pune 5,78,335 from 6 cinemas (1 in matinee), Kolhapur 1,34,434, Solapur 2,44,057 (58.44%) from 3 cinemas (1 in matinee); Hubli 57,819, Belgaum 1,37,318; Delhi 18,26,329 (35.40%) from 11 cinemas (1 unrecd., 2 on F.H.); Kanpur 1,68,252 from 2 cinemas, Lucknow 1,28,031, Dehradun 85,000, Hardwar 44,947; Calcutta 4,41,129 from 2 cinemas (did poor at other cinemas); Nagpur 3,12,971 from 4 cinemas, Akola 79,748, Raipur 56,668 (22.50%), Bilaspur 67,404; Bhopal 1,69,703 from 3 cinemas; Jaipur 3,93,614 from 4 cinemas; Hyderabad 16,52,716 from 13 cinemas.
Deewana Hoon Pagal Nahi is terribly poor. 1st week Delhi 66,812 (35.33%, 1 cinema discontinued the film after a day's run); Lucknow (4 days) 10,714; Calcutta (6 days) 1,82,337 from 7 cinemas.
Pyasi Chudail (dubbed) 1st week Delhi 4,47,777 (50.14%) from 3 cinemas; Lucknow 89,016; Nagpur 79,244 from 2 cinemas, Akola 51,046, Raipur 24,881; Hyderabad (noon) 32,713.
The Blue Lagoon (dubbed) is also poor. 1 week Bombay 12,500 (25.55%, 1 cinema was on F.H.).
Pyaar Kiya To Darna Kya is doing fantastic in Bombay, Delhi-U.P., C.P., C.I. and Nizam. 2nd week Bombay 47,12,601 (87.09%) from 12 cinemas (8 on F.H.); Ahmedabad 4,63,024 from 3 cinemas (2 unrecd.), Rajkot 1,84,187 from 2 cinemas (1 in matinee), Jamnagar 1,18,851; Pune 9,36,139 from 4 cinemas, Kolhapur 1,98,000, Solapur (14 shows) 1,40,110 (95.71%); Belgaum 1,13,629; Delhi 41,90,001 from 11 cinemas (1 on F.H.); Kanpur 3,58,141 from 2 cinemas, Lucknow 4,00,107, Bareilly 1,49,189 (66.28%), Dehradun 1,78,500, Hardwar 60,292 (1st 83,286); Calcutta (6 days) 14,06,645 from 12 cinemas (1 in noon); Nagpur 4,60,083 from 4 cinemas, Akola 1,38,093, total 2,95,245, Raipur 1,61,704, Durg 1,06,775, Chandrapur 1,42,353, total 3,35,357; Bhopal 3,82,706 from 2 cinemas; Jaipur 4,80,938 from 2 cinemas, Bikaner 2,05,260; Hyderabad 15,16,612 from 7 cinemas (2 in noon).
Yugpurush 2nd week Bombay 9,25,100 (34.61%) from 6 cinemas (4 on F.H.); Ahmedabad 83,738 from 2 cinemas; Pune 3,22,082 from 4 cinemas, Solapur 44,070; Hubli 83,418, Belgaum 76,817; Delhi 2,18,360 (1 on F.H.); Kanpur 64,340 from 2 cinemas, Lucknow 89,898, Bareilly 26,399 (11.81%), Dehradun 51,000; Calcutta 1,50,280; Nagpur 87,490 from 2 cinemas, Akola 42,214, Raipur 41,401, Wardha (6 days) 20,234, Bilaspur (6 days) 37,164; Indore 65,427, Bhopal 65,120 from 2 cinemas; Jaipur 1,13,108; Hyderabad 1,06,745.
_______
Desh Re Joya Dada Pardesh Joya (Gujarati, TF) is absolutely mind-boggling. 13th week Ahmedabad 5,03,672 from 4 cinemas, 3rd week Idar 79,432, Asodar 64,700, Himmatnagar 1,22,141, Kadi 1,31,870, 11th week Jamnagar 1,59,026, 13th week Rajkot 1,90,000. Opened this week in Bombay city & suburbs to ordinary houses.
_______
Titanic (English) 5th week Bombay 16,46,148 (100%) from 2 cinemas; 4th week Delhi 21,78,341 from 3 cinemas; Calcutta 3,50,210; Vijayawada 3,53,318 (100%), Visakhapatnam 3,57,177 (100%). Extraordinary.
NATRAJ STUDIOS TO CLOSE DOWN
Natraj Studios will soon be demolished. This studio at Andheri (East) in Bombay also houses several production offices and a preview theatre, besides shooting floors.
FILMS ON OUTRIGHT OR ADVANCE BASIS ONLY: C.I. DISTRIBUTORS
Films must be acquired for distribution either on outright basis or advance basis only. This and several other decisions were taken at a meeting of Indore (C.I.) distributors on 8th April at Film Bhawan, Indore. All the decisions taken at the said meeting will be considered and discussed at the meeting of the executive committee of the CCCA, being held in Jaipur today (11th April).
Ramesh Surekha, Vinod Malhotra, Uttam Nahar, O.P. Goyal, Anil Rathi, Jitendra Jain, Harish Janiani, Vedprakash Mendiratta, Aditya Chowksey, Jagdish Advani, Yogesh Syal, Sunil Chowdhary, Jagdish Sharma and Satyanarayan Gupta were the distributors present at the Indore meeting, besides CCCA secretary C.V. Kavisher.
The other decisions taken at the meeting were: (a) no producer should assign the satellite rights of his film to CVO as telecast of films on the said channel very adversely affects business of distributors; (b) producers should be restrained from levying unwanted charges such as dupe charges, DTS charges etc., on the distributor at the time of release, that too using coercive methods; (c) the ratio for C.I. should not be more than 20% of a major circuit as the business potentiality is not more than that.
LAXMI KANT BERDE'S WIFE DEAD
Actress Ruhi, wife of comedian Laxmi Kant Berde, expired on 5th April at 11 a.m. at Lilavati Hospital, Bandra, Bombay, due to brain haemmorhage. She was 49. Ruhi had acted in a number of Hindi and Marathi films as also in Marathi stage-plays. She had been hospitalised nine days before the end came.
Ruhi was cremated the same day at the Oshiwara crematorium. Her funeral was largely attended by persons from the Marathi and Hindi film industry. Among the Marathi films she had acted in were Ovalte, Bhauraya, Pandu Hawaldar, Aaram Haram Aahe, Galli Te Dilli, Zakhmi Waghin, Mumbaicha Fauzdar, Dhakti Soon, Mazha Ghar Mazha Sansar, Mamla Poricha, Doctor Doctor etc. She had also acted in Manmohan Desai's Aa Gale Lag Jaa.
RAMESH PAREKH BEREAVED
Kiran Parekh, younger brother of leading Orissa distributor Ramesh Parekh (Parekh Traders, Cuttack), expired on 6th April in Calcutta. He was 44. Chautha was held on 9th.
KANNU DAVE DEAD
Jitendra Dave (Kannu), partner in Ganesh Talkies, Calcutta, expired on 2nd April. He was 57.
YOU ASKED IT
What do you have to say to the fact that a film like Qila, with stars like Dilip Kumar and Rekha, did not take even a decent opening?
– That old is not always gold!
How was the first quarter of 1998 and how do you expect the second quarter to be?
– The first three months were quite bad. The current quarter can be expected to be much better.
What is the ratio of Rakesh Roshan's Kaho Naa…Pyaar Hai?
– Between 1.75 and 2 crore.
Is it a fact that Sunny Deol is on a signing spree?
– Yes, he has signed quite a few films of late.
What is the progress of Gaffarbhai Nadiadwala's Raftaar?
– It is racing towards completion. Its title will be changed soon.
The Subhash Ghai – Mahima Controversy:
THE TRUE STORY
Court Grants Mahima Permission To Go Abroad; Admits Ghai's Case
The controversy about Subhash Ghai and his protégé, Mahima Chaudhry, whom he introduced in Pardes, has not only been making headlines in the last few days but has also been distorted as much as it could and at least a hundred times more than it should have to keep the rumour mills and gossip mills grinding.
First things first. Ghai dragged Mahima to court to restrain her from going abroad to perform stage-shows as he had a contract with the actress, under which, to quote from the duly signed contract (dated 19th February, 1996), "the artiste (Mahima) has irrevocably agreed….. all the rights for her services as a model for any advertising company or product or any stage show or TV show in India or abroad is assigned to the producers (Mukta Arts Pvt. Ltd.) or to their nominees and such assignments shall be dealt directly by the producers or their nominees for the period of five years from the date of release of the first film titled Pardes and 35% of the benefits and compensations or its kind for the said services shall go directly to Mukta Arts Welfare Trust whatsoever they deem fit and the artiste shall not have any claim on this amount and/or benefits while the rest 65% shall be paid to the artiste within 15 days on receipt basis." Ghai alleged that Mahima had not sought his permission to perform abroad and had thereby committed breach of contract.
Subhash Ghai sought an ad interim injunction from the Bombay high court, restraining Mahima from participating in the show abroad. The court rejected the prayer and permitted Mahima to perform abroad because restraining her would adversely affect the organisers of the stage shows, who were financially involved. Besides, the court felt that the relief sought by Ghai lacked urgency. This is the essence of the court order. But the court has not rejected Ghai's suit for due performance of the contract, which is the impression given by press and other media coverage. On the contrary, the suit was admitted by the court and it will be heard in the days to come.
No sooner does any private understanding or contract (between two or more individuals or parties) become public (as Ghai and Mahima's contract in the present case), we Indians have a habit of giving unsolicited and misdirected opinion on the same. That's exactly what is happening in the Ghai-Mahima case and that's one major reason why so much hue and cry is being made over the issue. Industry people are already sitting on judgement over such issues as to why Subhash Ghai should demand 35% from Mahima. This never was the issue before the court and this is not the issue which needs discussion. If Ghai and Mahima entered into a contract, that's it. Nobody has a right to comment on it because Mahima has not disputed the fact of her signing the contract. Whether Ghai's contract asked her to pay 35% or 95%, it was between him and his heroine, and after the contract is signed, sealed and delivered, nobody has the right to cast aspersions on anyone. The tragedy is that the issue has become more emotional than legal now, and the press must take a large part of the blame for this. Another factor responsible for giving the issue an emotional twist is that Mahima is a girl and a newcomer while Ghai is a man. But it must be realised that in the eyes of law, the two are merely parties to a contract, nothing more, nothing less. Further, the press and people alike love to pull down a famous and successful person who, in the present case, happens to be Ghai. For the press, they sell more copies when they can criticise a celebrity, and for the general public, it gives them the feeling that the mighty are also capable of falling. Both are crazy reasons but the truth is that they are there.
The problem began when, as alleged by Ghai, Mahima failed to honour the contract. In all fairness, therefore, all discussions must be limited to this aspect only.
Where Ghai, perhaps, erred is in seeking an injunction from the court, restraining Mahima from participating in the shows. The show organisers had nothing to do with the dispute between Mahima and her mentor, Subhash Ghai, and so it would be ridiculous to expect the court to grant Ghai's prayer which, if granted, would have put the organisers to loss. The relief Ghai should have sought from the court is performance of the contract by Mahima and, therefore, obtaining his 35% share. Performance of contract would also include Mahima working in, to again quote from the contract, "any of the three future ventures to be produced and/or directed by producers (Mukta Arts Pvt. Ltd.) or any of its directors or their nominees like Suneha Arts or under any banner they may deem fit". The contract also adds that "the artiste has irrevocably agreed and confirmed to act in such other three feature films as and whenever required by producers or their nominees".
Now to come to Mahima's press statements. The actress has alleged that since Ghai did not sign her for Taal, she, too, was free to work in other films without informing Ghai. Mahima should realise that it is Ghai who has bound her by a contract, and not she who has bound him. The contract clearly mentions that Mahima would act in such other three feature films as and whenever required by the producers or their nominees. There's no clause in the contract which would make it binding on Ghai to sign Mahima for Taal or any other film.
Mahima has also said that she and Ghai had orally decided to call off the contract. But the court would want proof of this in writing and with Ghai denying the cancellation, Mahima's claim may not hold water in the court of law.
Another childish remark by Mahima is that Ghai had hurt her by not casting her in Taal, by dragging her to court, by issuing notices (in trade papers) against her and by maligning her. Regarding Taal, as said above, it was Subhash Ghai's prerogative alone to decide whether or not Mahima suited the role. There was no written commitment from Ghai to sign her for Taal. And so the question of being hurt can never arise. Mahima  can then even say, she is hurt for not being signed by Rakesh Roshan, Yash Chopra, Sooraj Barjatya etc. As regards her allegation that she was hurt because Ghai had dragged her to court and he had issued notices in trade papers against her and he had maligned her, Mahima would not have spoken about being hurt if she had only asked herself one question: why did Ghai drag her to court, why did he issue notices against her, and why did he malign her? The obvious answer to all the three questions is: because she committed breach of contract. Ghai's actions are actually reactions to Mahima's one action — that of breach of contract.
Actually, not only Mahima, even Subhash Ghai should stop talking about emotions, now that the matter is in court. Somehow, emotional talk does not sound honest in view of the fact that the matter is already in court. Especially, Subhash Ghai should refrain from indulging in such talk because it is he who has chosen to go to court. The matter is now a court battle, not an emotional tiff.
Mahima appears to be an intelligent girl otherwise. The actress seems to have been misled by people who may be calling themselves her well-wishers but are actually not so. She may have emerged victorious in the controversy and in the court case for restraining her from performing abroad, but one is not sure whether she will also emerge victorious in the suit for due performance of contract. And that suit is what is really important. Or maybe, the case is withdrawn after an out-of-court settlement between the two warring parties.