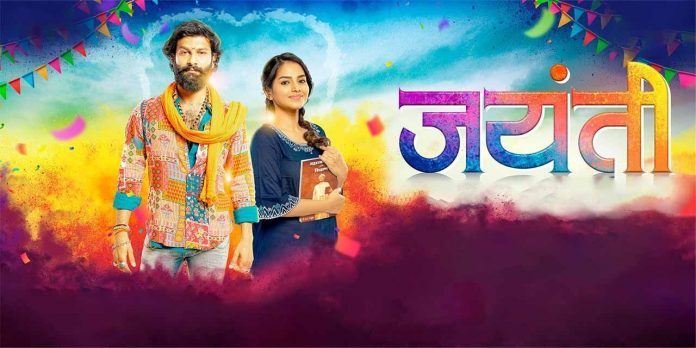 Dashami Studioz and Meliorist Films Studio's Jayanti (Marathi) is the story of a young man who wastes his time as he is good for nothing. However, an incident changes his life. He then follows the philosophy of Babasaheb Ambedkar — first read, then join forces with like-minded people, and finally, fight for what is right.
Santya (Ruturaj Wankhede) is the good-for-nothing guy who, with the help of Prof. Ashok Mali (Milind Shinde), turns over a new leaf when he is jailed. How he fights an influential rapist, Vikas Kukreja (Amar Upadhyay), forms the crux of the story.
Shailesh Narwade's story lacks novelty but scores to an extent because it highlights the ideals and principles of Ambedkar. Narwade's screenplay is fairly engaging but does get boring in the jail sequences. Dialogues, also penned by him, are good. The dialect used for the dialogues is the one which is popular in and around Nagpur.
Ruturaj Wankhede makes an ordinary debut as Santya. Titeeksha Tawde gets limited scope but is alright as Pallavi. Milind Shinde does a fine job as Prof. Ashok Mali. Amar Upadhyay has his moments as Vikas Kukreja. Kishore Kadam is fair as MLA Vijay Gondane. Saurabh Biramwar (as Rahul), Chetan Gaidbail (as Surya), Shubham Gautam (as Shubham) and Akshay Khobragare (as Chhotya) lend decent support. Vibhavari Gajbhiye is alright as Vandana Tai. Paddy Kamble (as MLA's PA, Dinesh Sathe), Anjali Jogalekar (as Santya's mother, Vatsala), Pradeep Ronghe (as Santya's father), Atul Mahale (as Shambhu), Shubhangi Raut (as Rekha), Piyush Wankhede (as Santya's elder brother, Ravikant), Rutuja Wankhede (as Santya's sister, Manisha) and Vira Sathidar (as Shrikant Mogre) provide fair support.
Shailesh Narwade's direction is alright. Mangesh Dhakde and Ruhi's music is ordinary. Lyrics (Guru Thakur, Keshav Gajbhiye and Vaibhav Choudhari) pass muster. Song picturisations (Debo Suresh Nair and Ganesh Patange) are routine. Background music (Mangesh Dhakde and Lokesh Kanithi) is nothing to shout about. Yogesh Koli's camerawork is quite alright. Action and stunt scenes (Vikas Kumar Singh) should've been more fiery. Yogesh Ingale's art direction is ordinary. Rohan Patil's editing is reasonably sharp.
On the whole, Jayanti is a fairly good film but lack of novelty, dull face value and poor promotion will adversely affect its business.
Released on 12-11-'21 at Jai Hind Mukta A2 (daily 1 show) and other cinemas of Bombay thru Sunshine Studios. Publicity & opening: poor.