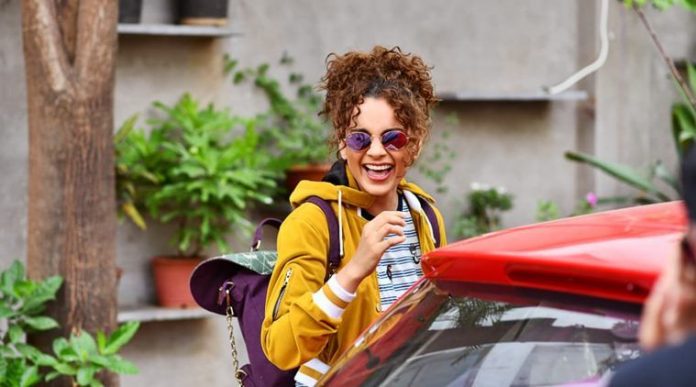 Balaji Telefilms and Karma Media And Entertainment's Judgementall Hai Kya (UA) is the story of a girl, Bobby (Kangana Ranaut), who suffers from a mental disorder because of a traumatic childhood. She hallucinates and often behaves weirdly. Bobby is on medication but she hates to take her medicines, which is one reason why her condition deteriorates. Bobby works as a dubbing artiste and has a boyfriend, Varun (Hussain Dalal), who gets her dubbing work on a regular basis. Varun is frustrated because although she uses him to even do her personal work, she refuses to entertain his request for marriage or even casual sex. Bobby has a habit of clicking her pictures, dressed up as the character she has dubbed for — making it appear as if she has actually acted in the film too!
One day, her paternal uncle's (Lalit Behl) acquaintances come to Bobby's large house as tenants. The two tenants are a married couple — Keshav (Rajkumar Rao) and wife Reema (Amyra Dastur). Although they seem to be madly in love with one another, Bobby senses that Keshav is not a good guy. She gets a feeling that Keshav will kill Reema, but her uncle doesn't take her seriously. But soon enough, Reema dies under strange circumstances. While Keshav tries to convince the investigating police officers (Satish Kaushik and Brijendra Kala) that his wife's death was an accident, Bobby tells them that he has murdered his own wife. Due to lack of corroborative evidence, the case is closed as death by accident.
Two years later, Bobby goes to London to spend some days with her cousin, Megha (Amrita Puri). She is shocked to learn that Megha is pregnant with the child of Keshav. However, Keshav has now changed his name to Shravan. On meeting Bobby in London, Keshav/Shravan is, quite obviously, very uncomfortable. On her part, Bobby is convinced that Keshav would kill her cousin too, just like he had murdered his earlier wife, Reema. But Megha, of course, refuses to believe her.
So that Bobby can keep herself busy in London, Megha has already asked theatre director Shridhar (Jimmy Shergill) to include her as a standby artiste for Sita's character in the contemporary stage-play, Ramayana 2.0.
Anyway, Bobby does her own research on Keshav/Shravan and arrives at shocking conclusions. She also starts hallucinating and imagining things. What is for real and what is only in Bobby's imagination? What is Keshav/Shravan's reaction when he realises that Bobby is out to get him? Is Shravan really planning to kill Megha? Had he murdered Reema or had he not? In fact, was Reema's death an accident or a cold-blooded murder? Who is lying? Who is imagining? Who is assessing correctly? Who is speaking the truth? And what awaits Bobby, Shravan and Megha?
Kanika Dhillon's story is different but having said that, it must be added, it is also weird and pretty confusing for the average viewer. The first half, at least, has entertaining humour but the post-interval portion is complicated and meant more for the class and elite audience. The entire track of Ramayana 2.0 is boring and too philosophical to find universal appreciation or even to be understood by the masses. Even otherwise, the average viewer will find it very difficult to comprehend what's for real and what is Bobby's imagination. Since the story is mostly about Bobby and Keshav/Shravan, monotony also sets in pretty fast as the other characters in the drama come in for short time periods. After a point of time, it appears that the screenplay is taking too long to come to the climax point because it tends to become somewhat repetitive. The climax doesn't really come as a surprise because even before that, the audiences gets an inkling of what might be in store for them. Another minus point is that the audience is unable to identify with both the central characters in the drama because they both are not normal or the regular kind of people one meets in day-to-day life.
Another aspect of the drama which restricts its appeal is that it becomes depressing after a point of time to see Bobby struggling with her disorder.
Kanika Dhillon's dialogues are very good. The witty ones are truly humorous.
Kangana Ranaut does a mind-blowing job as Bobby. It's delightful to see her enact the lady with the mental disorder. She is cutely funny in the light scenes and frighteningly realistic in the serious and dramatic ones. Rajkumar Rao gets lesser scope than Kangana but he is very good as Keshav and Shravan. His cold-blooded act is chilling. Jimmy Shergill hardly has any role. He is fairly nice. Amyra Dastur looks pretty and acts well as Reema. Amrita Puri is okay as Megha. Hussain Dalal is outstanding in the role of Varun. He is so natural and his expressions are so realistic that the audience falls in love with him. The graffiti on his T-shirts are to die for! Satish Kaushik is natural to the core as the investigating police officer. Brijendra Kala, as his assistant, lends good support. Lalit Behl is adequate as Bobby's paternal uncle. Others are alright.
Prakash Kovelmudi's direction is fair but how one wishes, his narration would have been simpler so that it would have made it easy for the audience to comprehend the complex drama. Given that the script is complex and confusing, the direction would appeal only to the elite audience. Music is original as well as remixed. While the original songs are fair, the ones which really work for the audience are the remixed songs. Having said that, it must be added that the remixed 'Wakhra' song in the end of the film sticks out like a sore thumb after the climax. Lyrics (Prakhar Varunendra and Kumaar) are okay. Bosco-Caesar's choreography is alright. Daniel B. George's background music is impactful. Pankaj Kumar's camerawork is very nice. Production designing (by Ravi Shrivastav) is appropriate. Editing (by Shweta Venkat Mathew, Prashanth Ramachandran and Sheeba Sehgal) is sharp but having said that, it must be added that the editing doesn't make matters easy for the mass audiences to understand the drama.
On the whole, Judgementall Hai Kya is meant only for a tiny section of the audience — the classes and the elite. The film's humour may work but the confusing drama would end up testing the patience of the rest of the audience. The film will at most places face rejection by the public.
Released on 26-7-'19 at Regal (daily 2 shows) and other cinemas of Bombay thru PEN Marudhar Cine Entertainment. Publicity: good. Opening: dull. …….Also released all over. Opening was below the mark almost everywhere.