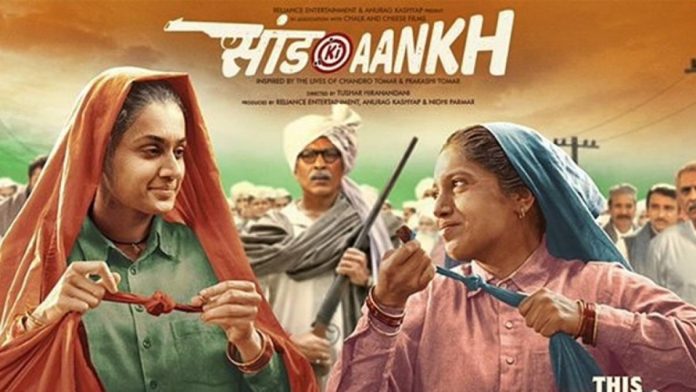 Reliance Entertainment, Anurag Kashyap and Chalk N Cheese Film Productions' Saand Ki Aankh is about two old women who learn shooting after they become grandmothers.
Chandro Tomar (Bhumi Pednekar) and Prakashi Tomar (Taapsee Pannu) are sisters-in-law, married to two brothers. There is a third brother, the eldest, Rattan Singh Tomar (Prakash Jha), who is nothing short of a tyrant. Being extremely orthodox in his outlook, he rules the huge joint family with an iron hand. Girls and women in the family are treated as being subservient to men. Chandro and Prakashi have spent their entire lives in the service of the family by doing household chores and also working in the fields. The men take away all the money, though.
Shefali Tomar (Sara Arjun) is keen to learn sharpshooting and so, her grandmother, Chandro, takes her to the shooting coach, Dr. Yashpal (Vineet Kumar). Even before Shefali can learn shooting, Chandro excels in it. Chandro also asks Prakashi to learn the sport. As luck would have it, Prakashi also excels in the sport. The two grandmothers start participating in shooting tournaments in different cities and they also keep winning gold and silver medals. They have managed to first learn shooting and then participate in tournaments by fooling the men in the family. Soon, Shefali and Seema (Pritha Bakshi), daughter of Prakashi, also start training under Dr. Yashpal. The grandmothers are keen that the girls learn shooting because that would ensure government jobs for them. Clearly, the two shooter grandmas do not want their daughter/grand-daughter to have confined lives like their own.
All hell breaks loose when Rattan Singh Tomar gets to know of the shooter grandmothers, daughter and grand-daughter in his family. He is astounded at their defiance and clandestine tryst with the sport which, according to him, is a male sport. What happens thereafter? What happens to Seema and Shefali's shooting dreams?
Balwinder Janjua's story and screenplay are based on the lives of two real-life shooter grandmothers. The story is quite unique and also fairly engaging. The first half is a bit slow but the post-interval portion is relatively fast-paced. The second half is, even otherwise, more exciting and engaging. However, one drawback of the screenplay is that it doesn't give the audience a glimpse into the pains, humiliation, misery and frustrations of the two grandmothers for them to take the bold step of hoodwinking the males in the family to learn shooting. Of course, the pains etc. are sought to be established through dialogues but the visuals would've had ten times more impact. Consequently, the exhilaration and joy the viewers should feel when the grandmoms win the medals and at various other points in the drama get diluted. In other words, the audience doesn't experience a high as big as it should, at the various points in the drama. Frankly, the viewers feel, the ladies of the household are very happy in their space, so why would they need to rock the boat? Of course, they aren't happy — but the audience should have been made to experience why and how they are unhappy. Had that been done, the empathy towards the grandmothers would've been so much more. It is for the same reason that the audience does not clap like crazy when Rattan Singh Tomar's wife utters her first dialogue in the drama.
The screenplay has entertaining light moments but the emotions should've been more pronounced. Three scenes deserve special mention: the scene in which the grandmothers explain to the television reporter why they don't know their exact age, the scene in which the Alwar maharani reacts to the two grandmothers committing a faux pas on the dining table, and the scene in which Prakashi reacts to Chandro's defeat in the shooting competition. All the three are exceptionally well-written and well-executed scenes. Jagdeep Sidhu's dialogues are very good.
Bhumi Pednekar lives the role of Chandro Tomar. She excels in her performance and shines. She should find herself nominated for the best actress awards. Taapsee Pannu is very good as Prakashi Tomar. She lends her character a lot of grace and chutzpah. A word about the make-up of the two actresses: it is not consistent; it should've been better and more consistent. Prakash Jha evokes hatred because of his fine acting in the role of Rattan Singh Tomar. Kuldeep Sareen is good as Chandro's husband, Bhanwar Singh. Pawan Chopra is also nice in the role of Prakashi's husband, Jai Singh. Vineet Kumar lends a lot of grace to the character of Dr. Yashpal. He is very good. Pritha Bakshi (as Seema, daughter of Prakashi) and Sara Arjun (as Shefali, grand-daughter of Chandro) make their presence felt. Shaad Randhawa is okay as Rambir Tomar, but a more established actor would've been ideal. Kavita Vaid is natural as Rattan Singh Tomar's wife, Bimla, but one would've expected a more mass-oriented performance. Himanshu Sharma has his cute moments as Sachin. Navneet Srivastava leaves a mark as Farooq. Nikhat Khan looks beautiful and acts like a maharani which she plays. As the maharaja, Dinesh Mohan is effective. Sachin Khaturia (as Vinod Tomar), S.K. Batra (as IG Jaidev), Col. Dhirendra Gupta (as Brigadier Vikram Kashyap), Daksh Sehdev, Aakash Varma, Chirag Katreja, Kunal Upadhyay, Faisal Batliwala (all five as junior shooters in the Delhi shooting competition) and the rest provide impressive support.
Tushar Hiranandani's direction is good. He proves in his maiden attempt at direction that he knows the craft. Vishal Mishra's music is quite nice. 'Udta teetar' is the best song while the other numbers are also appealing in the film. But no song is hit. Lyrics (by Raj Shekhar) are of a fine standard. Lipsa Acharya's choreography goes well with the film's mood and characters. Advait Nemlekar's background music is decent. Sudhakar Reddy Yakkanti's camerawork is quite nice. Action scenes and stunts have been well composed by Sunil Rodrigues. Ravi Srivastava's production designing is fair. Devendra Murdeshwar's editing is sharp.
On the whole, Saand Ki Aankh is an inspirational film about women empowerment. It has fairly good entertaining and engaging moments but if, despite that, it is not able to hit bull's eye, it will be because of its faulty release date (opposite two more films) as also because it lacks exhilarating scenes. It will win critical acclaim, and its collections will pick up by word of mouth but it will suffer greatly at the ticket windows because of an inappropriate release date.
Released on 25-10-'19 at Inox (daily 5 shows) and other cinemas of Bombay thru PVR Pictures Ltd. Publicity: good. Opening: dull. …….Also released all over. Opening was not upto the mark anywhere.