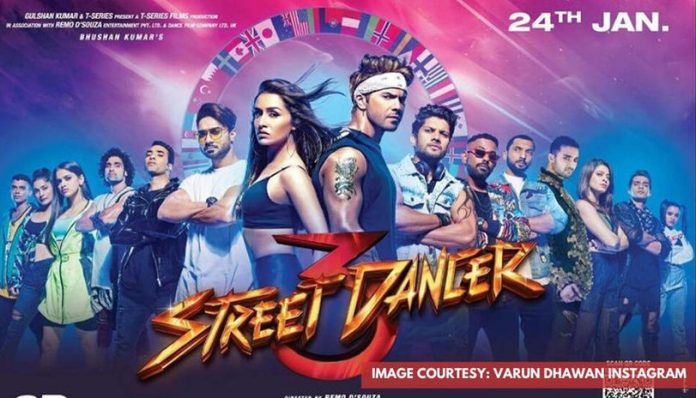 T-Series and Remo D'Souza Entertainment Pvt. Ltd.'s Street Dancer 3D is a dance film based in London.
Sahej (Varun Dhawan) lives in London with his brother, Inder (Punit J. Pathak). They have a dance group called Street Dancer, comprising dance enthusiasts from India. There's another dance group, Rule Breaker, which consists of dancers from Pakistan, settled in London. Inayat (Shraddha Kapoor) belongs to Rule Breaker. Both the dance groups are always at loggerheads. They often chill at the same restaurant run by Anna (Prabhu Devaa). Nora (Nora Fatehi) belongs to the local dance group which goes by the name of The Royals. Sahej and Nora are in love with one another. Nora often teaches difficult dance steps to Sahej's members of Street Dancer.
One day, Inayat discovers a truth about Anna which moves her so much emotionally that she joins his cause. Both, Rule Breaker and Street Dancer, are preparing to participate in an extremely popular dance competition. However, it soon emerges that the two dance groups have different reasons for wanting to win the dance competition and the huge prize money. Since Sahej and three others (Poddy, D and Shushi) from his group are exceptional dancers, The Royals offer them a place in the group. Sahej accepts the invitation. However, slowly but surely, things take an ugly turn.
Meanwhile, a past deed of Sahej haunts him. His conscience starts biting him — and not just for the past horrifying act. What happens thereafter? Does Sahej fulfill his dream of winning the competition? Does Street Dancer participate in the dance competition? Does Inayat realise her dream? What happens to the love story of Sahej and Nora? What was the cause for which Inayat joins forces with Anna?
The story, penned by Remo D'Souza, has many layers. Besides being a film about dancing and a prestigious dance competition in London, there is also the India-Pakistan track, two love stories, and a track which melts the heart of Inayat. Since there are several layers, the story becomes very interesting. No doubt, the audience sometimes feels that there's an overdose of dancing in the film but lovers of dance (and their number is huge) will revel in this fact because the dances are to die for. Tushar Hiranandani's screenplay, with additional screenplay by Jagdeep Sidhu, is very well written and keeps the drama moving. It doesn't give the viewers a dull moment; rather, it keeps their interest and engagement alive from the start till the end. Romance does take a back seat in this dance drama but it must be said that the extraordinary dances compensate for the lack of some ingredients in it, especially for the youth. Additionally, the India-Pakistan angle adds a patriotic flavour to the drama, which, in a way, becomes one of the mainstays of the film. The Ganpati song-dance picturised on the Indians and Pakistanis is a masterstroke and will swell the chests of Indians with pride. A couple of emotions touch the heart and those include the emotions between Sahej and brother Inder, and the track which has a connection with Sahej's past deed. The climax is both, nail-biting and exhilarating. It could also evoke tears of joy from the eyes of the weak-hearted audience.
Varun Dhawan is fantastic as Sahej. Not only does he dance gracefully but he also acts with the right attitude. He looks very handsome. Shraddha Kapoor looks pretty and does a truly fine job as Inayat. Her dance moves are also very impressive. Nora Fatehi performs ably in the role of Nora. Her dances are to die for. Prabhu Devaa's dance on the 'Muqabla' song comes like a surprise which will leave the audience staring in disbelief. It would not be wrong to say that Prabhu Devaa's dance alone is worth the price of the ticket, other things being bonus! His acting is nice. Aparshakti Khurana (as Amrinder) once again shows what a fine actor he is because despite limited scenes, he stands his own and makes the viewers go teary-eyed. Punit J. Pathak lends fantastic support as Sahej's brother, Inder. Salman Yusuf Khan is natural as Zayn. Raghav Juyal leaves a fine mark as Poddy. His dances are exceptional. Dharmesh Yelande is entertaining as D. Sushant Pujari makes his presence felt in the role of Shushi. Zarina Wahab is lovely as Amrinder's mother in India. Murali Sharma provides adequate support as the police officer. Manoj Chhabra has his moments as Chhabra. Sushant Khatri is very good as Chhotu. Thomas Francis Roughley and the others of The Royals provide very good support and dance exceptionally well. The dances of all the other groups are also mind-boggling.
Remo D'Souza's direction is excellent. He gives his cent per cent to the film and adopts a narrative style which makes the drama unfold in an easy-going but effective manner. He has added all the right ingredients but the best are patriotism, India-Pakistan track, dance and music. The 3D is, of course, an added advantage for the audience. Music (Sachin-Jigar, Tanishk Bagchi, Badshah, Gurinder Seagal, Harsh Upadhyay, Guru Randhawa, Garry Sandhu) is very good. Some of the songs are very entertaining. The greatest thrill for the viewers comes from the 'Muqabla' and 'Bezubaan' remixed numbers. Lyrics (Kumaar, Priya Saraiya, Guru Randhawa, Badshah, Milind Gaba, Sachin-Jigar, Tanishk Bagchi, Vayu, I.P. Singh, Bhargav Purohit, Kunaal Verma, Garry Sandhu, Valee, Rajshri) are appropriate. Song picturisations are one of the biggest highlights of the film. The choreography (by Kruti Mahesh, Rahul Shetty, Tashan Muir, Suresh Mukund and Punit J. Pathak) is absolutely outstanding. Sachin-Jigar's background music is lovely. Vijay Kumar Arora's cinematography deserves special mention. Arora has captured the characters and their emotions beautifully in his camera. Amin Khatib's action and stunt scenes are thrilling. Tanvi Leena Patil's production designing is good. Manan Ajay Sagar's editing is sharp.
On the whole, Street Dancer 3D is a box-office hit. It has superb dances, India-Pakistan and other emotions, 3D and a layered story to keep the audience thoroughly entertained.
Released on 24-1-'20 at Regal (daily 3 shows) and other cinemas of Bombay thru AA Films. Publicity: very good. Opening: fair, but not as impressive as expected. …….Also released all over. Opening was lower than expected, but collections are bound to pick up.