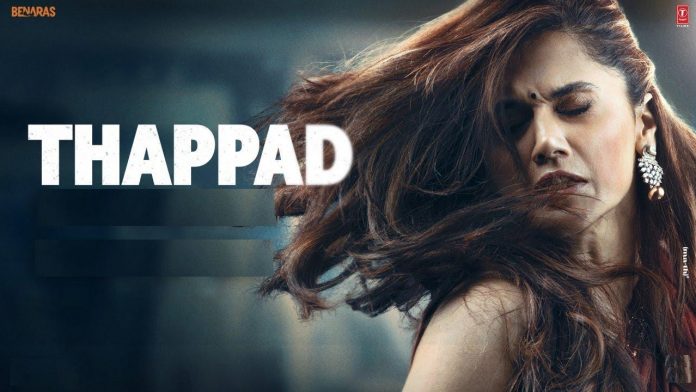 T-Series and Benaras Mediaworks' Thappad is the story about how a slap given by a husband to his wife can have as far-reaching a consequence as divorce.
Amrita (Taapsee Pannu) lives with husband Vikram (Pavail Gulati), and the two seem to be happy. Amrita's mother-in-law (Tanvi Azmi) is currently staying with them. At a party at home one day, Vikram slaps Amrita in the presence of all his guests. That sets Amrita thinking. She moves into her parents' (Kumud Mishra and Ratna Pathak Shah) home and then contemplates divorce.
What happens thereafter? Do the two reconcile?
Anubhav Sinha's story idea is bold because the orthodox audience (and there's a sizeable one in India) would still feel that adjustment in marriage is the trick and that a slap should not lead to divorce. But the story, penned by Anubhav Sinha and Mrunmayee Lagoo Waikul, is layered. Each layer gives a different perspective to the main story and also makes the audience reflect on the point of how women are treated in marriage and how they need to be treated. The story is all-consuming, interesting and pretty engaging. The duo's screenplay is fantastic. The many layers of the story have been developed so beautifully in the equally engaging screenplay that it becomes a wholesome drama, serious but thought-provoking. Of course, there will be two types of audiences — one, which agrees with Amrita's stand, and the other, which will not be in agreement as divorce, for them, is too extreme a step to be taken for a slap. While the first kind of audience will love the drama, a section of the second kind will slowly and gradually arrive at the conclusion that although their thinking is right, Amrita's stand is not wrong. This would happen because of three reasons — the layered story, the back stories of other women characters in the drama, and the fact that Amrita's is not a knee-jerk reaction to the slap. But still, there will be a large chunk of the audience which will find the drama unconvincing and far-fetched.
The screenplay also has several emotional moments. Scenes between Amrita and her parents, between the parents only, and the scenes between Amrita and her mother-in-law after she leaves her matrimonial home are the emotional scenes which will draw tears from the eyes of the female audience. There's one scene in which Amrita asks her father whether she's doing the right thing by seeking divorce. Her father's reply will definitely not go down well with many among the audience.
The best part of the script are the characterisations. Amrita's character is superb and her behaviour after the slap incident will win over the audience completely. The characters of Amrita's parents, bother, brother's girlfriend, Amrita's lawyer, Amrita's maid, of Vikram, Vikram's brother, Vikram's lawyer — they are all just too beautifully etched out. The two writers deserve a big pat on the back just for that. The duo's dialogues are extraordinary and have a terrific impact on the viewers. Some dialogues (in scenes of the two lawyers) are even clapworthy.
Taapsee Pannu delivers an award-winning performance as Amrita. She is par excellence in the role of the wife who has been slapped by her husband. Pavail Gulati performs very ably as Vikram, taking care of the smallest of nuances. He plays the perfect foil to the character of Amrita. Kumud Mishra is first-rate in the role of Amrita's father. His body language is to die for. Ratna Pathak Shah comes up with a fabulous performance as Amrita's mother. Her facial expressions are phenomenal. Tanvi Azmi leaves an indelible mark despite having limited dialogues. Her eyes and facial expressions often do the talking. Maya Sarao shines as Amrita's lawyer, Netra. Hers is a very inspired performance. Geetika Vidya is outstanding as the maid and she deserves kudos for a job extraordinarily done. Ram Kapoor stands his own as Vikram's lawyer. Manav Kaul is nice as Netra's self-centred husband. Naila Grewal makes her mark as the girlfriend of Amrita's brother. Ankur Rathee leaves a fine impression as Amrita's brother. Dia Mirza, as Shivani) is suitably elegant. Siddhant Mahesh Karnick (as Vikram's brother), Purnendu Bhattacharya (as Vikram's boss on the phone), Santanu Ghatak (as Vikram's colleague), Harsh A. Singh (as the boss with whom Vikram has a fight at his own party), Sushil Dahiya (as Amrita's father-in-law), Gracy Goswami (as the daughter of Shivani), Rohan Khurana (as Netra's boyfriend), Niddhi Uttam (as Vikram's sister-in-law) and Dr. Anil Rastogi lend fabulous support.
Anubhav Sinha's direction is terrific. He has handled the subject with such sincerity and maturity that his narration is worthy of applause. Anurag Saikia's music goes well with the mood of the film. Shakeel Azmi's lyrics are weighty. Mangesh Dhakde's background music is supremely impactful. Soumik Mukherjee's camerawork is remarkable. Nikhil Kovale's production designing is appropriate. Yash Ramchandani's editing is super-sharp.
On the whole, Thappad is a well-written and well-made film with some great performances. It will be loved by the womenfolk, the elite, the classes and the multiplex-frequenting audiences in the big cities mainly. But viewers in small centres and of many single-screen cinemas will not like the film because for them, it is too ahead of the times and also because they will not approve of a girl seeking divorce on the ground that she was slapped by her husband once. It will win critical acclaim and some box-office rewards. Collections will definitely pick up in the cities due to positive word of mouth.
Released on 28-2-'20 at Regal (daily 2 shows) and other cinemas of Bombay thru AA Films. Publicity: fair. Opening: dull. …….Also released all over. Opening was weak at most of the places.