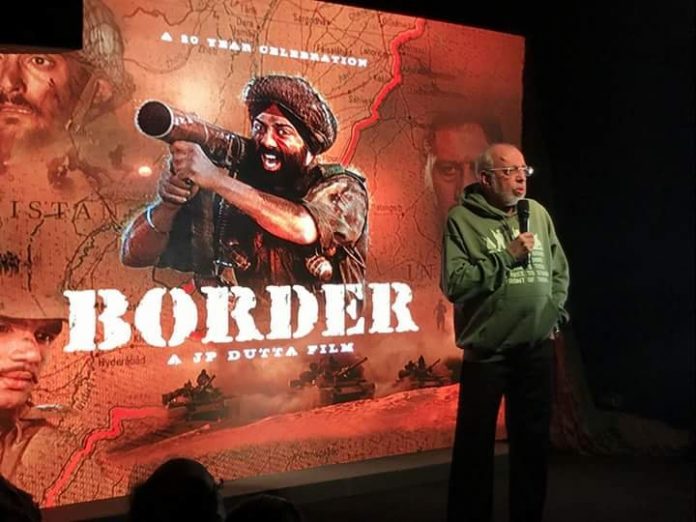 (From Our Issue Dated 12th November, 1994)
Producer-director J.P. Dutta launched J.P. Films' Border with a song recording on Nov. 5 at Sunny Super Sounds. It was penned by Javed Akhtar, rendered by Kumar Sanu and Sadhana Sargam and set to tune by Anu Malik. The film stars Sunny Deol, Jackie Shroff, Sunil Shetty and Akshaye Khanna with four heroines. It will go on the floors soon. Bharat Shah is the associate producer of the film being written by O.P. Dutta and J.P. Dutta. Cinematographer: Nirmal Jani. Editors: Deepak Wirkud and Vilas Ranade. Art: Ratnakar Phadke. Action: Bhiku Verma. Sound: Vinod Potdar.
FMC ANNUAL GENERAL MEETING
STAR-CEILING SCHEME TO BE REVAMPED
Increase In Workers' Cess Decried
The scheme of ceiling on star assignments will be revamped completely, and strictly implemented henceforth. This was decided at the first meeting of the new executive committee of the Film Makers Combine held on 10th November at Holiday Inn soon after the Combine's third annual general meeting. Both, the general meeting and the committee meeting, were chaired by J. Om Prakash who noted with regret that the star-ceiling scheme had gone haywire although its implementation was very effective for more than a year when it was introduced.
The modalities for its strict implementation will be worked out soon. J. Om Prakash cautioned that the monitoring of the star-ceiling scheme should not be left to the distributors' associations.
Earlier, at the annual general meeting, the increase in the cine workers' welfare cess, introduced by the I & B and Labour ministries, was unanimously decried. K.D. Shorey informed the house that the ministries had a while ago given an assurance to the FMC that the cess would not be increased without consulting the producers, but exactly that had been done. A producer was required to pay Rs. 1,000 so far towards the cess at the time of censorship of his film. The notification dated 13th October makes it compulsory for a Hindi film producer to now pay Rs. 10,000. For South language films, the cess has been increased to Rs. 5,000, while for Bengali, Marathi and Gujarati films, it is Rs. 3,000. Oriya, Assamese and other regional language films would entail a cess of Rs. 2,000.
It was decided that the FMC would take up the issue with the ministries. The FMC has already lodged its strong protest against the arbitrary hike which has come into immediate effect. It has requested the government to forthwith withdraw the hike, failing which the industry would stop work and also boycott the forthcoming IFFI '95. It was also resolved that the FMC would write to the CBFC that its members would be paying the Rs. 10,000 cess under protest.
The general house also regretted the non-payment of its dues by the TV Producers & Film Makers' Association to the FMC. It was decided to grant a further time of two weeks to the Association to clear its dues of over Rs. 50,000 and, in the meantime, its affiliation to the FMC has been put on hold. As such, the Association would be an affiliate of the FMC only if it pays its dues within two weeks, failing which the FMC would expel it from its membership.
The general house re-elected Shree Ram Bohra and K.D. Shorey as the hon. general secretaries of the FMC. S.K. Kapur and T.C. Dewan were elected hon. treasurers.
J. Om Prakash also announced amidst applause that henceforth, monthly income and expenditure accounts of the FMC would be prepared and circulated among all the committee members. He also made it clear that all press releases would be signed by at least one chairman of the FMC (that is, president of any of the affiliates). Similarly, cheques would also be signed jointly by a treasurer and a chairman.
SNAPSHOTS
'KARAN ARJUN' VIDEOS TO COME LATE
Inspired, perhaps, by the results of HAHK..!, Rakesh Roshan has also decided to delay the release of video cassettes of his Karan Arjun, if not for an unlimited period, by four weeks from the day of its theatrical release. A settlement to that effect has already been arrived at between Rakesh Roshan and the film's India video and Overseas distributor, Pravin Shah (Time). Informs an ecstatic Rakesh Roshan, "Care will be taken to avoid video piracy."
SKY-HIGH CAPACITIES
With the Rajshris and Liberty cinema, Bombay, having succeeded in obtaining a favourable interim order from the Bombay high court, admission rates in cinemas in Maharashtra can now be fixed at the discretion of the cinemas concerned, without interference from the government. Thanks to the above and to the reduction in entertainment tax in the state, the net housefull capacities of big cinemas are massive today. Can you believe that the net weekly capacity of Metro, Bombay is Rs. 8,79,900?!? The capacity of Liberty, Bombay is almost 7 lakh. Some more Bombay cinemas, capacities of which are touching the sky, are Satyam (Rs. 3,60,864), New Excelsior (Rs. 4,17,200) and Bahar (Rs. 2,70,592). At this rate, the share of HAHK..!from Liberty alone will touch the half-crore (50 lakh) mark in about 16 to 17 weeks only. Incredible, isn't it?
WHAT A SHARE!
And this piece of fact and figure is to zap you. The distributor's share of Hum Aapke Hain Koun..! from 222 cinemas of India in the Diwali week alone was about Rs. 2 crore!!
CHIRANJEEVI'S ROOP SUHANA LAGTA HAI
That Chiranjeevi's fans literally worship him was proved once again, this week in Wardha. No sooner were posters of Chiranjeevi's forthcoming film, The Gentleman, put up at Vasant Theatre, Wardha, than about a hundred crazy fans of the stars stormed into the cinema manager's office and requested him to let them perform pooja of the poster. They garlanded the poster and also performed pooja and, thereafter, distributed sweets at the cinema. The fans had their "God", that is, Chiranjeevi's name tattooed on their chests, shoulders and hands. They are planning a big celebration in Wardha on the day of the film's release.
BIG DEAL
Is it true that Bandra Talkies at Bandra, Bombay, may soon be demolished? A little bird tells us that come New Year and the cinema may be a thing of the past. Kishore Bajaj (Bada Saab Tailors) who has tailored many a film person's costumes, is reportedly the bada saab who has bought the cinema and property.
GIGANTIC STATUE
For Vinod Khanna's Himalayaputra, art director Nitin Desai has constructed a mammoth piece of art — a 40-feet high statue of Lord Shiva. As many as 72 skilled workers were involved in its construction for twelve days. Made of fibre glass, the colossal and costly statue was transported by road to Dalhousie where the film is being shot in a 40-day schedule.
PICNIC AT PRODUCER'S COST
The eccentric hero proved recently, if proof was required, that no other adjective could be more apt for him. After making the producer of one of his under-production films wait endlessly for almost a year for his dates, the hero finally consented to shoot for four days in Kulu Manali. But the producer who took his entire unit, cast and technicians to Kulu for the shooting, was in for a shock when our hero simply refused to shoot! The unit is back in Bombay after a holiday in Kulu Manali. The producer, too, is back — poorer by a huge amount.
Mix Masala
ACE UP THE SLEEVE?
Ekka Raja Rani may have flopped. Ikke Pe Ikka may have bombed. But that hasn't deterred the release of Do Aur Do Paanchin Bombay under the new title of Do Ikke.
MUSIC COMPANIES INVITE MRTPC ENQUIRY
The Monopolies & Restrictive Trade Practices Commission (MRTPC) has ordered an inquiry into the affairs of leading music companies, following a complaint of the Times Television group that the music companies had formed a cartel and were indulging in unfair trade practice by demanding exorbitant rates for songs played on the Times FM channel.
The order was passed by MRTP judges Mr. Sardar Ali and Dr. S. Chakravarti on 4th November, on the petition of Times TV, alleging that the cartel of about 40 music companies, called Phonographic Performance Pvt. Ltd., was demanding Rs. 1,500 per hour from them while they were charging only Rs. 40 per hour from All India Radio (AIR).
In their order, the judges noted that charging higher discriminatory prices prima facie amounted to indulging in monopolistic and restrictive trade practices by the respondent within the provisions of MRTP Act, 1969.
The judges directed that a combined Notice of Enquiry, both relating to monopolistic and restrictive trade practices, be issued against the respondent (PPP), returnable on January 17, 1995. They also ordered that a notice of enquiry be sent to the central government for their participation in the proceedings before the Commission since the final decision had to be taken by them.
MAZHAR KHAN RECOVERING
Mazhar Khan, who was admitted to Holy Family hospital four days ago when he complained of chest pain, is recovering. He is expected to be discharged from the hospital in a couple of days.
YOU ASKED IT
Is it true that Chiranjeevi is passing through a bad phase, his last four or five films in Telugu having bombed?
– Yes. Maybe, his luck will change with THE GENTLEMAN in Hindi.
How has Mahesh Bhatt's Criminalfared in Telugu? When will its Hindi version be released?
– The Telugu version has flopped. The Hindi version's release has not been finalised as yet.
Does changing a film's title and releasing it (in repeat-run) under the new title help?
– It's just a publicity gimmick. While it was not so common in Bombay till recently, it is quite usual in Delhi-U.P., for the distributors to release old films with new titles.
AAMIR KHAN HOSPITALISED
Aamir Khan was admitted to Hinduja Hospital on 7th November when he complained of uneasiness and exhaustion. He was discharged from the hospital on 11th. Family sources attributed his illness to hectic night shooting schedules.
'HAHK..!' CELEBRATES 100 DAYS
Rajshri's Hum Aapke Hain Koun..! completed 100 days of its run today (November 12) all over. Starring Madhuri Dixit, Salman Khan, Mohnish Bahl, Renuka Shahane, Alok Nath, Reema, Ajit Vachani, Bindu, Sahila Chaddha, Dilip Joshi, Priya Arun, Satish Shah, Himani Shivpuri, Laxmikant Berde and Anupam Kher, it is produced by Kamal Kumar Barjatya, Rajkumar Barjatya and Ajit Kumar Barjatya. Screenplay, dialogues and direction: Sooraj R. Barjatya. Camera: Rajan Kinagi. Choreography: Jay Borade. Action: Shamim Azim. Art: Bijon Dasgupta. Editing: Mukhtar Ahmed. Audiography: C.S. Narayan. Lyrics: Ravindra Rawal and Dev Kohli. Music: Raamlaxman.
AMRIT SHAH COMPLAINS AGAINST
LANDLORDS OF NATRAJ STUDIOS
Amrit Shah, business and legal consultant to producers, who resides in a rented flat and also operates from the same place, located in the Natraj Studios premises, has lodged a complaint with the Andheri (Bombay) police station, seeking protection from and suitable action against his landlords, Govindram Brothers Pvt. Ltd. The latter are also part-owners of Natraj Studios which at present is being run on lease basis by a group of producers. The complaint follows alleged threatening telephone call to Amrit Shah to vacate the premises where he has been residing for the past 40 years. Meanwhile, an ejectment suit, filed by the landlords 15 years ago, is still pending before the Bandra Court. It is also learnt that the group of producers and the landlords are negotiating a settlement to facilitate demolition of Natraj Studios.