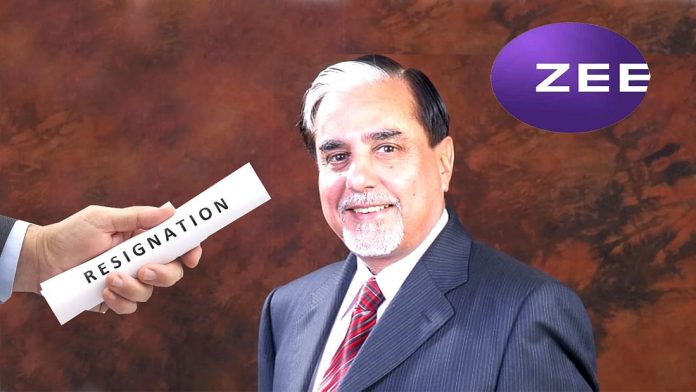 Subhash Chandra on 25th November resigned as chairman of Zee Entertainment Enterprises Ltd. (ZEEL). He took the action four days after selling (on 21st November) 15.7% of his stake in the company for Rs. 4,770 crore to pay off debts, thereby reducing his stake in the company to 5%. Chandra founded the company in 1992 and set up the country's first private satellite television channel, Zee.
Subhash Chandra will continue to be on the board of Zee as a non-executive director. He had asked to step aside as a board member too but the rest of the board requested him to continue as a non-executive director. His son, Punit Goenka, who is also a director, will continue to manage the affairs at Zee.
Nominee director Subodh Kumar and independent director Neharika Vohra also resigned from the board on 22nd November. It may be mentioned here that the two aforenamed directors had raised concerns over multiple issues, including a Rs. 2,200-crore film advance given in the fiscal year 2018-19, a "no action" on a bank which appropriated Rs. 200 crore in deposits towards promoter loans, and large outstandings from Essel Group companies viz. Dish TV and SitiCable, for content supplied by Zee. Another independent director, Sunil Kumar, resigned on 24th November, a day before Subhash Chandra stepped down as Zee chairman.
With Chandra's stake being reduced to 5%, it makes Zee vulnerable to hostile takeovers in the future. As of now, US-based investment manager Invesco Oppenheimer is the largest shareholder of Zee, with a stake of 18.7%.
Zee on 25th November reconstituted the board by inducting three new independent directors — R. Gopalan, Surendra Singh and Aparajita Jain — in place of the three directors who resigned. The reconstituted Zee board has six independent directors and two directors from the promoters. Although it is not clear who will be the new chairman, the board meeting on 25th was chaired by R. Gopalan, former finance secretary of the company.