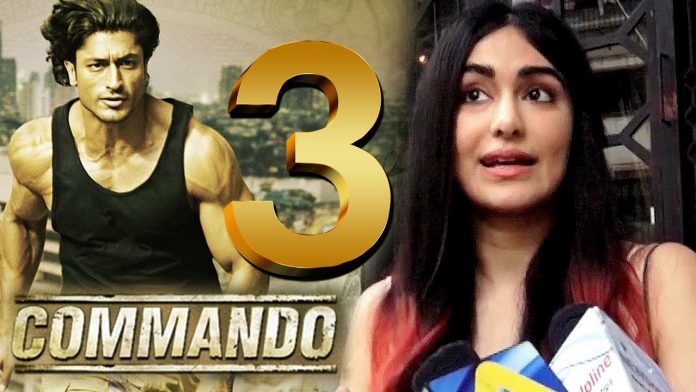 Reliance Entertainment Production 11, Motion Picture Capital and Sunshine Pictures Pvt. Ltd.'s Commando 3 (UA) is the third film in the Commando franchise.
Police officer Karan Dogra (Vidyut Jamwwal) goes to London with colleague Bhawana (Adah Sharma) to nab a dreaded terrorist, Buraq (Gulshan Devaiah). Although he is not sure, he is quite convinced that Buraq is operating from London. The Bombay police have arrested three young men who are jehadis acting under Buraq's guidance. While one of the three arrested, Subhan (Manuj Sharma), is a Muslim boy, Umar (Raghav Dheer) and Usmaan (Prashant Jha) are converted from being Hindus to Muslims.
Karan and Bhawana are joined by London police officer Malika (Angira Dhar) and computer expert Armaan (Sumeet Thakur).
Buraq has a wife, Zaheera (Feryna Wazheir), and son, Abeer (master Atharva Vishwakarma). He is working in close conjunction with terrorists in Pakistan. Do Karan and his team nab Buraq? If so, how? If not, why not?
Darius Yarmil and Junaid Wasi have penned a routine story but have made it quite interesting by making the story appear big, with three countries involved. Also, the track of Buraq's family gives the story an interesting dimension. The duo's screenplay is fast-paced and it does not give the audience any time to think. In fact, the screenplay is so engaging that it keeps the viewers engrossed. Yes, everything seems quite easy for Karan at times but since the writers offer logical reasons, the audience doesn't mind it. The climax involving Muslims looks a bit hurried and, therefore, does not have the exhilarating impact it ought to have had. The duo's dialogues are fairly nice.
Vidyut Jamwwal is outstanding in the action and stunt scenes. He also acts well. Adah Sharma is quite nice as Bhawana. Angira Dhar does a fair job as Malika. Gulshan Devaiah is extraordinary in the role of Buraq. He terrifies the audience. Sumeet Thakur makes his presence felt as Armaan. Rajesh Tailang lends good support as Karan's senior, Roy. Feryna Wazheir looks pretty and acts ably as Buraq's wife, Zaheera. As their son, master Atharva Vishwakarma is good. Manuj Sharma leaves a fine mark as Subhan. Raghav Dheer (as Umar) and Prashant Jha (as Usman) are alright. Virendra Saxena is lovely as Subhan's father, Ahmed. Puneet Channa (as Sahil), Shireesh Sharma (as the ATS chief), Anil George (as Momin), Vibhawari Deshpande (as Rajani), Gracy Bitin Goswami and Rose Khan (both as the tortured school girls), Navdeep Tomar (as the body-builder), Andy Von Eich (as the police officer in London), Mark Bennington (as Alvin), Abhilash Chaudhary (as Taimur Khan), Sajeb Ali (as Buraq's assistant), Anil Khopkar (as the maulvi), Jeet Matharu (as Momin's man), and the others provide adequate support.
Aditya Datt's direction is good. He has adopted a narrative style that will keep the audience engaged and involved. Music (Mannan Shah and Vikram Montrose) is functional. Lyrics (Farhad Bhiwandiwala, Sahil Sultanpuri, Abhendra Kumar Upadhyay, Azeem Shirazi and Vikram Montrose) are okay. Song picturisations (Adil Shaikh, Kruti Mahesh and Devang Desai) are nothing to shout about. Saurabh Bhalerao's background music is splendid and definitely heightens the tension in the drama. Mark Hamilton's cinematography is very nice. Action scenes and stunts (by Andy Long's stunt team, Allan Amin and Dr. K. Ravi Verma) are breathtaking. Juhi Talmaki's production designing is appropriate. Sandeep Kurup's editing is very sharp.
On the whole, Commando 3 is an engaging and entertaining fare and will, therefore, do fair business at the ticket windows.
Released on 29-11-'19 at Regal (daily 2 shows) and other cinemas of Bombay thru PVR Pictures Ltd. Publicity: fair. Opening: ordinary. …….Also released all over. Opening was below the mark everywhere.