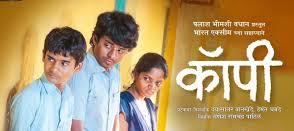 Shree Mahalaxmi Creation Co.'s Copy (Marathi; UA) is the story of a school in Shirpur village.
A school in Shirpur village has teachers with low morale because they've not been paid salaries for months together. Shinde Sir (Milind Shinde) starts his private coaching classes and lures the other school teachers to join as faculty. All the teachers, except Vichare Sir (Anshuman Vichare) and Nivangune Sir (Jagannath Nivangune), join Shinde's classes. Shiva (Pratik Lad), Priya (Shraddha Sawant) and Prakash (Adnesh Madushingarkar) are three good students of Class X. These students never indulge in copying and are, therefore, the favourites of the two conscientious teachers.
One day, the education officer (Kamlesh Sawant) pays a surprise visit to the school and is appalled to see that most of the teachers are missing (as they are in Shinde's classes). Also, the students are found lagging behind in their studies because of which the officer orders the closure of the school. Prakash, who dreams of studying to become a big man, gets a shock and commits suicide. The two teachers approach the trustee (Anil Nagarkar) to intervene and restart the school but the trustee instead suspends them, accusing them for the pitiable state of the school. The two teachers try to muster support of the students and their parents but to no avail. They then take Shiva and Priya to the education officer who pleads helplessness as he has been transferred by the scheming trustee.
The case is reported by the media. To get his image set right, the trustee reaches the school and while announcing its reopening, he blames the two best teachers for all the wrongs. Priya spits on the cunning trustee's face.
Dayasagar Wankhede, Hemant Dhabade and Rahul Salve's story has some interesting portions but it leaves the audience with a feeling of incompleteness in the end. The screenplay, penned by Dayasagar Wankhede and Hemant Dhabade, is engaging in parts only. It completely lacks in light moments and is also devoid of emotions. Dialogues (by Dayasagar Wankhede) are okay.
Anshuman Vichare has done well as Vichare Sir. Jagannath Nivangune is good as Nivangune Sir. Pratik Lad shines as Shiva. Shraddha Sawant leaves a lovely mark as Priya. Adnesh Madushingarkar is okay as Prakash. Milind Shinde makes a mark as Shinde Sir. Kamlesh Sawant makes his presence felt as the education officer. Anil Nagarkar (as the trustee), Suresh Vishwakarma (as the principal), Neeta Donde (as Vichare Sir's wife), Ashutosh Wadkar (as the peon), Rahul Belapurkar, Poonam Rane and Vipul Salunkhe (all three as teachers) are okay.
Dayasagar Wankhede and Hemant Dhabade's direction is so-so. Music (Rohan-Rohan and Vasant Kadu) is average. Lyrics (Rahul Salve) are good. Salil Amrute's background music is fairly nice. Camerawork (Santonio Terzio) is commonplace. Sandeep Kunchikorve's art direction is fair. Sanjay Ingale's editing is alright.
On the whole, Copy may be a fair fare but it is not a fulfilling movie experience and will, therefore, not be able to work its magic at the turnstiles.
Released on 8-11-'19 at Bharatmata (daily 1 show) and other cinemas of Bombay thru Rajat Enterprises. Publicity: okay. Opening: poor.