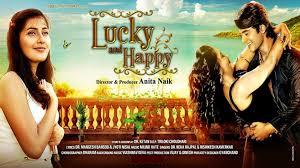 Sona Chitra Mandeer's Lucky And Happy (Marathi) is the story of a girl, her boyfriend and her visually challenged sister.
Happy (Hemlata Bane) lives with her parents and a younger sister, Mary, who is visually challenged. Happy works for a bank. She is happy that she has been transferred to a branch of the bank which is close to her house as she can spend more time with her family since travel time would now be less. In the bank, she meets Lucky (Sanket Pathak) who visits the bank often. He is a happy-go-lucky guy. Before long, Happy falls in love with Lucky.
Lucky spends a lot of time with Mary after he learns of her plight. He even takes her to places she's never been before. This infuriates Happy so much that one day, she insults him. She even asks Lucky to never meet her or Mary. But then, Happy gets to know something about Lucky, which shocks her. There's also something more she gets to know.
Dr. Ketan Naik's story lacks novelty and is a bit far-fetched. Happy losing temper at Lucky because he (Lucky) cares for and tends to her visually challenged sister is hard to digest. After all, Happy herself is fond of Mary, so why would she resent Lucky looking after her and caring for her? Dr. Ketan Naik's screenplay is also full of clichéd and routine scenes. Nothing really creates an impact on the audience which, therefore, watches rather passively the drama unfolding on the screen. His dialogues are hardly worth shouting about.
Sanket Pathak is average as Lucky. Hemlata Bane is so-so as Happy. Jayshri T., Namita Singh, Jyoti Nisal, Anshumala Patil, Shiva Patade, Yogita Pardeshi, Amit Kalyankar, Ketaki Bandiwadekar and Anil Naik provide average support.
Direction (by Aneeta Naik and Dr. Ketan Naik) is below the mark. Milind Hate's music is ordinary. Lyrics (Dr. Mangesh Bansod and Jyoti Nisal) are fair. Dharam's choreography is okay. Vaishnav Deva's background music is alright. Triloki Chaudhary's camerawork is fair. Sets (Madhu Kambale and Sunil Bawa) are of a decent standard. Vijay Pal's editing needed to be much tighter.
On the whole, Lucky And Happy is a dull fare.
Released on 8-11-'19 at 24 Karat Jogeshwari (daily 1 show) and another cinema of Bombay thru Fiza Films. Publicity & opening: poor.