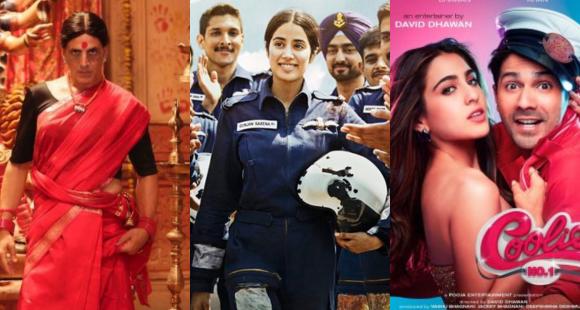 Is premiering a film on an OTT platform a sin? Or a crime? If it is neither, why does every big producer follow the same path of denial first, complete silence thereafter, and finally an announcement?
Whether it was Karan Johar for Gunjan Saxena: The Kargil Girl or Akshay Kumar and Fox Star Studios for Laxmmi Bomb, or Vashu Bhagnani for Coolie No. 1, the route they took was the same. And most of the producers of the big star-cast films seem to be pretty much following the same practice. If news of the producer's film bypassing theatrical release is leaked from somewhere, you can be sure that the producer will deny it as if it had never even occurred to him to think of an OTT release. He may be in an advanced stage of negotiations with the streaming platform but will he admit it? Never! When the rumours start flying from all directions, the producer will go silent. He will neither answer calls nor revert with replies to one's sms-es. He will pretend that the one who is asking him for a clarification does not exist in his universe. The third and the final stage is when you will hear from official sources that his film will indeed be premiered on a streaming platform.
Then why the denial, and why the silence?
Perhaps, because premiering a film on an OTT platform is still so new, producers are behaving in a weird fashion. OTT premieres gained momentum only due to the coronavirus lockdown as producers with ready films became impatient and expressed their desire to liquidate their locked investments running into crores of rupees in each film. It's a given that this is at best a stop-gap arrangement because no sooner do cinemas reopen and people start flocking to the cinemas over again, producers will opt for the old system of premiering their films in theatres, followed by a release on OTT/satellite after the mandatory window of eight weeks from the date of theatrical premiere. But is the newness of OTT premieres the only reason for producers to be so secretive? Besides the age-old reason to never spill the beans before a deal (in this case, for a streaming premiere) is formally signed, sealed and delivered? Not really! There's another very important reason too.
Producers have long-standing relationships with exhibitors and the former are aware that OTT premieres do not go down well with cinemas, whether multiplexes or single-screen, for obvious reasons. Hence producers probably do not want to ruffle feathers till they are cent per cent sure. That's why the first reaction of every producer is to deny that his film would be premiering on an OTT platform. For, by premiering their film on an OTT platform, producers are, in a way, made to feel guilty of not having stood by their 'partners', the exhibitors. The Multiplex Association of India had in May this year asked producers to stand in solidarity with multiplexes and not bite the OTT bait. But one by one, producers got tempted to sell the premiere rights to streaming platforms as the lockdown went on getting extended. With no clarity about when cinemas would finally reopen, more and more producers realised that it would be more pragmatic to premiere their film on a streaming platform. After all, how long could they keep paying interest on the monies they had borrowed to make their films even if they were ready for release? If cinemas did not reopen for two or three months more, the burden of extra interest for that period would have to be shouldered by the producers alone. The best option for many such producers of ready or almost-ready films was to knock the doors of OTT platforms. Most of the producers are not happy premiering their films, made for the big screen, on the small screen. Most of them can feel the pain of the multiplexes and single-screen cinemas. But producers can't do anything to ameliorate the losses of the cinemas. For, every premiere on a streaming platform means loss of opportunity to release that film in the cinemas. If they stand in solidarity with the cinemas, they are also incurring huge losses in terms of interest on their investment in the film. Those like Reliance Entertainment, which is still waiting for cinemas to reopen to release its Sooryavanshi and 83, are in a minority. And frankly, one doesn't know how long Reliance will be able to keep its promise to the cinemas to not bite the OTT bait.
But if Reliance, too, goes the path which producers of Gulabo Sitabo, Gunjan Saxena: The Kargil Girl, Laxmmi Bomb and Coolie No. 1 have gone, be sure, the company will deny it before announcing it!