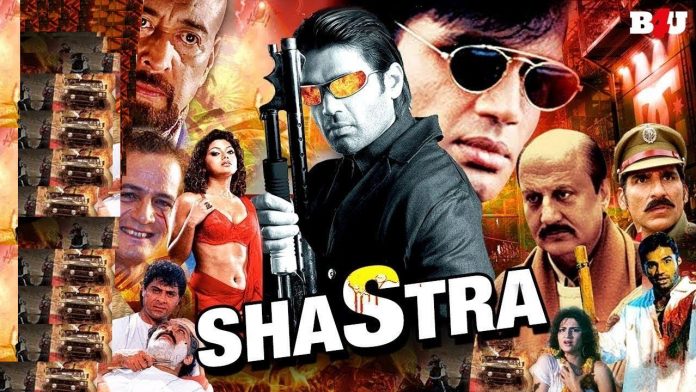 SHASTRA
Nariman Pictures' Shastra (UA) is a usual vendetta film. It is the story of a young college student whose parents were murdered when he was a kid. He sets out to hunt for the murderer as he wants to seek revenge. After a lot of efforts, he finally learns who the killer was and kills him.
The story is not one bit novel, and the screenplay, too, is quite routine. The main drawback in the drama is that although the young lad comes in search of his parents' murderer, he makes no conscious effort, after a point of time, to track him down. Of course, this realisation does dawn upon him, too, and it is sought to be passed off as proper through a dialogue, but that doesn't solve the problem. Even when the identity of the killer is finally exposed, it is not because of any effort of the lad.
On the other hand, the comedy punches in the film are enjoyable. Dialogues add to the fun in comic scenes. Some action scenes are exciting. One important ingredient of a commercial masala film, which Shastra is designed as, is totally missing even though there was scope for it, and that is emotions. The pain suffered by the boy due to the death of his parents simply doesn't come through, maybe, because there are hardly a couple of scenes of the boy with his parents. As a result, the audience does not feel sorry for the boy. The romantic track in the film is also not well developed.
Sunil Shetty acts quite well. He is very good in action scenes. Anjali Jathar looks ordinary, performs reasonably well and dances very ably. Anupam Kher seems totally disinterested in his work and is too mechanical to be true. His absence in some scenes tells glaringly of his date problems. Danny Denzongpa should have been given more scope. He does a good job in a relatively brief role. Mohan Joshi is alright. Mushtaq Khan is the surprise packet and shows a wonderful flair for comedy with his good sense of timing. Dinesh Hingoo, Kunika, Farida Jalal, Sanjeeva, Jack Gaud, Ankush Mohit, Achyut Potdar, Himani Shivpuri, Avtar Gill and the others lend good support. Ashwini Bhave lends sex appeal in a dance number.
Direction is okay. While the narration is fair, the director should have concentrated more on the scripting too. Aadesh Srivastava's music is superb. 'Kya ada kya jalwe' is the best song and is super-hit. But it has been on the charts for so long that its popularity goes against it, as it gives the feeling that the film has been delayed. 'Ladki deewani' is also very well tuned and its picturisation is the best. 'Kuchh hua re hua' is sexily picturised. Camerawork is eye-filling. Editing leaves something to be desired, especially in the first half. Background score and sound effects are of a good standard. Action scenes are quite good. The climax fight (in the water pool), although visually very appealing, is not as exciting as a final fight should be.
On the whole, Shastra has a good musical score and appreciable initial value but ordinary merits to prove an average fare.
Released on 4-10-'96 at Minerva and 23 other cinemas of Bombay thru Tridev Movies. Publicity: excellent. Opening: fair. …….Also released all over. Opening was good in most of the circuits.
LATEST POSITION
Rains in many parts of the country affected box-office collections adversely. Elections in U.P. also affected collections there.
Diljale has not been appreciated except, to some extent, in the North. Its heavy price will see several of its distributors (except of East Punjab and Rajasthan) incurring losses. 1st week Bombay 40,23,817 (93.66%) from 14 cinemas (10 on F.H.); Ahmedabad 6,60,589 from 4 cinemas (1 unrecd.), Bharuch (gross) 2,13,368, Rajkot 1,76,310 from 2 cinemas (1 in matinee), Jamnagar (matinee) 18,690 (1 in regular unrecd.); Pune 10,25,256 from 7 cinemas (1 in matinee), Kolhapur 1,88,000, Solapur 1,56,022, Nasik 1,82,736, Nasik Road 1,09,664, record; Belgaum 1,35,516 (100%) from 2 cinemas (1 in noon); Delhi 38,86,964 (86.98%) from 12 cinemas (3 on F.H.); Kanpur 3,91,042 from 2 cinemas, Lucknow 2,10,955, Agra 2,58,723, Hardwar 75,016, Gorakhpur 1,60,000 (82.01%); Amritsar 49,000; Calcutta 22,01,691 from 16 cinemas; Nagpur 5,73,629 from 5 cinemas, Amravati 1,90,391, city record, Akola 1,40,268, Raipur 1,31,355 (66.72%), Bhilai 1,05,174 from 2 cinemas, Jalgaon 1,37,025, Wardha (6 days) 72,612, Bilaspur 1,78,888 from 2 cinemas; Indore 73,287 (4 on F.H.), Bhopal 3,79,540 from 3 cinemas; Jaipur 7,79,200 from 5 cinemas, Ajmer (29 shows) 1,23,598, theatre record, Bikaner 2,73,217, theatre record; Hyderabad 24,07,531 from 11 cinemas (4 on F.H.), share 13,60,531 (including F.H.). Total: 1,96,89,074 from 106 cinemas. Average: 1,85,746 per cinema.
………….
YOU ASKED IT
At what ratio is Feroz Khan's Prem Aggan selling? When will it roll and when will it be released?
– Between 1.75 and 2 crore. The film will go before the camera in December this year, and Feroz Khan wants to release it on Diwali next year.
Why did Ajay Devgan's Diljale not take house-full opening at many places last week?
– Perhaps, because the trailers of the film, beamed on satellite channels before the film's release, were musical trailers, while Ajay Devgan has an action image.
How big a hit is Khamoshi in the Overseas circuit?
– A major hit! It is, perhaps, next only to HAHK..! and DDLJ there.
SARDARMULL KANKARIA RE-ELECTED
EIMPA PRESIDENT
Sardarmull Kankaria was re-elected president of the Eastern India Motion Pictures Association (EIMPA) at the first meeting of its newly elected executive committee held on 1st October in Calcutta. L.C. Bakliwal and N.L. Bhalotia were elected vice presidents, and Raj Kumar Damani, hon. treasurer.
Earlier, at its annual general meeting held on 24th September, the following were elected to the executive committee: Pronob Kumar Bose, Kamal Kumar Bhalotia, Ajit Bhattacharya, Krishna Narayan Daga (chairman, producers' section, West Bengal), Ashok Chakraborty, Shankar Kumar Dutta, Bhabesh Ch. Kundu, Sishir Kumar Dutta, Nawal Kishore Tharad, Rathin Majumdar, Janab M.A.K. Sayeed, Lalit Kumar Kankaria, Joy Bakliwal, Janab Md. Reyaz, Bikash Ranjan Chandra, Tapash Kumar Ghosh, Girish Mansata, Dipindra Krishna Mitra (chairman, exhibitors' section, West Bengal), Paresh Parekh, B.L. Goenka, Pinaki Mukherjee (chairman, producers' section), Rabin Chowdhury (chairman, distributors' section) and Pradip Dey (chairman, exhibitors' section).
DO YOU KNOW?
RELIGIOUS TOUCH
* The Telugu film, AMMORU, is creating havoc at Jayshree, Bijapur. The film has an aarti in the second half, which enchants the audience to such an extent that many among them start dancing to its tune. The screening invariably gets interrupted because the more devout among the viewers distribute prasad and kumkum in the auditorium. After this distribution, the screening begins again. What's more, a special temple has been built in the cinema compound, where all cinegoers pay their respects before seeing the film!
HARISH SUGHAND HURT IN CAR ACCIDENT
Harish Sughand of Glamour, Bombay, met with a serious accident at Lokhandwala Complex on 29th September. A truck, coming from the opposite direction, rammed into the car Harish was driving. The accident could have proved fatal for Harish who had a Providential escape. His face was badly injured and he had to be rushed to Nanavati Hospital. He underwent surgery on 2nd October.
'Shastra' Released After Much Tension
How Shastra made it to the cinema halls all over India this week is an interesting story. Well, actually, it almost didn't, thanks to the non-cooperative attitude of CBFC regional officer Sanjeevani Kutty. Ms. Kutty was to verify the cuts offered by the examining committee to the film but she was out of India for the whole of last week. Reportedly, she had made it expressly clear that she would personally verify the cuts. Even if she hadn't made this clear, no official of the CBFC was ready to verify the cuts in her absence, which resulted in unnecessary delay of one week.
On Monday, September 30, the cuts and the video cassette of the film were submitted to her but the video cassette was not clear. A fresh cassette had to be prepared and some cuts weren't executed as suggested. The producers were to submit the fresh cuts and cassette on Tuesday but thanks to lack of planning, they delayed the submission by some hours. This seems to have infuriated Ms. Kutty so much that she declined to see the cassette that day and asked the producers to come for the certificate on Thursday (Oct. 3) since 2nd October was a holiday (Gandhi Jayanti). No amount of pleading by the producers made Ms. Kutty change her stubborn stand. AMPTPP president Pahlaj Nihalani drove all the way from Film City to Liberty cinema, where Ms. Kutty was viewing a film on Tuesday, and requested her to sign the certificate that day as the producers had fixed their release on 4th, but Ms. Kutty failed to oblige. Incidentally, the producers of Shastra are not members of the AMPTPP, but of the IMPPA. Reportedly, CBFC chairman Shakti Samanta also spoke to Ms. Kutty but he did not meet with any success either. According to Bipin Savla, financial adviser to the producers of Shastra, when they approached Shakti Samanta last week, apprehending last-minute tension, he assured them of all help and even asked them to go ahead with their release plans of 4th October.
On 2nd October, the producers held a meeting with their all-India distributors, who were in Bombay for the film's delivery, at Adlabs to decide on whether the release should be postponed. It was finally decided to release it on 4th. In U.P., C.P. and C.I., where films are released on Thursdays, Shastra was delayed by a day, and released only on Friday. Advance booking at cinemas of Bombay could start only on Thursday, a day before the release.
It took a lot of coaxing by Pahlaj Nihalani to make the Overseas distributor, Arjandas Lulla, agree to release the film abroad next week. It was also thanks a great deal to Manmohan Shetty of Adlabs whose ever-helpful nature made the release this week possible. Besides Pahlaj, others who were present at the meeting at Adlabs were Santosh Singh Jain, G.S. Mayawala and K.D. Shorey.
NEW FACES AT ZEE
Zee Network has appointed Dr. Chandra Prakash as its president – programming. He will be responsible to the CEO. Vishnu Patel is the general manager – productions and he will look after the in-house productions of Zee Network channels. Mrs. Karuna Samtani has been made director – events. Nayana Dasgupta continues to look after the creative aspects of El TV. Sunita Chaswal is the sr. manager – programming, and Rajesh Mishra, sr. manager – commercial.
3E
Education-Entertainment-Enlightenment
'Fireworks' Moranis' Diwali Offering
The Moranis are famous for their fireworks. But this Diwali, it is not just with their fire crackers that the Moranis will want to make a mark. Their Raja Hindustani will also hit the screens on Diwali. So these rajas of fireworks are now praying that like every Hindustani is enthralled by their Diwali crackers, they also get mesmerised by the film.
Ramgopal Varma's 'Tamasha'
Imagine Urmila Matondkar and a youthful N.T. Rama Rao together. There are posters showing this pair, pasted all over Andhra. The colourful posters have been put up by Ramgopal Varma's new music company, Varma Audio. The company's maiden audio release is 'Tamasha', a compilation of rehashed old and new generation Telugu film songs, peppered with value-addition like digital sound. And that's why the posters show NTR of the old generation, and Urmila, the current heartthrob.
Boney Bags Blockbuster's Remaking Rights
There were at least ten producers from Bombay in the race to acquire the Hindi remaking rights of the latest Tamil blockbuster, Kadhal Kottai (which means Love Fort). Boney Kapoor finally managed to bag the rights from Ramu, son of Sivaji Ganesan and brother of actor Prabhu, at a phenomenal price — over 60 lakh! ABCL, Ketan Desai, David Dhawan, Sajid Nadiadwala, Venus, Mansoor Ahmed Siddiqui, D. Rama Naidu…. they were all trying to lure Ramu with fancy prices for the Hindi remaking rights but, as Boney Kapoor puts it, "my charm worked". Adds Boney, "Many are apt to say that my manipulation did the trick, but that's wrong. It's my charm, I'm sure." Kadhal Kottai will now be remade in Hindi by Boney Kapoor jointly with Gautam Kumar, Nitin Manmohan, Sunil Manchanda and Mukul Anand (all four represented by Neha-MAD Films Combines). Surinder Kapoor will present the film. Editor A. Muthu reportedly saw Kadhal Kottai at least four or five times. Its hero, Ajith Kumar, has shot to stardom after its release. College students and youngsters have taken a great liking to the film. Incidentally, Ajith Kumar's earlier hit, Aasai, also gave him a celebrity status. Kadhal Kottai stars two heroines opposite Ajith. In the Hindi remake, it will be Sanjay Kapoor playing the male lead. His two leading ladies are to be finalised.
Superhit Muqabala?
In June 1990, it was Sunny Deol's Ghayal and Aamir Khan's Dil which were released on the same day. Six years later, the two actors will be pitted against each other once again. On Diwali this year, Aamir's Raja Hindustani and Sunny's Ghatak are due for release. In 1990, Dil had been released in Bombay at Novelty, and Ghayal, at Metro. Raja Hindustani will come at Metro, and Ghatak, at Minerva.
It Could Be You Tomorrow
What happened with the producers of Shastra earlier this week should shake each and every producer. And shock him too.
The obstinate stand of the regional officer of the CBFC, Bombay, who refused to sign the censor certificate of the film on 1st October even though its release was scheduled for 4th October, was totally uncalled for. Even if one were to agree that the producers, whose approach to the submission of cuts etc. was lackadaisical, were not free from blame, the 'punishment' meted out by the regional officer of the CBFC was far excessive than warranted by the 'crime'. One doesn't give capital punishment to a petty pick-pocket who flicks a 10-rupee note from somebody's pocket.
Regional officer Ms. Sanjeevani Kutty closed her eyes to reality and seemed to be least concerned about the practical problems of the producers who had fixed their release for the immediately following Friday, of distributors all over India, who had booked their chains of cinemas, of exhibitors who would not have any film to run if the release of Shastra were to be cancelled at the last moment. And yes, in ignoring all this, Ms. Kutty seems to have forgotten that her absence from India had, in fact, started the delay, because while she was away for the whole of last week, nobody at the CBFC office was ready to verify the cuts of the film, offered by the examining committee. This, by implication, would mean that had Ms. Kutty decided to return to India one more week later, the producers would have had to, perhaps, postpone their release!
The regional officer might ask, why producers do not keep a fair margin between the censorship of their films and their release. The only reply one can give to that question is that by the time the producer has completed his film and readied it for release, he is exhausted of all his finances and his stamina. There may be exceptions among producers but we're talking generally. The regional officer may say, that's not her problem. Fine, let that not be your problem, madame, but please don't create new problems for the poor producer.
There have been any number of instances in the past, of regional officers going out of their way to help a producer in distress, to meet his release schedule. Ms. Kutty could have signed the censor certificate on Tuesday. In the alternative, she could have volunteered to view the video cassette and sign the censor certificate on October 2, as a special case. If we can have vacation judges, expecting a regional officer to work for an hour on a holiday isn't too much.
CBFC chairman Shakti Samanta could have asserted his position as chairman and made sure that the censor certificate was handed over to the producers on Tuesday or, at least, Wednesday.
The case of Shastra should make producers think. Today it was Shastra, tomorrow it could be somebody else. What is the guarantee that another producer will not be made to suffer like the producers of Shastra? And what a parodox. Shastra means 'a weapon'! But its makers had no weapon to fight the avoidable delay.
– Komal Nahta