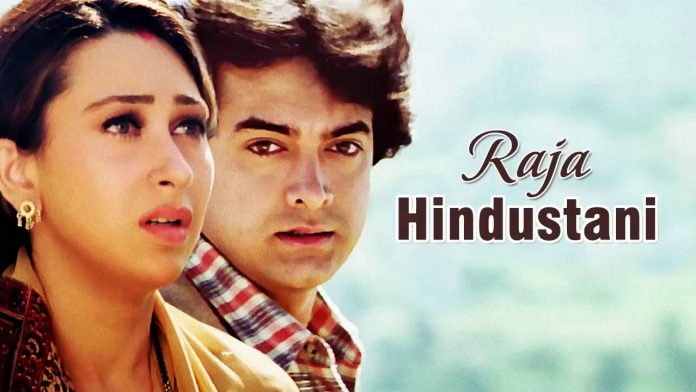 RAJA HINDUSTANI
Cineyug's Raja Hindustani is a brilliant film with a very Indian story. A taxi driver-cum-tourist guide falls in love with a millionaire's only daughter. The girl, much against her father's wishes, spurns every one to get married to the driver. Her scheming step-mother, however, will not let the marriage succeed even though the father soon gives his acceptance to the marriage. All hell breaks loose in the happily married couple's life as the wretched step-mother creates misunderstandings between the husband and wife. Things reach a stage when the two separate from each other. The step-mother tries her best to ensure that the separation gives way to divorce, but does not succeed. Ultimately, the misunderstandings are cleared after a bit of action drama, and the couple unites again.
The major part of the first half is light and fun-filled. A couple of reels before the interval, it takes a serious and dramatic turn and that's where the film involves the viewer completely. Many of the light portions of the hero (Aamir Khan) are quite enjoyable, but if a couple of scenes lack in entertainment value, it is mainly because one has seen Aamir do similar things in Rangeela and not because of a defect in scripting. However, the initial two reels are quite routine. The second half abounds in emotions and histrionics.
Although the pre-interval portion reminds of Jab Jab Phool Khile and the post-interval portion, of Pyar Jhukta Nahin, there are some new angles to the story and the fresh presentation, all of which lend it the desired novel effect. Principal among the new angles are: (i) the hero's refusal to sign the divorce papers supposedly sent by his wife, because of his firm belief that marriage is a sacred institution which cannot be broken with the stroke of a pen; and (ii) the heroine's refusal to divorce her husband. These two scenes reaffirm one's faith in the institution of marriage and are so reassuring that they will be fantastic scoring points to make the ladies audience love — no, adore — the film. The refusals, of the husband first and the wife later, come at moments when one actually expects that they would sign the divorce papers. The shock value, coupled with the heartwarming feeling one experiences after these two scenes, are enough to bowl the ladies audience over and make them patronise this film in a very big way.
Performances of at least three lead artistes — Aamir Khan, Karisma Kapoor and Archna Puran Singh — are award-winning. Aamir does a fantastic job, especially in the dramatic and serious scenes. His drunken scene, in which he is a picture of frustration, bitterness and confusion, is mind-blowing and it wouldn't be an exaggeration to say that few could have done it with so much finesse and restraint as Aamir. Karisma Kapoor is the surprise packet of the film. All awards this year for the best actress need to be reserved for Karisma who is simply superb in the film. Not once does she go overboard; she comes up with a truly mesmerising performance. Her histrionics are fantastic. With this film, Karisma makes a comfortable place for herself in the top bracket. That she looks gorgeous in her new hair-style in the first half is an added advantage. Archna Puran Singh, as her horrible step-mother, is wonderful. With her typical acting, she gives the role a different dimension. Suresh Oberoi acts extremely ably. Johny Lever brings the house down with his comedy. The guy makes every scene in which he appears, a thoroughly enjoyable one. In particular, the scene in which he prostrates before Archna is excellent.
Navnit Nishan is cute and makes her presence felt. Veeru Krishan is also very good. Farida Jalal acts with perfect restraint. Pramod Moutho is effective. Mohnish Bahl has very little scope but is, nevertheless, natural. Tiku Talsania and master Kunal Khemu lend admirable support. Kalpana Iyer and Pratibha Sinha leave a mark in their appearances in only one song.
If the performances are award-winning, so are the dialogues (Javed Siddique and Dharmesh Darshan). The brilliant performances and the hard-hitting dialogues combine together to make several scenes worthy of thunderous applause. Falling in this category are: (i) Karisma's announcement that she could forgo not one but a hundred houses for the love of her husband; (ii) Aamir's tearing of the divorce papers; (iii) Karisma complimenting her father for having cursed her; (iv) Aamir asking his father-in-law to shut up and not interfere between him and his wife; (v) Karisma making her step-mother feel guilty for having misused her title of mother, etc. etc.
Dharmesh Darshan scores in every department — direction, scripting and extracting performances. The best part of his story and narration is that it is totally Indian in content, feel and presentation. His understanding of the medium is masterly and he knows how to blend drama, emotions, romance, comedy and music fruitfully. Here's another young director who shines on the film firmament and who will be extremely sought-after.
Yet another award-winning department is the music. Nadeem Shravan are in top form and their songs are a virtual delight. The 'Pardesi pardesi' number is already a rage and its tune and picturisation (the first version) should draw deafening applause in cinema halls, especially when Kalpana Iyer asks Aamir to sing so that she can dance. The other two versions of the 'Pardesi' song are also excellent. Its use in the climax is masterly. 'Poochho zara poochho' is also excellently tuned. 'Aaye ho meri zindagi meini' has lilt. The blending of 'Pardesi' and 'Aaye ho' songs at the time of the couple's separation is intelligent. Sameer's lyrics also deserve distinction marks. Song picturisations are beautiful.
Action scenes are well composed but, it must be said, the action climax looks a bit out of place. Another sore point is that Aamir Khan has no dialogues to utter in the entire climax. Production values are of a good standard. Background music is appropriate. W.B. Rao's camerawork is of top class. Editing is sharp.
On the whole, Raja Hindustani is a confirmed super-hit. It has taken a mind-blowing start and, on the strength of ladies and family audience as well as heavy patronage by youngsters, it is poised to create history in the initial weeks — from North to South and East to West.
Released on 14-11-'96 at Metro and on 15-11-'96 at 14 other cinemas of Bombay by Tips Films P. Ltd. and Cineyug thru Shringar Films. Publicity: extraordinary. Opening: bumper. …….Also released all over with fantastic response.
LATEST POSITION
The fanciful and fantastic opening of RAJA HINDUSTANI this week is the best Diwali gift the industry could have asked for. Last week's GHATAK has also grossed tremendous collections.
Raja Hindustani (released on 11th/12th/13th/14th) has created records almost everywhere. 1st week Baroda (4 days) 100%, Padra (4 days) 1,35,632 (100%), Rajkot (4 days) 74,000, Jamnagar (4 days) 95,136 from 2 cinemas (1 in mat.), Bhuj (3 days) 100%; Pune (4 days) 2,62,704 from 2 cinemas (1 in mat.), Kolhapur (4 days) 100%, Nasik (4 days) 1,84,512 (100%), record; Allahabad (4 days) 85,020 (100%), Bareilly (3 days) 80,267 (100%), Gorakhpur (3 days) 68,800 (100%), theatre record; Nagpur 1st day 1,22,696 from 4 cinemas, Akola (3 days) 75,959 (100%), theatre record, Raipur (2 days) 65,391, Jalgaon (3 days) 1,06,110, Khandesh record, Wardha (3 days) 42,994, theatre record, Chandrapur (3 days) 98,290, city record, Yavatmal (3 days) 42,107 (100%); Bhopal (3 days) 1,96,000 from 3 cinemas.
Ghatak, after a somewhat shaky three days (of pre-Diwali), consolidated its position fabulously and went on to record wonderful collections in 1st week. The 2nd week has also started extremely well. 1st week Bombay 59,87,217 (90.97%) from 16 cinemas (6 on F.H.); Ahmedabad 11,67,218 from 7 cinemas (1 unrecd.), Baroda 91% from 2 cinemas, Bharuch (gross) 2,83,612, Patan (gross) 2,14,886, city record, Jamnagar (mat.) 39,554 (1 in regular unrecd.), Adipur 1,35,251, district record; Pune 16,33,674 from 7 cinemas (1 in mat.), Kolhapur 1,83,078, Satara 1,56,982 (91.57%) from 2 cinemas (1 in mat.), Nasik 2,14,000; Belgaum 2,38,022 from 2 cinemas, record, Nipani 1,16,218; Delhi 44,70,594 (82.86%) from 14 cinemas (1 cinema on F.H.); Kanpur 4,05,691 from 2 cinemas, Agra 2,36,252, Allahabad 1,55,000, Meerut 2,14,007 (100%), theatre record, Bareilly 1,23,687 (67.83%), Gorakhpur 1,49,400 (70.70%); Calcutta 20,34,652 from 15 cinemas; Nagpur 5,61, 818 from 4 cinemas, Jabalpur (6 days) 1,51,039, Amravati 2,54,969 from 2 cinemas, Akola 1,85,444, Raipur (6 days) 1,49,112, Bhilai (6 days) 1,03,000, Durg 1,34,874, city record, Jalgaon 1,70,173, Chandrapur (29 shows) 1,84,191, city record, Yavatmal 1,04,045, Bilaspur 1,64,113; Bhopal (3 days) 2,52,791 from 3 cinemas; Jaipur 6,36,555 from 3 cinemas, Jodhpur 4,24,339, Ajmer 1,22,845 (100%), Bikaner 3,00,541, city record, Kota 1,51,834, Udaipur 100%, Alwar (4 days) 1,34,048; Hyderabad 28,99,947 from 13 cinemas, share 14,91,311.
……….
YOU ASKED IT
Is the bumper opening of Raja Hindustani a result of the Diwali period?
– Only partly. The major credit for the almost unprecedented opening goes to the super-hit Pardesi pardesi song and the film's promotion and publicity.
Why has Rakshak been postponed by a week?
– According to its maker, Ashok Honda, the theatrical trailers, which are being screened in cinemas from this week only, need to be screened for at least 2 weeks to create the desired impact.
Is it necessary to have a novel subject if the film is to be a hit?
– If there is no novelty in subject, even novelty in presentation/narration can suffice.
IN & OUT OF BOMBAY
Mr. Dayanand Mandre of DRM Combines, Bangalore, will be in Bombay at Hotel Kemp's Corner (363-4666/4646/4655) from Nov. 18 to 21.
Mr. Omprakash Agarwal of Rekha Movies, Calcutta, will reach Bombay on 18th November.
Mr. Naraindas Mukhija of Shree Navchitra Distributors P. Ltd., Jaipur, is in town (626-0106).
CCCA president Santosh Singh Jain is in Jaipur to attend the meeting of the executive committee of the CCCA.
Mr. N.D. Kabra and Mr. Laloo Kabra of Vishwajyoti Films, Bhusawal, are expected in Bombay early next week.
Producer Mahendra Dhariwal (HATYARA) will reach Bombay (633-2496) tonight (16th November).
K. PAPPU, RAJ KANWAR BEREAVED
Jeet Singh Kanwar, father of producer-directors K. Pappu and Raj Kanwar, expired in Delhi on 11th November. He was 65 and is survived by four sons and a daughter.
WEDDING BELLS FOR PAWAN KUMAR'S SON
A reception to celebrate the wedding of Anil, son of producer Pawan Kumar, with Renu will be held on 26th November at Lokhandwala Garden, Lokhandwala Complex, Andheri (W), Bombay.
GUL ANAND DEAD
Producer and Bombay and Overseas distributor Gul Anand passed away peacefully at his Pune residence following a heart attack on 12th November. He was 55. The marka ceremony was held on 15th at Peddar Road, Bombay.
Gul Anand had made films like Khatta Meetha, Chashme Buddoor, Jalwa and Hero Hiralal. He also continued the Overseas distribution business of his father. Gul considered Amitabh Bachchan his lucky mascot and made sure, his films had a fleeting appearance by the superstar.
Gul was both, a connoisseur of cinema as well as good food. His keen interest in healthy food prompted him to start a delicatessen at his office at Nana Chowk, Bombay. The delicatessen was very popular among the city's elite. He also produced a serial on the royal dishes, Shahi Daawat, which is being aired on Zee TV. Gul also co-authored a book on food guide of Bombay and Nepal.
At the time of his death, he was producing a television serial which was not yet on air. He also had plans to start a film.
Gul was young at heart and fun-loving. He was very fond of inviting friends over for lunch or dinner which he would himself very painstakingly prepare.
SUBHASH GHAI, SUNIL BANSAL BEREAVED
Akhtar Farooqui, producer of Karz and father-in-law of Subhash Ghai and Rajasthan distributor Sunil Bansal, passed away in Bombay at Nanavati Hospital on 10th November after a brief illness. He was 72. He is survived by two daughters and five sons. The condolence prayers will be held at his Versova residence on 19th November from 7 p.m. onwards.
Quite ironically, his Karz was being telecast on DD-2 at the time of his death.
AKASHDEEP TO WED
Marriage of Akashdeep, son of producer-director Manmohan Sabir, with Sheeba, will be solemnised on 27th November at Hotel Horizon. A reception to celebrate the wedding will be held the same evening.
CENSOR NEWS
Shivam Chitrya's (Bombay) Chhote Sarkar was given C.C. No. CIL/1/66/96 (U) dt. 14-11-'96; length 4404.97 metres in 18 reels (cuts: 61.82 metres).
Vishesh Films P. Ltd.'s Dastak was given C.C. No. CIL/3/37/96 (A) dt. 8-11-'96; length 4072.74 metres in 16 reels (minor deletion in sound only).
INDIAN ENGLISH FILMS
Mirabai Films' Kama Sutra: A Tale Of Love was seen by the revising committee on 14th.
ANNOUNCEMENT & LAUNCHING
Salman To Start Film Starring Himself, Kajol, Arbaaz
Salman Khan's production banner, G.S. Entertainment, will launch its first venture starring Salman Khan, Kajol and Arbaaz Khan in lead roles, on Nov. 19 with a song recording at Sunny Super Sounds. Sohail Khan directs the film which is being produced jointly by Guneet Walia and Sohail Khan. A Vashu Bhagnani presentation, it has music by Jatin Lalit. Lyrics: Sameer. Action: Mahendra Verma. Art: Sharmishtha Roy. Editing: Muthu. The first shooting schedule will begin from December 20.
Bokadia's 'Lal Badshah' To Roll On 17th
Producer-director K.C. Bokadia's Lal Badshah will mount the sets on Nov. 17 on a set at Film City. It stars Amitabh Bachchan, Manisha Koirala, Shilpa Shetty, Amrish Puri, Mukesh Rishi and others. Music is scored by Aadesh Srivastava.
3E
Education-Entertainment-Enlightenment
Instant Reaction
Producers being producers, they will never miss an opportunity to hike the prices of their films even if the hike is merely in their thoughts. No sooner did Raja Hindustani release this week to bumper houses than one producer telephoned us to enquire whether he could get a price of Rs. 3 crore for his almost complete star-studded project. "2 crore is old story now. Business has increased so much so fast that films should now be sold at higher prices," said the producer. Whether business has shot up "so fast" or not, one doesn't know, but what definitely is "so fast" is the reaction of producers to any hit.
'Kama Sutra': A Tale Of Trouble
Mira Nair's Kama Sutra: A Tale Of Love is in censor trouble. The examining committee of the CBFC offered a number of cuts which Mira reportedly accepted. But the committee had a change of mind and instead refused certificate to the film. In spite of Mira Nair's acceptance of the cuts, the film was referred to the revising committee. Probably, the members of the examining committee developed cold feet because of the nature of the film and decided to play safe and let the revising committee take the decision. When CBFC chairman Shakti Samanta was asked to see the film, he is reported to have said, "I don't see films as a matter of principle."
Marital Problems? No Problem!
If you meet Boney Kapoor in the near future, don't be surprised if you find him in his elements. Boney is thrilled because three major hits of this year — Raja Hindustani, Saajan Chale Sasural and Agni Sakshi — have one thing in common: problems in the married lives of the hero (heroes) and heroine (heroines). So why should Boney Kapoor be happy about this common problem, you might ask. Well, it's because his forthcoming film, Judaai, is also the story of one man who has two wives, and the problems that follow.
Dancing Dames
Yet another common point — not in the three hits of this year but in two films released recently and one forthcoming film. They all have one song-dance number picturised on a well-known heroine who is seen in that film in just that song. Ghatak has Mamta Kulkarni dancing with dance director Ganesh in Maara re. In Raja Hindustani, one gets to see Pratibha Sinha in the Pardesi pardesi number. And in Rakshak will be seen Raveena Tandon in the Shaher ki ladki song-dance.
Mathematical Logic
When a film bombs, there's no dearth of sarcastic comments which make the rounds in trade circles. But one got to hear some really good ones when Raja Hindustani proved a hit on day one itself. Said a smart Alec, "Raja Hindustani in Bombay will do business equal to that of Raja plus Hindustani." Touch wood! An exhibitor, referring to the hit business of Raja Hindustani and Ghatak, remarked, "History is repeating itself. In 1990, it was Aamir Khan's Dil and Sunny Deol's Ghayal, which were released on the same day, and both went on to become hits. Now, six years later, it is Sunny's Ghatak and Aamir's Raja Hindustani. They were released almost simultaneously — the former on 8th November, and the latter on 11th."