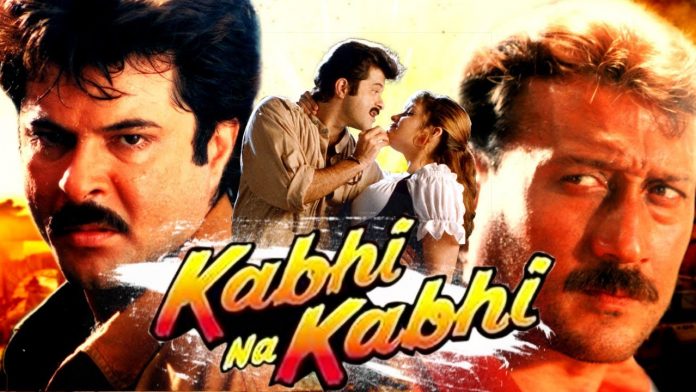 KABHI NA KABHI
Shogun Films Ltd.'s Kabhi Na Kabhi (UA) is the story of two young men, both involved in the underworld, whom destiny brings together. The two guys become great friends and also love the same girl but both of them do not know about the other's love. One of the two guys is also in search of his father's killer and he does not know that the one who he is searching for is none other than his best friend. The host of misunderstandings between the two friends (Jackie Shroff and Anil Kapoor) are finally cleared in the climax.
The story and screenplay are hackneyed and do not provide a single scene which can be said to be novel or original. The romantic portion of Javed Akhtar's story reminds of his earlier film, Saagar. There is no proper build-up to many scenes, as a result of which nothing creates an impact. For instance, Anil Kapoor's search for his father's murderer has no emotional appeal because the base (Anil's relationship with his estranged father) is weak. Anil saving Jackie's sister looks like a contrived link in the story. Dialogues, too, are ordinary. Showing Jackie and Anil romancing does not suit their image today; they are quite old for it.
Jackie Shroff does an average job and also looks odd in some scenes. Anil Kapoor is alright. Pooja Bhatt hardly looks like a heroine, thanks to her size; her weight notwithstanding, she does a fair job. Paresh Rawal is quite good but his gait and mannerisms remind of his character in Raja. Tinnu Anand, Alok Nath, Rohini Hattangady, Darshan Bagga, Mac Mohan, Suresh Menon and the rest fill the bill.
Priyadarsan's direction is average. It almost appears that he has tried to camouflage the defects in the script by showering too much attention on the visuals, lighting etc. But Priyadarsan would do well to realise that no amount of gloss can ever make up for weak content. Editing is one more department the director should pay attention to. The film is very loose and scenes, unduly lengthy. In fact, so poor is the editing that one is left wondering whether editor Gopalakrishnan fell in love with Priyadarsan's work.
A.R. Rahman's music is good but the songs have been playing since so many months, there's a certain amount of staleness that's crept in. The title song, 'Tu hi tu', 'O mere yara dildaara' and 'Jo maanga tha' are well-tuned, and the picturisation of 'Tu hi tu' is absolutely fantastic. Ravi Chandran's camerawork is brilliant and so is Sabu Cyril's art direction. The film has taken several years in the making and the time-lag shows.
On the whole, Kabhi Na Kabhi is a weak fare and a lengthy one too. It will entail heavy losses to its distributors despite its low price.
Released on 16-4-'98 at Metro and on 17-4-'98 at 13 other cinemas of Bombay thru A.B.C. Pictures Pvt. Ltd. Publicity: good. Opening: dull. …….Also released all over. Opening was dull everywhere.
LATEST POSITION
Both the new releases of this week have opened to truly poor houses. …….PYAAR KIYA TO DARNA KYA in Hindi, TITANIC in English and DESH RE JOYA DADA PARDESH JOYA in Gujarati are doing fantastic business.

Qila has fared miserably all over. 1st week Bombay 18,41,518 (50.73%) from 9 cinemas (4 unrecd., 8 on F.H.); Ahmedabad 1,81,099 from 3 cinemas (2 unrecd.), Rajkot 37,210 (1 in matinee unrecd.); Solapur 77,575; Belgaum 64,129; Delhi 18,89,780 (37.48%) from 10 cinemas (1 on F.H.); Kanpur 2,29,681 from 2 cinemas, Lucknow 1,82,567, Agra 1,19,176, Allahabad 83,000, Varanasi 1,44,000, Bareilly 54,623 (27.48%); Amritsar 60,365; Calcutta 9,59,124 from 13 cinemas (10 on F.H.); Nagpur 2,55,760 from 4 cinemas, Jabalpur 41,929, Amravati 72,861, Akola 49,284, Raipur 54,079, Jalgaon 42,524, Yavatmal 66,298; Indore 54,508 (3 on F.H.), Bhopal 1,58,411 from 3 cinemas; Jaipur 6,94,244 from 3 cinemas, Bikaner 98,525; Hyderabad 10,12,751 from 8 cinemas.
Keemat, after a good start, dropped quite badly from 4th day onwards. 1st week Bombay 24,48,886 (64.16%) from 11 cinemas (6 on F.H.); Ahmedabad 5,38,186 from 5 cinemas (1 unrecd.), Vapi 2,72,078, Rajkot 1,36,158; Kolhapur 1,72,032, Solapur 1,16,921; Hubli 1,73,214 (88.21%); Delhi 26,74,323 (55.34%) from 11 cinemas (1 on F.H.); Kanpur 3,53,104 from 2 cinemas, Lucknow 2,56,599, Allahabad 1,20,000, Varanasi 1,61,483, Meerut (31 shows) 2,11,829, Bareilly 1,21,966 (56.46%), Hardwar 60,713; Amritsar 52,354; Calcutta 16,24,834 from 13 cinemas (12 on F.H.); Nagpur 3,92,791 from 4 cinemas, Jabalpur 1,12,536, Amravati 1,51,543, Akola 1,31,253, Raipur 1,43,051, Jalgaon 1,21,001; Indore 2,51,457 from 2 cinemas (3 on F.H.), Bhopal 3,69,077 from 3 cinemas; Jaipur 6,93,632 from 5 cinemas, Udaipur (4 days) 92,000; Hyderabad 22,84,785 from 14 cinemas.
………..
Pyaar Kiya To Darna Kya 3rd week Bombay 37,01,045 (80.73%) from 11 cinemas (6 on F.H.); Ahmedabad 2,98,120 from 2 cinemas (2 unrecd.), Vapi 2,59,886, Jamnagar 82,198; Kolhapur 1,56,473, Solapur (14 shows) 1,40,082; Belgaum 98,572; Delhi 22,52,775 from 9 cinemas (1 on F.H.); Kanpur 3,22,115 from 2 cinemas, Lucknow 3,91,071, Allahabad 1,18,520 (2nd 1,35,000), Varanasi 1,60,242, Bareilly 1,20,668 (53.61%), Hardwar 45,000; Rohtak 8,519; Calcutta 5,73,023 from 2 cinemas; Nagpur 3,05,484 from 3 cinemas, Jabalpur 1,67,157 (2nd 1,53,431), total 5,30,976, Amravati 1,26,188, Akola 1,27,990, total 4,23,234, share 3,31,628, Raipur 1,44,783, Durg 87,125, Chandrapur 1,30,067, total 4,66,322, Yavatmal 36,284 (2nd 49,430); Bhopal 2,58,967, total 7,11,735; Jaipur 3,30,073, Bikaner 1,45,832, Udaipur 82,985; Hyderabad 6,06,954 from 3 cinemas.
_______
Sarbans Daani Guru Gobind Singh (Punjabi, TF) has been rejected. Discontinued after 3/4 days from 3 cinemas in Delhi; entered 2nd week in Ludhiana.
Desh Re Joya Dada Pardesh Joya (Gujarati, TF) 14th week Ahmedabad 4,51,961 from 4 cinemas, 10th week Baroda 1,22,954, 4th Padra 1,45,721, 2nd Himmatnagar 1,24,460, Kadi 1,37,950, 12th week Jamnagar 1,27,626, 14th Rajkot 1,77,000; 1st week Bombay (with tax) 3,64,649 (38.76%) from 3 cinemas.
_______
Titanic (English) 6th week Bombay 18,52,307 (100%) from 2 cinemas; 5th week Delhi 19,53,769 from 3 cinemas; 6th Calcutta 3,50,210; Vijayawada 5 weeks' total 16,88,217 (100%), Visakhapatnam 34 days' total 16,24,686.
3-D EXPERIENCE FOR A NEW GENERATION
The revised version of Chhota Chetan (3-D, partly dubbed) has been released this week in Bombay and Delhi-U.P. Several new characters have been added to this 1984 film but the charm still is of the 3-D effect only. The ultra-modern sound does add to the 3-D effects (which are truly excellent) but the new portions in the film don't really go well with the contents of the old film. Newcomers Urmila Matondkar, Harish, Shakti Kapoor, Satish Kaushik and Ravi Baswani look as if they are on a different track.
The high points in the film are still the three-dimensional figures and the performances of the four kids. Which makes one wonder whether the makers wouldn't have achieved similar results had they released the old Chhota Chetan only. Music should have been better.
Opening response is fantastic in Bombay. Children (a whole new generation of under-14s) will love the experience of seeing a 3-D film.
CBFC CHAIRMAN SHAKTI SAMANTA'S RESIGNATION NOT ACCEPTED
CBFC chairman Shakti Samanta resigned from his post on 13th April. The resignation has not yet been accepted. He, therefore, continues to occupy the post.
When contacted, Shakti Samanta told Information, "My first stint as chairman was for three years, it was renewed for a further three years, and again for three years. I've completed two years of my second extension, and I think, eight years is a long enough time to be in this post." Samanta denied that there was any political reason for his resignation.
R.K. HANDA DEAD
Renowned art director R.K. Handa expired due to heart failure at his Juhu (Bombay) residence on 12th April. He was 62 years old and is survived by his wife, two sons and a daughter.
Besides being an art director of repute, Handa was also actively involved in the film trade union movement. At the time of his death, he was the president of the Association of Cine & TV Art Directors, senior vice president of the Federation of Western India Cine Employees, senior vice president of the Film Studio Setting & Allied Mazdoor Union, and general secretary of the All India Film Employees Confederation.
Handa's organisational capacities were too well-known in the industry. The cause of cine workers, especially casual workers, was always dear to him.
BHATTS BEREAVED
Shirin Bhatt, wife of producer-director Nanabhai Bhatt, mother of director Mahesh Bhatt, producer Mukesh Bhatt and writer Robin Bhatt, mother-in-law of C.I. distributor and producer Darshan Sabharwal and grandmother of Pooja Bhatt, producer-director Suneel Darshan and director Dharmesh Darshan, expired on 12th April in Bombay. Chautha was held on 14th and was attended by many people from the industry.
MAMMOOTTY AWARDED PADMA SHRI
President K.R. Narayanan presented the Padma Shri award to Mammootty along with other winners of this year's Republic Day honours, on 12th April at a function at Rashtrapati Bhavan, New Delhi.
YOU ASKED IT
Have the censors become stricter these days?
– Yes, they have. According to the new guidelines, the censors even have the right to delete scenes showing characters smoking or drinking liquor, if they think fit.
Which was the first 3-D film ever produced?
– It was Warner Brothers' BWANA DEVIL, released in Hollywood in November 1952. The film had an African jungle story and was a huge success.
If story/script is the backbone of a film, why are writers paid so less compared to, say, artistes?
– The script may be a film's backbone, but how many writers are really worth even the mediocre price they command? A good many writers are not even original.

CENSOR NEWS
Dharma Productions' Duplicate was given C.C. No. CIL/2/15/98 (UA) dt. 17-4-'98; length 4519.62 metres in 18 reels (cuts: 82.67 metres).
Sahni International's Jaane Jigar was given C.C. No. CIL/2/14/98 (UA) dt. 16-4-'98; length 4209.36 metres in 17 reels (cuts: 170.47 metres).
Columbia Tristar Films of India Ltd.'s Qatil Kaun? (dubbed), seen on 15th, has been issued C.C. No.CFL/3/41/98 (A) dt. 17-4-'98; length 2690.76 metres in 5 reels (no cut).
Lata Films' Aunty No. 1 has been passed with U certificate, with cuts.
P.M. Films' Sar Utha Ke Jiyo (length 4368.70 metres in 16 reels) was applied on 17th.
Varma Coporation Ltd.'s Satya (length 4999.19 metres in 17 reels) was applied on 17th.
3-E
Education-Entertainment-Enlightenment
Cinegoers' Comfort
The accent these days is on wooing cinegoers to cinemas, looking after their comforts, giving them value for money. Cinemax at Bombay, which is screening Chhota Chetan (3-D) from this week, held a magic show on the opening day (Friday) as Urmila Matondkar plays a magician in the film. At Eros, Bombay, which is screening the same film, there's a fat guy in an animal suit moving in the foyer, to impress children. In Ahmedabad, the owner of Roopam cinema, where the all-time Gujarati blockbuster, Desh Re Joya Dada Pardesh Joya, is running, has very thoughtfully put up a tent in his premises. The tent has swings for tiny tots so that ladies waiting for the tickets of the following show (in case the show for which they've come is house-full) can relax in the tent alongwith their kids. What's more, biscuits and milk are provided free of cost for those who prefer to wait — and watch the film.
Foreign Shooting Schedule Cancelled At Short Notice
The dancing hero did the 'slip dance' this time. That is to say, he slipped out of a commitment to go abroad for a shooting of his film which is nearing the completion mark. The unit was to shoot in a pardesi territory — Holland, to be precise — but this hero babu played truant and cancelled his trip at the eleventh hour. So what if the producer had done all the ticketing and hotel bookings  in Holland? The hero couldn't care less, what say?
'Titanic' Controversy In Scotland
The all-Time English hit, Titanic, is in the midst of a major controversy in Scotland. In the film, the first officer of the ship is shown as a cowardly murderer, but official records show that when the real Titanic collided with the iceberg, the bridge officer acted promptly to deal with the emergency and selflessly helped passengers onto lifeboats before himself going down with the ship. In the film, the officer is shown accepting bribes and killing two passengers who are fighting to get on to a lifeboat. He is then shown putting a gun in his mouth and killing himself. The makers of Titanic personally apologised for the gaffe, in the Scottish town of Dalbeattie. They also contributed $8,000 to a fund commemorating William Murdoch, the real bridge officer who died in the Titanic. But some locals felt, the apology and contribution weren't enough. They wanted Twentieth Century Fox to amend the credits to reflect the truth when the video version of Titanic is released. The makers, on the other hand, insisted that the film was never intended to portray him as a coward and said, any implication otherwise was "inadvertent". They said, it was neither feasible nor necessary to change the Titanic video, as demanded by some locals. In the meantime, Murdoch's 80-year-old nephew, Scott Murdoch, said, he was very pleased with the apology issued by the producers of the film.
Horror Galore
The months of May and June may be quite horror-filled at the box-office. No, no, we aren't predicting doomsday for the film industry due to the recent debacles nor are we insinuating that forthcoming films are carrying bad reports. What we imply is that in May and June, there are several horror films lined up for release. They are Purani Kabar, Khofnaak Mahal, Maut, Bhayaanak, Chudail No. 1, Daayan and Khoon Ki Pyasi Daayan.