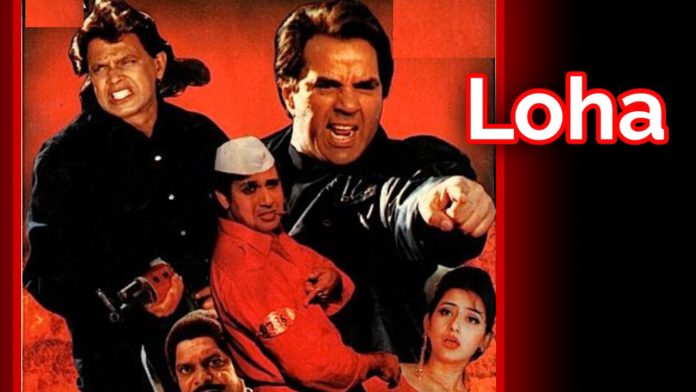 LOHA
Jockey Films' Loha (A) is a crime film. A suspended police officer vows to avenge his sister's murder by a don who has the complete support of a corrupt minister and a corrupt police officer. A forlorn army officer and a patriotic don join hands with the suspended police officer and help him in his mission. The army officer's wife has been killed by another don. One by one, the villains are eliminated and, in the climax, the don too is finished by the police officer.
The screenplay provides scope for a lot of confrontation scenes between the dons, between the police officers and also between the hero and the main villain. The impact of several of the confrontation scenes is good mainly because of the hard-hitting dialogues (Bashir Babar) spoken in the language of the streets. The sarcasm at today's politicians and times makes many scenes enjoyable. However, the action scenes are hardly as enjoyable. Rapes have been incorporated anywhere and everywhere to titillate the masses.
Dharmendra plays the iron-man with gusto and wins applause from front-benchers whenever he shows his fist as a mark of his strength. Mithun Chakraborty, in a subdued role, gives good support to Dharmendra. Sujata Mehta has a small and insignificant role. Shabnam Mala, Meghna and Pinky Alfanzo hardly get any scope. Mohan Joshi is quite good. Ishrat Ali does very well. Pramod Moutho acts ably. Shakti Kapoor, Deepak Shirke, Kiran Kumar, Harish Patel, Rajesh Vivek, Rami Reddy and Rajan Khan lend fair support. Govinda and Manisha Koirala entertain in special appearances and they are provided able support by Dinesh Hingoo.
Direction is alright. Music has hardly any appeal. There's a sad song too, which looks out of place in a film of this genre. Photography and other technical values are below the mark.
On the whole, fast-paced Loha has enjoyable dialogues as the biggest asset, which, to an extent, make up for a routine story and technical drawbacks. It should give some returns to its distributors on the strength of business in 'B' and 'C' class centres.
Released on 17-10-'97 at Dreamland and 14 other cinemas of Bombay thru Tridev Movies. Publicity & opening: fair. …….Also released all over. Opening was impressive in C.P. Berar and Rajasthan.
LATEST POSITION
The examination period and the festival period have taken their toll on the box-office.
Deewana Mastana has done fairly good business in the first week. It dropped from 5th day onwards at several places. Should prove a commission-earner in some circuits and fetch overflow in others. 1st week Bombay 48,08,479 (92.06%) from 12 cinemas (10 on F.H.); Ahmedabad 8,51,008 from 7 cinemas (2 unrecd.), Rajkot 1,94,398 from 2 cinemas (1 in matinee), Jamnagar 1,21,361 from 2 cinemas (1 in matinee); Pune 11,66,285 from 5 cinemas (1 in matinee), Kolhapur 1,67,000; Hubli 1,95,674 (97.79%) from 2 cinemas (1 in noon), Belgaum 2,07,627 (96%); Delhi 49,83,740 (89.45%) from 13 cinemas (1 unrecd., 1 on F.H.); Kanpur 3,93,036 from 2 cinemas, Lucknow 2,42,939 (100%), Agra 2,65,415, Varanasi 1,80,252, Meerut 1,87,913 (100%), Bareilly 1,40,480 (62.88%), Dehradun 1,80,000 (86.95%), Gorakhpur 1,33,000, Hardwar 95,000; Amritsar 55,410; Calcutta (8 days at most of the cinemas) 28,91,918 from 17 cinemas; Nagpur 5,83,620 from 5 cinemas, Amravati 1,49,654, Akola 1,56,830, Raipur (6 days) 1,78,877, Bhilai 1,37,127, Jalgaon 1,47,650, Chandrapur 1,43,666; Indore 2,57,596 (5 on F.H.), Bhopal 3,52,894 from 2 cinemas; Jaipur 7,26,463 from 3 cinemas, Bikaner 2,66,248; Hyderabad 28,68,327 from 15 cinemas (1 in noon), share 14,50,000.
Mr. & Mrs. Khiladi has not found favour with the audience, and its collections began dropping from 4th and 5th day onwards. It will entail heavy losses to most of its distributors. 1st week Bombay 40,77,877 (75.38%) from 14 cinemas (11 on F.H.); Ahmedabad 5,62,913 from 6 cinemas (1 unrecd.), Vapi 4,22,443 from 2 cinemas, Baroda 1,58,493, Bharuch (gross) 2,25,286, Rajkot 1,61,581 from 2 cinemas (1 in matinee), Jamnagar 1,14,808 from 2 cinemas (1 in matinee); Pune 10,50,053 from 7 cinemas (2 in matinee), Kolhapur 1,22,877, Satara 1,51,866 from 2 cinemas (1 in matinee); Belgaum 1,17,943 (82.67%); Delhi 47,39,590 (79.71%) from 13 cinemas (1 on F.H.); Kanpur 3,74,937 from 2 cinemas, Lucknow 3,30,686, Varanasi 1,78,815, Bareilly 1,01,223 (65.76%), Dehradun 1,26,000 (56.31%), Gorakhpur 1,40,000; Calcutta (6 days at most of the cinemas) 21,00,123 from 16 cinemas; Rourkela 2,28,333 from 2 cinemas; Nagpur 5,58,472 from 4 cinemas, Jabalpur 1,75,067, Amravati 1,45,443, Akola 1,02,286, Raipur 1,40,002 (57.41%), Bhilai 1,17,038, Jalgaon 1,02,027; Indore 1,15,005 (4 on F.H.), Bhopal 3,57,078 from 3 cinemas; Jaipur 7,92,646 from 4 cinemas; Hyderabad 20,88,693 from 12 cinemas (2 in noon).
……..
SURINDER KAPOOR HEADS GUILD AGAIN
Surinder Kapoor was unanimously re-elected president of The Film Producers Guild of India Ltd. for 1997-98 at its meeting held on 11th October. This is the third successive term of Kapoor as president. Yash Chopra and Gulshan Rai were re-elected vice presidents, and Kiran Shantaram and Kamal Kumar Barjatya, hon. treasurers.
Earlier on the same day, at the 43rd annual general meeting of the Guild, the following 14 other members, besides the five above, were unanimously re-elected to the executive committee: B.R. Chopra, F.C. Mehra, T.C. Dewan, Harmesh Malhotra, Prakash Mehra, Pramod Chakravorty, J. Om Prakash, Ramanand Sagar, Ram Dayal, A.G. Nadiadwala, Randhir Kapoor, Rajkumar Kohli, Tilak Raj Magan and Amit Khanna.
B.K. Rau has been designated secretary of the Guild.

HINDI 'KAMA SUTRA' OFFERED NEW CUTS: RELEASE POSTPONED
Mira Nair's Kama Sutra, which was scheduled for release this week, has been postponed. The Hindi, Tamil and Telugu dubbed versions have not been censored as yet.
The three dubbed versions have been offered 'A' certificate with seven to eight more cuts in scenes which were okayed in the original version. The all-India rights holder, R. Mohan, had expected the same cuts for the dubbed versions as in the English version, and no more. But that was not to be. R. Mohan is likely to appeal against the cuts to the Film Certification Appellate Tribunal.
Consequently, the release of the English as well as the Hindi, Tamil and Telugu versions has been postponed.
OVERWORK? OVER-CONFIDENCE? REPETITIVENESS? WHAT'S IT, DAVID?
David Dhawan may have created a record by having two of his films — Deewana Mastana and Mr. & Mrs. Khiladi — released in the same week. But none of the two abovenamed films has been a record-breaker as several earlier films of David.
Mr. & Mrs. Khiladi will prove to be a loser in most of the circuits. Although Deewana Mastana is doing well, it isn't a hit like David's earlier films viz. Aankhen, Shola Aur Shabnam, Bol Radha Bol, Raja Babu, Coolie No. 1, Saajan Chale Sasural or Hero No. 1.
What is the reason? Is David's style getting repetitive? Is directing too many films together taking its toll on David's work? Are his writers not coming up with new ideas?
Although David Dhawan should be able to answer the above questions accurately, it appears that all of the above have in some way or the other contributed to the current state of affairs.
Had it been any other director, this would not have been an issue. But David is directing several films presently and is scheduled to start several more. At least 50 crores of the industry are at stake at the hands of David.
That's the reason David Dhawan should pull up his socks. May be, he should try teaming up with new writers. David's over-confidence is showing somewhere.
SUBHASH GHAI CLOSES BITE THE MANGO FETE
Subhash Ghai made a speech at the final night of Bite The Mango Film Festival on 11th October in Bradford, U.K. He spoke of his career as director and star-maker as also his plans for the future. The hit Choli ke peechhe song from his Khal-nayak and his Pardes were also screened on the occasion. Pardes was greatly appreciated.
Shabana Azmi won the audience's hearts with her screen talk about her art-house career and the role of women in Indian Cinema. Local businesses raised funds in support of her favourite charity, Nivara Hakk, for Bombay's homeless.
Among the films from India screened at the festival were Plus Films' Gudia and Sardari Begum, and Adoor Gopalakrishnan's Kathapurushan. Mrityudand and Pardes were also shown. Films from several other countries including the UK, USA and Pakistan were also screened.
The festival inaugurated its first film trade market.

MERAJ NO MORE
Film director Meraj died following a paralytic attack at his residence in Allahabad on 12th October. He was 46 and is survived by his wife, a son and a daughter.
Meraj used to assist Gulzar before he became an independent director, and directed films like Palkon Ki Chhaon Mein, Sitara and Dhat Tere Ki.
His funeral was held in Allahabad on 13th.
MADAN SETH DEAD
Madan Seth, proprietor of Geet and Gunjan cinemas, Vapi, expired on the morning of 17th October in Bombay following cardiac arrest. He was 65 and is survived by his wife, two sons, two daughters-in-law, a daughter and a son-in-law. The funeral was held the same evening.
A condolence meeting will be held on Monday, October 20, at Arya Vidya Mandir School, St. Cyril Road, opp. St. Andrews High School, Bandra, Bombay, from 5 p.m. to 6 p.m.
Geet and Gunjan cinemas remained closed on 17th. Jayshree, Shree and Vaishali cinemas of Vapi suspended a show each, as a mark of respect.
GYAN SAHAY BEREAVED
Siya Rani Sahay, mother of cameraman and director Gyan Sahay, expired on 15th October in a hospital in Bombay after a brief illness. She was cremated at the Vile Parle crematorium on 17th with Hindu Vedic rites. She was 76.

East Punjab Exhibitors' Losses Put Distributors In Doldrums
Distributors of Punjab have been left high and dry by exhibitors of Amritsar, Abohar, Sonepat and Rohtak, who have formed pools. The exhibitors' pools have decided not to give MGs or fixed hires to distributors, thanks to the heavy losses they've suffered in recent times. This had to happen and it was only a matter of time. Losses of exhibitors have now put the distributors in doldrums because the latter used to depend heavily on monies from the exhibitors of the above centres at the time of taking deliveries of films.
Amritsar, especially, is the main coverage centre and used to contribute upto 25% of a film's price. With the exhibitors' pools deciding to screen films on theatre hire only, distributors are now panicking. It is for this reason that this week's Loha has not opened in Amritsar.
Distributors of at least two films due for release on 31st October (Diwali) are in a problematic state due to the exhibitors above pulling out from giving them MGs and FHs.
Difficult days are ahead for distributors of East Punjab. And the difficult times of distributors are bound to be reflected in their dealings with producers. So producers, too, have cause for concern.
Queen Elizabeth Witnesses Kamal Haasan's Muhurt
Britain's Queen Elizabeth witnessed the muhurt of Kamal Haasan's Tamil film, Marudanaayagam, on 16th October at Film City, Madras. For the muhurt shot, Kamal Haasan, who plays the lead in the film, besides producing and directing it, delivered the patriotic dialogue, "Who says, I cannot take on the British? I am the soil, the air and the sun of this land." Though the dialogue was in Tamil, its English translation had been given to the Queen. The Queen was introduced to the leading members of the unit after the muhurt.
A red-carpet welcome was accorded to the Queen and her entourage at the Film City by Tamil Nadu chief minister M. Karunanidhi, TMC president G.K. Moopanar and Union I & B minister Jaipal Reddy. Before the shooting, the queen watched a 5-minute test shoot footage of the same film. She exchanged pleasantries with some of the film guests like Sivaji Ganesan, Rajinikanth, Sridevi, Prabhu Deva, Amrish Puri and Asha Bhosle.
YOU ASKED IT
Why do you blame artistes for charging high prices? After all, they are demanding high prices because they get them.
– Yash Chopra could also have got 3 crore per major territory for his film DIL TO PAGAL HAI, but he didn't price his film at 3. He was satisfied getting 2 per major circuit. Stars have to start believing in the live-and-let-live policy. After all, they can't be letting the industry (comprising, among others, producers and directors) suffer while not themselves opening their eyes to reality. Stars are, in one word, exploiting the producers who have no alternative.
Ideally, in how much time should a film be completed?
– In eight to twelve months.
What should the Diwali resolution of producers be?
– To concentrate more on scripts rather than on stars and to cut down on all wasteful expenditure.
CENSOR NEWS
Yash Raj Films P. Ltd.'s Dil To Pagal Hai was given C.C. No. CIL/1/49/97 (U) dt. 17-10-'97; length 4925.57 metres in 17 reels (no cut).
Yashish Enterprises' Bhai was given C.C. No. CIL/3/37/97 (A) dt. 15-10-'97; length 4540.62 metres in 17 reels (cuts: 34.47 metres).
Mirabai Films P. Ltd.'s Kama Sutra: A Tale Of Love (dubbed) has been offered A certificate, with 8 cuts; cuts were not accepted by the producers.
TRAILERS
Trailer of S.G.S. Cine Arts International's Ghulam-E-Musthafa was given C.C. No. CIS/2/17/97 (UA) dt. 15-10-'97; length 102.41 metres.
Trailer of Yashish Enterprises' Bhai was given C.C. No. CIS/3/35/97 (A) dt. 15-10-'97; length 96.41 metres.
Trailer of Tridev Arts' Udaan was given C.C. No. CIS/3/34/97 (A) dt. 14-10-'97; length 144.17 metres (cuts: 20.42 metres).
Trailer of Columbia Tristar Films of India Ltd.'s Vishwarakshak: Duniya Ke Rakhwale (dubbed) was given C.C. No. CIS/2/53/97 (UA) dt. 15-10-'97; length 71.70 metres.
IN & OUT OF BOMBAY
Bombay distributor-exhibitor Anil Thadani left for London on 14th October to finalise the release of DIL TO PAGAL HAI in U.K.
Producer-director Subhash Ghai is expected back from his foreign trip on 20th/21st October.
Dr. Sunil Kumar of Vijay-Laxmi Pictures, Calcutta-Patna, left Bombay for Patna on 17th October.
MIX MASALA
SINGLE AND DOUBLE
Since it gets confusing when one talks of Bhai and Bhai Bhai together, the industry people have evolved a novel way to do away with the confusion. Deepak Shivdasani's Bhai is called 'single Bhai' and Pahlaj Nihalani's Bhai Bhai is called 'double Bhai'!
TENSION OVER DATES
There is a lot of tension between the leading lady and the presenter of an under-production film over the matter of dates. The presenter, it is reported, is exasperated by the constant jugglery of dates by his heroine and is believed to be seriously thinking of replacing her.
DAVID BREAKS OWN RECORD
If you think last Friday was the first time when two films of a director were released simultaneously, you are wrong. Earlier too, two films of one director have been released on the same day. The coincidence is that on both the occasions, the director was the same — David Dhawan.
On last Friday were released David's Deewana Mastana and Mr. & Mrs. Khiladi. Eight years ago also, on 29th December, 1989 to be precise, two films directed by David Dhawan were released. They were Aag Ka Gola (produced by Pahlaj Nihalani) and Jurrat (produced by Rajendra Kumar).
So, David Dhawan last week broke his own record of eight years back.
WHEN OLD IS NOT GOLD
Believe it or not but Dharma Karma didn't take an opening in Delhi-U.P. because the audience there thought, it was some old film of Dharmendra-Jeetendra which had been revived with a new title. The absence of a popular young hero may have given the pubic such an impression. But then, you might well ask, why did Dharma Karma not take an opening in the other cities too? Come on, avoid such embarrassing questions — embarrassing for Dharma and Karma or, rather, Dharmendra and Jeetendra.
DO YOU KNOW?
* West Bengal distributor of DIL TO PAGAL HAI, Pritam Jalan, has decided to open plans (advance booking) of the film at three cinemas of Calcutta — Metro, Priya and Mitra — on 27th October, for two weeks together.
* The Tamilnadu distributor of DIL TO PAGAL HAI will be giving free tickets of the film for any of the first three days at Melody, Madras, to people who buy Lacoste or Nike products from Pondy Bazaar boutique at T. Nagar in Madras.
* Since JODIDAR is an animal film, a special students show was kept one day in Itarsi at Sundaram cinema (earlier name Janta Chitralaya). The rates of admission were nominal.
* DIL TO PAGAL HAI has been booked at Raj, Itarsi, for simultaneous release on 31st October at a fantastic MG of Rs. 5 lakh! This is three times the MG of DDLJ.
* Although by tradition, a film runs at one main cinema, YES BOSS has been screened at various main cinemas in Ahmedabad. It first opened at Relief, was then shifted to Rupam, then Prakash, Shree, Shiv and Ashok.
LETTER TO THE EDITOR
BLAME DISTRIBUTORS ALSO
Dear Sir,
Your 'Hats Off!' editorial last week was good. But why blame artistes only? This is half truth. You say that "Distributors are crying tears of blood". Don't you think, they are equally responsible for this state of affairs? The first blow came from them by way of 'ceiling'. They wanted to restrict the number of films of artistes. They wanted to control producers and artistes. Artistes, when they realised that they have to do less films, naturally became ruthless, even with their best producer-friends. They felt star-ceiling was another form of slavery. And thus entered a few No. 2 big shots who offered huge prices and bulky singing amounts to artistes, resulting in the total eradication of regular producers. These big shots had money, but did not know how and where to spend the money. Artistes were allured by these big shots. Result: a person, without any concrete knowledge of film production, cannot make successful films just because he has ample wealth. To make a successful film, a combination is required. A combination means a sensible producer who selects correct technicians and stars at reasonable prices. This combination was broken the moment ceiling was imposed. In the last two years, only proposal makers are in the forefront. And distributors also started running after them. They invested money in the wrong hands. Who shall they blame now? Not artistes.
– Jawaharlal Bafna

LEGAL ACTION AGAINST FILM INFORMATION?
While the production and distribution sectors of the industry hailed our editorial on stars and star prices last week as "bold" and "beautiful", there is at least one star who is contemplating taking legal action against Film Information for writing about him in the said editorial.
The star under question was in a foreign country when the issue of last week was out, and he was reportedly trying to seek legal opinion on what action could be taken against Information for commenting on his market position vis-à-vis his price.
Notwithstanding his proposed action against Information, we would once again ask him to reduce his price to a more reasonable level (and to also report on the sets on time), for the sake of the welfare of the industry. After doing that, he can go ahead and start legal proceedings. Good luck to the guy!
– Editor
Better Never Than Late!
Last week, I wrote about star prices. Another very disturbing practice in the industry is that of latecoming by stars. Many of the stars believe, it is their birthright to arrive late on the sets.
What the hell is going on? Why are our producers behaving like an impotent lot, ready to bear any shit that is flung at their faces. And by whom? By those whom the producers pay — and pay not in hundreds, thousands or lakhs of rupees, but in crores. In no other industry in the world is there such a criminal wastage of time as in the film industry in India. Time is money — this age-old adage has no meaning for our stars, or rather, it has a different meaning. For the artistes, their own time is money but the time of others is worthless.
Like stars, we have star music directors too. They come two and three hours late for their recordings, as a rule. Their musicians are no better.
What nonsense! Producers and directors shouldn't be taking things lying down. Today, if you ask a David Dhawan how he adjusts to Govinda's latecoming, he puts on a brave face and laughs, "Govinda is such a talented actor, he can finish in two hours what other actors would take six or eight hours to complete." But Mr. David Dhawan, does Govinda's talent give him a licence to treat all the others in the unit as dirt and hold up the entire shooting day after day. Or if a Sunny Deol or a Manisha Koirala cancels an entire shooting schedule because of his/her mood or other engagement, why should any producer treat this as "part of the game"? And if an Anupam Kher reports at 2 p.m. for a 9 a.m. shift, why does a producer yet smile his best Binaca smile and go running to open the door of his car and welcome him with open arms? He must have the guts to tell Kher that he is late by five hours and that this nonsense will not do.
Producers have to learn to put their foot down. They've borne too much for too long. It's a shame when today a Raveena Tandon bunks the shooting of a veteran like Manoj Kumar. The producer is paying the star for acting in his film. The dates allotted to him are his, and he should not tolerate any hanky-panky by the star as far as the dates are concerned. If Hollywood can do it, why not Bollywood?
Why, in Bollywood itself, we have Amitabh Bachchan who is punctual always. We also have Amrish Puri who is ready with his make-up on, on the set at the scheduled time. Nana Patekar arrives on the sets on time and leaves on time. In fact, so punctual is Nana that at a recent shooting, when his co-star, Manisha Koirala, reported late, he literally begged of her, in full view of the film's unit, to report for shooting on time. Needless to add, it embarrassed Manisha but not enough for her to mend her ways.
The intensity of the problem of latecoming can best be explained by this example. Suppose a hero reports late on the sets by one minute. If, on an average, there are 50 people directly and indirectly connected in that shooting, it would mean a waste of 50 man-minutes. That's the loss of time in one shooting in one day if just the hero is late by simply one minute. Multiply this figure by 360 working days in a year, and we have 18,000 man-minutes. Multiply this by 100 shootings per year and we have 18,00,000 man-minutes lost! In other words, if the hero of every film reports one minute late on the sets, the industry will lose 18,00,000 man-minutes in one year. If we divide this by 50 men (we've assumed, there are 50 men in a shooting, connected directly and indirectly), we have 36,000 minutes or, in other words, 600 hours of wastage. Translated in shifts (of 8 working hours), this would mean 75 shifts. David Dhawan can complete a film in a lesser number of shifts than this. And, mind you, we've assumed (a) that only the hero is reporting late, and (b) that he is late by just one minute. Imagine then, the criminal waste of time in reality when not just the hero but every Tom, Dick and Harry is reporting late by hours.
Until the producer asserts his position, he cannot hope to get a better deal. And if he can't help himself, he should stop crying and hurling abuses (all off-record and behind closed doors) at his stars. Because even God does not help those who cannot help themselves. Yes, Mr. Producer, show the stars that you are the boss and not the one who can be bossed around and tossed about. Change the saying 'Better late than never' to 'Better never than late'. Yes, it's more sensible to never work with latecomers than to tolerate their latecoming.

– Komal Nahta
3-E
Education-Entertainment-Enlightenment
Not Postponed
There were rumours throughout the week that Deepak Shivdasani had postponed the release of his Bhai and would now get it after Diwali. The reason being given for the postponement was that since Pahlaj Nihalani's Bhai Bhai was being released on Diwali, there would be confusion among the audience if Bhai too came simultaneously. But the rumours turned out to be false as Bhai is definitely hitting the screens on 31st October, notwithstanding the fact that Bhai Bhai is also scheduled for release on the same day.
Dull Dassera, Dark Diwali
The scenario in the film industry refuses to change. The panic-stricken industry continues to reel under a financial crunch even more than two months after the killing of music magnate Gulshan Kumar, which triggered off the fear. Financiers have withdrawn from the industry and are preferring to lie low for the time being. Shootings have declined by more than 60%. The grim scene has become grimmer with several big films flopping. The gloom that has spread in the industry can best be gauged by the fact that there was no film launching even on an auspicious day like Dassera this year. Diwali, therefore, cannot be expected to be a very bright affair for the industry this year.
Worst-Ever Crisis
The extent to which film shootings have declined can be gauged by the following:
A busy heroine like Karisma Kapoor could manage to go to the USA and Canada for the shooting of her dad, Randhir Kapoor's Aa Ab Laut Chalen although she is not acting in the film. The shooting, for which she had allotted dates, was cancelled and Karisma made the most of the cancellation by flying off to where her father's unit was.
Mahesh Gupta, a leading supplier of set materials, has not got an order for a single paint box since the last twelve days! Being one of the popular set material suppliers, Gupta, in normal circumstances, sells several paint boxes every day because sets are always being erected, and paint is required throughout the year. But the current lull in shooting activity is of the kind never seen before.
Hindi Films In English
"You dog, I won't leave you alive." Imagine Dharmendra mouthing this dialogue.
"I want to be your wife, cook food for you and be the mother of your children." Picture Sridevi saying these words.
"Our trucks with arms and ammunition have been stopped by the police; call up the minister immediately. Tell him, I want to talk to him." Amrish Puri utters these words.
The above will soon be a reality. Overseas distributors Galaxy Exports have decided to dub about a hundred old Hindi films in English for the various cable TV networks across the world. If Hollywood producers can dub English films in Hindi for theatrical release in India, Bollywood too can dub Hindi films in English for television release, to begin with.
The first Hindi film being dubbed by Galaxy is Yateem. Before this, Rajshri had dubbed Maine Pyar Kiya and HAHK..! in English.
Karnataka Apes Maharashtra
As in Maharashtra, so also in Karnataka. When the Maharashtra government had reduced entertainment tax in the state in 1994, several cinemas refused to pass on the benefit to cinema-goers by reducing admission rates. Some cinemas even increased the rates. The same is now happening in Karnataka. Some cinemas of that state, too, are refusing to let the public enjoy the benefit of the state government's reduction of entertainment tax for non-Kannada films from 110% to 70%. Instead of reducing admission rates, they've enhanced rates in balcony from Rs. 15 to Rs. 20.