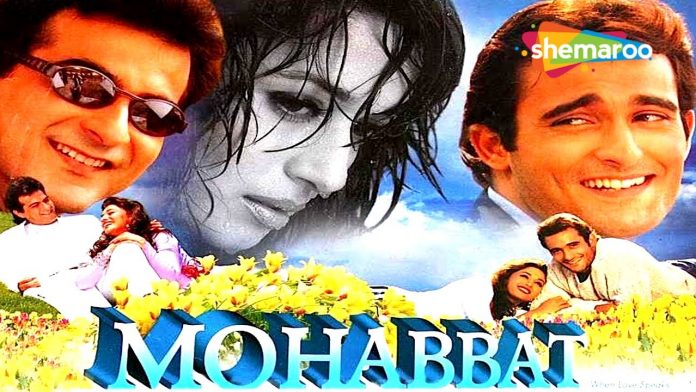 MOHABBAT
Dashaka Films' Mohabbat is a love triangle with an element of suspense. A girl and boy fall in love with each other and their romance is even approved by the girl's guardian (brother). But the boy's young boss is also in love with the same girl, although he cannot get himself to express his love to her. The suspense angle follows; there's tragedy and more tragedy. Ultimately, one guy gets the girl.
The film reminds of Saajan which also had one girl and two boys. Although there's no blind love as in Saajan, the resemblance does remind one of the film. The first half of Mohabbat is light. The drama and tension begin in the post-interval portion which also has a couple of emotionally moving scenes. While some of the light scenes in the film are very enjoyable, at least one dramatic scene — that in which the identity of the sacrificing boy comes to the fore — in the second half draws instant applause. However, a couple of reels immediately after interval are dull. Similarly, the last reel is predictable. Another drawback is that in the entire second half, the heroine has no dialogue as she loses her voice. Nevertheless, the character of the boy (boss' employee) is so lovable that it does make up for some drawbacks.
Madhuri Dixit does a good job. She has a look that's quite different from her past films. Her introduction dance is very good. But she does not have a single dramatic scene in the film. Sanjay Kapoor springs a surprise with a restrained performance that is good. Akshaye Khanna is the darling of the drama. He looks very handsome and delivers a performance that's truly brilliant. Within minutes of appearing on the screen, Akshaye endears himself to the audience and has them craving to see more of him. His dances are simply superb. Farooque Shaikh is fair. Farida Jalal and Saeed Jaffrey are good. Tej Sapru is miscast. Shiva, Sulbha Arya, Ashwin Kaushal, Dimple Ghosh, Guddi Maruti and Bob Brahmbhatt lend able support.
Reema Rakesh Nath makes a confident debut as director. Although her script is not too novel, her narration of the same is impressive. Music comprises one hit number — 'Don't break my heart' — and a couple of fairly hummable numbers. But a song or two are quite boring. Song picturisations (Saroj Khan) are superb, the best being 'Don't break my heart' and 'Main hoon akela'. The dance steps of these two songs are fabulous and both, Madhuri and Akshaye, are at their graceful best. Foreign locations, on which the songs have been picturised, are beathtaking. Rajan Kinagi's camerawork is wonderful. Editing is very appropriate. Dialogues should have been more fiery.
On the whole, although Mohabbat does remind of Saajan, it has fair merits and some freshness to fetch returns to its distributors.
Released on 19-9-'97 at Liberty and 20 other cinemas of Bombay thru Metro Films. Publicity: excellent. Opening: average. …….Also released all over except in West Bengal. Opening was very good in Delhi-U.P. and C.I. but not up to the mark in C.P. and Rajasthan. It opened in Malegaon on 16th (Tuesday) where it collected 100% on first 2 days.
ENT. TAX DOWN IN KARNATAKA
The Karnataka government has reduced entertainment tax for non-Kannada films from 110% to 70% with effect from September 20, 1997.
TWO FILMS, ONE TERRITORY, ONE STORY
It happened last week in Bengal. And it has happened this week too — in Bengal again.
Sri Ramdevji Art International, the West Bengal distributors of G.P. Sippy's Hameshaa, did not honour their commitment of the delivery amount and thereby pleaded inability to take delivery of the film. As a result, Hameshaa could not be released in West Bengal. Going by its disastrous fate in the rest of the country, it is likely that the film will now never be purchased by any distributor for West Bengal. But that is not the point. What is shocking is that this should have happened to a film produced by G.P. Sippy, who has given films like Sholay.
This week, the same story has been repeated in the case of Rikkoo's Mohabbat. It was acquired less than a month ago by one Kesri Pictures for West Bengal. The concern had, prior to this, released Vijeta in West Bengal. Having reportedly acquired the film at 37.5 lakh MG royalty, the distributors pleaded inability to meet their commitment at the time of delivery and announced that they just had 30 lakh for payment towards MG royalty, prints cost and publicity! The producer declined to effect delivery at the new reduced price and so this film too could not be released in West Bengal.
CAA ASKS POLICE TO SHOW RESTRAINT
The Cine Artistes' Association has taken strong objection to the lack of restraint shown by police officials who leak information to the press, of the names of stars who are going to be interrogated by them in the Gulshan Kumar murder case. As a result of this, the stars, feels CAA, are subjected to humiliation by the media which projects the news as if the interrogation had something to do with the crime (by using words such as 'so-and-so star grilled'), although the stars are actually merely co-operating.
The CAA has requested the deputy commissioner and the commissioner of police of Bombay to instruct their officials to exercise restraint and avoid unnecessary depiction of its members.
PURU RAAJ KUMAR CONVICTED
Puru Raaj Kumar, son of late Raaj Kumar, was convicted by metropolitan magistrate K.H. Holambe Patil of Bombay's Bandra court on September 15 for running over a group of persons sleeping on a pavement at S.V. Road, Bandra, three years ago. He has been directed to pay Rs. 90,000 each to the next of kin of the three deceased, and Rs. 5,000 each to those who were seriously injured. For committing driving offence, he has been fined Rs. 2,000, to be deposited in court.
SINGER NOOR JAHAN HOSPITALISED
Melody queen Noor Jahan has been hospitalised in Islamabad with serious heart problems. The 78-year-old Noor Jahan, who rendered thousands of songs in Urdu and Punjabi films, besides highly popular national songs, started her career in India before the 1947 Partition.
NADEEM ARRESTED IN LONDON, RELEASED ON BAIL
Music director Nadeem, prime accused in the murder of Gulshan Kumar, was arrested by Scotland Yard on the morning of 17th September in London. According to the Scotland Yard, the police invoked the Interpol alert and got in touch with the music director who agreed "to give himself up". The police surrounded his sister's house at Kingsbury in north-west London, where he was staying.
Nadeem was produced before the Bow Street magistrate the same morning and released on conditional bail. The conditions say that he will not leave Britain, make himself available for questioning by the police and surrender his passport which has been revoked.
The Indian authorities have since started extradition proceedings against Saifi Nadeem Akhtar and the same will come up for hearing on 24th September.
Nadeem, who has retained a top London law firm, Henri Bradman & Co., told the magistrate that he had every intention of responding to the arrest warrant issued against him by a Bombay court, but required time as his wife was ailing in London.
MUKESH THAKKAR KILLED IN ACCIDENT
C.P. Berar distributor Mukesh Thakkar (Mukesh Films, Amravati) was killed in a road accident on 16th September near Karanja. He was returning to Amravati in a luxury bus from Nagpur where he had gone to attend the reopening of a cinema, Bharat, in which he was a partner. The bus overturned, killing two persons of which one was 40-year old Mukesh.
Mukesh Seth, as he was fondly called by the C.P. trade, was the son of will-known film agent Shyamsunder Thakkar. He had recently released Kaun Sachcha Kaun Jhootha, Muqadar and Chudail in C.P. Berar. He had acquired China Gate and Aankhon Mein Tum Ho for distribution.
The Amravati trade remained closed on 17th as a mark of respect to Mukesh. He is survived by his father, three brothers, wife, a son and a daughter.
His funeral was held on 18th September.
The Amravati film trade, under the chairmanship of Vijay Rathi, paid homage to Mukesh Thakkar at a meeting on 18th September in Amravati. The trade remembered him as a sincere and devoted worker and paid glowing tributes to him. The Raipur cine trade also paid homage to him in a condolence meeting held on 17th September at the office of Raj Pictures, Raipur.
COURT RESTRAINS ZEE TV
The Bombay high court has restrained Zee TV (Essel Vision) from telecasting five films of producer Gobindram Ahuja and has appointed a court receiver in respect of the said films with a direction that in case Zee TV seeks further telecast of the said five films, the court receiver will seek permission of the appropriate court and, at that time, appropriate directions will be passed with regard to the said films.
Satellite telecasting rights of nine films of Ahuja were given to Zee TV in 1994 with the express condition that each film was to be telecast for a maximum of five times in India. Gobindram Abhuja alleged in his notice of motion that in violation of the agreement, three of his films had been telecast more than five times. Two other films had been telecast five times, and four others had been telecast less than five times. The court, therefore, appointed a court receiver in respect of the five films which have been telecast five or more times in India.
Ahuja has further alleged that despite the court order, Zee TV has continued to violate the terms and conditions of his agreement for which contempt of court proceedings are being launched.
N.N. Sippy Re-Elected IMPDA President
N.N. Sippy was unanimously re-elected president of the Indian Motion Picture Distributors' Association for 1997-98 at the first meeting of the newly elected executive committee, held on 19th September. This is N.N. Sippy's twelfth consecutive term as president. Indravadan Shah was elected vice president, and Kantilal Mehta, hon. treasurer. Devendra Shah and Haresh Bhatia were elected hon. secretaries.
Earlier, the following members were declared elected to the executive committee on 18th after the 58th annual general meeting of the IMPDA at Birla Kreeda Kendra, Chowpatty, Bombay: Ordinary class: Ayub Selia, Balkrishna Shroff, Devendra Shah, Guru Shenoy, Haresh Bhatia, Kantilal Mehta, N.N. Sippy, Ramesh Sippy, U.A. Thadani, Tolu Bajaj, Vijay Choksey and Vinod Kakkad. In the Associate class, the following were declared elected: Indravadan Shah, Mohan Susania and D.Y. Pattani.
There were no elections this year as there were as many nominations and sitting members in both the classes as the number of seats. Gulshan Rai and Sharad Doshi, two sitting members, did not offer themselves for re-election. In their place, Ramesh Sippy and Tolu Bajaj were declared elected. Four others — Dilip Dhanwani, Manoj Khivasara, Pradeep Singh, Tekchand Anchal — had filed their nomination papers in the Ordinary class but withdrew the same before elections. The nomination of the fifth member, Sanjay Chaturvedi, was rejected on technical grounds.
Gulshan Rai Feted
Gulshan Rai, a senior member of the IMPDA, was felicitated at the annual meeting. He was presented a shawl, a shriphal and flowers.
Anti-Video Piracy Cell
Bombay distributor Shyam Shroff suggested at the meeting that a separate cell to combat video piracy be set up by the IMPDA. His suggestion met with a favourable response and it was agreed that an anti-video piracy cell be formed soon.
A cocktail dinner party was held at Garware Club on the evening of 18th September.
PRODUCTION NEWS
'Lal Badshah' In Rajasthan
Writer-producer-director K.C. Bokadia will start a 25-day shooting schedule of B.M.B Productions' Lal Badshah on Sept. 21 in Jaipur, Udaipur and Bikaner. Many scenes and songs will be picturised featuring all the artistes. After this last outdoor spell, the film will be almost complete. Starring Amitabh Bachchan, Manisha Koirala, Shilpa Shetty, Shakti Kapoor, Mukesh Rishi and Amrish Puri, it is presented by M.S. Combines (P.) Ltd. Music by Aadesh Srivastava and dialogues by Anwar Khan are the other major credits.
'Sarfarosh' Forges Ahead
A 10-day shooting schedule of Cinematt Pictures' Sarfarosh will be held from Sept. 21 to 30 on Bombay locations. Dramatic and action scenes will be picturised. The film stars Naseeruddin Shah, Aamir Khan, Sonali Bendre, Mukesh Rishi, Govind Namdeo, Akhilendra Mishra, Akash Khurana, Smita Jaykar, Sukanya Kulkarni, Rajesh Joshi, Makrand Deshpande, Salim Shah, Ahmed Khan, Pradeep Raut and Ali Khan. It is being produced and directed by John Mathew Matthan. Music is scored by Jatin Lalit. Lyrics: Sameer. Action: Abbas Hanif.
25-Day Initial Stint Of 'Champion'
A 25-day shooting schedule of Shree Shiv Bhakti Films' Champion will start on Oct. 1 in Hyderabad. Sunny Deol, Raveena Tandon and Rahul Dev will participate in this first schedule. Producer Sujit Kumar and director Padma Kumar have just returned from a tour of England, Hungary and Czechoslovakia, where they had gone to finalise locations for the film. It has music by Anu Malik, lyrics by Javed Akhtar, cinematography by Thiru, screenplay by Maharajan, and dialogues by Sanjay Masoom.
MIX MASALA
BABA BOY
Indra Kumar, who is directing Ishq for Baba Films, was blessed with a baba on 9th September. The ace director earlier had two baby girls and no baby boy. With the third child being a baba, it's now a complete family.
IN & OUT OF BOMBAY
Mr. Ravi Machhar of Sahyog Films, Secunderabad, and Abhinay cinema, Aurangabad, left Bombay for Vaishnodevi on 18th September and will return to Bombay on 24th.
Producer-director Subhash Ghai left for the USA on 18th September and will return to India after a month.
Mr. Manohar Kankaria of Musical Films P. Ltd., Calcutta, is in town (388-4190/ 387-5393/98210-47403).
Mr. Ajit Singh of Ajit Films, Delhi, is at Hotel Ramada Inn Palm Grove and will return to Delhi on 22nd September.
DO YOU KNOW?
* Efforts are on to find a suitable director who will complete the unfinished DUS of late Mukul Anand. J.P. Dutta and Priyadarshan are reportedly being considered.
* Rajiv Babbar has launched his fifth film and, like his previous four (CHEETAH, JALLAAD, MUQADAR and the under-production SHAPATH), this one — SHER-E-HINDUSTAN — also stars Mithun Chakraborty.
* PARDES (tax-free) has created a theatre record by collecting 3,35,737/- in 6th week at Rahul, Pune. Also creates a theatre record by collecting 79,634/- in 6th week at West End, Pune.
* PARDES is showing a marked improvement week by week at Triveni, Bangalore, where it collected 2,25,000/- in 4th week, 2,46,000/- in 5th week, and 2,70,000/- in 6th week.
* THE LOST WORLD (Hindi) has created an all-time record by collecting 4,19,619/- (nett) in 1st week at Prem Prakash, Jaipur.
* THE LOST WORLD (English) has created a record by collecting 2,54,693/- in 2nd week at Smruti, Nagpur.
It Happened In Bangalore
The song being picturised at the Capitol Hotel in Bangalore for Pardesi Babu is truly catchy. 'Paaon mein payal, haathon mein kangana, ho maathe pe bindiya / It happens only in India' go the lyrics.
If the song reminds you of the 'I love my India' song of Pardes, it's nobody's fault. For, this number of Pardesi Babu is not inspired from that song of Pardes. In fact, the Pardesi Babu song was recorded six months back.
Anyway, it is being picturised on 10th September in Bangalore. Govinda and Shilpa Shetty, both good dancers, are in great form and we suspect, it has something — rather, a lot — to do with the catchy lyrics and the catchier tune. Both are the work of Anand Raaj Anand.
In fact, so involved is Govinda that he gives as many as 10 and 12 retakes for one difficult step. Why, even after dance director Chinni Prakash has okayed the shot and is very happy with it, Govinda pleads for another retake and another and another….. Chinni and director Manoj Agarwal are thrilled with the devoted actor's commitment. A beaming Kulbhushan Gupta (producer) says, "It is this involvement of his which more than makes up for Govinda's latecoming on the sets."
Well, Govinda has actually arrived a day late in Bangalore. We are informed that it was his revolver (which Govinda carries these days for security reasons) which was not allowed on the fight and because of which Govinda preferred to miss the flight the previous day . But when Govinda does reach Bangalore, he informs that it was his allergy which held him up in Bombay. Saying thus, he asks his Man Friday, Gauri Shankar, to scratch his itching back.
If Govinda is a day late, the film's other heroine, Raveena Tandon, hasn't showed up at all. And how could she? The poor girl was laid up in bed in a hospital in Bombay, suffering from meningitis. Thankfully, she's alright now. Rather than waste the dates of the other artistes, the director decides to shoot the scenes and the song involving Govinda with Shipa Shetty. "Our script is completely ready," informs Kulbhushan, "and so we could do this." Therefore, what's being picturised in Bangalore was to have actually been shot in Bombay.
Besides the hotel where the song picturisation was completed in four days (Govinda shot the whole night on the last shooting day as the following day was a holiday being the second Sunday), the film was shot on a set erected at Abhay Naidu Studios as also in a garment store — Twinkle — in a shopping complex.
Twinkle is owned by the brothers-in-law of the film's presenter, Chetan Avlani, and it was the stars who were twinkling in the shopping complex that night. Chetan, too, participated with Govinda and Shilpa Shetty, playing the cashier of the shop. But while he received cash in the shot, off-screen Chetan has, obviously, not been at the 'receiving end', having had to shell out crores for this expensive project.
Lavish the film might be. But equally lavish are Govinda's praises for director Manoj Agarwal. In fact, it is on Govinda's recommendation that Manoj has been signed by producer Vimal Kumar to direct his next. This is the same film which was to have been directed by David Dhawan. David being busier than the proverbial 'D' — sorry, bee — Vimal has decided to make the film with another of Govinda's favourite, Manoj.
Satish Kaushik plays a Sardar in Pardesi Babu and, as Kulbhushan puts it, "He will be the highlight." Satish's name in the film is Happy Singh but in the film, he is anything but happy. Rather, he is always tensed up about something or the other.
As we are tense about our return flight to Bombay. Unconfirmed seats on the Indian Airlines flight don't get confirmed so easily and we, therefore, return from the airport to the hotel. Even though we are jittery, Kulbhushan is 'kool' as a cucumber. He is the Happy Singh on the sets — and in the true sense of the term. Raveena's illness, Govinda's latecoming, Kulbhushan's wife's hospitalisation even while the schedule is in progress — all this, besides the regular production hassles, and even then, 'Kool'bhushan is not one bit tense.
Perhaps, that's why he can produce three films at a time. His Vidroh with Akshay Kumar is on the completion stage. The third project is Shivam, with Raaj Kumar's younger son, Panini.
– Komal Nahta
3-E
Education-Entertainment-Enlightenment
Aftermath Of Shoot-Out: Decline In Shootings
The murder of Gulshan Kumar last month and the string of threatening telephone calls from underworld dons to leading producers, actors and financiers have started telling on filmland activities. Not only have lavish film parties stopped, even film shootings have reduced. Yes, film finance is hard to get these days, with several financiers having pulled out from the game for the time being and some others having decided to take it easy. It will not be wrong to say that the number of film shootings has declined by 30 to 40%. According to director K. Ravi Shanker, who has an equipment division, "The decline in shootings is to the tune of 40% to 50%."
Unimaginable Prices
Gujarat and Saurashtra have become heavenly sub-territories for the Bombay distributors of big films. Star cast and big-banner films are fetching even more than a crore from Gujarat, and half that price from Saurashtra. Why, so 'hot' are these sub-circuits that one big film, due for release on Diwali, is simply not being offered for sale in the sub-circuits. Another big film, due again for Diwali release, is being offered for sale at over 2 for Gujarat and over 1 for Saurashtra! Yes, 2 crore and 1 crore!!
Eastern Circuit Ratio Needs Redefining
It is baffling how the Eastern circuit is considered almost the same as Bombay circuit in the fixing of a film's ratio/price. Businesses of almost all films reveal that the returns in Bombay circuit are greater than in the Eastern circuit. At times, business of a film in Bengal is just about 70% of that in Bombay. Sometimes, it is even less than that. Of course, the distributors of Eastern circuit do save in print costs because the number of prints they take are invariably much lesser than that taken out by a Bombay distributor. Even the publicity costs of the two circuits are very different, being much higher in Bombay and comparatively lower in Bengal. But despite these savings, the ratio of the Eastern circuit needs to be not more than 75 to 80% of that of Bombay.
Partners Abroad
Aditya Chopra and Bombay distributor-exhibitor Anil Thadani have opened a distribution office for the United Kingdom, in London. Of course, the new company's — not named as yet — first release in the UK will be Yash Chopra's Dil To Pagal Hai. Aditya and Anil had released the former's Dilwale Dulhania Le Jayenge in Bombay circuit through their concern, A.A. Films. With Dil To Pagal Hai, Yash Chopra has opened an independent distribution office for Bombay.
For The Small Screen, Of Course
Romesh Sharma's experience with his first TV serial, Ajnabi, has been so rewarding that he has commenced yet another serial, Usool. Like Ajnabi was made as a film more than six years ago (a film which no distributor was prepared to touch even with a barge-pole) and then 'converted' into a money-spinning serial, Usool too was planned as a film. To be telecast on Sunday mornings at 10.30, beginning 28th September, on the national network of Doordarshan, the ambitious serial, produced and directed by Romesh Sharma from his own story and screenplay, stars Danny Denzongpa, Parikshat Sahni, Tinnu Anand, Tom Alter, Shashi Sharma, Neena Softa, Deep Dhillon, Virendra Saxena, Siddharth Ray and Romesh Sharma himself. It is mounted on a colossal scale, and a major part of the serial is shot in Mauritius.