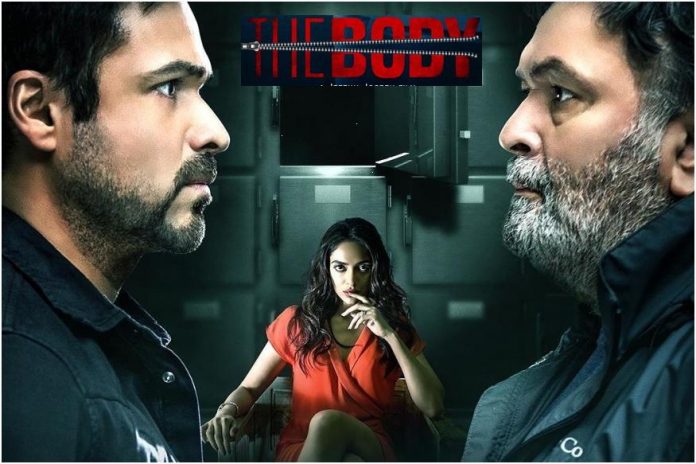 Viacom18 Studios and Azure Entertainment's The Body (UA) is a suspense thriller.
Ajay Puri (Emraan Hashmi) and Maya Varma (Sobhita Dhulipala) are married and live in Mauritius. Maya runs a business, which Ajay also looks after. Before marrying Maya, Ajay was a professor. Maya is a bit kinky and loves to shock Ajay. Since she owns the business, she also bosses over Ajay.
Over the years, cracks have begun to develop in their married life. One day, Maya dies owing to a heart attack. But Ajay knows that he had mixed poison in her drink to induce the heart attack. However, there's no police case as nobody doubts that she has died due to poisoning. The body is kept in a morgue, probably for a likely autopsy. But the dead body goes missing before the autopsy. The police is called in.
Investigating police officer Jairaj Rawal (Rishi Kapoor) summons Ajay Puri to the facility from where the body has disappeared, as he (Ajay Puri) is the prime suspect in the case of the missing body.
What do the investigations reveal? Did Maya die of a heart attack or did she die of poisoning? Or did Maya not die at all, as being alleged by husband Ajay Puri during police investigations? If Maya was murdered, who stole the body? And why? And who is the murderer? Where is the corpse?
The film is an official remake of Spanish film El Cuerpo. The original story and screenplay were penned by Oriol Paulo. The adapted story is half-baked and never manages to involve the audience. Even if the viewers get into the guessing game about the suspense, their involvement is half-hearted. The adapted screenplay is so tame that the interest level of the audience hardly goes up beyond the average mark. It wouldn't be incorrect to say that the viewers' interest rarely peaks. A number of questions crop up in the minds of the viewers but they are either not addressed or the replies they get in the unfolding drama are not too convincing. The final revelation of the suspense is not half as exciting as it ought to have been. It actually makes one wonder whether revenge can be used as a tool by just about anybody and just about any time! The excitement of a thriller is almost missing in this screenplay. Also, the time lines and time periods when events happen are very conveniently not revealed to the viewers — but that's not how suspense, thrill and excitement are created. Dialogues are routine.
Rishi Kapoor does a good job as investigating police officer Jairaj Rawal. Emraan Hashmi delivers a fine performance as Ajay Puri. Sobhita Dhulipala impresses with a truly natural performance as Maya Varma. Vedhika Kumar looks pretty and is natural in the role of Ritu. Anupam Bhattacharya (as Pawan), Chandan Anand, Arif Zakaria, Rukhsar Ahmed, Rajesh Khatri and Rajoshi Vidyarthi lend decent support.
Jeethu Joseph's direction is not upto the mark. He has been able to neither camouflage the shortcomings of the script nor adopt an engaging enough narrative style. Music (Shamir Tandon and Arko) is fair. Lyrics (Kumaar, Arko, Manoj Muntashir and Sameer Anjaan) are good. Song picturisations (by Prasanna Sujit and Ranju Raju Varghese) are functional. Clinton Cerejo's background music is effective at places. Satheesh Kurup's cinematography is very nice. The foreign locations are heavenly and are actually the best part of the film. Action and stunts (by Jolly Bastian) are okay. Production designing (by Prem Navas) is quite nice. Ayoob Khan's editing could've been tighter.
On the whole, The Body is a flop show and stands bleak chances at the box-office.
Released on 13-12-'19 at Inox Metro (daily 3 shows) and other cinemas of Bombay by Viacom18 Studios. Publicity: dull. Opening: poor. …….Also released all over. Opening was weak everywhere.