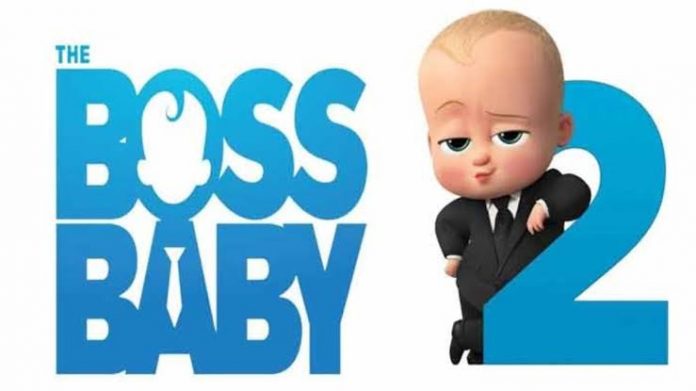 DreamWorks Animation's The Boss Baby: Family Business (dubbed from the Hollywood film of the same name), also known as The Boss Baby 2, is an animation film loosely based on the 2010 picture book, The Boss Baby, and its 2016 sequel, The Bossier Baby, by Marla Frazee. It is the second film in the The Boss Baby franchise, and sequel to The Boss Baby (2017).
It is set 30 years after the events of the first film. Tim Templeton is now fully grown and lives with his wife, Carol, and their two daughters, 8-year-old Tabitha and infant Tina. Tim's younger brother, Ted Jr., is now a successful CEO and is never around with the family. In fact, Tim and Ted have drifted apart although Ted keeps sending Tim's family, gifts. One night, Tim hears something from Tina's room. He discovers that Tina is a Boss Baby, just as Ted once was, and that she has been assigned to get Ted there for a special mission. Tina leaves a fake voicemail for Ted, luring him to the Templetons' house. Ted arrives the next morning. Tina reveals herself as a Boss Baby to Ted, and gives Tim and Ted magic pacifiers to visit BabyCorp. Tina introduces the brothers to a new formula that will allow them to become children for 48 hours in order to go undercover to Tabitha's school and figure out what Dr. Erwin Armstrong, founder and principal of the school, is planning behind parents' back. How the Templetons achieve their mission is what the crux of the film is all about.
Tom McGrath and Michael McCullers have written a story which is not very interesting for the Hindi film-going audience. Further, since the film is an animation one, the impact of the story reduces even more. Michael McCullers' screenplay, like the story, does not hold the Hindi film-viewing audience's interest much.
Tom McGrath's direction is appropriate. Background music (Hans Zimmer and Steve Mazzaro) is quite nice. Raymond Zibach's production designing is upto the mark. Editing (Mary Blee and Mark A. Hester) is quite sharp. Dubbing is proper.
On the whole, The Boss Baby: Family Business is quite interesting but it has very little for the Hindi cinema-going audience and will, therefore, not be able to do anything worthwhile at the Indian box-office. The restrictions on the capacities of cinemas and on the number of shows due to the Coronavirus lockdown as also the fear of contracting the virus, in the public minds will adversely affect attendance in cinemas and hence the film's business.
Released on 8-10-'21 all over (except in Maharashtra and Kerala) thru Warner Bros. Pictures (India) Pvt. Ltd. Opening was below the mark.