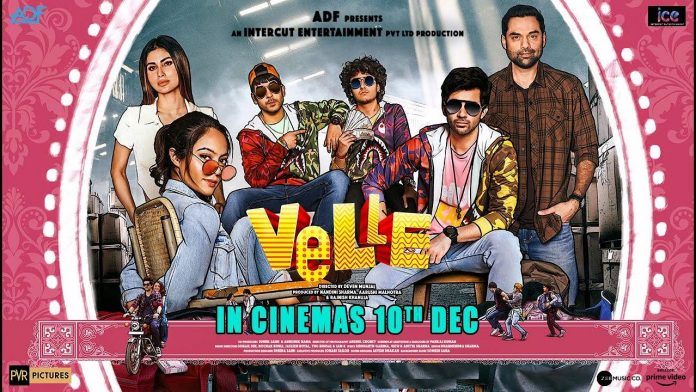 Ajay Devgn Ffilms, Intercut Entertainment and PVR Pictures' Velle is the story of three friends who are good for nothing.
Rahul (Karan Deol), Rambo (Savant Singh Premi) and Raju (Vishesh Tiwari) are school students who are duds. They befriend Riya (Anya Singh) who also studies in their class and who is the daughter of the school principal, Radheshyam (Zakir Hussain). Riya is not interested in studies as she wants to become a dancer. She does not get along with her father. Rahul, who loves Riya, decides to help her realise her dream of becoming a dancer. But since he and his two friends don't have money for her dance lessons and for her stay after she would leave her father's home, they 'kidnap' Riya and demand ransom money from her dad for freeing her.
Things go out of hand for Rahul and his cronies when one day, Riya is actually kidnapped. The kidnapper demands Rs. 10 lakh as ransom money. Rahul robs the money from film writer Rishi (Abhay Deol) and film actress Rohini (Mouni Roy) to pay the kidnapper. What happens thereafter?
Harish Dinkar's story is pathetic and ridiculous — and that's putting it mildly. The screenplay, written by Pankaj Kumar, is so terrible that it could win an award for the worst screenplay. Pankaj Kumar seems to know nothing about screenplay writing because although the film is a comedy, there's not a single scene which evokes genuine laughter. The screenplay serves to bore and irritate the viewers because every comic punch falls flat on its face. Logic is, of course, conspicuous by its absence. Keeping the names of all the characters in the film, starting with 'R' is, perhaps, the writers' idea of comedy! Pankaj Kumar's dialogues are as sickening as his screenplay.
Abhay Deol is earnest as film writer Rishi but it's a pity to see him in such a mindless enterprise. Mouni Roy is alright as Rohini. Karan Deol fails to impress as Rahul. Anya Singh acts quite well as Riya. Savant Singh Premi (as Rambo) and Vishesh Tiwari (as Raju) perform ordinarily. Zakir Hussain is dull as school principal Radheshyam. Rajesh Kumar looks disinterested in the role of police inspector Rajni. His constant yawning, meant to evoke laughter, is hardly funny. Mahesh Thakur struggles to impress as Rahul's father. Anuraag Arora (as Randhir), Solanki Diwakar (as Raghu), Manohar Pandey (as Ranjit), Chirag Mehra (as Rana), Fareed Ahmed (as Rohini's manager, Rakesh), Ajay Madhok (as producer R.K.), Arif Khan (as Radha), Charu Chauhan (as Raghu's wife), Shipra Chauhan (as Raghu's daughter), Aarti Wahi (as Rishi's mother), Shaurya Dutt (as Riteshdeep), Himanshu Srivastava (as the autorickshaw driver), Arun Malik (as the tuition teacher), Kamal Raza (as Kumar writer) and the others provide routine support.
Deven Munjal's direction is immature. Music (Sohail Sen, Rochak Kohli, Jasleen Royal, Jam 8 and Yug Bhusal) is appealing. The songs are tuneful. Lyrics (Siddharth-Garima, Vayu and Aditya Sharma) are fair. Prashant Jadhav's choreography is functional. Somesh Saha's background music is below the mark. Anshul Chobey's cinematography is okay. Action and stunt scenes (Sunil Rodrigues) afford some thrill. Sheena Saini's production designing is average. Editing (by Dharmendra Sharma) is alright.
On the whole, Velle is a disaster which will find it difficult to complete even a day's run in cinemas.
Released on 10-12-'21 at Inox (daily 5 shows) and other cinemas of Bombay thru PVR Pictures Ltd. Publicity & opening: pathetic. …….Also released all over. Opening was horrifyingly poor everywhere.