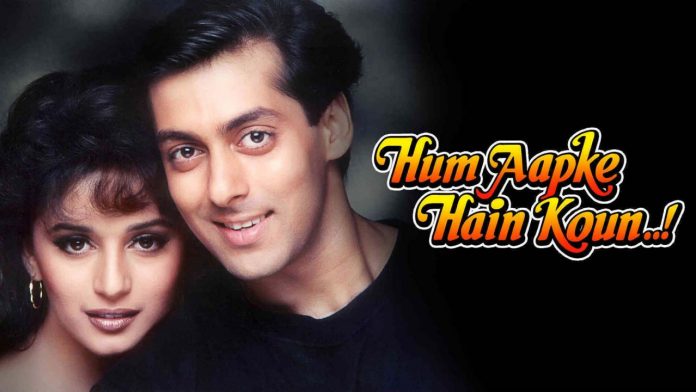 (From Our Issue Dated 29th October, 1994)
Diwali is the festival of lights which will light up our new year. Although a number of recent releases have put the industry in reverse gear due to their performance at the box-office, let us, on this festive occasion, try to forget about those dark clouds. All is not lost.
Let us look at the brighter side. At what Hum Aapke Hain Koun..! has made possible in the industry.
For one, it has been proved beyond doubt that television, satellite channels, videos are no patch on the big screen if your product is good and is marketed effectively. None of the above has, in any way, affected the box-office performance of HAHK..!. In other words, all forms of entertainment can co-exist. There is just no need to get jittery about the so-called competition offered by the small screen. Rather, the energies thereby saved could be diverted towards making quality films.
Quality brings us to quantity. HAHK..! has also shown that if your quality is superior, there's no limit to the quantum of business. The trade has stopped speculating about the expected business of the film wonder because there's no yardstick to measure it. We usually estimate the potential of a film by the drop in its collections from week to week. But in the case of HAHK..!, there's no real drop even in the 12th week at several places. Is sky really the limit?
By adopting the price discrimination policy on a day-to-day basis at Liberty, Bombay, the Barjatyas have again ventured to try out something new. They will be fixing different admission rates for the same classes for different days, determined by the demand for tickets. And this has all the potential to succeed. If it does, the Barjatyas will have started yet another trend.
As it is, they have shown the industry that delaying video cassettes for months together may be difficult but not impossible. They have also been virtual trend-setters insofar as marketing is concerned. But it is to be seen whether any other producer would have the guts to emulate the Barjatyas and adopt their slow-but-steady marketing strategy. It would be unfortunate if nobody did so, because then, the trend started by them would hardly be a trend.
Don't the Barjatyas need to be saluted? Doesn't the industry need more brave and enterprising people like them? Let these bright spots be food for thought for all industry people this Diwali. Let us pray that not only does the industry get more Hum Aapke Hain Kouns..! in the new year, it also gets more people who are inspired enough to become brave and face any challenge whatsoever.
– Komal Nahta
'HAHK..!': RATE DISCRIMINATION ON DAY BASIS AT LIBERTY, BOMBAY
The Barjatyas have decided to hike admission rates of Hum Aapke Hain Koun..! at Liberty, Bombay, for the Diwali festival. On 4th, 5th and 6th November, the rate for Dress Circle will be Rs. 100 (presently, it is Rs. 75). The increased rates for the other classes will be: Balcony Rs. 75 (present: Rs. 60), Stall Rs. 35 (present: Rs. 25), and Lower Stall Rs. 15 (present: Rs. 10). However, on the remaining four days of the week – that is, on 7th, 8th, 9th and 10th November, the admission rates will revert to the original level viz. Rs. 75, Rs. 60, Rs. 25 and Rs. 10.
Further, Liberty will charge the new hiked rates (Rs. 100, Rs. 75, Rs. 35 and Rs. 15) on every Saturday and Sunday henceforth. The rates on the other five days of the week (Friday, Monday, Tuesday, Wednesday and Thursday) will be the current lower rates.
DO YOU KNOW?
Purisons & Associates, the East Punjab distributors of F.C. Mehra's YAAR GADDAR, have sent an advance overflow cheque of Rs. 1 lakh to Mehra even before the film's release.
DIWALI TO DIWALI
(November 14, 1993 to October 29, 1994)
118 RELEASES
Between the Diwali of last year and this year (3rd November), a total of 118 films have been released, including 14 dubbed. At least on two occasions during these 50 weeks, release of new films were suspended. As a result, there were no releases for a total of 5 to 6 weeks. The plague epidemic saw cinemas in Delhi and some parts of Gujarat closing down in September-October '94, as a result of which new releases were re-scheduled. Disruption of flights of Overseas countries was also one cause for the postponement of releases. Cinemas in Calcutta, Hyderabad and Bangalore also remained closed for some days at different times during this period, either to protest against government action or for other reasons.
THE GREATEST HIT
Rajshri's HUM AAPKE HAIN KOUN..! came like a whiff of fresh air and broke all previous records of Bollywood to qualify as the greatest hit of India. What, a few weeks back, appeared would do a business of 35 crore seems to be heading towards 50 crore. Or is it more?
HITS & MISSES
Hum Aapke Hain Koun..! turned out to be the biggest hit of the period from the Diwali of 1993 to the Diwali of 1994. Dilwale, Mohra, Krantiveer, Laadla, Darr, Raja Babu and Jurassic Park (dubbed) were other major hits of the period which also had its share of debacles. Chaand Kaa Tukdaa, Betaaj Badshah and Eena Meena Deeka failed miserably. Baazigar,which was released on last Diwali, did fantastic business during the period under review.
SANJAY DUTT UNDER TADA
Sanjay Dutt was re-arrested under the TADA and has since been lodged in jail. His bail application was rejected by the Supreme Court. Several of his films are incomplete, in different stages of production. He remained in news throughout the year.
YOU ASKED IT
How will the Diwali of 1994 be for the film industry?
– It is expected to bring with it, confidence and cheer.
Why is Subhash Ghai making a video studio in Delhi? Who will go to Delhi to shoot?
– With TV serial production booming, the studio in Delhi-Haryana should be in demand when it is ready.
How will films compete so many satellite channels?
– When there was not a single satellite channel, no film did as much business as HUM AAPKE HAIN KOUN..! is doing today, with 30 channels in operation. So, don't be afraid. Good films will always run, whatever the opposition.
CESS ON FILMS HIKED
The government has substantially increased the cess on feature films, to augment the Cine Workers' Welfare Fund. The Union Labour Ministry has notified that hereafter, a cess of Rs. 10,000 will be levied on every Hindi feature film, Rs. 5,000 on every Tamil, Telugu, Kannada and Malayalam film, Rs. 3,000 on every Bengali, Gujarati and Marathi film, and Rs. 2,000 on other language films. Hitherto, a uniform cess of Rs. 1,000 per feature film used to be levied without any linguistic distinction.
PUNJAB FILM POLICY APPROVED
The Punjab government has approved a new film policy for encouraging production of quality films in Punjabi and also for creation of infrastructure for the production of films.
The producer of a Punjabi colour film would be entitled to a subsidy of Rs. 6 lakh per film shot anywhere in the country. If it is shot in Punjab, he would be entitled to a subsidy of Rs. 12 lakh or 75% of the cost of production, whichever is less. For a B & W film, the rate of subsidy is Rs. 2 lakh.
For films produced in other languages, a subsidy of Rs. 1 lakh will be given for B & W films and Rs. 3 lakh for coloured films if 75% of the film is shot in Punjab.
To encourage quality films, the government has also instituted annual awards. The first prize consists of Rs. 1.25 lakh in cash and a shield. The second prize would be Rs. 75,000 in cash and a shield, and the third prize, Rs. 50,000 in cash and a shield.
A Punjabi film winning a National Award would get Rs. 2 lakh in cash. Awards have also been instituted for the best actor, actress, director, singer, story writer and other technicians, each carrying a cash prize of Rs. 25,000 and a memento.
The Punjab Council of ministers approved the film policy on 26th October.
'ALADDIN' TO BE RELEASED IN FOUR LANGUAGES
Buena Vista International, the marketing division of Walt Disney Pictures, USA, for the distribution of all films of Walt Disney, Hollywood Pictures and Touchstone in India, Nepal and Bangladesh, is releasing Walt Disney's Academy award-winning animated film, Aladdin, through Modi Films. To be released on 23rd Dec. '94, simultaneously in English, Hindi, Tamil and Telugu, Aladdin is the first English film to be dubbed in three languages.
Producer Sole Owner Of Copyright: FMC Clarifies
The Film Makers Combine has, vide a press release, sought to clarify the position regarding copyright in films and a producer's position. The release says:
"An impression is being created that the Doordarshan has the option of signing an arrangement with ATN which holds broadcasting rights of over 3,000 Hindi films, the rights of which were purchased from Dhirubhai Shah's eight film libraries. ATN is also planning to launch another pay channel of Hindi movies drawn from Mr. Shrivastava's collection. This claim is totally false, which seeks to give an erroneous interpretation of the provisions of the Copyright Act and creates an impression that a film producer shall be deemed to have parted with all his wide spectrum of copyright when he enters into an agreement parting with home-viewing video rights or cable TV rights.
"The producer is the sole owner of his film in all the formats viz. 8mm, 16mm, 30mm and 35mm, video or any other such format. Now, the producers' copyright of video format is spread into various types such as home viewing, cable TV, satellite transmission, Doordarshan rights etc. Each one of these phrases is not only known and recognised in the film trade, but also has clear and judicial meanings and interpretation. For instance, home-viewing, actually, legally and judicially means the viewing by a single family when the video tape is used in the VCR; it is contra-distinguished from the public exhibition or transmission made through mechanical instruments like cable or through satellite or through Doordarshan channels, popularly known as TV transmission. Therefore, when a producer parts with his home-viewing rights on the format of video tape, it doesn't mean that he has parted with all spectrum of copyright of video format, by such agreement. Similarly, cable television means a system where a television is linked by metallic coaxial cable to a central system called the head-end, by using video cassettes or discs etc. and using recorder or player or similar such apparatus on which pre-recorded video cassettes or discs etc. are played or replayed and the films or moving pictures or serive of pictures which are viewed and heard on the television receiving set (i.e. monitor) at a residential place or any other place or a connection holder. It is clear that in such a transmission, if there is any intervention or rather delinking through a satellite, then, as is well recognised and accepted by the film trade as well as courts, it becomes satellite right which is distinct and totally different from cable TV rights and the producer is entitled to dispose of these rights for appropriate royalty to any organisation or individual which uses the satellite for transmission of the required audio/video signals. In short, unless a producer has specifically parted with satellite rights of his film to anybody, the sale of home-viewing or cable TV rights shall never be considered as ipso facto including satellite rights.
"It is shocking that by the abovesaid news item and the notice published in Film Information dated 24-9-1994 through their advocates, M/s. Video Master, Time Films, Aar Dee Films and also Mr. Siddhartha Srivastava's Asian Television Network (ATN) have claimed to have all types of rights, including satellite rights and Doordarshan rights of hundreds/thousands of films, just because the format of these films is video tape and in which films they have acquired only the home-viewing rights or, in some cases, the cable TV rights. Film producers are hereby informed, guided and assured that they need not be scared of the said news item and notice, and the Film Makers Combine is immediately taking all legal and other steps to nip this evil without loss of time. The producers whose films have been illegaly screened and are being screened are requested to send agreements relating to home-viewing and cable TV rights to the FMC for scrutiny and advice."
3E
Education-Entertainment-Enlightenment
Changing Steps
Saroj Khan will leave her stamp on half the song of Suhaag which goes – 'Yeh nakhra ladki ka'. It was partly picturised by her some time back on Ajay Devgan, Akshay Kumar, Karisma Kapoor and Naghma. The song picturisation remained incomplete because Karisma hurt herself during its shooting. The reins have now been taken over by Rekha Chinni Prakash who has completed the balance song which was shot early this week. The change in choreographer was due to Saroj Khan's inability to dole out dates. The arrangement was by mutual consent of both the dance directors.