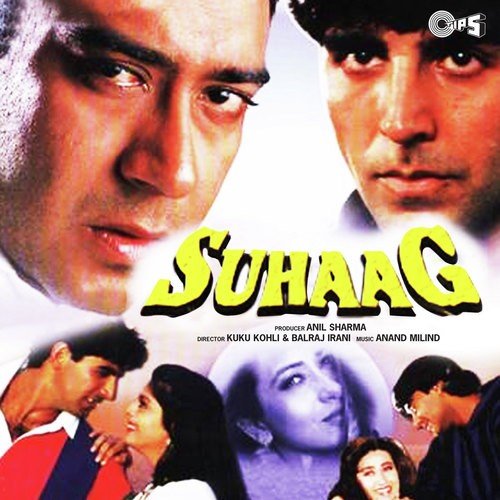 (From Our Issue Dated 5th November, 1994)
Shweta International's Suhaag is a vendetta story. A woman leads the life of a widow even though her husband is alive, so that her son should not know that his father is languishing in jail. His life imprisonment is the handiwork of a gang of villains who are traders in human organs in the name of doctors. The son and his close buddy seek revenge, getting back the father's honour and the mother's suhaag.
The first half is excellent, abounding in light scenes, songs, romance, fun and frolic. The film takes a serious turn at the interval point (which scene is brilliant), and the second half abounds in tension. It is also lengthy and morbid. Cinematic liberties are a bit too many but none that can mar the prospects of the film. The term of life imprisonment is shown as almost 20 years! Dialogues are good.
Among the plus points in the film are a racy first half, good comedy, excellent music, arresting interval point and a novel and remarkable climax. Akshay Kumar's entry is simply superb. Emotions touch the heart. The second half should have been more exciting.
Both, Ajay Devgan and Akshay Kumar, are excellent. They shine in action and light scenes and are the life of the film. Naghma is good. Karisma Kapoor has a small role and also does well. Aroona Irani scores in the interval scene. Although she has limited scope, her presence is felt throughout. Suresh Oberoi does a fine job but his villainy is not menacing enough. Dalip Tahhil is effective. Romesh Sharma is quite good. Adi Irani, Gufi Paintal, Brij Gopal, Jack Gaud, Ghanshyam and Tiku Talsania provide good support.
Kuku Kohli's direction is competent. Anand Milind's music is hit. 'Gore gore mukhde pe', 'Ta na na na', 'Pyar pyar pyar' and 'Shaaba ye nakhra ladki ka' are all racy numbers and have been well picturised. 'Tere liye jaanam' is melodious and the locations on which it has been picturised are breathtaking. Photography is superb. Action scenes are thrilling.
On the whole, Suhaag has a good dose of everything for everybody — masses, ladies and families. An overflow film with good chances of proving class A.
Released on 4-11-'94 at Novelty (daily 1 show) and 23 other cinemas of Bombay thru Modern Movies. Publicity & opening: excellent. …..Also released all over.
ANDAZ APNA APNA
Vinay Pictures' Andaz Apna Apna is a comedy with no pretentions of seriousness whatsoever. Two lively young boys dream of becoming multi-millionaires and they try to win the heart of a rich NRI girl to fulfill their dream. The game of one-upmanship which follows in wooing the girl is quite hilarious.
Although the entire film is farcical, the incidents are novel and their presentation is beautiful. Yes, there's no base to the story and that inherent drawback remains. The first half is quite good. It is after interval that the film becomes a laugh riot. Of course, many jokes are of the kind that will be appreciated more by the city-based audience. But there's masala for masses too. Excellent scripting is complemented by superb handling of the subject and praiseworthy performances.
Aamir Khan is extraordinary. His sense of timing is unbelievably perfect. His is an award-winning performance. Salman Khan is also remarkable. The two make a perfect team. Raveena Tandon and Karisma Kapoor have done well. Paresh Rawal is very effective in a double role. Shakti Kapoor is praiseworthy. Shehzad Khan and Viju Khote impress. Tiku Talsania, Javed Khan, Harish Patel, Mehmood, Jagdeep and Deven Varma lend admirable support. Juhi Chawla and Govinda's special appearances are enjoyable.
Director Rajkumar Santoshi succeeds in making the film a crazy comedy. His comic touches are fantastic. Music is not much of a prop even though it has the O.P. Nayyar stamp. 'Ye raat aur ye doori' and 'Elo elo sanam hum aa gaye' are quite nice. Photography and other technical values are of a high standard. Climax is non-stop laughter. Dialogues are very good.
On the whole, Andaz Apna Apna is a very enjoyable comedy which will be liked by youngsters. Its major business will come from cities and towns. Performance in Bombay, Nizam and Mysore should be the best.
Released on 3-11-'94 at Metro and on 4-11-'94 at 14 other cinemas of Bombay thru Niraj Movies. Publicity & opening: excellent. …….Also released all over.
YAAR GADDAR
Eagle Films' Yaar Gaddar (A) is a masala film with a good suspense angle. A police inspector is on the hunt for a gang of villains involved in a bank robbery in which his innocent young brother also gets framed due to circumstances. The two brothers finally succeed in bringing the culprits to book. While the screenplay is generally racy, some linking scenes are a bit contrived. The post-interval portion is more gripping. Comedy is enjoyable though a bit on the excessive side.
Mithun Chakraborty does well. Saif Ali Khan is also good. Somy Ali exposes uninhibitedly and is fair. Shweta needs to reduce some weight. She acts freely. Prem Chopra, Gulshan Grover, Puneet Issar, Amrit Pal and Umesh Shukla have all done promising jobs. Johny Lever and Himani Shivpuri evoke laughter. Shubha Khote, Anjana Mumtaz, Yunus Perwaiz and Jugnu lend the required support. The dog has been well exploited.
Umesh Mehra's direction is good. Anu Malik's music is quite appealing but a hit number is missing. Camerawork is alright, though more lights should have been used in some scenes.
On the whole, Yaar Gaddar is a fair entertainer with medium price and a good release period on its side.
Released on 4-11-'94 at Minerva and 24 other cinemas of Bombay thru Shivani Films. Publicity & opening: very good. …….Also released all over except in Mysore.
SARDAR
Ketan Mehta's Sardar (tax-free) is a docu-drama on the life of the iron man of India, Sardar Vallabhbhai Patel. It concentrates more on the last five years of his life, from 1945 to 1950, when the Congress and the Muslim League were struggling for power, and Sardar Patel's contribution in making India, a country with hundreds of independent states, one nation. Decisions taken for the division of the country have been shown vividly, laying bare the minds and hearts of the leaders then.
Although the film does not have a big canvas, and Patel's early life has been shown just in passing shots, it has its own power, making it nostalgic for those who have witnessed the freedom movement. The treatment of the historical film basically holds appeal only for the intelligentsia.
Paresh Rawal gives a memorable and award-winning performance as Sardar Patel. Annu Kapoor has done extremely well as Gandhi. He is extraordinary in emotional scenes. Benjamin Gilani, as Jawaharlal Nehru, is passable. Srivallabh Vyas and Tom Alter are okay.
Ketan Mehta's direction is praiseworthy but he has succeeded in making the film a documentary, at best. Camerawork is beautiful. Editing is sharp and the background score is effective.
On the whole, Sardar is a beautifully made film which will find appreciation among a very limited section of audience only.
Released on 31-10-'94 at Nehru auditorium and Metro (matinee) and on 4-11-'94 at Naaz and 7 other cinemas of Bombay thru Hira Films Pvt. Ltd. Publicity: excellent. Opening: so-so. …….Also released in Gujarat.
SPEED
(Dubbed)
Released on 4-11-'94 in many circuits (other than Bombay), Twentieth Century Fox's Speed (dubbed) is a thriller. A bomb is planted in a moving bus and it will explode if the speed of the bus comes down to 50 mph. How the passengers in the bus are saved provides edge-of-the-seat excitement and tension-filled moments.
Dubbing is wonderful. Performances of Keanu Reeves, Dennis Hopper, Jeff Daniels and Sandra Bullock are lovely. The thrilling scenes have been very ably captured.
On the whole, Speed should appeal to the Hindi audience too. The English version has been released this week in Bombay where the dubbed version will be released next week.
Dream Merchant
New Year's Night
The deafening sounds of crackers on the night of Diwali did not let me sleep in peace. I tried to make up on New Year's night by sleeping soundly. And I dreamt…
That Akshay Kumar and Ajay Devgan were having a joint suhaagraat. That is to say, they were holding a night show of Suhaag for the trade. And since the Suhaag was at raat, they had called the show their Suhaagraat!
That Jackie Shroff was undergoing a change of image. No more stuntttts for him after the debacle of Stunttman. Jackie had decided to do dancing roles instead, having won accolades for his 'Amma dekh' dance. The other action heroes were dancing with joy at Jackie's exit.
That Sunny Deol was saying "Tada", sorry "Tata" ("goodbye"), to several of his producers, pleading inability to complete their films because he had signed Subhash Ghai's Trimurti. He was especially thrilled because he had given a hit in Trimurti's Tridev. After the Trimurti banner and Tridev, Sunny was praying that Trimurti would complete his hat-Trick.
That Saif Ali Khan was autographing the handkerchieves of his fans but saying "no" to autograph books. Haathon mein aa gaya jo kal rumal aapka…. he kept humming while putting pen on rumal.
That Juhi Chawla was moving out (to shootings, parties, for shopping) only in the company of men… sorry, gentlemen. No affairs, only a publicity ploy for The Gentleman.
That Sridevi had resolved never to shoot except on full-moon days and nights. Chaand kaa tukdaas, however small or big, had got on her nerves just as she had got on people's nerves in Chaand Kaa Tukdaa. Nothing short of a fool moon, sorry, full moon would do for Madame Devi.
That Govinda was terribly disturbed about the fate of his Beta Ho To Aisa. He had cancelled all his shooting and had hit the…. video, not the bottle. He kept seeing Anil Kapoor's Beta again and again and he muttered to himself, "Beta ho to aisa!"
That Vinod Khanna was holding a press conference in the Himalayas to prove to the world that he would go to any heights (literally!) to ensure an out-of-the-world launching for his son, Akshaye Khanna, in Himalay Putra.
That Subhash Ghai, who has a penchant for bigness, was now trying to get used to things small. He had decided to advertise his first TV serial as 'Small Screen Entertainment to be enjoyed on television only'. He had also decided to have a very small muhurt of the serial at an Udipi restaurant, to be followed by tea and snacks.
– Komal Nahta
SNAPSHOTS
BENGAL DISTRIBUTOR'S "NO" TO HIKE
The Bengal distributors of Andaz Apna Apna, Musical Films, almost did not take delivery of the film. They put their foot down and refused to hike the price by 2 more lakh at the time of delivery. The price for Bengal, when the film was sold, was 27. It was raised to 32 thereafter. After completion of the film, the producer hiked the price in all the territories, having gone over-budget. The new price for Bengal was 40. When the Bengal distributors came to Bombay to take the film's delivery, a new price of 42 was quoted. They refused to oblige and threatened to go to the court. Better sense prevailed and the producer agreed to effect delivery at 40 so as not to jeopardise the release.
* * *
DIWALI RUSH
There was tension among the distributors of Suhaag all through last week. It was because of delay in the delivery of prints by Gemini Lab. Gemini was processing the prints of 8 South films, besides Suhaag, and all the nine films were scheduled for release on Diwali. The Diwali dhamaka gave Suhaag distributors a lot of dhak dhak in their dil.
* * *
BITTERNESS
There was bitterness recently between the Hollywood company which, not long back, dubbed a Hollywood wonder in Hindi, and its Bombay distributor. It had reportedly something to do with payment.
PEOPLE
Are Speculating About
** Sunny Deol replacing Sanjay Dutt in Subhash Ghai's Trimurti. The speculations are not baseless. It is now almost certain that Sunny will play Sanjay Dutt's role. Some changes in the script to suit Sunny's presence, are on the anvil.
** Which will be the best of this week's lot of releases. The number game has begun.
** What will be the collections of HAHK..! this week as the number of prints has been increased substantially. The total number of prints is 222.
PEOPLE
Are Talking About
** Who is better in Suhaag – Ajay Devgan or Akshay Kumar? The fact is, both are equally good.
** The futility of releasing so many films this week and there being no new release next week. Maybe, the benefit of coming solo next week would have been far more for a film than the Diwali period benefit this week.
** The colourful folders of Karan Arjun and Gambler and the audio cassettes of the two films, all distributed with the Diwali special issue of Film Information last week.
PEOPLE
Are Cribbing About
** The sound system of Alankar cinema, Bombay. It is so unclear. To compare it with Metro or Liberty, Bombay would be suicidal.
PEOPLE
Are Hoping
** The New Year will really be a prosperous year for the industry.
DO YOU KNOW?
* The Bombay distributors of ANDAZ APNA APNA, Niraj Movies, held a total of 82 trial shows of the film before its release!

* Radhika cinema, Satara which is screening HAHK..! has reverted back to the admission rate of 10/- in balcony from 10th week onwards. It used to charge 10/- for a balcony ticket in the first 6 weeks. The rate was reduced to Rs. 7.50 in seventh, eighth and ninth weeks. Sweets were distributed among the balcony class audience of Radhika cinema on New Year's day (4th November) in all the 3 shows
'HAHK..!' SCORE: 222
* As many as 88 additional prints of HAHK..! have been put into circulation from this week all over India, taking the total number of prints being screened to 222. At Liberty cinema, Bombay, an additional show will be held on Sunday (6th November) at 9 a.m. The show is full in advance.
PLAN FOR SPECTACULAR SHOW FOR 100 YEARS OF CINEMA
The National Film Development Corporation, the ministry of Information & Broadcasting will stage a spectacular hi-tech audio-visual show to celebrate 100 years of world cinema, in Bombay at the NSCI Stadium on 15th January, 1995. About 30,000 people will witness the show at the stadium, besides millions all over the world, on their television sets.
The show will be part of the International Film Festival of India which will open in Bombay on 10th January. It is planned to be the greatest show ever and will depict the growth and glories of world and Indian cinema during its 100 years. Many old and new artistes and technicians are expected to participate in the celebration show. Subhash Ghai will direct it, with a band of visualisers and writers assisting him.
The total budget is estimated to be about Rs. 1.5 crore. Art director Nitin Desai has designed multi-dimensional stages which will cost about Rs. 50 lakh. Over 150 dancers, 100 musicians, top choreographers and music directors will take part in the show for which work has already begun.
Ravi Gupta, managing director of the NFDC, is the chief convenor. The Cine Artistes' Association, the Film Federation of India and the Federation of Western India Cine Employees have pledged their wholehearted support to the show.
YOU ASKED IT
Is True Lies also being dubbed in Hindi?
– Yes, its dubbing has already started.
With Dhirubhai Shah claiming to hold satellite rights and producers refuting his claim, what will happen finally?
–The matter may have to be decided by the court of law.
What is most necessary to make a film with a top and busy star?
– His dates!
How do you gauge the effect of an emotional scene in a film?
– If the audience cries in the scene, it is effective. If only the character on the screen cries, it is a waste.
MAHARASHTRA GOVT.'S CIRCULAR STRUCK DOWN
Extracts From High Court Order In Writ Petition
Filed By Liberty, Bombay & Rajshri
Given hereinbelow is the operative part of the order of the Bombay high court in the writ petition filed by Nazir Hussain, proprietor of Liberty cinema, Bombay, and Rajshri against the Maharashtra government's circular which restricted the right of cinemas to increase admission rates without prior permission of the Collector/licensing authority. It may be recalled that the division bench consisting of Justices Mr. M.L. Pendse and Mr. S.M. Jhunjhunwala struck down the government circular insofar as it restricted the right of cinemas. The order was passed on 17th October, 1994 following which cinemas in the state are free to fix their own admission rates.
Entertainment tax had been reduced in Maharashtra vide an ordinance in September '94. Alongwith the ordinance, the government had issued a circular as above. The state of Maharashtra, the collector of Bombay and the Commissioner of police were the respondents in the petition.
The order:
The petitioners have preferred this petition under Article 226 of the Constitution of India to challenge the validity of Condition No. 5A inserted by amendment in pursuance of Circular dated September 27, 1994. Shri Chagla, learned counsel appearing on behalf of the petitioners submitted that it is not permissible for the respondents to provide that the theatre owners cannot increase rates for admission without prior permission of the Collector. The learned counsel submitted that the benefit of the Ordinance cannot be made dependent upon condition that the rates of admission of cinema theatres should be those prevailing on August 12, 1994. Shri Chagla submitted that the Act does not confer any power upon the respondents to specify the fixation of admission rates or its increase or reduction and such legislative power cannot be grabbed by resort to issuance of the circulars, which are administrative in nature. We find considerable merit in the submission of the learned counsel. On behalf of the respondents, Shri M.N. Kale, Desk Officer who has issued the circular, has filed a return, sworn on October 17, 1994. In paragraph 16 of the return, it is admitted that the Act does not specify the fixation of admission rates or its reduction. It is then claimed that the State Government has responsibility towards cinegoers and it can take suitable action in the matter and it has a right to impose reasonable restriction on theatre owners. In face of the admission that the Act does not confer any power to determine or fix or reduce admission rates, it is difficult to appreciate how such power can be exercised by issuance of the Circulars which are clearly administrative in nature. Shri Saraf, learned counsel appearing on behalf of State Govt., very fairly stated that the conditions issued while granting licence are not statutory conditions and, therefore, it is not open for the respondents to modify such conditions by including Condition No. 5A, which cannot be supported with reference to the power flowing from the Act. It hardly requires to be stated that in case the respondents do not possess power under the Act, then the orders cannot be issued by issuance of such Circular to control something which is not permissible under the Act. Shri Saraf submitted that Section 4(2) (b) of the Act confers power on the State Government to determine the rates of admission to the entertainment. The submission cannot be accepted for more than one reason. In the first instance, in view of the specific admission in paragraph 16 of the return, even the State Govt. does not consider that such power exists under section 4(2) (b) of the Act. The sub-section, inter alia, provides that the State Govt. may prescribe to pay the amount of the duty due in accordance with returns of the payments for admission to the entertainment. It is impossible to appreciate how section 4(2) (b) of the Act can entitle the State Government to determine the rates of admission. In our judgment, inclusion of Condition No. 5A in the licence in pursuance of Circular dated September 27, 1994 was clearly without any authority of law.
Shri Saraf made a brave attempt to urge that the Government published the Ordinance with a view to give benefit not only to the theatre owners but with an object that the cinegoers are benefitted. Whatever may be the object or the intention in issuance of the Ordinance, that does not entitle the respondents to exercise administrative powers and impose conditions which are not permissible under the Act. In those circumstances, in our judgment, the petitioners are entitled to the relief.
Accordingly, petition succeeds, and Condition No. 5A inserted in pursuance of Circular dated September 27, 1994 is struck down. In the circumstances of the case, there will be no order as to costs.
COMMUNICATIONS REGARDING CENSORSHIP
The ministry of Information and Broadcasting has sent two communications to the CBFC, regarding matters connected with contents in the films presented for certification, for public exhibition.
The first letter relates to a resolution passed at the conference of the State Ministers of Information and Cinematography. The text of the resolution is reproduced for your information: 'The responsibility of ensuring that only good and wholesome films are exhibited rests not only on the CBFC. This conference recommends that the film industry may evolve a model code of conduct for themselves in this regard and that the industry associations should consider ways and means of seeing that their members adhere to it.'
The second letter from the ministry relates to the debate in the Rajya Sabha, held recently, regarding the need for issuing guidelines to prevent caricaturing of a particular community in Hindi films. The observations made in this regard by the Hon'ble deputy chairperson of the Rajya Sabha are: 'Humour has to be inborn. Humour should not hurt the feelings of people. When it starts hurting people, it becomes vulgar. I hope, the minister will take care of it. It should not be at somebody else's expense. It should be from within.'
No Cine Workers Of FEFSI To Shoot In Andhra
FWICE SUPPORTS FEFSI
To safeguard the interest of cine worker-members of the various affiliates of Film Employees' Federation of South India, Madras, who go on assignment for shootings in Hyderabad/Andhra Pradesh, from some rowdy elements in that state, who refuse to recognise the membership of FEFSI (which is a constituent of the All India Film Employees' Confederation) and threaten them to become members of some union there, which is not affiliated to the AIFEC, and further in view of the open declaration of hostility towards cine workers belonging to FEFSI, by the Secretary, Andhra Pradesh Federation, and open challenge that they shall not allow any cine worker belonging to the Film Employees' Federation of South India to work in Hyderabad/Andhra Pradesh, the Film Employees' Federation of South India has decided that no member of FEFSI shall accept any assignment in Andhra Pradesh from 3rd October, 1994.
FEFSI has also asked for the co-operation of the All India Film Employees' Confederation and its various constituents in Eastern, Western and Karnataka regions in their ongoing struggle, which is, in other words, a struggle to uphold the right of cine worker-members of any affiliate of any of the constituents of All India Film Employees' Confederation to work anywhere in India, by advising their members not to accept any assignment for shooting/work of any film in any language in Andhra Pradesh till further notice.
Accordingly, the Secretariat of All India Film Employees' Confederation has advised all its other constituents in Eastern, Western and Karnataka regions to advise their members not to go for any shooting of any film in any language held in Andhra Pradesh till further advice. The General Council of the Federation of Western India Cine Employees considered the matter at its meeting held on 7th October and unanimously decided to extend its wholehearted cooperation to FEFSI in its ongoing struggle.