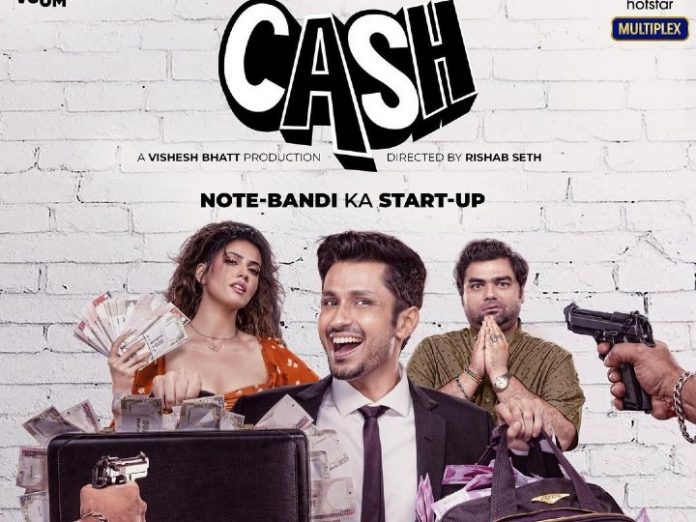 Va Va Voom's Cash is a comedy set against the backdrop of Prime Minister Narendra Modi's demonetisation of Rs. 500 and Rs. 1,000 currency notes in November 2016.
Armaan Gulati (Amol Parashar) is a failure as far as his start-ups are concerned, but that doesn't prevent him from attempting new things. His CA-friend, Soda (Kevin Dave), is God-fearing and hates taking risks. But because of their closeness, Soda finds himself partaking in the activities of his dear friend. Neha (Smriti Kalra), a real estate agent, becomes a partner with the duo when Armaan decides to get into the business of money-laundering as soon as the demonetisation of two kinds of currency notes is announced by the PM on November 8, 2016. It all starts with Armaan's uncle, Sanjay Gulati (Swanand Kirkire), wanting to convert his black money, in the form of demonetised notes, into white. Although Armaan's father, Vijay Gulati (Pawan Chopra), is against Armaan's business ideas, Armaan goes ahead with this new idea. An out-of-power and eccentric MLA, Gautam Acharya (Gulshan Grover), also gives Armaan his money to launder within 52 days — till the banks are willing to accept old notes. Armaan and group start dealing with Qazi (Krishna Singh Bisht) who is into the business of money-laundering. Trouble erupts when principled police inspector Tukaram Pingle (Anand Alkunte) arrests Qazi on a tip-off that he is into the shady business. Gautam Acharya is now after Armaan's life for the conversion of his black money or return of his old notes. Meanwhile, Armaan has invested part of Gautam Acharya's black money in a new business which is refusing to take off!
Aarsh Vora, Rishab Seth and Vishesh Bhatt have written a story which is contemporary and quite fresh. Their story underlines that they have a sense of comedy as it is an intelligently written story. Rishab Seth and Aarsh Vora's screenplay is also funny and engaging. Yes, it may be catering to the classes mainly, because of the technical jargon (start-ups, black, white, demonetisation, profit, etc.) used throughout but the fact remains that the graph of the screenplay is correct. The drama often brings a smile to the faces of the viewers and even evokes laughter at some places. It does get boring at places in the latter part but it gathers steam after a while. Overall, the intelligently written screenplay is entertaining. A word here about the typicalities of the characters — Qazi loving physical pain of any kind, Gautam Acharya being eccentric enough to cut people's body parts, the God-fearing Soda having an aarti as his ringtone, etc. These typicalities have been carried forward through the drama, which is very good. Rishab Seth and Aarsh Vora's dialogues are excellent and add to the fun quotient. Many of them are subtle, which means that they would appeal more to the classes than the masses.
Before talking about the performances, it must be said that every actor has done a fine job. Amol Parashar acts with effortless ease and does well as Armaan Gulati. Smriti Kalra (as Neha) makes an impressive debut. She is free in front of the camera. Kavin Dave is very effective as Soda. Krishna Singh Bisht is first-rate as Qazi. Gulshan Grover leaves a lovely mark as Gautam Acharya. Swanand Kirkire has his definite moments as Sanjay Gulati. Anand Alkunte makes his presence amply felt in the role of police inspector Tukaram Pingle. Pawan Chopra lends able support as Vijay Gulati. Sam Mohan does an admirable job as Muthu. Kalpana Rao provides decent support as Qazi's mother. Others are adequate.
Debut-making Rishab Seth's direction is very good. He knows the craft and has also extracted lovely work from all his actors. Music (Denny, Akull, Gourov-Roshin, Vayu and Ketan Sodha) is appealing, but the fact remains that the songs are not popular. Lyrics (Yash Narvekar, Denny, Kanica Parab Bhatt, Kunaal Verma, Rajesh Manthan and Vayu) are appropriate and in synch with the drama. Song picturisations (Rajeev Surti, Uma Shankar and Gaiti Siddiqui) should've been better. Ketan Sodha's background music is fair. Cinematography (Nagaraj A. Rathinam) is quite good. Vikram Singh Dahiya's action and stunt scenes are reasonably nice. Production designing (Arundhati Barkataky and Rhea Rawat) is alright. Devendra Murdeshwar's editing is crisp.
On the whole, Cash is a well-written and well-made film with good performances. It will be liked more by the class audience.
Released on 19-11-'21 on Disney+ Hotstar.