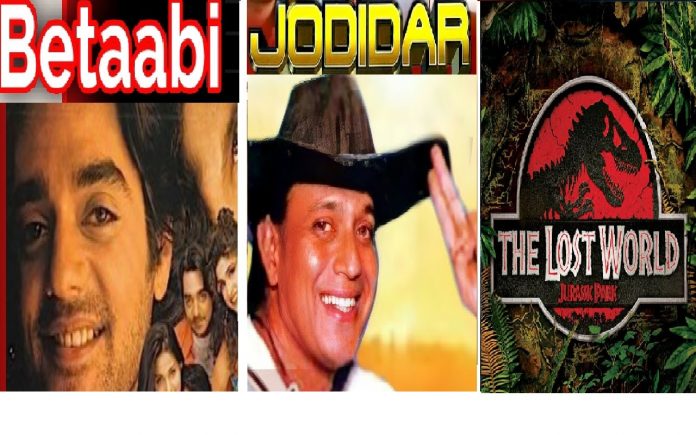 BETAABI
S.P. Creations' Betaabi is a love story of two boys and two girls. A rich and vain girl has two boys proposing marriage to her and she sets both of them against each other by giving counter-proposals to them. She challenges one of them to kidnap her if he wants her hand in marriage and tells the other to stop the kidnapping if he wants to marry her. Both the guys accept the challenges and what follows is a chase. There are other angles and diversions too.
The drama looks too frivolous to be enjoyed for two-and-a-half hours. While the portion immediately after interval is entertaining and enjoyable, the first half of the film and the latter part of the second half are quite boring and, at times, even get irritating. In particular, the puppy scene and the action scene between the college ruffians and the Sardarjis are two highlights. The base of the story — the rich girl's challenge to the two boys — is very weak and, therefore, what follows doesn't create much of an impact. Dialogues are good at places but the same cannot be said of the screenplay (Akash Khurana and Robin Bhatt) which seems to have been written without much thought having been given to the overall impact.
Chandrachur Singh does well but he needs to open up more and get into the skin of the character. Arshad Warsi endears himself to the audience with a free and lively performance. His dances are eye-pleasing. Anjala Zaveri is fair. Mayuri Kango is okay. Both the girls need to improve in dancing. Shakti Kapoor (loud at places) and Gulshan Grover (in a special appearance) are so-so. Rakesh Bedi is effective in a double role. Shadab Khan does a fair job. Reema is natural. Himani Shivpuri is wasted. Amrit Pal, Shama Deshpande, Ankush Mohit and the rest lend good support.
Rajesh Singh makes a reasonable debut in direction but he should have selected a more substantive drama for his launch vehicle. Even otherwise, he needs to understand the importance of a good script-sense and able screenplay writing for a director. Vishal's music is good but a comic love drama such as this, with not-too-exciting happenings, needed hit music. 'Tum mere ho', 'Jhoothi moothi' and 'Gungunati hui' are quite good songs. 'Hai hai hai hai' is well choreographed but the other songs don't really stand out as far as their picturisations go. Sham Kaushal's action is quite good. Camerawork is fair. Production values are alright.
On the whole, Betaabi has some chance in some major cities only, where light dramas are liked. Barring Bombay (where it may sail safe), its business prospects in most of the other circuits are bleak.
Released on 5-9-'97 at Dreamland, Liberty (matinee) and 17 other cinemas of Bombay thru Devgan's Entertainment. Publicity: very good. Opening: fair. …….Also released all over. Opening was dull in Delhi-U.P. and Rajasthan and very poor in C.P. and C.I.
JODIDAR
Kudasaa's Jodidar is the story of an elephant which avenges its master's murder. The elephant, after the death of its master, is awarded to a local fighter. The new owner is agitated when he learns that his elephant has murdered two persons but when he gets to know that they were the murderers of the elephant's earlier boss, he supports it in its mission to kill the third and last murderer.
The story is routine, and the screenplay is no better. About the only entertaining parts are the work of the elephant and some comedy scenes. A part of the comedy is totally unrelated with the main story. Dialogues are dull.
Mithun Chakraborty should do something about his looks, makeup and costumes. His performance in the film is average. Mantra is no heroine material and is also average as an actress. Aditya Pancholi (special appearance) is okay. Prem Chopra, Johny Lever (friendly appearance) and Paintal raise occasional laughter. Punit Issar, Tej Sapru and Vishwajeet Pradhan pass muster as the three villains. Anjana Mumtaz fills the bill. The elephant has been well exploited but not the dog and the monkey.
T.L.V. Prasad's direction is ordinary. An insight into the thinking of the director can be gauged by a scene in which a group of rapists start punching and kicking (!) an elephant when it comes to the rescue of the girl about to be raped. He could have created sentiments of the animals, but fails to do so. Music is a letdown. Camerawork and other technical aspects are ordinary. Production values are average. Action scenes should have been more thrilling.
On the whole, Jodidar has ordinary merits and its low price is its biggest advantage.
Released on 5-9-'97 at Super and 11 other cinemas of Bombay by Vimal Agarwal thru R.M. Ahuja & Co. Publicity: average. Opening: fair. …….Also released all over.
THE LOST WORLD: JURASSIC PARK
(Dubbed)
Paramount Films of India Ltd.'s The Lost World: Jurassic Park (UA), dubbed from the English film of the same name, is a sequel to Steven Spielberg's Jurassic Park. But the novelty of Jurassic Park is almost completely missing in the sequel. Many scenes are similar to those seen in the earlier film.
A lady paleontologist, whose mission is to study the extinct dinosaurs, goes to Isla Sarna island to investigate if any dinosaurs have survived the hurricane which hit the island. Her fiancé follows her, alongwith his team, to save her. There is another group in the island whose main aim is to trap dinosaurs for keeping them in the zoo for commercial gains. However, the dinosaurs make their lives hell and kill many of them.
Director Steven Spielberg has mostly repeated what he offered in Jurassic Park. Of course, a few scenes are novel and send chills down the spine. The recreation of the dinosaurs is splendid but not exciting enough. Dialogues are too verbose, and dubbing is not upto the mark. Background score is very effective. Photography is extraordinary.
Julianne Moore as Sarah, Jeff Goldblum as Ian, and Pete Postlethwaite as Roland have done well.
On the whole, The Lost World: Jurassic Park will appeal to and thrill more those who've not seen Jurassic Park but since that was a runaway hit, the sequel will not match its business. All the same, it should bring in returns to its distributors, but in some circuits only.
Released on 5-9-'97 at Jamuna Palace and 15 other cinemas of Bombay thru Param-Anand Pictures. Publicity: extraordinary. Opening: so-so (affected due to excessive number of prints). …….Also released all over. Opening was very good in Delhi-U.P. and encouraging in C.P.C.I.
'SARDARI BEGUM' TAX-FREE IN MAHARASHTRA
Plus Films' Sardari Begum has been granted perpetual exemption from payment of entertainment tax in Maharashtra.
ANJAAN DEAD
Veteran lyricist Anjaan passed away on 3rd September at Nanavati Hospital in Bombay due to a heart attack. He had not been keeping well since almost two years. Besides other complications, he was also suffering from paralysis.
Lalji Pandey alias Anjaan had to struggle for many years before he could make a mark as a song writer. Premnath's Prince Of Golconda was among his first few films but the real recognition came much later with Sippy Films' Bandhan. Soon, Anjaan came to be associated with Kalyanji Anandji, and he wrote the songs of a number of films, music of which was scored by Kalyanji Anandji. He was also the lyricist of many of Prakash Mehra's films. One of Anjaan's most popular songs was the catchy Khaike paan Banaras wala from Don. Among the other films for which he penned the lyrics were Muqaddar Ka Sikander, Godaan, Disco Dancer, Namak Halaal, Dalaal, Baharen Phir Bhi Aayegi etc.
Anjaan is survived by, among others, his lyricist-son, Sameer, and publicist-brother, Gopal Pandey.
AHMEDABAD DRIVE-IN ENTERS 25TH YEAR
Sunset Drive-In cinema of Ahmedabad entered its silver jubilee year today (6th September). Paramount has tied up with Pepsi and Mirinda, whereby free cold drinks will be distributed today to patrons at Drive-In in the show of Paramount's The Lost World: Jurassic Park (Hindi).
BATTLE BEGINS
Following the dishonour of the cheque of Bombay distributors ABC Pictures Pvt. Ltd. to Jai Girnar Films in payment of the refund of the under-production monies paid to the former by the latter for the Gujarat sub-distribution rights of Prithvi, following the IMPDA's award that the monies be returned, ABC Pictures Pvt. Ltd. have been declared as defaulters by the IMPDA.
According to Manoj and Sanjay Chaturvedi, directors in ABC Pictures Pvt. Ltd., the cheque was dishonoured intentionally.
"We are not happy with the decision of the IMPDA as we feel, it is totally wrong and partial and so we've decided to go against the order in the court. That is why we stopped payment of the cheque."
May the party with honest intentions win!
'VIRASAT' 100 DAYS
Mushir-Riaz's Virasat completes its 100 days today (6th September). Directed by Priyadarshan, the film stars Anil Kapoor, Tabu, Pooja Batra, Milind Gunaji, Govind Namdeo, Tiku Talsania, Neeraj Vora, Satyen Kappu, Dilip Dhawan, Sulbha Deshpande, Anjana, Reena, Dev Sharma and Amrish Puri. Dialogues by Vinay Shukla, music by Anu Malik, lyrics by Javed Akhtar, art by Sabu Cyril, dances by Farah Khan, and cinematography by Ravi K. Chandran are the other major credits.
RUMOURS GALORE
The volatile situation in the film industry following the murder of Gulshan Kumar and threatening calls to industry folks from the underworld have given rumour-mongers a field day.
Rumours are born by the minute, and some evening papers of Bombay, which specialise in sensationalism, are adding to them. All through the week, there were rumours of different artistes being arrested or shot dead. Why, two vernacular eveningers even 'made' Bombay distributor and producer Manoj Chaturvedi a financier of Dawood Ibrahim gang and reported that he had been arrested in Delhi on 4th September. Of course, Manoj was –and is — in Bombay, attending to his work.
RAVEENA TANDON HOSPITALISED
Raveena Tandon was admitted to Nanavati Hospital, Bombay, on 2nd September for meningitis. She is recovering and should be discharged in a couple of days. She will have to take rest for at least ten days.
'PARDES' TAX-FREE IN MAHARASHTRA
Subhash Ghai's Pardes has been granted tax exemption in Maharashtra for a period of one year with effect from 1st September.
GULSHAN RAI RE-ELECTED IFEA PRESIDENT
Gulshan Rai was re-elected president of the Indian Film Exporters Association for 1997-98 at the first meeting of the newly elected council of management, held on 3rd September in Bombay. Sunder F. Rai was elected vice president, and Chandrakant Mehta, honorary treasurer. Manohar Bhatia was elected honorary secretary.
Earlier, on 30th August, at the 33rd annual general meeting of the IFEA, the following (besides the aforesaid) were declared elected to the council of management: Rajinder Singh Hora, Gordhan Chhabria, S.C. Mittal, J.K. Mittal, Shiv Laungani, Hirachand Dand, Amar Asrani and Mohan Chhabria.
Four persons viz. Amit Khanna, Arjan Lulla, Malati Tambay-Vaidya and S. Narayanan were co-opted to the council of management.
Nadeem Named Prime Suspect In Gulshan Kumar Murder Case
Passport Revoked, Arrest Warrant Issued
Music director Nadeem has been named the prime suspect in the Gulshan Kumar murder case, by the Bombay police. According to the police, the music director arranged the killing of the music magnate for a price because he felt, Gulshan Kumar was harming his career.
Claiming that they have clinching evidence to support their allegation against Nadeem, the police have said that he had hired the services of underworld don Dawood Ibrahim's aide, Abu Salem, to carry out the murder. The music czar was killed in broad daylight on 12th August outside a temple in Versova, Bombay, where he had gone to offer prayers. The U.P. police, which had provided protection to the slain music baron, has also claimed that Gulshan Kumar had a fear that Nadeem would cause him harm as he had threatened to do so.
Nadeem was in London when the police announced his name as the main suspect, at a hurriedly called press conference on 1st September in Bombay. He was to have returned to India on 4th but, according to the music director himself, he would be able to come only next week as his wife has had a miscarriage and is quite serious. The passport of Nadeem has been revoked and an arrest warrant, issued in his name. Interpol-India on 3rd September sent an urgent message to its counterpart in London, asking the authorities there to detain Nadeem.
In the meantime, the Bombay police investigating the Gulshan Kumar murder case, are interrogating a number of film people in this connection. Overseas, Bombay, Delhi-U.P. and Rajasthan distributor and producer Bobby Anand was picked up for interrogation last week and is in police custody. A whole lot of artistes, producers etc. including Shah Rukh Khan, Aditya Pancholi, Chunkey Panday and Boney Kapoor have been questioned. Many others are likely to also be interrogated.
Even while the Gulshan Kumar murder case has not been solved, and the industry has not yet recovered from the shock of the extortion bids and attempts on the lives of Subhash Ghai and Rajiv Rai, another actor, Dilip Kumar, has received threats, allegedly from the Arun Gawli gang of Bombay. Security has been beefed up for the thespian and his family.
The industry is in a state of unprecedented panic. Morning papers are read and news on the various television channels, heard with a lurking fear of who would be the next name from the industry.
MUSIC INFORMATION
Amitabh Bachchan Releases Music Of Dev Anand's 'Main Solah Baras Ki'
Amitabh Bachchan formally released the music of Dev Anand's Main Solah Baras Ki on 30th August at Holiday Inn. Pen Audio, the company marketing the cassettes, held an elaborate function to mark the audio release. A dance by four dancers, on the film's song, preceded the release.
Main Solah Baras Ki has music by Rajesh Roshan and lyrics by Amit Khanna.
IMPDA Elections
No Entry For Outsiders In Executive Committee: Is That A Request Or An Order?
How much can one be in love with the chair? The ensuing elections to the executive committee of the Indian Motion Picture Distributors' Association (IMPDA) show how much.
Dilip Dhanwani, Sanjay Chaturvedi, Pradeep Singh, Manoj Khivsara and Tekchand are five distributors who aren't presently members of the executive committee of the IMPDA but who decided to contest elections to the committee this year. All the five of them, therefore, filed their nomination papers with the Association for the elections on 18th September. But even before the last date for withdrawal of nominations (15th September), a group of five sitting members — U.A. Thadani, D.Y. Pattani, Vinay Choksey, Ayub Selia and Guru Shenoy — visited the offices of the five new contenders and 'requested' them to withdraw from the fray. "What is the sense of wasting the money of the Association in unnecessary elections?", they asked each of the five persons and concluded their drama with, "So, why don't you withdraw your nomination so that there is no need for elections?"
The move of the five sitting members was shocking but what was more shocking was that out of the five persons approached, four obliged and signed their withdrawal letters. Of course, the reason for it was unmentioned pressure. U.A. Thadani, D.Y. Pattani and Vinay Choksey are all influential exhibitors whose cinemas are in demand. Had they not complied with their 'request', the four feared, they would be troubled when they would need the cinemas controlled by the three. Sanjay Chaturvedi told Information, "They came in such a big group and almost forced me to sign. I was keen to contest elections this time, especially after I was let down by the executive committee so badly in the Prithvi case. The IMPDA has become a mere tool in the hands of a few committee members and I wish I could contest the elections this time. Today, IMPDA is nothing but dirty politics." Dilip Dhanwani also expressed unhappiness over what had happened. "This is not done," he said, referring to the way in which he was asked to withdraw from the contest. Pradeep Singh, at first hesitant to reveal his displeasure, minced no words after he was coaxed into speaking. "What do they mean by asking us to withdraw from the fray?", he questioned. "IMPDA is the monopoly of a few and I wanted to break the monopoly. But there is something as respect for my elders. That is why I bowed down to their request. After all, we are all in one building, so why fight? But if elections are held, I'd love to contest them." Manoj Khivsara was not available for comment. Tekchand did not heed the request of the sitting members and he will be contesting the elections.
Suresh Vora, also a member of the IMPDA, lamented that such established persons as U.A. Thadani and D.Y. Pattani should go and beg of newcomers to withdraw. "Are they scared of losing the elections? But that does not give them a licence to bully others to withdraw," thundered Suresh Vora.
Two pertinent points come up here. The first deals with the question of money. Election is a democratic process and to say that it entails wasteful expenditure is ridiculous, especially when the IMPDA is not exactly loved for its functioning by one and all. Secondly, if the sitting members were so keen on saving the Association's funds, why didn't four of them withdraw from the contest to make way for the four new ones? When contacted, Vinay Choksey and Guru Shenoy denied that they had exerted any sort of direct or indirect pressure on the new contestants.
Sitting member Gulshan Rai will not be contesting this time for health reasons, and Sharad Doshi may not contest as he is out of India. In their place, the committee is desirous of taking in Ramesh Sippy and Tolu Bajaj, both of whom have also filed their nominations.
In the meantime, it is understood that the withdrawals have not yet been filed with the Association. Of course, there are nine more days to go before the withdrawals can be filed but should they be filed at all? Why not let there be free and fair polls? It will at least bring some excitement in the otherwise dull industry.
– Gautam Mutha

3-E
Education-Entertainment-Enlightenment
Selling Nightmares, Not Dreams
Calamity has befallen the film industry. No film released in August, expect Pardes to an extent, is doing well at the box-office. Even Pardes isn't a hit or anywhere near it. As if the failure of films wasn't enough, the underworld threats to film people, Gulshan Kumar's murder in broad daylight, and the news that an industry person — Nadeem — had himself got Gulshan Kumar murdered have all created an unprecedented situation and fear-filled atmosphere in the industry. Nobody is talking business these days. Where films and figures should be the topic of discussion, trade circles are only talking about the crisis in the industry due to the current state of affairs. A couple of producers have put off plans to shoot their films abroad and are instead shooting in India at places like Khandala. Filmmakers are supposed to sell dreams. But themselves haunted by nightmares, how can they sell dreams? Nightmares, yes!
Record Initial Order
The initial order for audio cassettes of Dil To Pagal Hai is a whopping 15 lakh. This must be an all-time record. Yash Chopra has reason to celebrate then.
Incidentally, Chopra has not sold his film to distributors at the ratio of 3 crore, as mentioned in a news item in our issue last week. Although distributors would be more than willing to pay 3 after Chopra's earlier Dilwale Dulhania Le Jayenge, he has opted to sell the film at a much more reasonable price. Creditable, isn't that?
Hopes For Bright Diwali
Diwali this year may be one of the best in recent times. Three films are definitely due on Diwali and all the three give hopes of hitting the bull's eye. Although nobody has seen anything of Dil To Pagal Hai, one expects a lot from it for the simple reason that it is a Yash Chopra film. Its title song is already on its way to becoming a craze. Trials of Ishq and Ghulam-E-Musthafa have been held and trial reports of both are extremely good. Let's keep our fingers crossed. For, if the three films really do click, it will be a repetition of the 1974 Diwali when three films were released and all three had proved to be hits. The hits: Roti Kapada Aur Makaan, Roti and Bidaai.
Sought-After Cinema
Metro cinema seems to be the most sought-after in Ujjain. Distributors vie with each other to release their films at this cinema which boasts of fair dealing and has a good sound system, besides being well-furnished. The cinema owner — Gupta-ji or Dada as he is lovingly called — is such a simpleton that it is a pleasure to deal with him. For Diwali, Dil To Pagal Hai and Ishq have both been booked at Metro. The C.I. distributors of the two films — Bharti Film Distributors and Shri Baleshwar Films — are, of course, upset with the cinema for booking both the films. It is now to be seen which film is censored first as that will get preference at the cinema, as per CCCA rules.
Reliable Youngsters
With every new exciting release, the distributor and exhibitors concerned are flooded with requests for tickets of the films, often from film people themselves. The most reliable names in Naaz building for arranging tickets are said to be Rajesh Thadani and Shravan Shroff. These young boys (sons of exhibitor-distributor U.A. Thadani and distributor Shyam Shroff respectively) invariably keep their promise for tickets and even go out of their way to arrange for the same. As against these two, there are some distribution offices who treat requests for tickets from other film people so carelessly that one is left high and dry. Perhaps, they could take a cue from Rajesh and Shravan.