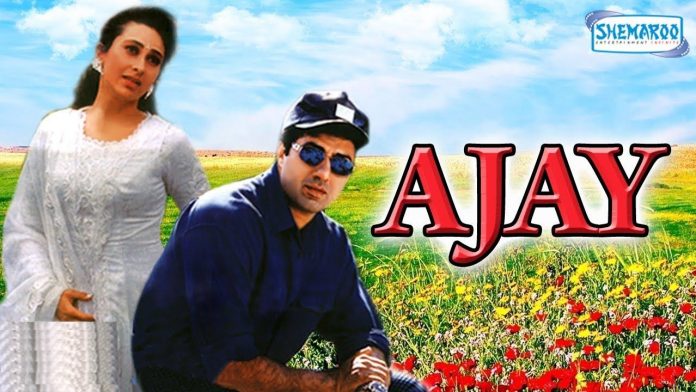 AJAY
Shree Krishna International's Ajay (UA) is a routine story of a thakur family's daughter falling in love with a middle-class lad. How the two lovers have to surmount the obstacles that come their way is narrated in the second half which also has some family drama. The first half is devoted to taming of the proud heroine by the hero and getting her to reciprocate his love. There is no attempt to show anything new in the film.
If the story is oft-repeated and of the kind which appealed in the eighties, the screenplay is unimaginative. Script writers Rajiv Kaul and Praful Parekh seem to have taken the audience too much for granted and they have dished out a fare which is an insult to even an average viewer's intelligence. No attention has been paid to even continuity. In a film of the canvas as big as this, such poor scripting is unpardonable. Dialogues, however, are really good and even clapworthy at places.
Sunny Doel does very well but he is definitely not the perfect choice for a romantic hero's role. Although there is plenty of action in the climax, the pre-interval portion shows him in an out-and-out romantic role, which goes against his rough-and-tough image. His dance in the 'Chhammak Chhallo' song, especially his pelvic thrusts, is a highlight. Karisma Kapoor looks pretty and also performs with maturity, sincerity and confidence. Her absence in the climax is conspicuous. Suresh Oberoi does ably in a lengthy role. Kiran Kumar lends good support. Reena Roy does a fair job but her sermonising is irritating at times. Sadashiv Amarapurkar and Laxmikant Berde's comedy entertains in the initial reels but as the film progresses, the comedy loses punch mainly because it has no relation with the main story and is also childish. Mohnish Bahl is effective. Farida Jalal, Devyani, Sharat Sexena, Praveen Kumar and the others provide reasonably good support.
Suneel Darshan does not make an impressive debut as director. Besides having a poor script sense, his framing of the shots is faulty as he relies too heavily on close-ups and avoids long-shots and mid-shots even when they are absolutely necessary. For example, in a chase scene, he does not get the one chasing and the one being chased in the same frame so that the viewer is not aware of the distance between the two. Likewise, in action scenes (except in the climax), the impact is reduced considerably because of tight framing. Music is fair. The 'Chhammak Chhallo' number is the best, followed by the title song. Picturisations of both are enjoyable for Sunny and Karisma's dances. The 'Ruk Majnu' song needs to be deleted. Action scenes are quite good. The action-packed climax, however, is unduly lengthy and can be safely trimmed. The film's ending is abrupt. Camerawork is not upto the mark, being dull at places. Foreign locations are good. Production values are of a good standard.
On the whole, heavily priced Ajay lacks in merits and will have to count on the lack of oppositions in the coming weeks (due to cinema closure in Maharashtra from 1-1-'97) to augment its business. Collections in North India should be better with Punjab heading the list.
Released on 25-12-'96 at Novelty and 10 more cinemas and on 27-12-'96 at 11 other cinemas of Bombay thru ABC Pictures Pvt. Ltd. Publicity: very good (but not very appropriate). Opening: good. …….Also released all over. Opening at several places was below the mark due to inappropriate publicity (musical rather than action-oriented publicity).
Ent. Tax Relief To Be Discontinued
Cinemas In Maharashtra To Down Shutters From New Year's Day
The clarion call has been sounded. Cinemas in the state of Maharashtra will down shutters from 1st January, 1997, in protest against the categorical refusal of the government to continue the reduced entertainment tax rate (of 50%) beyond 31st December, 1996.
The government in its cabinet meeting on 24th December took up the matter of entertainment tax and decided to discontinue the benefit of the reduced tax structure from the new year. This decision was conveyed to the industry the same day. On its part, the distribution and exhibition sectors of Maharashtra met on 26th December and decided to close down all cinemas in the state in protest.
The IMPDA has issued the following directives to its members:
(i) No film print (old and new) shall be supplied to any cinemas, including touring talkies, in the state of Maharashtra for exhibition on and from Wednesday, the 1st of January, 1997.
(ii) All film prints already supplied to exhibitors in Maharashtra shall be retrieved on completion of exhibition in the last show on 31st December, 1996.
It has been decided by the IMPDA that members violating any of the aforesaid two directives shall be liable to a penalty of Rs. 1 lakh.
In the meantime, the Film Makers Combine, in a communication to the government, asked it to extend the benefit of reduced tax and suggested that an enhanced rate of tax be introduced in the case of admission rates beyond a certain limit.
As the government has not come up with an alternative tax structure, it would, by implication, mean that the old rate of 100% tax, as prevalent before September, '94, would prevail after 31st December, '96. Since there is no dispute over the tax-free service charge of Re. 1 per admission ticket, that will continue in the new year too.
An action committee consisting of the presidents and members of the Cinematograph Exhibitors' Association of India (CEAI), Theatre Owners' Association (TOA), Central Circuit Cine Association (CCCA), Indian Motion Picture Distributors' Association (IMPDA) and KRP Ltd. has been formed to pilot the closure of cinemas. The action committee has been duly authorised to negotiate with the government of Maharashtra as and when invited by it in the matter.
RELEASE SCHEDULES UPSET
Since Bombay is the nerve-centre of the film industry and is also a major circuit, the cinema closure in Maharashtra from 1st January, 1997 has thrown all the forthcoming release schedules out of gear. Judwaa, which was to have been released on 20th December, may now come on Idd day, of course, only if the Maharashtra cinema closure is called off by then. The film's Bombay distributor, Inder Raj Kapoor, has finalised Liberty as the main cinema for it in Bombay. Aar Ya Paar was due on 10th January, subject to its censorship. Obviously now, its new release date hangs in balance. Besides these two, there weren't any other major releases scheduled for January.
Aastha will hit the screens on 3rd January, notwithstanding the closure. However, it will be released in all circuits except Bombay.
As one does not know when the cinemas will reopen, it is difficult to say now, which films will be released when. Of course, producers of some small films might take this opportunity of lack of big oppositions and release their films despite the cinema closure in Maharashtra.
Some other films have also fixed their release date as 7th February (Idd). Among them are Yeshwant (main cinemas in Bombay: Dreamland and New Excelsior), Hero No. 1 (Novelty) and Auzaar (Maratha Mandir). Of Hero No. 1 and Auzaar, only one will come on Idd. Lahoo Ke Do Rang, Judaai, Himalay Putra and Salma Pe Dil Aagaya are the other releases fixed for Idd.
MILAN, BOMBAY CLOSED
Even as cinemas in Maharashtra are getting ready to down shutters from 1st January, 1997, Milan cinema at Santacruz, Bombay, closed down from 27th December. According to a spokesman of the cinema, it will remain closed for a long time for renovation.
HC ASKS ERRING CINEMA TO PAY FINE
A division bench of the Andhra Pradesh high court on 26th December directed Ramakrishna 70mm cinema, Hyderabad, to pay a fine of Rs. 1.50 lakh to the legal service committee and permitted it to reopen the cinema from 17th January.
The bench, consisting of Chief Justice Prabha Shanker Misra and Justice V. Rajagopala Reddy, accepted the apology tendered by the cinema management for having included interpolated scenes in the films Dark Dancer and Secret Games 3 screened at the cinema. The court said that it was a clear case of the cinema licence going beyond the censor certificate in exhibiting films in the cinema with interpolations of scenes which were hard or near-hard pornography. It criticised the lapse in the system and said, it was responsible for clippings finding their way into censored films being screened in cinemas. It said, the commissioner of police would be failing in his duty if he did not henceforth ensure stoppage of such a practice.
K.C. SURANA'S GRAND-DAUGHTER TO WED
Marriage of Manisha, grand-daughter of K.C. Surana and daughter of Devendra Kumar Surana of Raj Mandir cinema, Jaipur, with Ravi will be solemnised on 29th December in Jaipur. A reception to celebrate the wedding will be held the same day at Rajmahal Palace Hotel. A luncheon party will be held on 30th at Surana Enclave.
RAJENDRA BHATIA NO MORE
Well-known producer-director Rajendra Bhatia passed away on 25th December in Bombay at Ramakrishna Mission Hospital due to a heart attack. He was 79.
Rajendra Bhatia started his film career as an assistant to Mohan Segal in New Delhi. He then started his own production banner, Kiran Productions, under which he produced films like Anpadh, Neela Akash, Kanyadan, Pavitra Papi, Paraya Dhan and Jungle Mein Mangal.
He also made television films for Doordarshan, among which was Hum Hindustani, directed by Hrishikesh Mukherjee.
Bhatia is survived by his wife, three sons and two daughters.
'Bade Miyan Chote Miyan': Entertaining Muhurt Of Exciting Film
If the announcement of Bade Miyan Chote Miyan, starring Amitabh Bachchan and Govinda and directed by David Dhawan, sounded the most exciting announcement of recent times, its muhurt at Hotel Centaur on 22nd December was easily the most entertaining.
The two miyans faced the camera for a fairly long muhurt shot in which they discussed what they should do rather than just while away their time doing nothing. Amitabh first informed Govinda that he was planning to become a neta. Upon which Govinda warned him to remain away from netagiri because a neta sooner or later would be involved in some scam, followed by enquiries, courts, and he would ultimately land up in jail. Seeing sense in Govinda's note of caution, Amitabh changed his mind and decided to become an abhineta. A brief tiff ensued between the two, with each one clamouring to become the abhineta, asking the other to be his secretary. Finally, when it was resolved that bade miyan Amitabh should become the abhineta, Govinda asked him what he would do after that. Amitabh replied that he would make money and more money and still more money. But what would Amitabh do finally? Pat came the reply from Amitabh that ultimately, after earning plenty of money, he would sleep in peace. Hearing which, Govinda shot back, "But that's what we are doing even now — sleeping. So why do anything else?" And back the two decided to go, from where they had begun — on the khatiya, to sleep!
There was a big round of applause after the muhurt shot was canned. Even whilst the shot was being picturised, there were peals of laughter amongst the audience, who seemed to be enjoying the references to scams, court battles, etc. Why, there was also a subtle reference to the recent income-tax raid on the film's director, David Dhawan. The film, being produced by Sheetal Jain in association with Vashu Bhagnani, is written by Rami Jafri. Viju Shah will score its music. Lyrics by Sameer, cinematography by K.S. Prakash Rao, choreography by B.H. Tharun Kumar, editing by A. Muthu, and art direction by R. Verman are the other major credits. Executive producer: Kaleem Khan. Epic Enterprises presents the film.
DO YOU KNOW?
* In 1996, the cinemas of Ujjain screened the following number of films: Metro 12, Nirmal Sagar 19, Prakash 20, Trimurti 24, Narendra 32, Kamal 40, Bhatwal 44, Swarg 50, Ashok 53, Sunderam 53, and Mohan 54.
* Dubbed Telugu films dominated the scene in Andhra in 1996. Of the 130 Telugu films released during the year, 68 were dubbed!
* A total of 58 cinemas in East Godavary district were damaged in the frequent cyclones in Andhra in 1996. Of these, losses to 40 cinemas were major.
YOU ASKED IT
How much is the loss of revenue due to entertainment tax expected to be to the Maharashtra government when cinemas in the state down shutters from the new year's day?
– Approximately Rs. 30 to 35 lakh per day or over Rs. 2 crore in a week.
What is the ratio of Bade Miyan Chote Miyan?
– Whatever the ratio, distributors of almost all the circuits are falling over one another to bag its distribution rights. It is likely to be sold for 3 in major circuits and a bit more in smaller circuits.
CENSOR NEWS
Pooja Bhatt Productions' Tamanna was given C.C. No. CIL/3/40/96 (A) dt. 24-12-'96; length 3522.88 metres in 15 reels (no cut).
Ketan Mehta Films P. Ltd.'s Aar Ya Paar was seen by the revising committee on 26th.
Ayesha Films' Mahaanta (length 5627.14 metres in 21 reels) was applied on 24th.
3-E
Education-Entertainment-Enlightenment
Black New Year
There had been a cinema closure in Maharashtra exactly 10 years ago, in October 1986. The industry had in that year celebrated what it termed a 'Black Diwali'. Now, ten years later, the industry is fighting over the same entertainment tax as in 1986. So in 1997, the industry will have a 'Black New Year'. Ten years ago, the industry succeeded in getting several of its demands sanctioned. What will happen this time, only Time will tell.
Tables Turned
Our music directors and sometimes even lyricists come in for criticism when they flick tunes/lyrics of Pakistani or English songs. But this time over, it has been the other way round. The 'Aafreen' song, written by Javed Akhtar, has been plagiarised in Pakistan. Except for a few changes in the words, the song, which is practically the same, is quite popular with the Pakistanis. Javed should feel flattered. After all, isn't imitation the best form of flattery? Incidentally, the music for the 'Aafreen' song in India has been composed by Pakistani composer and singer Ustad Nusrat Fateh Ali Khan.
Case For Abolition Of Entertainment Tax
And this one is meant to be taken in a lighter vein.
Industry leaders, in their talks with the Maharashtra government, can put forward the following arguments in support of their demand for maintaining 50% entertainment tax instead of an increase in the rate. Not just that, they can even ask for its complete abolition.
Argument 1: Since most of our films fail to entertain, why levy an entertainment tax on them at all?
Argument 2: Our films tax people's brains heavily because most of the times, the story is incomprehensible or hardly makes sense, so why should their (people's) pockets also be taxed?
Argument 3: Since the industry has many other taxing problems to solve, why should the government burden it with a high tax problem.
Argument 4: When industry people are allowed to evade income-tax (except when they are raided, that too, occasionally), they should also have the freedom to evade entertainment tax.