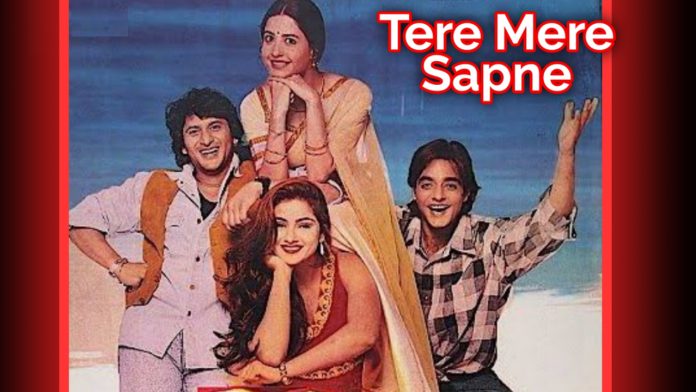 TERE MERE SAPNE
Amitabh Bachchan Corporation Limited's Tere Mere Sapne is a fun film but with a subject which is far from novel. Inspired from the English film, Trading Places, it deals with the story of two boys, one filthy rich, and the other, poor. The rich guy detests the problems which come with being a big shot, and yearns for the freedom of a commoner. On the other hand, the poor boy has just one desire in life — to be a rich man. The two meet by chance and decide to trade places. What follows are comic situations. There are also the romantic tracks of the two guys and a crime angle to the story. While the comedy portions may not be new, they are at least quite enjoyable. The film's first half especially is entertaining. But the romance and crime portions of the drama are not as clearly etched out. Editing is not smooth. Screenplay, especially after interval, is one of convenience.
Chandrachur Singh does a good job as the rich non-resident Indian who comes to India from London. He, however, is awkward in dancing. Arshad Warsi makes a commendable debut and plays to the gallery with a performance that is absolutely uninhibited. His dances are excellent. Simran only impresses in the 'Aankh mare O ladka aankh mare' song. Priya Gill is fair in her maiden film. K.D. Chandran, Sulbha Arya, Bal Dhuri and Pran lend adequate support. Yunus Perwaiz's track is unnecessary. A.K. Hangal, Suresh Malhotra, Pappu Polyester and the others are alright.
Joy Augustine's direction is good in parts, though not consistently so. The film holds more appeal for the city audience and especially the younger generation among them. Viju Shah's music is one of the biggest plus points of this new star-cast film. 'Aankh mare' song is already a hit. Its picturisation is superb. 'Kuchh mere dil ne kaha', the title song and 'Mera dil gaya' are also very well-tuned. Picturisation of 'Basti mein hungama ho gaya' is enjoyable. Action scenes are alright. Camerawork is reasonably good.
On the whole, Tere Mere Sapne has sectional appeal. It should do well in the cities on the strength of its music and Arshad's character. While business in Bombay would be the best, it would find the going tough in some other circuits.
Released on 6-12-'96 at Maratha Mandir and 13 other cinemas of Bombay by ABCL thru Shringar Films. Publicity: excellent. Opening: good. …….Also released all over. Opening was dull at many places.
LATEST POSITION
RAJA HINDUSTANI is still on a record-breaking spree. Its collections continue to amaze.
Rakshak has not been appreciated. It has, however, collected well in C.P. and Nizam. 1st week Bombay 33,83,841 (79.03%) from 12 cinemas (10 on F.H.); Ahmedabad 9,22,422 from 7 cinemas, Baroda 1,49,652, Jamnagar 49,256 from 2 cinemas (both in daily 1 show); Kolhapur 1,34,000, Solapur 2,01,978 from 3 cinemas (1 in matinee); Delhi 26,45,661 (62.87%) from 11 cinemas (1 unrecd., 3 on F.H.); Lucknow 1,73,236, Agra 1,90,970, Meerut 1,38,869, Bareilly 1,09,625 (61.23%), Gorakhpur 1,21,000 (66.11%); Calcutta 27,50,829 from 29 cinemas; Nagpur 4,31,241 from 4 cinemas, Akola 1,31,668, Raipur 1,38,823, Bhilai 1,03,850, Jalgaon 1,36,825, Chandrapur 1,17,516; Indore 2,19,180 (3 on F.H.), Bhopal 2,46,259 from 2 cinemas (1 unrecd.); Jaipur 5,92,605 from 4 cinemas; Hyderabad 29,43,931 from 15 cinemas, share 14,29,318.
Dastak is dull. 1st week Bombay 23,44,783 (59.22%) from 12 cinemas (4 on F.H.); Ahmedabad 1,53,786 from 2 cinemas; Solapur 1,01,053 from 2 cinemas (1 in mat.), Malegaon 67,478; Delhi 11,77,040 (57.59%) from 5 cinemas (2 unrecd.); Kanpur 1,04,442, Lucknow 97,295, Agra 87,852, Gorakhpur 43,000; Calcutta 7,10,152 (55.91%) from 7 cinemas (other cinemas unrecd.); Jabalpur 90,092, Akola 60,405, Jalgaon 56,200; Indore 88,728 (1 on F.H.), Bhopal 96,672; Jaipur 4,31,780 from 2 cinemas; Hyderabad 7,74,734 from 4 cinemas.
………..
Raja Hindustani is absolutely remarkable everywhere. Its upper limit is difficult to predict. 3rd week Bombay 37,95,217 (98.52%) from 10 cinemas (8 on F.H.); Ahmedabad 10,71,867 from 5 cinemas, 4th week Baroda 84%, Padra 1,29,759, 3rd week Vapi 3,51,268, total 11,20,036, Mehsana 2,36,124, Valsad 2,54,339, 1st week Bharuch (gross) 3,07,608, full, 4th week Jamnagar 1,44,791 from 2 cinemas (1 in mat.); Kolhapur 1,88,868, full, 3rd week Solapur 2,40,573 (100%) from 2 cinemas (1 in mat.), 2nd week Barsi 74,901 (1st 75,544, full), total 1,50,445, Karad 96,390; 3rd week Delhi 25,49,473 from 7 cinemas (1 unrecd.); Kanpur 1,65,213 from 2 cinemas (1 for 3 days only), Lucknow 2,22,403 (100%), Agra 1,75,893, 4th week Meerut 1,72,671, 3rd Bareilly 1,51,725 (81.51%), Hardwar 61,552, total 2,02,623; 1st week Rohtak 67,181; 3rd Calcutta 22,88,484 from 21 cinemas; Nagpur 6,28,773 from 4 cinemas, 1st Jabalpur (32 shows) 2,43,544, 3rd Akola 1,41,790 (100%), 4th week 3 days 60,767 (100%), 3rd Raipur 1,51,321, Bhilai (6 days) 1,29,882, Jalgaon 1,60,580 (100%), Wardha 93,715, 4th week 3 days 37,879, 3rd Chandrapur 1,65,318 (100%), total 5,23,393, 4th week Yavatmal (3 days) 38,874 (3rd 90,707); 3rd week Indore 2,30,000, Bhopal 3,64,873 from 2 cinemas; Jaipur 5,53,075 from 2 cinemas, Jodhpur (6 days) 2,67,745, Bikaner 1,70,362, Sriganganagar 1,25,000; Hyderabad 14,55,941 from 6 cinemas (1 in noon).
Ghatak 4th week Bombay 15,31,281 (56.74%) from 9 cinemas (6 on F.H.); Ahmedabad 1,07,500 (2 unrecd.), Patan (gross) 1,05,038, total 6,59,244, 1st week Kalol (gross) 70,979; Kopergaon (gross) 1,30,240, 4th week Kolhapur 1,32,000, Solapur 89,662 from 2 cinemas (1 in mat.), 2nd week Barsi (gross) 51,270; 4th week Delhi 2,69,545 from 3 cinemas (2 on F.H.); Kanpur 1,12,984 from 2 cinemas, Lucknow 1,17,641, Agra 92,784, Bareily 27,369 (15%), Gorakhpur 46,000, Hardwar 12,000; Calcutta 1,17,347; Nagpur 1,53,191 from 2 cinemas, Jabalpur (6 days) 62,246 (3rd 89,280), Akola 54,448, total 4,62,071, share 3,90,561, Raipur (6 days) 51,908, Jalgaon 51,459, Yavatmal 25,227 (3rd 38,246); Bhopal 1,02,768; Jaipur 1,57,884, Ajmer 63,435; Hyderabad 3,41,872 from 3 cinemas (1 in noon).
Maharashtra Film Industry Closure
Position Still Unclear
While the Maharashtra film industry is getting ready for a closure from 1st January '97 in protest against the government's refusal to reconsider its decision on entertainment tax in the state, it is simultaneously making all efforts to convince the government of the need to give the industry the benefit of reduced (50%) entertainment tax and thereby to avert the closure. The 50% entertainment tax benefit is effective only upto 31st December '96.
Although no meeting with ministers was held this week, the industry leaders met officials in the secretariat to present facts and figures and discuss the issue. A consensus solution is not ruled out, by these leaders.
If the state government and the film industry do arrive at an amicable settlement, there would be no need to shut the industry from the new year.
If the meantime, the Supreme Court earlier this week ruled that cable TV networks were also liable to pay entertainment tax, like cinemas. According to the Supreme Court, 40% entertainment tax would be reasonable for cable TV networks. When the Court considers 40% as reasonable, one wonders why the Maharashtra government is not heeding the industry's demand for continuing 50% entertainment tax on films, as at present.
ABDUL MAJEED'S DAUGHTER WEDS
The wedding reception of Heena Kausar, daughter of Abdul Majeed of Kohinoor Cinema, Jodhpur, with Mohd. Aslam was held on 30th November in Jodhpur.
WEDDING BELLS
Marriage of Shrikant, son of Jiwan Das Mohta of Shree Venkatesh Films, Calcutta, with Sarita will be solemnised today (7th December) in Calcutta at ITF Pavilion.
Salma Agha Turns Music Director
Playback singer Salma Agha has turned a music director and has been signed to score the music in Sanam Productions' Vidhan. To be directed by S.U. Saiyed for producer Iqbal S. Khan, the film's cast is not yet finalised.

JUHI NOT TO MARRY NOW
Juhi Chawla has clarified that her marriage to Jai Mehta has been postponed for the time being.
ANANDJI'S DAUGHTER TO WED
The reception to celebrate the wedding of Bhavna, daughter of music director Anandji (Kalyanji-Anandji), with Shakti will be held on 14th December at Hotel Horizon.
RAJSHRI LAUNCHES ITS WEBSITE
Rajshri has entered the world of cyberspace by launching its website at http:// www.rajshri.com on the Internet. The objective of the multimedia website is to target international distributors for the English and Spanish versions of its two blockbusters, Maine Pyar Kiya and Hum Aapke Hain Koun..!.
Besides Hum Aapke Hain Koun..! and Maine Pyar Kiya, the website will also feature a number of Rajshri's older evergreen movies. Every week, one Rajshri classic will be reviewed on the website. Audio and video clips, which can be downloaded by the viewer, will be the highlight of the site. Special sections have been created on Tarachand Barjatya, the founder of the Rajshri organisation, and Sooraj R. Barjatya, the director of Hum Aapke Hain Koun..! and Maine Pyar Kiya. Every week, viewers will be able to know a little more about Sooraj and his way of working, through the special section about him. State-of-the-art animation and graphics have been designed for the Rajshri website. A business section has also been created for enquiries about the worldwide theatrical distribution of the international versions of Hum Aapke Hain Koun..! and Maine Pyar Kiya.
The site will be updated daily by Ravi Database Consultants Pvt. Ltd., Bombay, which also manages the popular website, India World.
USHA KIRAN IS NEW SHERIFF OF BOMBAY
Marathi and Hindi film actress Usha Kiran will be the new sheriff of Bombay. She will take over from the present sheriff shortly.
YOU ASKED IT
When most of the Hollywood films dubbed in Hindi are flopping, why does this trend of dubbing them in Hindi not stop?
– When so many of our heroes give flops one after the other, in a row, do they stop acting?
What is the ratio of Mira Nair's Kama Sutra? Has it been censored?
– Mira Nair has sold the all-India rights of the film to producer R. Mohan. Its territorial rights are likely to be sold at fancy prices (much more than a crore). Mira has appealed to the Appellate Tribunal against the many cuts offered by the revising committee.
Are films released after Raja Hindustani not faring well because Raja… is such a runaway hit?
– RAJA HINDUSTANI may be making some difference to the businesses of other films but it is incorrect to conclude that it is only due to its runaway success that the latter releases are flopping. Obviously, the films themselves lack in something or the other.
PRABHAKAR REDDY NO MORE
Noted Telugu film actor Dr. M. Prabhakar Reddy expired in Hyderabad on 26th November following a heart attack. He was 61 and is survived by his wife and four daughters.
He joined films in 1961. He acted in 472 films as a character actor. He also produced 27 films and directed four. He was the story writer of 21 films. Among his well-known films as an actor are Teerpu, Nippulanti Manishi, Pachchani Samsaram Gandhi Puttina Desam, Gruhapravesam etc. His Pandanti Kapuram had bagged the National Award for the best regional film.
IN & OUT OF BOMBAY
Financier Bharat Shah is in London and will return on 11th December.
Mr. Bipin Shah of Hansa Pictures, Madras, will return to Madras today (7th December).
Mr. Dayanand Mandre of DRM Combines, Bangalore, is in town at Hotel Kemp's Corner (363-4646/4655/4666) from today (Dec. 7) to Dec. 11.
Mr. Pramod Agarwal of Modern Film Distributors, Indore, is in town (551-2309).

DO YOU KNOW?
* RAJA HINDUSTANI has created an all-time record by drawing all 56 shows in first 2 weeks full at Rupali, Panvel, Bombay. Gross collection: 5,42,522/-.
* RAJA HINDUSTANI has created a record by collecting 96,390/- in 2nd week at Royal, Karad.
* RAJA HINDUSTANI has created a new theatre record by collecting 1,20,855/- in 4th week at Jayshri, Jamnagar. Eighteen out of 21 shows were full. It has also created a theatre record by collecting 23,936/- in 4th week at Galaxy (matinee), Jamnagar. Total collections in 4 weeks from the 2 cinemas: 5,52,264/-.
* RAJA HINDUSTANI, which was released at Bharuch in 4th week, has created a city record by collecting 3,07,608/- in 1st week.
* RAJA HINDUSTANI has created a record by collecting a total of 7,55,572/- in 3 weeks at Gopi, Mehsana.
* RAJA HINDUSTANI has created yet another record at Shree, Vapi, by collecting a total of 11,20,036/- in first 3 weeks.
* RAJA HINDUSTANI has created a record by collecting 8,12,323/- in 3 weeks at Dreamland, Valsad.

* RAJA HINDUSTANI has created a record by yielding a share of over 3,50,000/- in 3 weeks from Citylight, Palanpur. The total share of DDLJ from Palanpur was 3,25,000/- and that of HAHK..! was 3,00,000/-. 3rd week's collection of RAJA HINDUSTANI is 2,05,000/-.
* RAJA HINDUSTANI has created a record by collecting 1,72,671/- in 4th week at Apsara, Meerut.
* RAJA HINDUSTANI has created a city record by collecting 8,85,538/- in 3 weeks at Smruti, Nagpur. Share: 6,50,000/-, theatre record. It has also created a theatre record by collecting nett of 5,02,693/- in 3 weeks at Jayshree, Nagpur. Share: 3,80,000/-, theatre record.
* RAJA HINDUSTANI has created a theatre record by collecting 83,440/- (100%) in 1st week at Rajvilas, Nagpur.
* RAJA HINDUSTANI has created another city record by collecting 100% (1,65,451/-) in 3rd week at Prabhat, Amravati. Total share in 3 weeks: 3,80,000/-.
* RAJA HINDUSTANI has created a record by collecting 100% in 3rd week at Vasant, Akola. 4th week 3 days: 60,767/-, record.
* RAJA HINDUSTANI has created a record in 3rd week also, by collecting 100% (1,65,318/-) at Abhay, Chandrapur.
* RAJA HINDUSTANI has created a new city record by collecting 1,51,321/- in 3rd week at Babulal, Raipur.
* RAJA HINDUSTANI has collected 100% in 3rd week too at Shyam, Yavatmal. It has surpassed the total share of JEET in 8 days, of GHATAK in 12 days, and of HINDUSTANI in 15 days.
* RAJA HINDUSTANI has created another city record by collecting 93,715/- in 3rd week at Durga, Wardha. Better than DDLJ. 4th week 3 days: 37,879/-.
* RAJA HINDUSTANI has created yet another Khandesh record by collecting 100% (1,60,580/-) in 3rd week at Natwar, Jalgaon.
* RAJA HINDUSTANI has created a city record by drawing all 33 shows full in 1st week at Jyoti, Jabalpur. Collection: 2,43,544/-.
* RAJA HINDUSTANI has created one more record at Sapna, Indore, by collecting 2,30,000/- in 3rd week.
* RAJA HINDUSTANI has created a theatre record by collecting 1,74,668/- in 3rd week at Radha, Bhopal. It has also created a record by collecting 1,90,205/- in 2nd week at Goonj Bahadur, Bhopal. Total of 2 cinemas: 3,64,873/-.
* RAJA HINDUSTANI has created theatre records in 3rd week at both the cinemas of Jaipur: at Prem Prakash by collecting 3,68,601/-, and at Lata (1st week) by collecting 1,76,784/-. Shares: 2,47,601/- and 1,31,784/- respectively.
* RAJA HINDUSTANI has created anther record by collecting 2,67,745/- in 3rd week (6 days) at Girdhar Mandir, Jodhpur.
* RAJA HINDUSTANI has created another record at Suraj, Bikaner, by collecting 1,70,362/- in 2nd week. Share: 1,18,362/-.
* RAJA HINDUSTANI has created another record by collecting 1,25,000/- in 3rd week at Azad, Sriganganagar. Share: 70,000/-.
ALL-TIME LOW!
* NFDC's NASEEM has created a new record in collections. It collected just 1,302/- in 1st week at Liberty (matinee), Bombay, against a capacity of 1,14,366/-. That makes it a collection of 1.14% of the capacity! If this doesn't shock you, here's more. The film has been extended in the 2nd week!! Does the NFDC think, the film's collections will pick up now? If NFDC does think so, it sure deserves the award for the most optimistic producer-distributor.
MIX MASALA
WHAT'S IN A NAME?
Has Mahendra Verma given up composing action scenes and instead taken up cinematography? The press handout of ABCL, which accompanies the music cassettes of Naam Kya Hai, would have one believe so. For, the name of the cinematographer in it has been printed as Mahendra Verma who is actually the film's action director. Of course, it's a printer's devil. But then, you might ask, cinematographer ka naam kya hai? Well, it's Najeeb Khan. And surely, ABCL mustn't say, "Naam mein kya hai?"
3E
Education-Entertainment-Enlightenment
Dharmesh's Dil Is In His 'Dhadkan'
There were all sorts of stories about Venus' Dhadkan, circulating in the Bombay trade earlier this week. It was reported that Dharmesh Darshan would not be directing it and that Rajat Rawail had come in in his place. But the latest news is that Dharmesh is back in Dhadkan. When contacted, the hotshot director of Raja Hindustani revealed, "Yes, it is true, I had decided to opt out of Dhadkan because I felt, I wouldn't be able to do justice to two films at a time. I am making both, Mela and Dhadkan, for Venus and we mutually decided that I would give up Dhadkan. But I had to reconsider my decision when the Jain brothers prevailed upon me to continue with Dhadkan too. Although I've shot Dhadkan for just 10 or 11 days, I've now decided to complete it." That must have definitely steadied the dhadkans of the hearts of Jain brothers because, after all, who wouldn't like their film to be directed by a super-hit name?
Colour Of Popular Music
Colourful, tuneful and eye-filling! That's how one would describe the songs of Saawan Kumar's Salma Pe Dil Aagaya. The maker's passion is all too evident in the song picturisations, a preview of four of which was held for the fourth estate earlier this week. The title song is already marching its way to a formidable place in the popularity charts. Another racy and hit number is the Zara dholki bajaao goriyon which should have feet tapping instantly. Phool main bhejoon has lilting melody. The film's music is scored by Aadesh Srivastava. Both the lead players, Ayub Khan and Saadhika, have danced ably. A word of praise here for their colourful costumes too. Since Salma Pe Dil Aagaya is a Muslim social, Saawan Kumar has decided to release it on Idd day. There could be no better date for the film's release, you bet. And a word of suggestion for the music company, Vatsa. Salma deserves to be publicised extensively.
Music Kya Hai!!
After Viju Shah's hit music in Tere Mere Sapne, Anand Milind, too, have come up with an equally racy and hit score for ABCL's second production venture, Naam Kya Hai. At least four songs, all penned by Majrooh Sultanpuri, are beautifully tuned and have already been on the popularity charts on radio and television. ABCL's music division, Big B, released the film's audio cassettes on 3rd December at Ambassador Hotel. The release was at the hands of Anand Milind themselves because, as Jaya Bachchan put it, "We decided to let the persons who've made the music, release its audio themselves, instead of having someone else do it, as is the norm." The release function, compered by Pradeep Shukla, was preceded by a screening of the film's songs. The title song, Yun to nazar baaz toone, Tere hothon pe and Laga nazariya ka dhaka, are all lovely songs and their picturisations (choreographer: Shankar) are also quite eye-filling. The other two songs may not be as popular but their picturisations are, nevertheless, good. Mukul Dev, it must be said, dances with grace. Naam Kya Hai introduces Sucheta Pawse opposite Mukul, and is directed by Sachin. Sachin's wife, Supriya, and Marathi film and television actor Mahesh Thakur also play key roles.
If Rajini Can't, Who Can?
Rajinikanth has started the shooting of his Tamil film, Arunachalam, in Mysore. Till the last minute, officials kept the superstar guessing about whether they would grant him permission to shoot his film which Rajinikanth is producing besides acting in it, in Mysore or not. The public works department officials first gave him permission to shoot in its spacious guest house, then withdrew the permission, and then again allowed him to go ahead with it. The withdrawal of the permission was a result of the Kannada lobby's pressure, it is believed. The permission was again granted because it later dawned on the officials that Rajini hails from Karnataka. What's more, the proceeds from Arunachalam are meant for artistes of regional languages who are in distress. Of the eight beneficiaries, Kannada film actress Pandaribai will be one, and she will receive Rs. 30 lakh.
'Roja': The Dubbing Story
Although the dubbed Hindi film, Roja, has come and gone, this incident was brought to our knowledge only recently and it goes to show how sometimes, artistes are blamed for something they haven't done and, in fact, may not even be aware of. When Bipin Shah bought the Hindi dubbing rights of Roja and approached Madhoo's father for getting her dialogues dubbed by her, the father quoted a price which was several times the remuneration the actress had received for working in the original Tamil version. After some haggling, Madhoo's dad brought down the figure but it was still on the higher side, and Bipinbhai finally offered to pay her Rs. 20,000 for it. But the father refused the offer, and Bipinbhai had no other alternative but to get the voice dubbed by a dubbing artiste. As luck would have it, Madhoo was in Madras for another shooting before the Hindi version of Roja was released. She happened to see the Hindi version and was rather unhappy that Bipin Shah had not approached her for the dubbing although she could speak Hindi. When Bipinbhai told her of his meeting with her father, Madhoo was taken aback as she didn't know about it. She requested Bipinbhai to re-dub her dialogues in her voice and even volunteered to do the dubbing for just Rs. 10,000. Bipinbhai obliged, Madhoo completed her dubbing in three days, and well… that's that. Had it not been for her meeting with Bipin Shah, the latter would have always held it against her for acting too pricey. Incidentally, Madhoo spent the entire Rs. 10,000 she earned from dubbing Roja, in Madras itself before returning to Bombay. She went shopping with Bipinbhai's wife and bought gifts for her near and dear ones.
Lifting Lyrics
So far, people blamed Anu Malik of pinching tunes. But lyricist Vishweshwar Sharma has complained to the Film Writers Association against Anu for having lifted the mukhda of his song. Vishweshwar Sharma had written one song in Namak, the music of which was scored by Anu Malik. During that time, he had narrated some seven or eight songs to Anu. The latter had liked one particular song and had even noted down its mukhda, telling Sharma that they could use it some time later. To Vishweshwar Sharma's shock, Anu used the song in another film without so much as even informing Sharma. The lyrics of the song have been credited to Rahat Indori. In fact, this is the most popular song of Ghatak — Koi jaaye to le aaye/Meri laakh duwayein paaye/Main toh piya ki gali mein/Jiya bhool aayee re. Had the song been credited to its rightful writer, it may have made a difference to him, too. For, considering that it became popular, Vishweshwar Sharma may have got more writing offers. One hopes, now that Sharma is talking about this pinching of lyrics, he does get more songs to write. For, it's too late for him to sing: Koi jaaye to le aaye/Meri laakh duwayein paaye/Main toh Anu ki gali mein/Mukhda bhool aaya re…