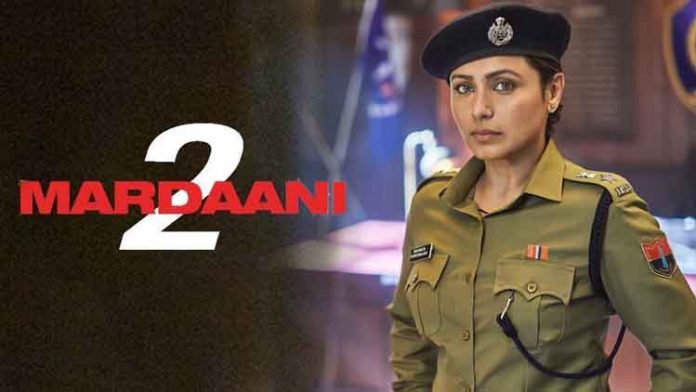 Yash Raj Films' Mardaani 2 (UA) is the second in the Mardaani franchise.
Police inspector Shivani Shivaji Roy (Rani Mukerji) is posted in Kota (Rajasthan). Her first case is a rape and murder case. Latika (Tejasvi Singh Ahlawat) has been brutally raped and murdered by Sunny (Vishal Jethwa), a psychotic rapist-murderer. Even as Shivani vows to bring the criminal to book, he commits more crimes, including rapes and murders.
One wrong action by Shivani brings disrepute to the police force, and so Shivani is transferred. But since it is Diwali, the new officer in her place will come after the festival. So, Shivani continues in her post as SP of Kota for two more days. How she tracks down Sunny in 48 hours is the crux of the drama.
Gopi Puthran has written an engaging story about rape, murder and a strong woman police officer who leaves no stone unturned to nab the criminal. Although the story per se is not novel and is also unidimensional, his screenplay is so interesting and fast-paced that it makes the entire drama exciting and engrossing. The insight into how Shivani's mind works makes for interesting viewing. There are some very heartwarming scenes like Shivani's television interview where she underlines the odds against which women have to make their mark. The climax scene swells the audience's chest with pride. The feeling of women's empowerment fills the hearts of the viewers with joy. The second half, especially, is very enjoyable. Gopi Puthran's dialogues are truly impactful.
Rani Mukerji gets into the skin of Shivani Shivaji Roy's character. She gives her cent per cent to the role, and comes out a winner. She is remarkably impressive right from the word 'go'. Vishal Jethwa makes a splendid big-screen debut as Sunny. He is menacing and his performance is brilliant. The attitude he exhibits proves his mastery over the craft. He is indeed a welcome addition to the list of wonderful actors. Sumit Nijhawan makes his presence felt in the role of Brij Shekhawat. K.C. Shankar lends good support as the IG. Prasanna Ketkar has his moments as Panditji. Sunny Hinduja leaves a mark as Beniwal. Richa Meena is natural as Sunanda. Rajesh Sharma does a fine job as the television show host. Tejasvi Singh Ahlawat (as Lalita), Aanchal Srivastava (as Tina), Virti Vaghani (as Priyanka), Prabhjeet Kaur (as Jyoti), Anurag Sharma (as journalist Kamal Parihar), Pariva Pranati (as Aabha Parihar), Sukesh Anand (as Rawat), Shruti Bapna (as Bharti), Vishal Sudarshanwar (as Vinay), Vikram Singh Chauhan (as Anup), Vishal Nath (as tea-stall boy Pravin), Kishor Bachhav (as the tea-stall owner), Jisshu Sengupta (as Vikram Roy), Meera (as Avneet Kaur), Leena Balodi (as Latika's mother), Tanmayee Umrikar (as Latika's friend), Ambrish Kumar Saxena (as Latika's father), Sunita Hooda (as Latika's principal), Girish Sharma (as Kunwar), Swapnil Sharma (as Birju), Agasthya Shanker (as minister Bhardwaj), master Arjun Vinod Pasan (as Lahanya), Pallavi Jadhao (as Lahanya's mother), Mahendra Shrivas (as Lahanya's father), Ravi Kothari (as SP Vijay), Noor Mohammed Solanki (as the temple watchman), baby Aanchal Sahu (as Brij Shekhawat's daughter), Manika Mehrotra (as Koyal), Amit Singh Thakur (as Koyal's father), Komal Chhabria (as Koyal's mother) and the rest lend very good support.
Gopi Puthran's direction is excellent. He adopts a narrative style which is in complete synch with his script. There are no songs in the film. John Stewart Eduri's background music is fantastic, serving to heighten the impact of the scenes. Jishnu Bhattacharjee's camerawork is superb. Vikram Dahiya's action and stunt scenes are remarkable and create the desired impact on the viewers. Sukant Panigrahy's production designing is appropriate. Monisha Baldawa's editing is razor-sharp.
On the whole, Mardaani 2 is a definite box-office winner. It will also win critical acclaim. It may have taken an average start but collections are bound to pick up because of strong word of mouth.
Released on 13-12-'19 at Regal (daily 3 shows) and other cinemas of Bombay by Yash Raj Film Distributors. Publicity: good. Opening: fair. …….Also released all over. Opening was average everywhere.