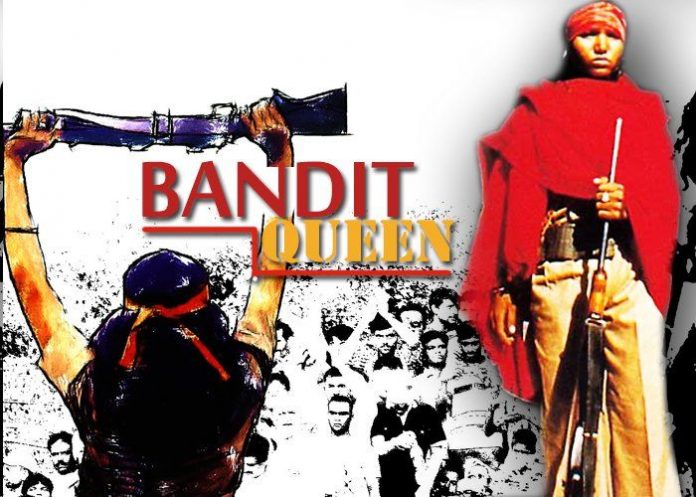 (From our issue dated 17th September, 1994)
HC STAYS 'BANDIT QUEEN' SCREENING
The Delhi high court stayed till Sep­tember 28 the public and private screening of Bandit Queen.The court also or­dered its producer, S.S. Bedi, to file in court within a week a cassette of the film's original version so that the Court can de­cide upon the suit filed by Phoolan Devi, seeking its ban.
DO YOU KNOW?
* So as to avoid shraadh release, Bom­bay distributors Shringar Films will release Venus' MAIN KHILADI TU ANARI on 18th September (Sunday) at Mahalaxmi, Nasik.
* Although MAAHIR is complete, the producers have added a song in the film. It was recorded in the voice of Aroon Bakshi and will be picturised on Govinda.
* HAHK..! has created history at Vij­ay, Nasik by collecting 1,30,723/- in 6th week. Total: 7,38,497/-.
* HAHK..! has created a theatre re­cord by collecting 69,555/- in 6th week (14 shows) at Galaxy, Rajkot.
* HAHK..! has created city records in Jamnagar and Bhavnagar by collecting 89,023/- at Galaxy, Jamnagar, and 95,752/- at Galaxy, Bhavnagar, both in 6th weeks.
* HAHK..! has created a record by drawing all 29 shows full in 1st week at Regent, Patna. Collection: 2,56,508/- (gross).
* HAHK..! has created a city record by collecting 1,12,974/- in 2nd week (6 days) at Prabha, Bareilly.
* HAHK..! has created theatre records by collecting 1,14,159/- in 1st week (27 shows) and 88,604/- in 2nd week (24 shows) at Maya, Gorakhpur.
* HAHK..! has created a city record by collecting 1,10,366/- in 6th week at Chitra, Amravati. Better than previous two weeks. Total for 6 weeks: 6,43,218/-. Distributor's share: 4,22,805/-. It has surpassed the total share of 23 weeks of MAINE PYAR KIYA. The sound quality at Chitra, Amravati, incidentally, has become a sensation.
* HAHK..! has created another theatre record by collecting 68,084/- in 6th week at Vasant, Akola, which is bet­ter than the collections of 2nd, 4th and 5th weeks. Total for 6 weeks: 3,85,101/-, record.
* HAHK..! has created a Chhattisgarh record by collecting 1,22,573/- in 2nd week at Raj, Raipur.
* HAHK..! has created records in all the 6 weeks at Smruti, Nagpur by collecting 1,67,948/- in 1st week, 1,73,100/- in 2nd, 1,63,810/- in 3rd, 1,40,988/- in 4th, 1,25,870/- in 5th, and 1,44,186/- in 6th week. 6 weeks' total: 9,15,902/-.
* HAHK..! has created a theatre re­cord by collecting 1,40,225/- in 5th week at Rambha, Bhopal.
MIX MASALA
ACCEPTABLE, BUT NOT 100%
Unlike director Shekhar Kapur, who has said that he will release Bandit Qu­een in India, only if it is passed by the CBFC without a single cut, its producer, S.S. Bedi, is willing to consider some of the drastic cuts ordered by the examining committee. He will appeal to the revising committee and the Tribunal and "in case, they also insist on the same deletions," Bedi might just turn around and say, "Goodbye country, tell me when you are ready to see reality."
SUSHMITA SEN'S FAVOURITES
Miss Universe Sushmita Sen is like any other teenager as far as Hindi films go. That is to say, she likes Hindi films. Her favourite actor is Sanjay Dutt. Nas­eeruddin Shah comes second. Best act­ress? Madhuri Dixit. Second best: Meenakshi Seshadri. Her favourite film is 1942 A Love Story.
PHOOLAN'S THREAT TO SUE TORONTO FILM FESTIVAL
Phoolan Devi has threatened to sue the Toronto film festival to prevent further showing of Shekhar Kapur's Bandit Queen, based on her life. Phoolan wants the film withdrawn from Toronto and has threatened in a letter to festival director Piers Handling that she would sue the festival and "everyone else that is party" to the screenings.
According to Shekhar Kapur, Phoolan was paid for the rights to the film and she had not expressed any reservations when they met her before shooting. Phoolan has denied having met the filmmakers or told anyone about her rape.
K. BHAGYARAJ HOSPITALISED
The shooting schedule of Nandu To­lani's Mr. Bechara in Kunnoor earlier this week had to be cancelled following the hospitalisation of its director, K. Bhagyaraj.
STAR TV TO LAUNCH MOVIE CHANNEL
STAR TV has announced the launch of its 24-hour movie channel, commencing from 1st October. The channel is already operative in Taiwan and the Phili­ppines, and will also be telecast for view­ers in India and West Asia. STAR has signed exclusive deals with 30 distributors. Twentieth Century Fox will supply a majority of titles. Six films will play twice daily, once with Hindi sub-titles and once with Arabic sub-titles.
IMPDA ELECTIONS: 24 IN FRAY FOR 11 SEATS
Thirteen fresh nominations have been received for the 55th IMPDA elections to be held on 21st September in Bombay. Including the 11 sitting members who are eligible for re-election, the total number of candidates in the fray is 24.
The sitting members are: Ayub Selia, Balkrishna Shroff, Devendra Shah, Gul­shan Rai, Haresh Bhatia, Kantilal Mehta, N.N. Sippy, Sharad Doshi, Suraj Prakash Seth, U.A.Thadani and Vijay Kondke.
The new nominations received are Abid Zafar, Dilip Dhanwani, Guru Shenoy, Jagdish Kumar Devnani, Jayant Acharya, Manoj Khivasara, N.B. Kamat, N.K. Bohra, S.M. Iqbal, Sanjay Chaturvedi, Shishir Kanakia, Suresh Vora and Tek­chand Anchal.
As no fresh nominations have been re­ceived in the associate class, there will be no elections for this class, and the three sitting members will be deemed elected unopposed.
It may be mentioned here that the ann­ual general meeting and elections will be held on 21st at Birla Kreeda Kendra, Chowpatty, Bombay.
H.D. MISTRY ELECTED WIMPSEA PRESIDENT
The annual general meeting of the Western India Motion Picture Sound En­gineers' Association was held on 11th September at Sudeep Studio Theatre. The following office-bearers and members of the executive committee were elected:-
H.D. Mistry (president), B.N. Tiwari (vice president), S.C. Bhambri (gen. sec­retary), E. Rudra (treasurer), Kasam Ali Mohammed and Dilip D. Sawant (jt. sec­retaries). Madan Prakash, K.B. Sharma, Kadar Vyas, Tahir Khambati and Ramanand Prasad were elected to the executive committee.
The Association, at the annual meet, mourned the passing away of four senior and one founder-member of the Association in the year 1994. The deceased are A.K. Parmar, who was associated with Rajkamal Kalamandir, Manna Ladia, ex-president and founder member, Y.M. Wagle, senior recordist of Famous Stu­dio, and Manmohan Lal Joshi, also a senior recordist.
FWA TO HOHOUR FOUR WRITERS
The Film Writers' Association will felicitate four eminent writers — Manoj Kumar, B.R. Verma Malik, Ranjan Bose and Jagmohan Kapoor — at its 39th ann­ual general meeting on 25th September at the Bharat Seva Sadan Trust Hall, near Ranjit Studios, Dadar (E), Bombay.
Majrooh Sultanpuri, winner of this year's Dadasaheb Phalke award, will pre­sent the trophies to the aforementioned persons.
CBFC RECOMMENDS TAX-EXEMPTION
FOR 'ANDAZ APNA APNA'
Vinay Sinha's Andaz Apna Apna has been cleared by the CBFC with a 'U' certificate. The CBFC has recommended tax-exemption for the film.
PREM RAMCHANDANI NO MORE
Prem Ramchandani, an eminent per­sonality of the music world, expired on 11th September in Bombay following heart attack.
He embarked on his musical voyage in the eighties with the launching of a re­cording company, Jyoti Records, and setting up a music shop, Sweet Melody. He once again started a recording company, Master Sound, in the nineties and went on to be associated in various capacities with Weston, Garware Video, Observer News Channel, Compact Disc India Ltd. and Music India Ltd. which was to be his last assignment.
Loved and respected, he was instrumental in supporting and encouraging aspiring talent.
JAYWANT DALVI NO MORE
Noted Marathi novelist, playwright and humorist, Jaywant Dalvi, passed away in Bombay on 16th September due to renal failure. He was 70 and is survived by his wife, a son and a daughter.
Though many plays and novels of Dalvi had been made into films, the non-Marathi-speaking audience would rem­ember him best for his incisive films like Mahananda and Chakra.
TO(A)UCH OF LUCK!
Call it a coincidence or whatever. U.A. Thadani was the president of the Theatre Owners' Association (TOA) in 1986 when the Maharashtra film in­dustry succeeded in getting substantial relief in entertainment tax and other reliefs from the government. He is again the president of TOA this year when the industry has been given fur­ther relief by way of more reduction in entertainment tax.
Govt. Assures Industry
WEST BENGAL CINEMAS REOPEN TODAY
The 12-day lockout in cinemas of West Bengal came to an end today (17th September). Cinemas in Calcutta and the state all over reopened today following an assurance from the state government that entertainment tax would be reduced.
Industry representatives met government officials on 15th, and a decision to lift the lockout was taken on 16th at an extraordinary general meeting of the production, distribution and exhibition sectors of West Bengal. The government has promised to look into the problems of the industry and announce reliefs around pooja this year.
It may be mentioned here that cinemas in West Bengal had come to a grinding halt on 5th September following an attack on a cinema hall owner of Cal­cutta on 4th by some members of employees' unions. The employees' association had given a call for a day's strike on 4th to protest against non-payment of salaries.
The lockout call was given by the Eastern India Motion Pictures Association to press the government for security of cinema hall owners and filmgoers and to take measures to make cinemas commercially viable by abolishing entertainment tax.
Exhibitors, Distributors In Jubilant Mood
Maharashtra Government Reduces Entertainment Tax
Service Charge Doubled
The film industry in Maharashtra has got a shot in the arm in the form of relief in entertainment tax. The government has reduced entertainment tax to 50% of the nett capacity. The present rate of tax in the state is 100%.
An ordinance to reduce the tax is likely to be promulgated in a couple of days after which the new rate of entertainment tax would come into effect.
The government has also yielded to the demand of the exhibitors for a hike in the tax-free service charge. From the current 50 paise per ticket, the service charge has been increased to Re. 1 per ticket. The government has pleaded its inability to reduce electricity tariff of cinemas in the state.
The benefit accruing from reduction in entertainment tax would be shared between the distributor and the exhibitor.
The industry was in a jubilant mood when the news of the reliefs was announced. Exhibitors and distributors, in particular, are thrilled.
Garma-Garam
**Asha Parekh says, "We've not severed ties with the FMC without reason. It is the FMC which flouted the agreement between ourselves (CAA and FMC) and we pointed it all out to them. Only after that did we severe ties. But professional ties apart, we are together always. After all, producers are nothing without artistes, and artistes are nothing without producers." She also said, the Kartavya case had been spoilt by the over-enthusiasm of the FMC. "At one point, Dimple Kapadia had almost agreed to act in the film, but….." According to Asha-ji, "Art­istes have massive egos and are also very sentimental. Producers must learn to treat artistes with love, not antagonise them. Love can melt any artiste." Words of wisdom!
** There's a writer called Sanjay Niru­pam who claims, he is the story wri­ter of T.P. Aggarwal's Return Of Jewel Thief. His name appears no­where in the film's credits. Althou­gh quite a lot of shooting has al­rea­dy been done, Sanjay is asking the producer of the film to return his story to him or give him due recognition and consideration. Return Of Jewel Thief or return of story….?
** It is so unfortunate that a man of the stature of G.P. Sippy doesn't clear his outstandings, months after his film is released and gone. The pub­licity people are crying hoarse for the settlement of their Aatish bills but Sippy seems to be unconcerned. And that's giving him anti-publicity. Because the publicity guys have really begun to feel the fire (remember the publicity caption of Aat­ish?). Isn't Sippy scared of negative publicity? Or does he believe in the maxim – Badnaam huye to kya hua, naam to hua.
** There's some more problem with Andaz Apna Apna. Even after the price hike, the producer is in deficit. He is trying for a further price hike. The release of 23rd September was postponed for this as also other rea­sons like the Bengal cinema closure and uncertainty surrounding it, the insistence of one distributor to release it on Dassera only and not before that etc.
** Delhi-U.P. distributor Tolu Bajaj did what few distributors would do. He on his own asked Indra Kumar whether he was contemplating a price hike for Suhaag (which is produced by Indra's brother, Balraj Irani, and brother-in-law, Anil Sharma) since it must've gone over-budget. Indra was touched and said, "Yes." The price for Delhi-U.P. was hiked mutually – all in 5 minutes.
** Talking of Suhaag, I can't help praising its music. Anand Milind have come up with a racy score, and the music cassette makes for enjoyable listening. With such nice music and two saleable action heroes — Akshay Kumar and Ajay Devgan — in the film, it is not surprising that it is hot among exhibitors and sub-distributors.
Trail-Blazers
As many as six weeks after the release of Hum Aapke Hain Koun..!, its pirated video cassettes have not surfaced in the market. Nobody would have even dreamt of delaying video cassettes for so long in today's times. But the Barjatyas have converted nobody's dream into a reality.
It must be conceded that they have an entire distribution network span­ning the length and breadth of the country and, therefore, preventing the film's piracy on video cassettes has become a possibility. It would have been almost impossible for any other producer to do so without the infrastructur­al facilities at the command of the Barjatyas. But it, at least, proves one thing — that it is not impossible to combat videos. After the advent of video technology, this is the first hit film of which video cassettes have been successfully delayed for so long. Needless to add, the results are for all to see.
The super-success of HAHK..! also proves another thing — that vulgarity, obscenity and sex are not necessary ingredients for a commercial hit. The industry keeps giving the excuse that it is giving the public what it wants. The collections of HAHK..! indicate that the public had, so far, been taking what it was getting because it had no alternative. HAHK..! has come as a whiff of fresh air, and the suffocated audience is only too glad.
The public is indeed proud of the Barjatyas for having given them a clean, healthy family fare which can be enjoyed by people from 6 to 60 and even more. But the industry must also feel proud of the Barjatyas for showing rare courage and sense of planning, and for undertaking result-oriented steps to prove that sky can be the limit for the business of a super-hit bonanza.
The Barjatyas are trail-blazers in the truest sense of the term.
– Komal Nahta