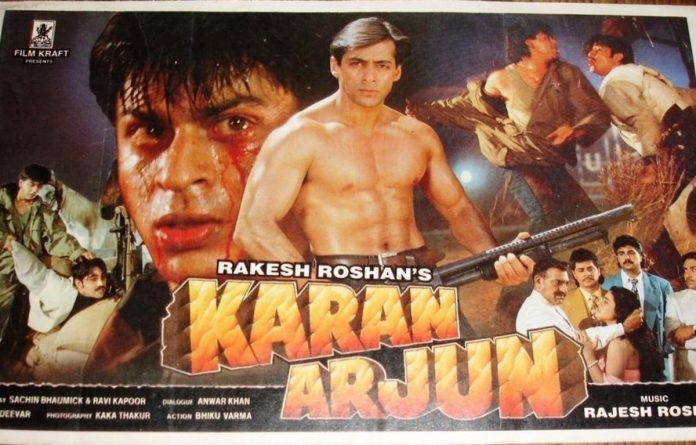 (From our issue dated 14th January, 1995)
Film Kraft's Karan Arjun (UA) is a tale of reincarnation, told against the backdrop of a village. Both the sons of a widow are murdered brutally right in front of her eyes, by a greedy family member. The widow firmly believes that her sons will be reborn and will come to avenge their murders and the atrocities perpetrated on her. After twenty years, two young men, resembling her dead sons, come to the village and seek revenge, killing all the evil-doers.
Director Rakesh Roshan and writers Sachin Bhaumick and Ravi Kapoor have intelligently padded the reincarnation plot with a lot of masala to entertain the ladies and mass audiences, in particular. There are beautiful songs, superb comedy, a few emotional touches, the supernatural power and a good dose of action.
The first half has a tight screenplay. After interval, some repetitive scenes do hamper the flow of the drama, but yet, the audience interest is kept alive. Climax is stretched a bit too much.
Salman Khan and Shah Rukh Khan have both acted wonderfully. While Salman underplays, Shah Rukh is his usual bubbly self. Salman looks handsome and his physique has been well exploited. Shah Rukh should guard against his twitching of the lips, which is beginning to look monotonous. Raakhee lives her role as the widow. Kajol does a fine job. Mamta Kulkarni looks pretty and acts well. Amrish Puri is superb as the villain. Arjun and Jack Gaud support him ably. Ashok Saraf and Johny Lever are at their comic best and it is difficult to say who among the two is better. Asif Shaikh is good. Ranjeet does a fair job. Dinesh Hingoo and Vishnu Sharma are alright. The rest of the cast lends the desired support.
Direction is intelligent. Rakesh Roshan has given the film a big look and has succeeded in enthralling the audience with the main plot as also the various other elements. Rajesh Roshan's music is super-hit. 'Jaati hoon main' is a fantastic song and the dance steps in it are lovely. 'Ranaji maaf karna' has superb audio and visual appeal. 'Bhangda paale' has been well picturised. 'Yeh bandhan toh' has a haunting tune and its picturisation serves to establish the strong emotional ties between the mother and her two sons.
Photography is remarkable and locations are beautiful. Production values are appropriate. Technical aspects are of good standard.
On the whole, Karan Arjun has taken a fantastic start and will prove a definite overflow film. Looking to the craze, chances of it proving classA are good.
Released on 13-1-'95 at Minerva and 25 other cinemas of Bombay thru V.I.P. Enterprises. Publicity: excellent. Opening: bumper. …….Also released all over to extraordinary houses. 1st day Jaipur 1,50,172/- from 4 cinemas, Bikaner 100%, Jodhpur 100%, Kota excellent, U.P. 100%, Hyderabad 100%.
AMITABH BACHCHAN TO RETURN TO ACTING
Will Amitabh Bachchan return to acting or won't he? The answer to this question, which has been haunting the industry for more than two years now, is finally out. Amitabh will return to acting.
The superstar has floated a company called Amitabh Bachchan Corporation Ltd. (ABCL). According to a contract between Amitabh and ABCL, the actor will be available to ABCL for a guaranteed 120 days every year and will follow a fixed engagement schedule and undertake to act in one feature film per year. He will be paid Rs. 3 crore by the company for acting in the film.
The actor can also continue to act in other films so long as they do not conflict with his schedule with ABCL.
Kotak Mahindra Finance Corporation have structured a deal whereby ABCL will encash brand equities of saleable stars. The contract between Amitabh and ABCL is binding for the next 10 years. Amitabh and his family will hold 87% equity in ABCL.
Dream Merchant
The morning papers of today screamed that Amitabh Bachchan would once again act in films. I always knew that he would return to acting and that it was only going to be a matter of time. I also read with interest the details of the company formed by Bachchan. It is called ABCL — Amitabh Bachchan Corporation Ltd.
Having had a late night yesterday, I was fast asleep after I had finished with the newspaper. And yes, I was dreaming about Amitabh and corporations unlimited.
I dreamt that Amitabh Bachchan's Amitabh Bachchan Corporation Ltd. had announced a film titled Amitabh Bachchan As Corporation Dada. A big muhurt party had been planned. But, unlike other film parties, this one wasn't being held in a 5-star hotel. Instead, ABCL had decided to throw it in its board-room. Instead of stars and people from the film industry, the launching was to be attended by top industrialists like Tatas, Birlas, Modis, Hindjuas, Ambanis etc.
The day of the muhurt arrived.
The muhurt rituals were also different. Dhirubhai — Ambani, not Shah — cut the ribbon on the bound film script, beautifully wrapped in silver foil. There was no cracking of auspicious coconuts, switching on of camera and sounding of clapper-board. In fact, there wasn't any muhurt shot, too. Instead, the elite gathering was treated to an audio-visual show of ABCL's plans, projects in the pipeline etc. A brief outline of the story of the film was also given to the select gathering which included the board of directors of ABCL.
The muhurt was followed by a press conference. Amitabh Bachchan had to answer a line of questions. One journalist asked him how ABCL would pay him Rs. 3 crore for a film? Amitabh asked, what was wrong in that? The journalist shot back, "But, earlier, on your own admission, you used to charge less than Rs. 25 lakh. How come this much rise now?" Amitabh attempted to dodge the reference to his previous remuneration "Oh, I don't remember having said this," he said, adding, "It must have been a printer's devil in some newspaper."
Another journalist from an eveninger rose and queried, "Why do write-ups in the media about ABCL refer to Ethnic Enterprises as your distribution concern in Bombay? You have gone on record to say that you have nothing to do with Ethnic." Amitabh smiled mysteriously in reply to that one.
"Who will be your heroine in ABCL's film?", asked a third journalist. "My company's press release will follow in the days to come," was Bachchan's cool reply. The journalist wouldn't give up. "Would it be Sridevi? Or Madhuri? Or Juhi Chawla?", he continued. Amitabh smiled, "It could be Aishwarya Rai also."
"And who will direct the film?", shouted another journalist. "It is usual to announce the director's name on the muhurt day, isn't it?" Amitabh looked at the journalist and said, "It may be usual in the film industry but now I am also a corporate personality. If I announce everything together, the stock exchange may experience a tremor. The share prices of ABCL may shoot up so much that it may not be advisable."
Another member of the fourth estate got up and said, "If your price can shoot up more than 10 times, can't the company's share price go up?" Amitabh looked at the guy in disbelief. "Hey, you must get used to the fact that I'm a corporate dada now. Don't ask me personal questions. I've answered enough of them when I was in the film industry only. Now, I have a dual personality. I am first a corporate man and then an actor."
"What is your holding in ABCL?", came another query from one corner of the room. "I and my family hold 87% of the shares," came the reply. "The company virtually belongs to us." The journalist shot back, "So, you will be paying yourself for acting in your own film to be produced by yourself?"
"That's right," replied Bachchan. "Any problem?"
The journalist looked sheepishly. "None at all," he said. "Only one thing, though. Why don't you ask all the other heroes to hold the balance 13% shares in ABCL? They'd love to associate themselves with you and your corporation."
"What purpose would be served by that?", asked Bachchan.
"To you, then, would go the credit for making the biggest multi-star-cast corporation, Sir," answered the journalist. "And then, you could also call the company 'Artistes Corporation Unlimited' instead of Amitabh Bachchan Corporation Limited."
– Komal Nahta
TOO MUCH!
The 6 p.m. and 9 p.m. shows of Karan Arjun in Muzaffarpur (Bihar) on 13th January had to be cancelled due to uncontrollable crowds. There was such a large number of people at the cinema that those who did not get tickets began to create problems. Finally, the shows had to be suspended.
In Houston, the film has been released in four cinemas to packed houses. So fantastic is the response that Houston Radio will present Rakesh Roshan live on telephone tonight (14th January) at 10.15 p.m.
3-E
Education-Entertainment-Englightenment
The Heat In The Cold
A good film knows no opposition. This has been proved once again, this time by Karan Arjun. Even as the cold wave in various parts of the country saw box-office collections dip alongwith the mercury, Karan Arjun recorded full houses with hundreds of people braving it out in the cold, outside the cinemas, waiting for tickets. In a city like Jaipur, which is shivering in the cold, the morning show at 6 o'clock on Friday at Paras cinema recorded house-full collections. That's the heat of a hit — the winter cold notwithstanding!
Impractical Resolution
Although legal video cassettes of Teesra Kaun? were released two weeks after its theatrical release, pirated cassettes had flooded the market at the end of the first week itself. Quite understandably, these very pirated cassettes were also shown on cable TV all over India all through last week. The FMC-FDC joint resolution seeks to restrict the producer from selling cable TV rights for at least six months from the date of theatrical release. While producer N.N. Sippy has, in fact, not sold the cable TV rights, his Delhi-U.P. distributor has served him a legal notice, alleging that Sippy had sold the cable TV rights and claiming damages from him. All of which prompts one to wonder: isn't the joint resolution of the FMC-FDC impractical?
Authentic Set
The huge set put up at Kamaal Amrohi Studios for F.C. Mehra's Ram-Jaane is the talk of the industry. Besides being very costly, the set which is a creation of art director Nitish Roy, has a very authentic look about it. It houses a theatre, two tall buildings, a hutment basti etc. Since the entire film will be shot on this set, it has been made of stuff that will last. For instance, real steel girders have been used.
DO YOU KNOW?
* While the industry's plea to remove the compulsion for cinemas to screen Films Division newsreels has fallen on deaf ears, there is at least one bureaucrat — Bhasker Ghose, secretary, I & B ministry — who is not in favour of forcing cinema owners to show FD films. "It is morally incorrect to make documentaries compulsory," said Ghose in Bombay recently.
* Doordarshan, which currently has fifteen channels, is not likely to add any more in the near future.
* Hema Malini will reportedly campaign for Sharad Joshi's Shetkari Sanghatana party in the ensuing assembly elections in Maharashtra.
* FARAAR QAIDI (dubbed) has been released this week at Naaz, Bombay under a new title, YEH MERA KANOON HAI.
* Dinesh Salgia's Chhotubhai Dresswala has been appointed by the NFDC as the costume co-ordinator for the national film museum set up at Nehru Centre, Worli, Bombay on the occasion of 100 years of cinema. An exhibition of costumes used in films down the years, has been put up in the museum by Chhotubhai Dresswala.
* In the forthcoming assembly elections in Gujarat, at least two industry people will be in the fray. While Naresh Kanodia will contest from Jamnagar on a BJP ticket, Mehboobbhai (of Yen Movies, Bombay-Ahmedabad) will contest from Mehamdabad on a Congress-I ticket. Bombay exhibitor Gul Achhra may contest, also on a Congress-I ticket, from Ulhasnagar in Bombay.
* Aamir Uliah, who is working at Akriti cinema, Rewa, as a booking clerk, has been elected mayor of Rewa.
* Police had to be called in to control the crowds on the opening day of KARAN ARJUN at Ramakrishna 70mm, Hyderabad. Looking to the crazy crowds, the second week's advance booking at the cinema had to be opened on the film's first day (13th), and the entire second week was also full in advance! The first day's advance booking (9th January) saw a record collection of 90,000/-! At Aurangabad also, the crowds are uncontrollable and absolutely crazy.
* KARAN ARJUN was released at Sapna cinema, Indore on Wednesday (11th January) in the 9 p.m. show, without announcement. The house was full. A morning show at 8 a.m. was held on Thursday (12th) at Neelkamal, Indore. Even that was full, with a heavy rush of people waiting outside the cinema without tickets.
YOU ASKED IT!
To what do you attribute the terrific opening of Karan Arjun?
– To music, Shah Rukh Khan and Rakesh Roshan in that order.
In the article on stars and their worth, published in your issue last week, why have you put Shah Rukh Khan in Class IV?
– The classes have been numbered as I, II, III and IV according to the prices charged by stars. Since Shah Rukh's price is much lower than that of all the other top stars, he would definitely merit a listing in Class IV only.
Is it true that Sultan Ahmed will be releasing his Jai Vikraanta in an incomplete form?
– These are rumours which are baseless. The film is complete and is being readied for Idd release.
'DILWALE' GOLDEN JUBILEE
Harry Baweja's Dilwale entered combined golden jubilee week on 13th January at Swastik, Bombay. It stars Ajay Devgan, Sunil Shetty and Raveena Tandon. Music is scored by Nadeem Shravan.
'HAHK..!' SILVER JUBILEE ALL OVER
Rajshri Productions' Hum Aapke Hain Koun..! will celebrate silver jubilee on 20th January all over. It will enter 25th week at all the 29 cinemas where it had a premiere release. Silver jubilee at other cinemas will follow in the weeks to come. The film stars Madhuri Dixit, Salman Khan, Mohnish Bahl, Renuka Shahane, Alok Nath, Reema, Ajit Vachani, Bindu, Sahila Chaddha, Dilip Joshi, Priya Arun, Satish Shah, Himani Shivpuri, Laxmikant Berde and Anupam Kher. It is produced by Kamal Kumar Barjatya, Rajkumar Barjatya and Ajit Kumar Barjatya and directed by Sooraj R. Barjatya who has also written the screenplay and dialogues. Music: Raamlaxman. Lyrics: Ravindra Rawal and Dev Kohli. Cinematography: Rajen Kinagi. Editing: Mukhtar Ahmed. Choreography: Jay Borade. Art: Bijon Dasgupta. Audiography: C.S. Narayan Rao.
MUSIC DIRECTOR KAMALKANT DEAD
Music director Kamalkant died on 21st December due to heart failure. He was 60. He was music arranger of Shankar Jaikishan and Kalyanji Anandji and had also scored music for Punjabi and Hindi films, including Sarpanch, Batwara, Aasra Pyar Da and others. He is survived by his wife, a son and a daughter.
'BOMBAY' STILL NOT CLEARED
No decision has been taken by the CBFC with regard to Mani Ratnam's Bombay. As such, the releases of both, the Tamil and Hindi versions, have been postponed. It may be recalled that the Tamil version of Bombay was seen by the Madras regional office of the CBFC and sent to the Bombay office for decision. In Bombay, it was seen by top police officials and other dignitaries, besides the CBFC officials.
HEAVY CUTS IN DUBAI
Karan Arjun was literally butchered in Dubai. Scenes of the temple as also in which Johny Lever appears have been deleted in the prints being screened in Dubai. And since there are plenty of such scenes in the film, it has not been appreciated there for obvious reasons.
'KARAN ARJUN' PRINTS RELEASED
Circuit No. of prints
Bombay                              58
Delhi-U.P. 48
West Bengal 21
Bihar 19
Assam 4
Orissa 5
East Punjab 12
C.P. Berar 21
C.I. 9
Rajasthan                           7
Nizam 8
Mysore                               4           
Andhra                               4
Tamilnadu                           5
Overseas                           26
Total                                251
COMPARATIVE CHART SHOWING NO. OF FILMS (LANGUAGE-WISE) CERTIFIED IN 1992, 1993 & 1994
Language 1994 1993 1992
Telugu                                174                       148                         154
Hindi                                  155                        183                        189
Tamil                                  153                        168                        180
Kannada                             70                       78                         92
Malayalam                          69                          71                          90
Bengali                               44                         57                          42
Marathi                               22                        35                          25
Oriya                                  14                        20                          13
Punjabi                               12                        14                           12
Nepali                                 10                       07                            09
Gujarati                              06                        03                            05
Assamese                           06                        09                            04
Bhojpuri                              04                        02                            08
English                               04                        02                           05
Rajasthani                           03                        05                            03
Tulu                                    02                      01                             –
Bundeli                                02                       –                               –
Manipuri                              02                       03                             01
Haryanvi                              01                      01                             02
Kodava                                01                      01                              –
Gujjar                                  –                       01                              –
Garhwali                              –                        01                             01
Kok Borok                            –                     01                             
Urdu                                    –                        01                             01
Nagpuri                              –                         –                     01    
Sanskrit                               –                         –                             01
Total:                                754                     812                           838