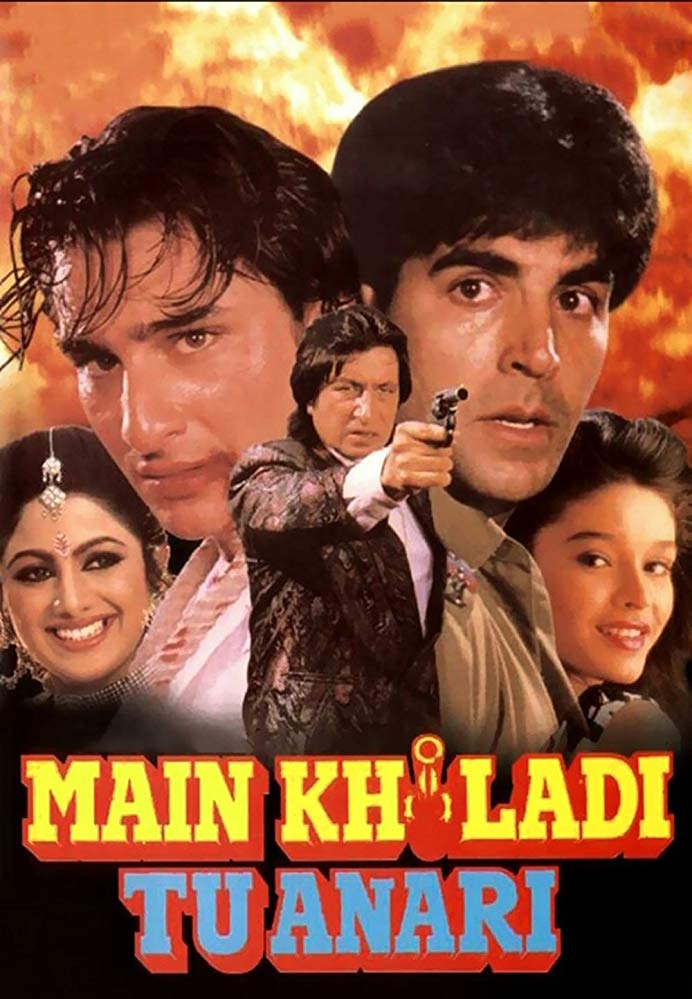 (From our issue dated 24th September, 1994)
MAIN KHILADI TU ANARI
United Seven International's Main Khiladi Tu Anari (UA) is a musical and action drama. Inspired from the English film, Hard Way, it is the story of a film hero and a police inspector, the latter training the former in action. The story has some freshness for the Hindi film au­dience but the screenplay leaves a lot to be desired. It affords a lot of opportunities for comedy but logic and continuity take a backseat. Recourse has been taken to contrived incidents to further the story, thereby hampering the smooth flow of the drama. The police inspector's mission to avenge his brother's death is relegated to the background as the antics of the two heroes take precedence.
A couple of drawbacks dilute the im­pact of the narration. There are some jokes very typically filmi, and the audien­ce may not necessarily appreciate them fully. Besides, the hero being responsible for the heroine's death in the beginning and not even repenting it looks a bit odd. What is more, he doesn't hesitate in later endangering the life of the heroine's look­-alike too.
Music and action are the film's high points. Light moments of Saif Ali Khan (film hero) are hilarious, at times.
Akshay Kumar does an extraordinary job in action and dances. The same, how­ever, cannot be said of his acting. He tends to overact to imitate bigger actors at times. Saif Ali Khan is cute and entertains with his comedy. Shilpa Shetty impresses very much in dances. She performs quite well. Rageshwari is good. Shakti Kapoor is the usual villain. Johny Lever may not be hilarious but is good. Kader Khan is almost wasted in a double role. Beena (she is pregnant in the beginning of the film but doesn't deliver till the end), Mukesh Khanna, Goga Kapoor, Shiva, Ananth Mahadevan and the rest lend the desired support. Raveena Tandon provi­des glamour in a special appearance.
Direction leaves something to be desi­red. Although the film has a big canvas, hit music and lovely action, its presentation is not convincing enough to arrest attention. Anu Malik's music is super-hit. 'Chura ke dil mera' is already a rage. The title song and 'Chura ke dil mera' are also very beautifully tuned. Picturisations of the title song and 'Chura ke dil mera' are ex­cellent. Mauritius locations are captivating, and camerawork is remarkable. Acti­on is breathtaking. Production values are rich. Technically, of standard.
On the whole, Main Khiladi Tu An­ari has gloss and material for the ears (music) and eyes (action) but not for the heart. An average entertainer, it will fare better in Bombay and Southwards and in cities. Lack of releases will give it a boost.
Released on 18-9-'94 in Nasik and on 23-9-'94 at Novelty and 32 other cinemas of Bombay thru Shringar Films. Publici­ty: excellent. Opening: very good. …..Also released all over. Opening was below ex­pectations in Indore, Jaipur and some other places. 1st day Jaipur (3 shows, 5 cinemas) 91,258/- against 1,18,356/-.
LATEST POSITION
…….
Hum Aapke Hain Koun..! continues to score and is doing unprecedented and unheard of business. It has surpassed the total share of Rajshri's own Maine Pyar Kiya in just 6 to 7 weeks at many of the released centres. 7th week Bombay 9,28,253 (95.30)% from 4 cinemas (1 on F.H.); Ahmedabad 3,60,487 from 3 cine­mas (1 cinema unrecd.), Baroda 1,53,785, 5th week Surat (25 shows) 2,40,599 from 2 cinemas, 6th Jamnagar 89,147, city re­cord, total 5,09,691, 4th week Bhavnagar 92,622, city record; 7th Pune 4,39,446 from 3 cinemas, Solapur 88,700 (6th 91,650), Nasik 1,30,053, total 8,68,555, record, Kolhapur 98,357 (95.39%), 3rd week Satara (gross) 95,845 (92%), city record; 7th week Delhi 14,94,822 (100%) from 5 cinemas; Kanpur 1,64,030, Luck­now 2,28,422, record, Agra (6 days) 1,07,000, 3rd week Meerut 1,57,663, city record, Bareilly 1,24,962, Allahabad (23 shows) 1,20,846, Gorakhpur 1,14,000, city record, 7th week Calcutta 3,62,461 from 3 cinemas; 2nd week Patna (gross) 2,65,350, all 30 shows full; 7th week Nagpur 2,43,135 from 2 cinemas, city record, Amravati 1,01,384, total 7,44,602, share 4,87,545, city record, Akola 64,846, city record, total 4,49,948, share 2,67,254, theatre record, Bhilai 72,033, 3rd week Raipur 1,30,068, city record, 2nd Jabal­pur 1,39,379, total 2,89,433, city record, 1st week Chandrapur 1,12,058, city re­cord; 6th Bhopal 1,37,056, total 8,31,997, 2nd week Ujjan 90,000 (100%); 7th Jai­pur 2,62,545 (100%); Hyderabad 6,88,325 (gross) from 3 cinemas; Bangalore 2,46,913 from 2 cinemas (1 in daily 1 show); total 81,44,592 from 51 cinemas.
Krantiveer 9th week Bombay (TF) 8,65,899 (88.17%) from 8 cinemas (1 on F.H.) (8th week was 4,65,315; 94.13% from 4 cinemas, and not 88.88%); Ahmedabad 26,870 from 2 cinemas (1 unrecd.); Pune (TF) 2,56,328 from 4 cinemas (1 in matinee), Kolhapur (TF) 54,826 (95.56%), Solapur (TF) 47,579, Nasik (TF) 49,368; 5th week Dharwad (noon) 4,897, 3rd Belgaum 43,187 (100%) from 2 cinemas (1 in noon); 9th week Delhi (TF) 12,60,753 from 8 cinemas; Amravati (TF) 36,558, Akola (TF) 31,285, 2nd week Jalgaon (TF) 36,341, 3rd War­dha (TF, 4 days) 27,683, 2nd week Khandwa 19,985; 8th Hyderabad 3,59,211 from 4 cinemas (1 in noon).
…….
DO YOU KNOW?
* Like last year, this year too, Rajesh Khanna is taking a keen interest in the ensuing IMPPA elections. The United Group's list of candidates was reportedly finalised in the star-MP's office and under his supervision.
* In the trial circuit, ANDAZ APNA APNA is the hot favourite these days. Trade people and their families are going ga ga over the film and, what's more, even showing a keen desire to repeat it. Rajkumar Santoshi and Vinay Sinha must be hoping, even the audience behaves the same way.
* Wild rumours of thespian Dilip Kumar's death made the rounds in Bombay on 21st September. Of cour­se, they were baseless but, nevertheless, had the industry panicking.
* Delhi-U.P. distributor Tolu Bajaj will be releasing two big films on Diwali, viz. THE GENTLEMAN and SUH­AAG.
* Udit Narayan, who was committed to dub for a song of SANJAY on 18th September, did not go to Delhi to re­ceive an award the same day but preferred to stick to his commitment.
* Pankaj Mehta, who had released Mira Nair's English film, MISSISSIPPI MASALA, in Bombay a few months back, is now planning the release of its dubbed Hindi version.
* Novelty Talkies, Lucknow, and Nan­dan Cinema, Meerut have installed Ultra Optical Stereo Sound System and have also been equipped with other technical innovations to enrich the screening of HAHK..!.
* Delite Cinema, Delhi is being comp­letely renovated at a cost of 4,00,000/- for releasing HAHK..! from Septem­ber 30.
* HAHK..! created all-time city record by collecting 1,12,058/- in 1st week at Jayant, Chandrapur.
* HAHK..! created record by collecting 1,39,379/- in 2nd week at Vanda­na, Jabalpur. Two weeks' total: 2,89,433/-.
* HAHK…! created city record by collecting 95,844/- (92%) in 3rd week at Radhika, Satara, which is better than 1st and 2nd weeks.
* HAHK..! created a record by collecting 1,13,068/- in 3rd week at Raj, Raipur.
* HUM AAPKE HAIN KOUN..! has created a city record by collecting 1,24,962/- in 3rd week at Prabha, Bareilly, in spite of business being affected due to anti-reservation and Uttarakhand demand stir.
* HAHK..! has created city record by collecting 1,14,000/- in 3rd week at Maya, Gorakhpur.
* HUM AAPKE HAIN KOUN..! has yielded a distributor's share of 7,40,829/- in just 4 weeks from Sap­na, Delhi. It has surpassed the total share of Rajshri's MAINE PYAR KIYA which had had a 21-week run at Paras, Delhi. The share of MPK was 7,35,888/-.
* HAHK..! created theatre record by collecting 1,30,058/- in 7th week at Vijay, Nasik; total for 7 weeks 8,68,555/-.
* HAHK..! created theatre record by grossing 1,21,126/- in 7th week at Jayshri, Vapi; total for 7 weeks 9,53,683/-. It surpassed the 17 weeks' share of MAI­NE PYAR KIYA in just 7 weeks.
* HAHK..! has created triple mega re­cords in just 7 weeks by collecting 12,51,094/- at Manjushree, Kanpur, and paying distributor's share of 9,54,593/-. It has broken the records of: NADIYA KE PAAR in just 4 weeks – it had given a share of 5,52,257/- in 62 weeks; of SHOLAY in 5 weeks – it had given a share of 6,56,320/- in 76 weeks' run at Sun­der; and of MAINE PYAR KIYA in just 7 weeks – it had given a share of 8,00,000/- in 26 weeks. Moreover, HAHK..! has given an all-time high distributor's share from any cinema of Kanpur.
* HAHK..! has created a city record by collecting 1,01,384/- in 7th week at Chitra, Amravati; total for 7 weeks 7,44,602/-, distributor's share 4,87,545/-.
* HAHK..! created city record by coll­ecting 64,846/- in 7th week at Vasant, Akola; total for 7 weeks 4,49,948/-, a theatre record, with distributor's share of 2,67,254/-.
* KRANTIVEER (TF) created a city record by collecting 50,827/- in 2nd week at Vasant, Wardha.
* KRANTIVEER (tax-free) has created a theatre record by collecting 4,09,500/- in 9 weeks at Shalini, Akola.
* MOHRA created a city record by collecting 71,339/- in first week, in second run, just after 35 days, at Babulal Talkies, Raipur.
* GHAYAL (tax-free), re-released after a short gap of 5 months, collected 53,794/- in one week at Uday, Akola, which is better than the previous run's collection.
MIX MASALA
HOT NEWS
The air-conditioner at Liberty, Bom­bay, screening Hum Aapke Hain Ko­un…!, was not functioning last Friday (16th September). Although the management had put up a notice outside, regretting the inconvenience caused for reasons beyond its control, the paying public did­n't quite like it. After all, they were paying Rs. 75 and Rs. 60 for a ticket.
JUMPING JILL
Like Jeetendra was nicknamed 'Jump­ing Jack', Shilpa Shetty may soon get the title of 'Jumping Jill'. The girl was made to 'jump' to her death from a height in Baazigar and again in Main Khiladi Tu Anari.
PRASAD IN
SUPREME COURT
Sunil Dutt was hopeful that the bail application of Sanjay would be accepted by the Supreme Court. After the hearing on 21st September, senior Dutt distribu­ted prasad in the Supreme Court (out­side the court room). The order rejecting the bail application was pronounced on 23rd.
SESHAN SINGH JAIN
We have a T.N. Seshan in the CCCA too. Like the chief election commissioner, T.N. Seshan, has made identity cards compulsory for all voters this time, CCCA president Santosh Singh Jain has also brought in the system of identity cards. Yellow-coloured I-cards have been issued to voters whose photographs are affixed on them. While Seshan's recommendation has yet to see implementation, CCCA's Seshan's rule has been implemented in toto!
SC REJECTS SANJAY'S
BAIL APPLICATION
The Supreme Court on 23rd Septem­ber rejected the bail application of Sanjay Dutt in the TADA case. The hearing was completed on 21st when the judges reserved their order. It was pronounced on the morning of 23rd.
YOU ASKED IT
On what basis should star prices be determined?
– Stars should be categorised into three classes – those whose names en­sure a show's house-full opening, those who ensure a day's house-full opening, and those ensuring three days' opening – and their prices determined accordingly. Not to forget those who can gua­rantee no opening – and most of them would fall in this category!
Will more English films be dubbed in Hindi?
– Yes, they are being dubbed.
Is content more important in a film or presentation?
– Content – not necessarily wholly new – coupled with fresh presentation is the best combination.
PRESIDENT WITNESSES 'HUM AAPKE HAIN KOUN..!'
President Shankar Dayal Sharma and his wife, Smt. Vimla Sharma, witnessed, at a special screening, Hum Aapke Hain Koun..! on 17th September at Rashtrapa­ti Bhavan Cinema Hall. Among the other dignitaries present on the occasion were Shri Shivraj V. Patil, Speaker of Lok Sabha, Smt. Sheila Kaul, union minister of urban deve­lopment, and Kumari Selja, union dy. minister of human resource development.
Shri Rajkumar Barjatya and Shri Ajit Kumar Barjatya along with their family members were present on the occasion. Before the show, the Barjatyas had a small get-together with the President and the First Lady wherein pleasantries were ex­changed and general topics were dis­cussed over tea.
ARREST WARRANT AGAINST FEROZ KHAN SOUGHT
A charge-sheet has been filed in the court of the first class judicial magistrate of Nelamangala, Karnataka against pro­ducer-director-actor Feroz Khan and three others for allegedly assaulting a government servant. A non-bailable warrant against them has been sought, as they are allegedly evading arrest. The incident pertains to August 1991 when a film unit, led by Feroz Khan, entered the Aradinakunte forest area in Nelamangala, near Banga­lore. When the range forest officer, Shiva­putte Gowda, objected to their shooting without permission from the forest autho­rities, Feroz Khan and his unit members allegedly assaulted him.
CONTEMPT OF COURT: IMPRISONMENT ORDERED
A civil judge and munsif magistrate of Jaipur has ordered simple imprisonment of CCCA president Santosh Singh Jain and secretary Shiv Kumar for three months in a contempt of court case filed by Rajas­than distributor Deepak Gupta. The order was pronounced on 16th September. The judge also ordered attachment of property of the CCCA, valued at Rs. 15,000, and issuance of arrest warrants in the names of Jain and Shiv Kumar.
Deepak Gupta had alleged that the CCCA had deregistered Kohraam which stood in his favour and thereafter registered it in favour of another party. Despite court orders, the CCCA failed to register the film again in the name of Deepak Gupta. The CCCA on 28th April, 1994, preferred an appeal against the court or­der and also filed a revision petition, but both were dismissed by different courts. Even after the dismissal, the CCCA re­fused to register the film in Deepak Gup­ta's favour. The latter then initiated con­tempt of court proceedings.
GULSHAN RAI BETTER
Gulshan Rai, who suffered a paralytic attack on 16th September, is recuperating at Breach Candy hospital, Bombay. His condition is reported to be fine now and he is likely to be discharged from the hos­pital in a couple of days.
DEEPAK BALRAAJ,
KISHORI BLESSED
WITH SON
Producer-director Deepak Balraaj Vij and actress Kishori Vij were blessed with a son on September 16. Kishori delivered the new-born at Holy Spirit Hospital, An­dheri, Bombay.
MADRAS HC CUTS TAX
ON CABLE TV OPERATORS
The Madras High Court on Sept. 19 by an interim order, reduced from 40 to 20 per cent the Tamil Nadu government's levy of entertainment tax on cable television. Mr. Justice J. Kanakaraj who passed orders on a batch of miscellaneous peti­tions, also reduced the registration fee from Rs. 10,000 to Rs. 5,000, which was sought to be collected from cable television operators (CTVOs).
HARI SHIVDASANI
PASSES AWAY
Veteran actor Hari Shivdasani, father of Babita, passed away in Bombay on Septe­mber 16, after a prolonged illness. He was 85.
Born on December 6, 1909 at Hyde­rabad, Sind, he started his career in films as an actor-producer-director with East­ern Arts in 1932 and produced about a dozen films, including Prem Pariksha, Bharat Ki Beti and Sher Ka Panja. Over a span of 50 years, he acted in over one hundred films, including Raj Kapoor's Shri 420 and Sangam, and B.R. Chopra's Waqt and Humraaz.
ANIL KAPOOR AT
PLANET HOLLYWOOD
Anil Kapoor was in Hong Kong some days ago on a promotional tour for his shows to be held in October and he was overwhelmed by the affection and the enthusiasm with which he was received wherever he went. There was a strong 1942 A Love Story fever all over the place. He received the greatest honour when he was wel­comed at the Planet Hollywood, a uni­que restaurant owned by three leading Hollywood stars – Bruce Willis, Syl­vester Stallone and Arnold Schwarze­negger. Anil presented Planet Holly­wood with one of his costumes from 1942 A Love Story. According to the custom of the restaurant, it will be treasured as a memento from Anil who is the first Indian star to be hon­oured by Planet Hollywood which boasts of memorabilia from some of the greatest living stars of Hollywood today.
N.N. SIPPPY RE-ELECTED
IMPDA PRESIDENT
The newly elected executive committee of IMPDA had its first meeting on September 23 and elected the following office-bearers for 1994-95: N.N. Sippy (president), Indravadan R. Shah (vice president), Kantilal C. Mehta (hon. treasurer), Devendra T. Shah (hon. secretary), and Suraj Prakash Seth (hon. secretary). N.N. Sippy has been elected president for the 10th term.
Earlier, on 21st September, at the elections of the IMPDA held after its annual general meeting at Birla Kreeda Kendra, Chowpatty, Bombay, eleven sit­ting members and one new member were elected to the executive committee in the Ordinary class. Guru Shenoy is the new incumbent who polled 90 votes and was declared elected. Of the sitting members, Ramesh Luthra is not on the committee for the year 1994-95.
Balkrishna Shroff bagged the highest number of votes (130), followed by Dev­endra Shah (127). The others elected in the Ordinary class were: U.A. Thadani (120 votes), N.N. Sippy (119), Haresh Bhatia (113), Kanti Shah (101), Gulshan Rai (98), Vijay Kondke (98), Sharad Doshi (91), Guru Shenoy (90), Ayub Selia (82), and Suraj Prakash (80).
There were no elections in the Asso­ciate class, as there were only as many contestants as seats available. Those re-elected are: Indravadan R. Shah, Mohan Susania and D.Y. Patani. Those who lost the elections (Ordinary class) were: Sanjay Trivedi (60), Nandu Bohra (59), Dilip Dhanwani (59), N.B. Kamath (59), Man­oj Khivasara (55), Abib Zafar (54), Suresh Vora (40), Jayant Acharya (30), Tekchand Anchal (28), Iqbal Singh (21), Shishir Kanakia (20), and Jagdish K. Devnani (19).
A total of 213 votes were polled, of which one was declared invalid. That is to say, there were a total of 212 valid votes cast.
The annual general meeting was a regular affair.
The meeting and elections were follo­wed by cocktails and dinner hosted the same evening at the BCA (Garware Club) at Churchgate, Bombay. The election res­ults were announced prior to that at the venue of elections.
Garma-Garam
** The industry received the news of the Supreme Court rejecting Sanjay Dutt's bail application, on 23rd Sep­tember with sadness. What next? That's the question on everybody's lips.
** Nagarjuna-starrer Hello Brother (in Telugu) has become a hit. David Dhawan has acquired its Hindi re­-making rights and plans to direct it for one of his producers. It is a story of twin brothers, and the remake may star Govinda – in double role, of course!
** N.N. Sippy has decided to postpone the release of his Teesra Kaun? by a few weeks. It was scheduled to hit the screen on Diwali, but it should now come in or around mid-Nov­ember. The music cassettes of the film will be released in the first week of October, and Sippy feels, he should give it (music) at least 7 to 8 weeks to become popular. Two of the four confirmed Diwali releases so far are Suhaag and The Gentleman. Both boast of good music. The 'Roop suhana lagta hai, chand purana lagta hai' song of The Gentleman should soon become a hit. There are other lovely songs too in the film. Coming back to Diwali, the other releases, besides the two aforesaid, will be Mr. Azaad and Yaar Gaddar.
** K. C. Bokadia has also postponed the release of Aao Pyar Karen. It was to come on Dassera. It may now be released on 21st October. And the songs of this film are already a rage.
** Talking of popularity of songs, the 'Amma dekh tera munda bigda jaaye' number of Stuntman has been a rage for a long time now. Jackie Shroff rarely looks so good in a dance number as in this 'Amma' song.
** The Barjatyas may repeat Madhuri Dixit in their next. They have reportedly spoken to Madhuri and booked her dates from December '95. Which means, a year of planning before the camera rolls.
3-E
Education-Entertainment-Enlightenment
Shock & Surprise
The trade is shocked that Main Khiladi Tu Anari did not take house-full opening all over. The songs had become a rage even before the film's release and it was well-hyped too. In addition, it stars two hot-shot heroes – Akshay Kumar and Saif Ali Khan. Then why did it not take an impressive start?
The industry is pleasantly surprised at the way HAHK..! is behaving, creating new records and breaking old ones. Is sky really the limit now?
The Long Wait
The ordinance for reduction of entertainment tax in Maha­rashtra was to have been promulgated, but there is no news so far. Exhibitors are afraid whether their excitement was unfounded. The trade was overjoyed when the Maharashtra chief min­ister announced last week that tax would be reduced to 50% of the nett capacity. There was, and still is, confusion over whether the benefit of tax reduction would have to be passed on to the paying public or not. Wait and watch… but the question is, wait for how long?
A Faith Re-Confirmed
Vijay Kondke, nephew and long-time associate of Dada Kondke, made his debut as a filmmaker not by making a film replete with double-meaning dialogues, like Dada, but by making a clean family drama, Maherchi Saadi (Marathi), which proved to be a super-duper hit. His confidence has dou­bled now with the mind-blowing success of Rajshri's Hum Aapke Hain Koun..!. He plans to launch his next movie – this time in Hindi – Le Chal Apne Sang, in December. It will be a musical social. Raamlaxman will compose nine songs for the film which will be based on a script by Vijay Kondke himself.
Not Good News For Bad Men?
Raza Murad saw Hum Aapke Hain Koun..! recently at Basant, Chembur (Bombay) and was, obviously, floored by the film. Said he, "I loved the film, though it is dangerous that such films should run. Because, if more of such films start clicking, we villains will be out of job!"
Raza's Wisecracks
Here are two more from the witty Raza Murad:
"After Baazi, the industry will get one more heroine – Aamir Khan." Aamir, it is reported, has done a fantastic job as a girl in a song of Baazi.
Raza, who is always there in Salim Akhtar's films, says, "I am Salim's Avtar Gill." Avtar, it may be mentioned here, is invariably there in a Mahesh Bhatt film.