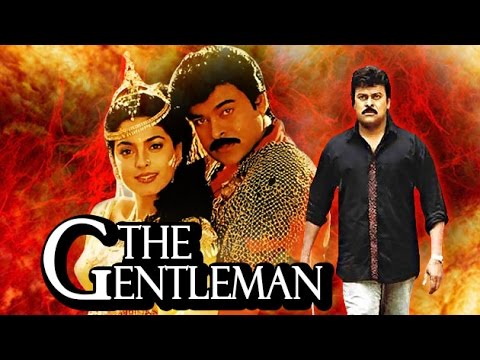 (From our issue dated 19th November, 1994)
Geetha Arts' The Gentleman (UA) is a modern Robinhood film. Remake of a Tamil hit of the same name, it reminds of Jugnu. A noble man, compelled by circumstances, loots the rich to help the poor. Although the film boasts of extraordinary action and hit music, it has some inherent drawbacks and weak points.
For one, its first half is dull and boring insofar as the story is concerned. An unnecessary element of suspense is sought to be created which irritates more than excites. The hero is not pitted against any villain for a major part of the film. The police inspectors, who are out to nab the hero, are also good characters so that there is a tussle between good and good rather than a battle of good versus evil. The real evil character (the politician) comes in the climax and he is not the hero's target. The audience could interpret this as lack of the hero's heroism.
Although the second half is tight and good, it is depressing too. Too many cinematic liberties seem to have been taken by the writer and director. Looting Rs. 50 crore is shown as a left-hand job for the hero who often manages to initiate the looting by tricking the policemen. The principled hero, in one scene, is careful not to use his loot-money to pay for a needy person's education, but doesn't bat an eyelid before building an educational institution with the loot-money.
While the story-line is thin, the screenplay leaves a lot to be desired. Dialogues are good. The English title doesn't really suit the story.
Chiranjeevi excels in action scenes and dances. But he is not in his element in acting. Juhi Chawla does well but the footage given to her does not befit her image and standing today. Paresh Rawal is natural. Heera Rajgopal scores with her sex appeal and free acting. Kulbhushan Kharbanda is alright. Laxmikant Berde does not have any hilarious scenes; he is loud. Anjaneyulu is effective. Sulbha Deshpande is fantastic in a brief role. Deepak Tijori does a fair job. Harish is okay. Rakesh Bedi passes muster.
Direction is routine in the first half and somewhat inspired in the second half. However, the defects in the script are glaring at places. Music is hit. 'Roop suhana lagta hai' is the best number but its picturisation falls short of expectations. 'Aashiqui mein', Rik pika chika' and 'Hum apne gham ko' are also very well-tuned songs and have eye-catching picturisations. 'I'm a lady' is a racy number. Action (Vikram Dharma) is brilliant. Car chase scenes are breathtaking. Locations and photography (Praveen Bhatt) are very good.
On the whole, The Gentleman does not have the content (in script) commensurate with its high price. It will find the going tough. Business in Bombay and South may be somewhat better.
Released on 18-11-'94 at Dreamland and 25 other cinemas of Bombay by Geetha Film Distributors thru Mahalaxmi Films. Publicity: excellent. Opening: very good. …….Also released all over. Opening was below the mark in most of the circuits. 1st day Jaipur 85,762/- (less than 60%) from 4 cinemas.
Mix Masala
SHILPA, SESHAN'S SENSESHAN
Among all the actresses, chief election commissioner T.N. Seshan votes for Shilpa Shetty as his favourite. Seshan made this revelation at an informal chat with journalists in Bombay on Children's Day (November 14). So, that's the election commissioner's selection — much before the general elections.
PROPERTY DEALS
Film stars are on a property buying spree. Saif and Amrita have bought a new flat in Bombay in Oxford Tower. So has Juhi. Currently residing in Oxford Tower, the actress has acquired a flat in Green Acres in which Sridevi resides. Anupam Kher has reportedly booked a flat in the building being constructed by actor-producer-director Ranjeet. Manisha Koirala has bought herself a terrace flat. Amitabh and Ajitabh Bachchan have also bought a lot of properties recently. Govinda and Ajay Devgan have purchased a flat and plots respectively.
YOU ASKED IT
What is the FMC planning to do about the ten-fold increase in the cine workers' welfare cess introduced by the labour ministry from 13th October?
– It is contemplating moving the court. In the meantime, producers have been asked (by the FMC) to deposit the cess under protest.
Failures can be very depressing. With the success ratio in the film industry being as low as 15 to 20%, what keeps the people who've failed, going?
– Other people's failures! That serves as the real tonic!!
In the days to come, what new sources of revenue can a film producer expect?
– A producer can expect to earn handsomely from cable TV and the performing rights of his music, provided he doesn't sell them to the video distributors and the music companies respectively.
'EVIL DEAD' ALSO IN HINDI
In the wake of Jurassic Park, Speed and Universal Soldier, now director Sam Raimi's Evil Dead, one of the 50 top-grossing films of 1983, will also hit the Indian screens in Hindi. Being dubbed by Ashish Enterprises, Bombay, Evil Dead is a horror film, to be released in 1995. Dubbing will begin on Nov. 23 at Kareer. The dubbed version is titled Haivaan Jaag Utha.
FILM CENTENARY BUILDING IN CALCUTTA
West Bengal's information and cultural affairs minister, Buddhadeb Bhattacharya, told the press in Calcutta on November 15 that a film centenary building would be constructed by demolishing the Radha Studio in Tollygunge. The building will house a film archive, a film vault and an auditorium. Radha Studio was the city's television centre before it was shifted to Golf Green. The construction of the centre coincides with the centenary of world cinema in 1995.
SANJAY DUTT HOSPITALISED
Sanjay Dutt, who was lodged in the Thane jail under TADA, was admitted to the J.J. Hospital for treatment of a lung ailment on 17th November.
FESTIVAL OF FILMS BY EXPATRIATE INDIANS
A 5-day festival of films by expatriate Indians, like Mira Nair, Ismail Merchant, David Rathod and Prem Kalliat, is being organised by Smita Patil Foundation in Delhi (from Nov. 30) and Bombay (from Dec. 7). The announcement was made by the Foundation's executive director, Manya Patil, in Delhi on November 16. The festival, titled 'From India to America: New Directions In Indian American Film and Videos', is being organised in collaboration with the Indo-US sub-commission. Mississippi Masala, Salaam Bombay, In Custody, An Unremarkable Life, West Is West and Lonely In America are included in the feature films lot. A seminar will also be organised.
SNAPSHOTS
STALEMATE
It is more than a month now since all shooting and production work came to a halt in Hyderabad. The problem started when the Andhra Associations decided not to permit workers from Madras and Bombay to participate in shootings in Hyderabad. The Madras Associations retaliated by not permitting any of their members to participate in Hyderabad shootings even though the Andhra Associations have seemingly apologised for their act. It's shocking that nobody has been able to do anything to iron out the differences.
* * *
SPRUCED UP
Rupam cinema at Sion, Bombay, has also gone the Liberty, Bombay way. It has been done up beautifully to screen the film Hum Aapke Hain Koun..!, from this week. The admission rates have been hiked to Rs. 52 for balcony and Rs. 34 for stalls. As in Liberty, the screen is lit up with lights in two songs.
* * *
A DELIGHT
While on HAHK..! and Liberty, Bombay, it must be mentioned that watching the film at this cinema is not merely a pleasure, it is a delight. After-mint (sounf) is served to the audience before they enter the auditorium. The cinema wears a festive look, almost preparing you for the 'wedding ceremony' that is to unfold on the screen.
* * *
NOT SUNNY DEOL
Sunny Deol, who was seriously being considered as Sanjay Dutt's replacement in Subhash Ghai's Trimurti, will not be doing the film. Reportedly, due to date problems. Ghai is in a hurry to complete the film, while Deol doesn't have dates to dole out so soon. And so, the hunt for a replacement is on. Who will it be? Akshay Kumar? Govinda? Anil Kapoor? A newcomer?
* * *
HIGHLY 'INTEREST'ING
The Bombay distributor of a recently released film borrowed money (5 lakh) from a Naaz financier to take the film's delivery. The udhaar cost him so dear that the guy had to pay interest of Rs. 80,000 even though he returned the money in 8 hours. And the film finally bombed. Interestingly explosive, this!
* * *
LUCKY NAIDU
D. Rama Naidu's party on 12th November to launch Taqdeerwala was a well-attended affair. Looking to the successful track-record of Rama Naidu and his wonderful taqdeer, a smart Alec at the party remarked, "The film could have as well been titled Rama Naidu. It would've conveyed the same meaning."

* * *
EVEN A PIRATED CASSETTE WOULD DO
Like everybody else, I & B minister K.P. Singh Deo and erstwhile I & B minster N.K.P. Salve also loved Hum Aapke Hain Koun..!. One of the ministers, after the show, expressed a desire to possess a video cassette of the film. When told that its video cassettes were not out, he asked, "Not even a pirated one?"
PEOPLE
Are talking about
** The growing goondaism by anti-social elements who somehow make their way into the Film City premises.
** Film City troubling a leading producer-director by not permitting him to take his equipments out of its premises after pack-up, for a flimsy reason.
PEOPLE
Are shocked about
** The Gentleman not taking even a decent intial in many circuits. Chiranjeevi's first film, Pratibandh, and second film, Aaj Ka Goonda  Raaj, had both taken fantastic openings. Then why not the third film? Any answers, gentlemen? At some places, the first day's collections were less than even 50%!
PEOPLE
Are joking about
** The release date of Prem. "How can Boney Kapoor's Prem be released in December?", they are asking. "The release schedules have to be cancelled at least three or four times before the film finally makes it! Without that, Prem will not look like a Boney Kapoor film!"
BABY BOY FOR RAJKUMAR SANTOSHI
Manila, wife of producer-director Rajkumar Santoshi, delivered a baby boy on 14th November at Breach Candy Hospital, Bombay. This is the couple's first child.
BABY GIRL FOR RAJESH ROSHAN
Kanchan Roshan, wife of music director Rajesh Roshan, delivered a baby girl on 10th November at Breach Candy Hospital, Bombay. This is the couple's second child.
M.L. KASHYAP DEAD
Director M.L. Kashyap expired on 3rd November in Bombay. He was 53 and was ailing from cancer. Anokha Insaan was his only released film. Dilli Ka Shekhchilli and Aur Kab Tak are two under-production films he was directing. He is survived by his wife, a daughter and three sons.