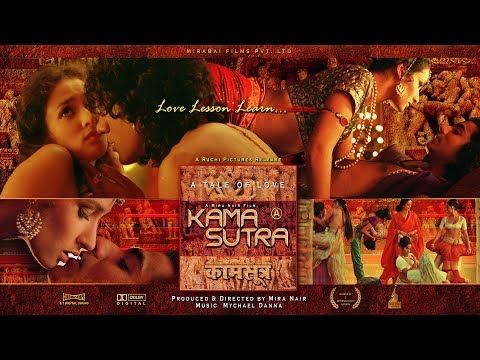 'KAMA SUTRA' GOES TO COURT
R. Mohan, who holds the all-India distribution rights of Mira Nair's Kama Sutra, has filed a writ petition against the decision of the CBFC, which has offered additional cuts in its dubbed versions (Hindi, Tamil and Telugu). The English version, cleared by the Film Certification Appellate Tribunal, was issued certificate by the CBFC earlier, but its three dubbed versions have been offered new cuts.
The petition will come on board once the courts reopen after Diwali vacations in the first week of November.
'QAHAR' POSTPONED
Raj Kumar Kohli's Qahar, which was scheduled for release on 14th November, has been postponed by two to four weeks. The postponement has been necessitated due to the CBFC's objection to the Junglee kabootar song in the film, reportedly due to Maneka Gandhi's crusade against cruelty to animals. According to Kohli, "Although there is no cruelty whatsoever to the pigeon, we can't fight with the CBFC. It they don't see reason in our arguments, we will have to change the picturisation of the song. Hence the postponement."
RAMESH TAURANI FREED ON BAIL
Ramesh Taurani, who was in judicial custody in the Gulshan Kumar murder case, was granted bail by the Bombay high court on 23rd October.
RUMI JAFRI WEDS
Writer Rumi Jafri got married to Hannan on 24th October at Apostolic Carmel High School, Bandra, Bombay. A reception to celebrate the marriage will be held this evening (25th) at Andheri Sports Complex.
Cable TV, Satellite Rights Are Separate: Bombay High Court
In a significant judgement by the Bombay high court on 21st October, satellite broadcasting rights have been held to be different and distinct from cable TV rights. Film rights can, therefore, be sold separately to the various television delivery systems like cable, terrestrial and video, the court has ruled.
Mr. Justice A.V. Sakhre, while disposing of a number of suits involving various cable TV operators on the one hand and satellite rights holders linked to Zee on the other, ruled that video rights cannot include all modes of exploitation where video cassettes are used since they (video cassettes) are merely one form of storage device.
The judgement is likely to go a long way in introducing a semblance of order in the chaotic film industry. The notices of motion of the various cable TV operators having been dismissed, the court seems to have upheld the arguments of the holders of satellite rights that mere purchase of video rights does not cover other forms of broadcast.
In one group of suits, some cable TV operators, who were holding the video rights of Bees Saal Baad and Mera Dharam, were claiming that the satellite broadcasting rights, which had been purchased by Zee Telefilms, also belonged to them. In another set of cases, Zee, which holds the satellite rights of Laawaris and Muqaddar Ka Sikander, had got a stay against ATM and others who held the video rights, from using the video rights separately as satellite rights.
In a recent controversy, both, the Hinduja-owned cable TV channel, CVO, and Zee Cinema aired Manoj Kumar's Kranti on 15th August at the same time. Manoj Kumar had reportedly sold the satellite rights to Zee Cinema, while he had separately sold the cable TV rights to the Hindujas in 1984. As per the present Bombay high court judgement, it will now be perfectly in order for Manoj Kumar or any other producer to sell cable TV and satellite rights separately.
YOU ASKED IT
What is the most disturbing change you have noticed in the film industry from last Diwali to this?
– Distributors have begun to feel a sense of being let down by producers.
I want to produce an 'A' grade film and I have a capital of Rs. 1 crore. How should I start?
– With a capital of just a crore, you should not even be dreaming of producing a film, what to talk of actually producing a film. You should have at least 3 to 4 crore or arrangement for the same to venture into production today.
Is Amitabh Bachchan starring in J.P. Dutta's next alongwith Sunil Shetty and Akshaye Khanna?
– J.P. Dutta has not finalised the cast of his next film.
MIX MASALA
DTS IN NAAZ
Naaz cinema, which houses almost all distribution offices of Bombay, may not have been upgraded as far as its sound quality is concerned. That is to say, it does not have Dolby or Dolby DTS sound. But there are at least two DTS distributors in Naaz. What's a DTS distributor, you might ask. Well, the first DTS distributor is Devendra T. Shah because his initials are D-T-S. The other DTS is Dilip Dhanwani. DTS in his case stands for 'Distributor in T-shirts'. Yes, Dilip is the only distributor who always sports a T-shirt.
INCORRECT PUBLICITY
Many people feel, the publicity of Mr. & Mrs. Khiladi went against the film. The heavy Sumo wrestler was publicised so heavily that people thought, he would have a substantial role or, at least, an important role. But in the film, the wrestler appears in only the climax, that too, for a short while. One publicity design of the film showed Akshay Kumar lying on top of the wrestler (who himself is lying down) and Juhi Chawla lying on top of Akshay. Another design showed Akshay and Juhi tugging at the wrestler's underwear. This gave the impression, to kids especially, that the film would have comedy done by the wrestler. But it wasn't so. May be, wrong publicity was responsible for Mr. & Mrs. Khiladi missing the bus.
Oh! Our Poor Stars
Our stars are the poorest people in the industry. Producers have money, distributors have it too, and so do exhibitors. Technicians are moneyed people but our stars — they are really poor. Don't believe me? Then answer these simple questions:
(1) Why do many of our artistes take their families and friends on outdoor schedules of their films at the producer's expense? Why do the family members and friends stay in the five-star hotel booked by the producer, eat food paid for by the producer, and even ask for cars to be arranged by the producer when they need to go shopping to buy rich clothes, jewellery, art items etc.? No, no, don't misunderstand. I said, the stars are poor, not their families. These family members and friends also drink the liquor of the producer and romance on STD calls paid for by the producer. Would any hero or heroine take any of his friend on a foreign shooting schedule if a producer were not to pay for the friend's air travel, stay, wining and dining? Forget it, most of them wouldn't.
(2) Why do stars (many of them) charge petrol money from producers? Poor things, they can't afford petrol in their Mercedes, Volkswagens, Pajeros and the other fancy imported cars they possess.
(3) Or why do the stars ask their drivers and other personal staff to take conveyance money and other allowances from the producer? Isn't it sad, our stars are hardly any better than our poor who live below the poverty line. The only difference is that the stars themselves don't beg, they have employees (like drivers, attendants, spot boys etc.) who are asked to beg. Yes, I call it begging because if the stars, who charge the producer crores, can't pay in hundreds to their personal staff or can't fuel up their personal cars, it is actually worse than begging.
(4) Have you ever heard of other professionals asking their assistants to charge small expenditure like conveyance, to the person to whom they are rendering their services? For example, a lawyer will never tell you to pay petrol money to his driver, or a doctor will not expect you to give conveyance money to his compounder. Then why the stars who earn much more?
Why do most stars behave as if they are obliging a producer by signing his film? After all, they are not working for free. And why do producers always have to bend backwards to please their artistes? Producers need to come out of this star-created system which forces them to expend lakhs of rupees which, by no stretch of imagination or business prudence, should be expended by them. The hero/heroine/ character artiste has been signed for the film, not his/her family members or friends nor even his car, driver or spot boy. If the artiste feels like carting his friends or aunts, uncles and cousins along to an outdoor location, fine. But tell him, Mr. Producer, that along with the big jingbang, he must not forget to carry his wallet or credit card.
After all, the artistes must be given lessons in the art of spending money. The producer who does it first shall do a great service to the industry.
– Komal Nahta
3-E
Education-Entertainment-Enlightenment
'A' Bad Year
Bombay distributors Raju Bhagde and Achal Agarwal (of Art Home) have made an interesting observation. According to them, 1997 has been particularly unlucky for people with mesh rashi i.e. those names beginning with 'A', 'E' or 'I'. They quote examples: Amitabh Bachchan whose comeback in Mrityudaata bombed; Akshay Kumar whose career is passing through an all-time low (Lahoo Ke Do Rang, Insaaf, Daava, Tarazu and Mr. & Mrs. Khiladi), …Aur Pyar Ho Gaya which bombed, IRK Films (Bombay distributors of …Aur Pyar Ho Gaya), Ajay Devgan, Itihaas, A.A. Nadiadwala (Lahoo Ke Do Rang), Akshaye Khanna (Mohabbat), Aishwarya Rai (…Aur Pyar Ho Gaya), Ahuja Films (Bombay distributors or Tarazu), Ayub Selia (Thane distributor or Tarazu), Achal Agarwal himself, who has been passing through a professional low. So much so that films released in 'A' months — April (Himalay Putra, Kaun Sachcha Kaun Jhootha, Koyla, Mrityudaata) and August (Daud, …Aur Pyar Ho Gaya, Prithvi, Mere Sapno Ki Rani, Tarazu) also bombed with the exception of Ziddi (April) and Pardes (August). To this list, we would add ABC Enterprises, Jaipur (which released Daud and Mrityudaata in Rajasthan). The only exception, perhaps, is Anil Kapoor who has had a particularly fantastic year (Judaai, Virasat and Deewana Mastana).
Music Industry: Out Of Tune
1997 has been a bad year for at least three leading 'T' music companies — T-Series (Super Cassettes), Tips and Time. While Gulshan Kumar, the boss of T-Series, was killed on 12th August '97, Tips boss Ramesh Taurani was taken into police custody in connection with that murder. Dhirubhai Shah of Time was arrested under COFEPOSA. Besides the above 'T' companies, two 'B' music companies — Big B and BMB — shut their operations. Little wonder then that the music industry is in a bad shape. It's like the music industry is suffering from TB.
Surprise Visitor
The unit of N.N. Sippy's Silsila Hai Pyar Ka had a surprise celebrity visitor on the sets at Convent Villa on 21st October. Hollywood actress Goldie Hawn visited the set but since she dropped in unannounced, there was none of the customary welcome. "In fact, we were caught unawares," gushed a visibly thrilled associate producer Pravesh Sippy as he recalled, "A fleet of imported cars came to a halt outside Convent Villa where we were shooting that day, and in walked this foreigner. It took us some seconds before it registered that none other than Goldie Hawn had come on the sets." Goldie discussed her directorial venture with Pravesh and revealed that she was in India for a film she was making on spiritual gurus. She was thrilled to know that Pravesh Sippy and his co-associate producer, Prem Pillai, had watched her on the Jay Leno show on NBC channel. Goldie Hawn was excited to learn that the director of the film she was watching the shooting of was a lady, Shrabani Deodhar. And then the two ladies discussed direction too. Karisma Kapoor was floored when Goldie Hawn said, she knew her as Bollywood's no. 1 heroine of the day. The Hollywood actress asked Karisma about the songs and dances she (Karisma) was so famous for. Well, the only disappointed person from the unit was producer N.N. Sippy himself. For, while Goldie Hawn was hobnobbing with his unit members, N.N. Sippy was busy elsewhere at an urgent meeting.
No Brother
Thanks to Pahlaj Nihalani postponing his Bhai Bhai to 14th November, we will now have just one Bhai — that of Deepak Shivdasani — releasing on Diwali. But in Nizam circuit, Diwali will be a Bhai-less affair! That is to say, even Bhai will not hit the screens there. Although Dilip Tandon (Indra Films, Secunderabad) will take delivery of Bhai alongwith the all-India distributors next week, he will release the film only on 7th November. Reason: non-availability of a proper chain. Here in Bombay, Bhai Bhai had been scheduled for release at New Excelsior as the main cinema. With it being postponed, it is Bhai now, which will be released on Diwali at New Excelsior, besides Dreamland, another main cinema. T
Business In Bihar
Believe it or not but Hanif Sameer's Sanam, which bombed everywhere, has done fantastic business in Bihar. …….And the business of Salim's Raja Ki Aayegi Baarat in Bihar is almost as much as that of Border in the same territory!
Matinee Picnic
DDLJ has celebrated its golden jubilee at Bombay's Maratha Mandir in matinee shows. Today (on October 25), it has completed exactly one year of its run at Maratha Mandir. The film completed 50 weeks at New Excelsior, Bombay, and was shifted to Sachinam thereafter, where it ran for 3 weeks. It was then shifted to Maratha Mandir in matinee shows. Since it is tax-free and also because admission rates in matinee shows are low otherwise too, there are many people who don't mind repeating the film for just viewing a song or two or, say, for seeing the first half. Yes, people come in and go out when they please as if they were on a picnic, and on any given day, there are many people seeing the film only partly. That's the advantage of having repeat value in a film — an advantage that can be heightened if the film is tax-free and if admission rates are low. From Maratha Mandir alone, the distributor has got a share of over 18 lakh in one year. And the film can go on running for many more weeks still.
Govinda-Akshay Face-To-Face: History Repeats Itself
Like Deewana Mastana and Mr. & Mrs. Khiladi, both directed by David Dhawan, were released on the same day (10th October), there were two films of director Kishore Vyas also, which were released on one day. They were Jawaharlal Bafna's Bhabhi and Ramesh Ludhiani's Dancer, released on 23rd August, 1991. The coincidence is that even then, it was a clash of a Govinda-Juhi starrer (Bhabhi) with an Akshay Kumar starrer (Dancer), like Deewana Mastana (Govinda-Juhi with Anil Kapoor) and Mr. & Mrs. Khiladi (Akshay Kumar). And like at present, it was Govinda's film which had scored over Akshay's even then. Moral of the story: Akshay Kumar should plan his releases in such a way that he doesn't clash with Govinda if the directors of the two films are the same.