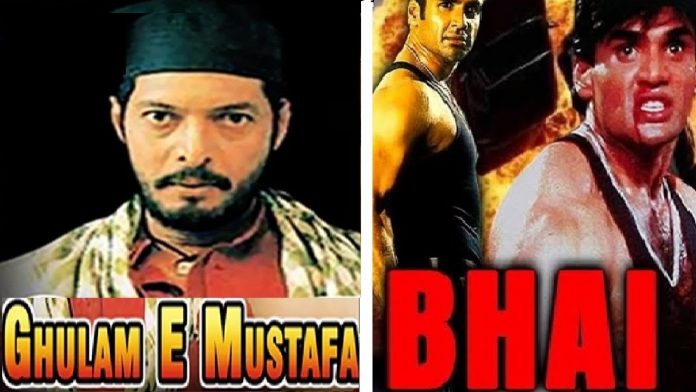 GHULAM-E-MUSTHAFA
S.G.S. Cine Arts International's Ghulam-E-Musthafa (A) is the story of an orphan who has been brought up by an underworld don. He is totally devoted to his guardian and would even do any wrong to please him. In fact, violence is his first and last weapon. But he loses all faith in violence when his beloved is killed. He leaves his profession and, instead, pledges to protect the family of an honest man who is threatened by the underworld dons and is framed on a charge of accepting bribe. At first resented by the family members, how he slowly makes a place for himself in their hearts forms the interesting second half which also shows him striking a deal with his mentor, for the welfare of the same family.
Remake of the Tamil Musthafa, the film has Nana Patekar in the title role, playing a character quite different from his image. He does not have anti-establishment dialogues or swear words to mouth in the film. That could be one shock for Nana's fans who more often than not go to hear him rather than see him.
The drama has excellent emotional moments, and moves the viewer to tears in at least two places. It has lots of Muslim sentiments for the Muslim audience. The film has several twists and turns, some of which are truly interesting. On the other hand, the entire drama moving around just one family limits its perspective.
Nana Patekar does a splendid job in the title role and will appeal a great deal to the Muslim audience especially. Raveena Tandon has a brief role but does a commendable job in it. Shivaji Satam is marvellous as the honest head of the helpless family and wins instant sympathy of the audience. Aroona Irani is also remarkable. Paresh Rawal is restrained as the don. Mohan Joshi is effective. Mohnish Bahl impresses. Vishwajit Pradhan and Ashwin Kaushal are natural. Radhika and Swapnil Joshi do full justice to their roles. Sulbha Deshpande, Ravi Behl (in a special appearance) and Satish Shah and Tiku Talsania (in guest appearances) lend the desired support.
Partho Ghosh's direction is able. Not only has he extracted very good work from his main artistes but has also succeeded in drawing tears from the viewer's eyes.
Music is a letdown. Songs are too slow for today's taste. All the same, 'Tera gham mera gham' appeals in the film with its soothing picturisation. Action scenes have been well composed. Camerawork is very good. Dialogues are clapworthy at several places. Editing is crisp.
On the whole, Ghulam-E-Musthafa has the merits of a winner. Business in Muslim centres and Maharashtra should be fantastic. The film deserves tax exemption which can further its business prospects.
Released on 30-10-'97 at Tilak, Dombivli and on 31-10-'97 at Maratha Mandir and 22 other cinemas of Bombay thru Balaji Enterprises. Publicity & opening: very good. …….Also released all over.
BHAI
Yashish Enterprises' Bhai (A) is the story of an innocent and meek man who flees his village when threatened by the local goons. He comes to the city and is also bullied here. Accompanying him is a child who treats the guy as his elder brother. In the city, the young boy becomes an eye-witness to the murder of their godfather by an underworld gang. When the man and the child prepare to give their witness in court, the child is killed by the gang. This changes the man's life and he transforms from a simpleton to a don.
Remake of the Telugu Anna, the film has a weak first half which shows the villager (Sunil Shetty) almost as a coward. This does not go well with Sunil Shetty's image of a rough-and-tough guy. The post-interval portion is better, with plenty of action. The twists and turns in the drama are most predictable. A major weak point in the film is that Sunil Shetty has been given more scope to emote (at which he isn't very good) and less, to do stunts (at which he is good). In fact, so lengthy are some scenes, like the one in which Sunil Shetty runs with the injured body of his ward, that they become jarring after a while. Emotions and romance have not been developed properly.
Sunil Shetty does not impress in the first half — his weird wig, making him look rather funny — but is better in the second half. Sonali Bendre is miscast as an autorickshaw-driver. Her slim body and thin voice don't go well with the character. Pooja Batra is unimpressive. Om Puri has very limited scope. Kader Khan underplays too much to create full impact. Shakti Kapoor is good in a couple of scenes. Mohan Joshi has been miscast. Ishrat Ali is getting too repetitive and stereotyped. Ashish Vidyarthi is quite good. Deepak Shirke, Rajendra Gupta, master Kunal, Shiva, Brijgopal and Lalita Pawar lend fair support.
Direction is ordinary. Action scenes are very well composed. Music is good. 'Khul gaya naseeb dekho saala' and 'Katti katti' are quite appealing numbers. A couple of song picturisations are the only place where production values are visible; otherwise, not much money has been spent. Camerawork is good.
On the whole, Bhai will have to depend more on the benefit of the festival and holiday period than its intrinsic merits. Should do well in 'B' and 'C' class centres.
Released on 31-10-'97 at Dreamland, New Excelsior and 21 other cinemas of Bombay by Shivani Films thru Veekay Enterprises. Publicity: good. Opening: very good. …….Also released all over except in West Bengal. Opening was very good in Delhi-U.P., C.P.C.I. and Nizam.
LATEST POSITION
The opening of DIL TO PAGAL HAI this week is simply historic. At Bombay's main cinema, Liberty, the plans for the second week will open today (Saturday) instead of the usual Monday.
………
Loha 2nd week Bombay 1,62,837 (48.19%, 7 cinemas unrecd.); Ahmedabad 59,795 from 2 cinemas (1 unrecd.); 1st week Jamnagar 81,500; Belgaum 37,349; 2nd week Delhi (5 days) 4,63,081 from 6 cinemas (1 on F.H.); Kanpur 70,295 from 2 cinemas, Allahabad 33,500, Bareilly 35,853; Akola 40,267; Bhopal 37,653.
Deewana Mastana 3rd week Bombay 33,11,086 (71.69%) from 10 cinemas (9 on F.H.); Ahmedabad 1,10,737 (4 unrecd.), Jamnagar 70,149 (1 in matinee unrecd.); Kolhapur 1,42,929, 1st week Satara 1,67,927 from 2 cinemas (1 in matinee); 3rd week Hubli 98,587 (2nd 1,38,152), Belgaum 98,847; Delhi (5 days) 11,14,293 from 9 cinemas (1 on F.H.); Kanpur 1,30,837 from 2 cinemas, Allahabad 63,500, Bareilly 36,197, Hardwar 25,000; Rohtak 11,983; Calcutta 1,05,901; Nagpur 1,44,621 from 3 cinemas, Jabalpur 1,52,945, Akola 1,02,099, Jalgaon 84,690; Bhopal 99,404; Hyderabad 4,45,801 from 2 cinemas.
Mr. & Mrs. Khiladi 3rd week Bombay 19,87,770 (59.97%) from 8 cinemas (7 on F.H.); Ahmedabad 51,532 (1 unrecd.), Baroda 1,05,534, Jamnagar 42,165 from 2 cinemas (1 in matinee); Kolhapur 80,785, Satara 69,425 from 2 cinemas (1 in matinee); Delhi (5 days) 8,53,366 from 7 cinemas (1 on F.H.); Kanpur 1,16,568 from 2 cinemas, Allahabad 34,500, Bareilly 37,558; Nagpur 1,12,571, Jabalpur 50,813, total 3,24,614, Akola 53,000, Jalgaon 49,130; Indore 85,000 (2 on F.H.), Bhopal 1,33,901 from 2 cinemas; Hyderabad 3,73,207 from 3 cinemas (2 in noon).
Pardes 12th week Bombay (TF) 14,07,909 (73.58%) from 6 cinemas (2 on F.H.); Ahmedabad 1,31,000 (1 unrecd.); Kolhapur (TF) 92,000, Satara (TF, matinee) 17,600; Hubli 59,384; Delhi (TF, 5 days) 7,73,273 from 6 cinemas; Kanpur 35,420, Allahabad 23,500; Nagpur (TF) 41,074, Akola (TF) 57,000; Hyderabad 3,29,322 from 2 cinemas (1 on F.H., 1 in noon).
………..
BABUBHAI DESAI DEAD
Surendra Chhotubhai Desai (Babubhai), partner in Hindmata and Star cinemas of Bombay, expired on 29th October at his residence in Bombay. He was 70. He was cremated the same day.
ADMISSION RATES HIKED FOR 'MUSTHAFA'
Admission rates of Dewal Chitra Mandir, Miraj (Maharashtra), have been increased from Rs. 11.95 and Rs. 8 to Rs. 14.95 and Rs. 9.95 respectively for Ghulam-E-Musthafa. The new capacity is, therefore, Rs. 1,54,630 (old: Rs. 1,20,470).
GUJARAT GOVT.'S CRACKDOWN ON ENT. TAX EVADERS
Licences of 22 cinemas in different cities of Gujarat were suspended for tax evasion, following a series of raids conducted by the Gandhinagar squad of the government of Gujarat on 21st October. Entertainment tax commissioner P.D. Waghela had issued orders for strict action against those cinema houses which were found, in the course of raids, to be evading tax.
Among the cinemas, licences of which were suspended, are Liberty and Geeta Talkies of Junagadh, and Apsara, Vaishali and Vijay Talkies of Bhavnagar.
Entertainment tax evasion by cinemas is rampant in Gujarat and this is said to be the beginning of a crackdown on erring exhibitors.

CAA LIFTS BAN ON SOUTH DIRECTORS
The Cine Artistes' Association on 31st October lifted its ban on the dozen directors and technicians of South India, including Mani Ratnam, Shankar, Athathian and others. They had been put on the CAA's non-cooperation list from 11th August, following a request made by the Film Employees Federation of South India (FEFSI). The FEFSI has been engaged in a battle with these directors/technicians since June '97 and it had asked the CAA and other Bombay-based associations (FWICE, AIFEC) to ask their members to not co-operate with them.
The non-cooperation circular of 11th August, '97 has now been withdrawn in view of an injunction obtained by these directors from the Madras high court. The press release of the CAA states that the circular of 11th August is being withdrawn in view of the Madras high court's injunction which came to the knowledge of the CAA only now.
'BHAI' RELEASE IN WEST BENGAL POSTPONED
Deepak Shivdasani's Bhai could not be released on Friday (31st October) in West Bengal as there was a heavy lien on the said territory. The financier would not have recovered his entire amount even after receipt of the delivery amount from the West Bengal distributor. Therefore, the delivery for West Bengal was stopped as the producer was unable to arrange for the shortfall. According to Deepak Shivdasani, the film will be released in Calcutta next week.
YOU ASKED IT
What, according to you, ails our industry the most?
– Lack of paper-work in production sector, lack of judgement in distribution sector and lack of luck, overall.
What is the best way to force the stars to bring down their prices?
– Producers should give a chance to more and more newcomers.
Is Sambandh complete or has it been shelved?
– It is complete.
DO YOU KNOW?
* Aamir Khan proved his sincerity and devotion to work once again when he shot for SARFAROSH last week even though he had not recovered completely from malaria. The shooting was done on a huge set which, if the schedule were to be cancelled, would have had to remain standing, entailing losses to the producer.
* DIL TO PAGAL HAI has created a theatre record by collecting 39,041/- on the opening day at Vasant, Akola.
* DIL TO PAGAL HAI has created a city record by collecting 49,344/- on the first day at Jayant, Chandrapur.
* BHAI has created a district record by collecting a gross of 69,176/- (100%) on the opening day (4 shows) at Vaishali, Vapi.
* BHAI has created a city record by collecting 30,538/- (nett) on the first day (5 shows) at Shree Shankar, Katni.
* GHULAM-E-MUSTHAFA has created a city record by collecting 83,000/- (approx.) on 1st day at Rajkamal, Akola.
* DEEWANA MASTANA has created a theatre record by collecting 1,02,099/- in 3rd week at Uday, Akola, in spite of pre-Diwali days.
* PARDES (tax-free) has created another theatre record by collecting 6,03,589/- in 12th week (20 shows) at Minerva, Bombay.
* PARDES (tax-free) has created a theatre record by collecting 52,430/- in 12th week at West End, Pune. This is better than the previous week.
* PARDES has created a theatre record by collecting a total of 40,60,740/- in 12 weeks at Ramakrishna 35mm, Hyderabad.
* PARDES has created a record by collecting a total of 11,07,767/- in 12 weeks from Maheshwari (noon shows), Hyderabad.
* PARDES has yielded a distributor's share of 1,47,000/- in a week in 2nd run (after a gap of 8 weeks) from Lido, Mysore, thereby creating a theatre record.
WE'VE HAD ENOUGH OF…
* Sunil Shetty dancing in overcoats. Get over your coats, Sunil.
* Akshay Kumar not dancing in overcoats and rather taking off whatever other clothes he is wearing, in every song-dance. Incidentally, his dances have started resembling his karate quite a lot.
* Bobby Deol's curly and long hair. Because now people have started curling their noses at his hair.
* Sanjay Kapoor's frowning face even in romantic and comic scenes.
* Raveena Tandon repeating her dance style — holding out her hands sideways and shaking her entire body, including her head, shoulders and hips. It's good but since it's getting too repetitive, it might soon lose its charm.
* Govinda's baby-fat. The guy can do with a lot of 'load-shedding'.
* Mamta Kulkarni's super-fast speed of delivering her dialogues. It's difficult to understand what she does faster — taking off her clothes or uttering her dialogues. Try some 'go-slow' tactics, Mamta!
* Mithun Chakraborty in Ooty. The guy should stop insisting on shooting in Ooty and nearby locales because even the locations in his otherwise similar films look the same. Unless he wants to be known as Mithun Chakrab'ooty'!
* Twinkle Khanna's awkward dancing.
* Jackle Shroff trying to dance!
* Barjatyas' silence.
DIWALI TO DIWALI
(November 9, 1996 to October 31, 1997)
111 RELEASES
There were fewer releases in this period as compared to the previous years. In 51 weeks from last Diwali to this, there were 111 new releases, of which 23 were dubbed films and 1 was an animated film. In the previous similar period, there were 133 new releases in 55 weeks.
HITS & MISSES
Of the 111 releases, not even 20%, or, in other words, less than 20 films fetched returns. As against less than 20 above-average/successful/hit/super-hit films, there were almost 90 losers.
CINEMA CLOSURE IN MAHARASHTRA
Cinemas in Maharashtra downed shutters from 1st January, '97 to protest against the state government's move to hike entertainment tax from 50% to 100%. The closure, which put off all new releases of big films during that period, forced the government to reconsider its stand. It had to bring down tax to 60% from April. Cinemas reopened on January 30/31 after an assurance from the government that tax would be reduced.
SOUND SYSTEMS
Sound continues to be the most important feature paid attention to by cinemas. A number of exhibitors have been installing Dolby, DTS, and digital sound systems in their cinemas as more and more films are mixed in these sounds.
MAJOR DEBACLES
If this Diwali is not as bright for the film industry, one of the reasons for it is that there have been too many disasters after last Diwali. Big and costly films have fallen like nine pins at the box-office. In the list of debacles are …Aur Pyar Ho Gaya, Mrityudaata, Salma Pe Dil Aagaya, Daud, Hameshaa, Lahoo Ke Do Rang, Insaaf, Dastak, Mr. & Mrs. Khiladi, Itihaas, Kaun Sachcha Kaun Jhootha, Himalay Putra, Sapnay, Aar Ya Paar, Uff Yeh Mohabbat, Ghoonghat, Lav Kush, Mere Sapno Ki Rani, Betaabi……
FEWER HITS
If the number of releases was less, so was the number of blockbusters during the period from last Diwali to this. Raja Hindustani, released soon after the Diwali of 1996, proved to be a fabulous blockbuster, surpassing in many circuits the business of Dilwale Dulhania Le Jayenge which, incidentally, was released on Diwali of 1995. Border was another blockbuster of this period and, besides box-office success, the film also won a lot of critical acclaim.
Among the period's hits were Judaai, Hero No. 1 and Ziddi; and the semi-hits were Virasat, Gupt and Judwaa. But the hits and semi-hits were not universal in the sense that their business varied from circuit to circuit, and several of them did lesser business in some circuits.
WORST-EVER CRISIS
The period under question has seen depression never before witnessed in the 100 years of cinema. Following the murder of Gulshan Kumar and extortion bids by underworld dons from top names in the film industry, the whole scenario has become one of gloom, despair, fear and panic. The film industry has been targeted by the mafia, and there were even attempts on the lives of Subhash Ghai and Rajiv Rai. Financiers have shied away, hopefully only temporarily, from films, and shootings and recordings are being cancelled due to cash crunch. The last 75 days, in particular, have been disastrous for the industry which has also had too many flops and debacles during this period. The debacles of the new releases have also adversely affected the finance cycle. All in all, the last three months of this period have made the industry forget even the glories of the earlier nine months. Why, even parties and premieres have become like memories today!
DELIVERY DRAMAS
The period under question saw producers at the mercy of distributors, especially in the last two months. Mohabbat and Hameshaa could not be released in a circuit each, due to distributors refusing to take their deliveries at the contracted prices. There was a similar delivery drama in the case of Mr. & Mrs. Khiladi but that film managed to see the light of the day after the drama.
Industry know-alls predict, this will now be the rule rather than the exception. Producers, according to them, have become so unrealistic in their pricing that distributors are bound to dishonour their contracts.
I-T RAIDS
On the one hand, the Union budget of the government did not grant any noticeable relief to the film industry and, on the other, the government's own income-tax department came heavily on the industry by conducting simultaneous raids on several top names in the industry in December '96.
TWO SHOCKING DEATHS
Two deaths which shook the industry and shocked the industry people were those of music magnate and producer Gulshan Kumar and director Mukul Anand. Gulshan Kumar was gunned down by unknown assailants on 12th August in Bombay. While investigations are still on, music director Nadeem has been named the prime suspect in the killing, by the Bombay police. Ramesh Taurani was also arrested in the same case. Mukul Anand died of a heart attack in Pune.
Other notable deaths during the period under scrutiny were: Chetan Anand, C.P. Berar distributor R.R. Khajanchi, Basu Bhattacharya, lyricists Indeevar and Anjaan, Gul Anand, Mukesh Duggal, Urmila Bhatt, Anoop Kumar, Chandrakant Sangani, music directors Ved Pal, Nusrat Fateh Ali Khan, actress Mehtab, actors Murad, Chandu Parkhi and Narayan Rajgor.
MAJOR TRAGEDY
Uphaar cinema in Delhi saw one of the worst tragedies in cinema history when, on the first day of the release of Border, 57 people watching the film were killed in a major fire that broke out in the cinema. Following this tragedy, the authorities, at least in Delhi, woke up to the need to ensure that cinemas did not violate safety, fire, building and other regulations. Some cinemas in the capital city have also been ordered to be closed down for similar violations.
ASIA'S LARGEST FILM CITY
Filmmaker, distributor, exhibitor and media baron of the South, Ramoji Rao, started the Ramoji Film City near Hyderabad in September '97. Spread over a 1,000-acre plot of land, it has 40 studio floors, scores of locations, properties, set designing and construction facilities, state-of-the-art equipments for post-production work, a sophisticated film processing laboratory, digital audio work-stations, bank, travel agency, communication centres, business infrastructure, a power station, 5-star and other hotels, etc. It is the largest film city in Asia and is so well equipped that a producer can walk into it with a script and walk out of it with the final print of the film.
SMALL CINEMAS & MULTIPLEXES
Small is in. At least as far as cinemas are concerned, Bollywood has woken up to the international trend of small cinema houses. There are already a handful of small-capacity cinemas that have come up in Bombay, such as Sona (Borivli), King's (Kurla) and Pooja (Dombivli). Cinemax and Cinestar are two more small cinemas which are due to open shortly in Bombay at Goregaon and Kandivli respectively. In the capital city of Delhi, the first multiplex — Anupam PVR — started functioning in this period. The multiplex houses four well-maintained mini cinemas.
ENT. TAX IN KARNATAKA, GUJARAT
The Hindi film industry in Karnataka was dealt a severe blow when the state government withdrew compound tax on non-Kannada films and fixed the rate of tax at 110%. But better sense prevailed and the government brought down the tax rate to 70% on non-Kannada films some time back.
In Gujarat, compounded entertainment tax policy was rationalised in April '97, which benefited areas with low population.
DISTRIBUTORS DISILLUSIONED
If production activity has declined in the last three months, so has buying by distributors. Films are open even till one week before their release. The slump in buying activity is due to the heavy losses faced by distributors in several recent releases. Distributors have also become disillusioned with producers, many of whom don't show their films to distributors (who've invested lakhs in them) till five to seven days before the release of the films.
VIDEO PIRACY
Video piracy has been rampant but the authorities are turning a blind eye to the menace that is eating into the revenues of the industry. New films are being blatantly shown by cable TV operators all over the country as producers cry hoarse. The worst came when Prithvi was beamed by a cable TV operator in Bombay a day before its theatrical release!
NTR FILM AWARD FOR DILIP KUMAR
Thespian Dilip Kumar has been selected for the prestigious N.T. Rama Rao National Film Award for 1997, for his outstanding contribution to the growth and development of Indian cinema. President K.R. Narayanan will present the award to Dilip Kumar at a function in Hyderabad today (1st November). The award consists of Rs. 5 lakh, a memento and a shawl.
TENSION IN TAMIL FILM INDUSTRY
The Tamil film industry has been embroiled in a bitter battle from June '97. It has been divided into two — those who are loyal to the Film Employees Federation of South India (FEFSI) and those who have switched loyalties and are with the newly formed association, the Tamil Nadu Film Creators and Employees Federation (TNFCEF). The problem arose when some workers of FEFSI picked up a fight with a leading director during his shooting. Almost all top filmmakers have decided to come out openly against the high-handedness of the FEFSI. In the battle that refuses to come to an end despite the intervention of a person no less than Tamil Nadu chief minister M. Karunanidhi himself, some Hindi film shootings have also been adversely affected.
TOP 5 IN BIHAR
Following are the top 5 films of Bihar-Nepal, each of which has crossed the 1-crore mark. Some of them have even crossed the 2-crore mark:
(1) Hum Aapke Hain Koun..!
(2) Raja Hindustani
(3) Dilwale Dulhania Le Jayenge
(4) Maine Pyar Kiya
(5) Karan Arjun
Since ticket (admission) rates in Bihar are very low (the highest rate is Rs. 10.90, that too only in air-conditioned cinemas), business of Bihar territory is quite low. It would surprise many to know that there are just 10 air-conditioned cinemas in the whole of Bihar — six in Patna, three in Ranchi and one in Jamshedpur. The sound revolution has hardly touched Bihar — only one cinema viz. Sujata, Ranchi, has installed Dolby sound system.
Little wonder then that distributors of Bihar-Nepal often complain that the ratios of new films of 1.5 crore and more are just not affordable by them.
DIWALI TIPS
The scene at the box-office can become brighter if the tips we give hereinbelow about what the next films of our stars and others should be are followed by the persons for whom they are meant. Our sincere Diwali tips:
RAJ KANWAR: Like a true Sardar, Raj should not give up on the school subjects he started making with Itihaas. Since his calculation went wrong in the first subject, he should now make Ganeet, to be followed by Bhugol and Vigyan.
JUHI CHAWLA: Enough of suspense, enough of drama and enough of lies ("I'm not yet married, I'll get married after some years" blah, blah). After Mr. & Mrs. Khiladi, Juhi should act in a film titled Mr. & Mrs. Mehta. Through this film, she should, in her own giggly style, reveal to the world that she is married to Jai Mehta. No prizes for guessing her hero in the film. It should be her real-life hero, Jai Mehta.
SUNNY DEOL: His next should be America, to be shot in a single schedule in America. It should star himself, Bobby Deol and Karisma Kapoor's younger sister, Kareena. To begin with, Sunny should assign its direction to a lady from London, Surinder Laddha, who should have earlier directed an English film, Paaji On The Beach. Within a week of the launching of America, he should declare that her direction is weak and call Rahul Rawail to America to take over the reins. Rahul, like a true friend, should not bother that his …Aur Pyar Kho Gaya is on release, and should immediately fly to America. After 15 days, Sunny's unit should return to yeh mera India and soon thereafter, Bobby Deol should announce that he will turn a director and complete America.
RAJIV RAI: After Gupt and its post-release hungama, Rajiv should make Muft. True to its title, it should be given muft to all the distributors. This will ensure that Rajiv doesn't receive any money on delivery and any threatening calls for paying up extortion money after delivery.
AKSHAY KUMAR: As a successful sequel to his flop Insaaf, he should act in a potential hit, titled Saaf. Since the audience appreciates honesty, Akshay should reveal — no, no, not reveal his chest hair but should reveal in all genuineness — what led to his being wiped out (becoming saaf) from the scene.
RAMGOPAL VARMA: After Daud, he should announce half-a-dozen films starring his one and only favourite, Urmila Matondkar. The films should be titled Chal, Ud, Tair, Ruk, Baith Ja and So Ja. And after what he's done with Mahima Chaudhry, he should give the girl another chance after Satya. He should make a film with her and title it Satyanaash.
RANDHIR KAPOOR: Too long an absence is not good. Randhir should forthwith start his… no, Ghoonghat Ke Pat Khol must've become old now. Randhir should announce Zubaan Ke Pat Khol and cast Nana Patekar, Shah Rukh Khan and Madhuri Dixit in it. After Khamoshi, Koyla and Mohabbat, the three stars should simply bol, bol, bol in this R.K. film.
MAHESH BHATT: Enough of declarations about quitting direction and then clarifications that he is not calling it quits. The cat is out of the bag — that Mahesh Bhatt had actually given up direction long ago. His assistants, choreographers and action directors have been doing the job, and Mahesh only gives instructions to them — that too, only when really necessary — on his cellphone. So our tip to Mahesh is that he should now actually jump into direction all over again. Yes, and it goes without saying that Mahesh should himself direct films now, and not allow duplicates to do it.
SANJAY GUPTA: Unless Sanjay wants to make flops hameshaa, the guy should take our tip very, very seriously: He should simply quit Bollywood — and go to Hollywood!
INDRA KUMAR: He should now make a romantic film as a quickie so that his heroine doesn't fall in ishq, or an already-in-ishq heroine doesn't get married during the making of his film which usually takes years to complete.
K.C. BOKADIA: As producer after producer goes to foreign locations to shoot songs and dances, Bokadia runs again and again to mharo Rajasthan. Whether it's Lal Badshah or Aap Mere Hain Sanam, this Merta ka chhora can't think beyond Rajasthan. So our humble advice to him: make a documentary on Rajasthan for the Rajasthan government, instead of making so many films. He won't even have to borrow money for the documentary film from all and sundry as he does for his feature films.
MIRA NAIR: After what the censors have done to her Kama Sutra, Mira should make a saaf sutra, sorry, saaf suthri film. Maybe, she could try her hand at a mythological/devotional on Mirabai.
KESHU: After giving his distributors frightening losses in Mr. & Mrs. Khiladi, Keshu should revert back to using his surname. Yes, there's no harm in calling himself Keshu Ramsay now. After all, Ramsays love to scare — whether it is the audience or the distributors, it's all the same.
MAMTA KULKARNI: The girl should start observing sola shukrawar because her shukrawars have not been very lucky. On all the sola shukrawars, Mamta should be dressed from top to toe and should try singing this 'seventies' song: Madad karo he, madad karo Santoshi mata, madad karo Santoshi bhrata.…. Yes, she needs Santoshi bhrata (Rajkumar Santoshi) and his China Gate to open the gates of stardom for herself.
LEAD KINDLY LIGHT
By Dr. B.R. Chopra
India won freedom. We lost it. Not actually. But literally. I helplessly watched the wickedest communal riots preceding Independence and train loads of blood-soaked corpses crossing the borders of the divided countries which could drive anybody mad. I almost lost my mind. At one time, I thought that the conditions of bloodshed will be a permanent feature of mutual hate.
But luckily, people on both sides got tired of killing their erstwhile brethren and decided to compromise for mutual peace although even after 50 years of Independence, we do hear terrible gunshots across the border in Kashmir, which continue to divide the hearts in spite of the outward peace, quiet and political acrobats. Indians were unhappy because their ancient country was cut into two and they were denied the sense of unity for which they fought and lost lakhs of freedom-loving fighters. Pakistan, on the other hand, continues to be unhappy even after their success in dividing the country which had been one for centuries, because, perhaps, they want more. I hope and wish that after this half-century of freedom, we are able to shed hate and embrace each other with Love to make this sub-continent as the finest and strongest political combination of the world. But would good sense continue to prevail? On both sides, religion is supreme, and religion does not teach hate. We were brothers once. Let us resume that relationship — without conditions.
I quote the following couplet from Cardinal Newman:-
"Lead kindly light amid
The encircling gloom
Lead thou me on
The night is dark
And I am far from home
Lead thou me on."
I was also far from home (Lahore) when Partition brought me to Bombay. When I looked at the huge city, I felt forlorn and friendless. As a film journalist in Lahore — and quite comfortably settled — I could claim to have some friends in Bombay but with a torn heart and bruised clothes, the refugee in me did not permit me to announce my hapless state and seek grudging support.
And support for what? The resumption of my magazine, Cine Herald, was impractical in what seemed a foreign land with unrecognisable faces. Even otherwise, there was such a huge exodus of refugees that a solution of employment was really not feasible.
In this gloom, a ray of light appeared in the form of two brothers who were colleagues of my father and who had drifted from government job to business in Rawalpindi. They were also uprooted and were on the lookout for an asylum. I met them at Jullundar, my home town, which provided them the immediate relief, at least of a temporary home. While we were brooding about our future, they said – "Baldev, you have been a film journalist and a good one too. You must be knowing something about films and filmmaking. Why don't you make a film which can rehabilitate all of us?" I said – "I have no knowledge of filmmaking, and from a magazine, I could hardly boast of any substantial money."
"Money we have," they said, and thus the struggle for existence began. My partner of Cine Herald and my friend, journalist D.P. Berry of Screenworld, also joined hands in the project, and my film career started.
As a journalist and critic, I could see that films can be divided broadly in two categories. Most of the films follow the pattern of success which is born out of box-office hits. The other category included the pictures made by people like Shantaram, Mehboob, Bimal Roy, P.C. Barua, Vijay Bhatt and the like — pictures with substance and with social significance. Although as a journalist, I would have loved not to follow the formula pattern, my other partners wanted to play safe and make a safe picture. They felt that if S. Mukerji could be a luminary with formula pictures, why not we? And so we made our first picture, KARWAT, with box-office combination of Geeta Nizami and director B.D. Vedi. But unfortunately, it turned out to be one of the greatest flops of the season. We were literally on the road and completely shattered. Luckily for our financiers, they were able to recover their investment on the strength of some upcountry distributor-friends, and they were able to set up their old business in Delhi. However, I did not know what to do. A flop picture has no status in film society. I really did not know how to live respectably. The future appeared grim and dark. I did not have a story. I did not have a financier. I was too down and out — miserably shaken to my bones. It is at this stage of tragic existence that I met Mehboob — a very dear friend since 1938. We met when he came to Lahore for scouting for new talents for his next picture, THE ONLY WAY. It may interest you to know that Govinda's father, Arun (real name Gulshan), was selected to be the hero of the picture. Seeing me in such a predicament, Mehboob took me home and said something which I would love to quote – "Chopra, a failure is not the end and be all of life. You must not give up, try again. Pictures do fail but you cannot decide to lose hope."
"But my problem, Mehboob Saheb," I said, "was this, that apart from having no financial help and backing, I do not know what kind of picture to make. I tried a formula picture and it almost killed us. Now what?"
Mehboob drew me close to himself and patting me on my back, said – "You are a highly educated man. I did not have even regular primary education but I did not give up. I looked to God for light. And the light came in the form of a story. I saw the light on the horizon when I met a well-known producer, Dr. Patel of Sagar Movietone, who took kindly to me and my story. AL HILAL was my first picture, and the judgement of Allah (translation of AL HILAL) was in my favour."
The story of Mehboob inspired me and I decided to gird up my loins and try out my luck again.
That day, while going to sleep, I read the following few lines which changed my outlook on life — from defeatism to struggle. "In creative work, the most important element is inspiration, and the best inspiratoin is that which is backed by divine sanction. So look up every time you have a problem or a question mark."
You will, perhaps, laugh it out and even derisively, but the fact is that you do look up to God to seek his blessings for your inspired moments of creation. It may not fit in with the mathematics of success, but we can at least say, 'Lead Kindly Light – Lead thou me on'.
This Kindly Light led me to the first step of my struggle in films. Light came in the form of I.S. Johar — an old friend from Lahore. When I narrated my tale of woe, he laughed at me and said – "Never give up. There can be a silver lining even in the darkest cloud."
That day, he took me for a cup of tea to C.C.I. There, he narrated a story to me, which I liked particularly because it did not fit into any usual formula. But then who will help me financially? I went home and before sleeping, I looked up and said – 'Help me kindly light – lead thou me on'. The prayer was heard. And a miracle happened in the shape of one Mr. Goverdhan Das Aggarwal – a producer and financier. We knew each other slightly from Lahore.
In those days, there was a restaurant called 'Parisian Dairy' (now 'Talk Of The Town') on Marine Drive, which was the haunt of unemployed film people. Naturally, I was also qualified to go there and be among the struggling hopefuls. Here the light came in the form of a sound which said – "What are you doing here, Chopra Saheb?" It was Goverdhan Das Aggarwal beaming with his unmistakable toothy smile. I offered him a seat and also a cup of tea. He sat down and looked at me for the answer to his question — what are you doing?
I repeated all about myself — my failure and my present destitute condition.
He also said – "In films, never give up. You never know when God decides to smile. Anyway, have you gone any far with your next project?"
"Only as far as story."
"That is half the battle."
"But what about the finance?"
"That we will see. Can you narrate the story?"
On the following day, I narrated the story to him. He seemed to like it. He said – "Looks different but promising. Rather unconventional. People normally do not take kindly to faithless wives, particularly when they are married to respectable people. Nevertheless, we will meet tomorrow at the evening haunt — Parisian Dairy — over a cup of tea."
We met at the appointed time and straightaway got down to business.
"Story is really good" – he said – "and I would like to lay down funds for its making."
The light from horizon — I blinked. I managed to say – "You are being very kind. But my problem is this. That I have no money to pay in case of……." He did not allow me to complete the sentence. He had guessed it and said – "You will not have to pay anything in case of a loss. We will share success." That, to my mind, was, indeed, a miracle.
I drew my chair near him and said with a happy smile, 'Thank you, Sir, for your kindness. We can now set out and decide about the cast and credits."
"Not so fast, Mr. Chopra. I will give you money only on one condition."
I was crestfallen. Looked sadly at him.
He said, "I will finance you only on one condition."
"What is that condition, Sir?"
"I will give you money only if 'you' direct the picture."
"'Me' to direct the picture? No Sir, I cannot be the cause of your ruin. I have never really been inside a studio. I know nothing about direction. I have never been an assistant to anybody. I am sure, you will not stake your hard-earned money on somebody who does not know ABC of direction."
"Mr. Chopra, you may take it or leave it. If you agree to direct the picture, I give you my cheque just now," and he pulled out a cheque of Rs. 50,000/- from his pocket.
I could not hold back my tears. With trembling hands, I took the cheque and both of us embraced each other on the project. Was it not a miracle? The success of the picture was another miracle. AFSANA proved a great hit and as I say always, the fool stayed and today completes Golden Jubilee (50 years) of his film career. The reason — The Kindly Light helped me to continue with credit.
My training in journalism helped me to avoid formula and go in for the challenge in selecting stories with substance and social significance even with a social message.
Even when a number of veteran producers and distributors, the authorities on film's rating, declared that EK HI RASTA, the first picture from B.R. Films, was a box-office poison, the Kindly Light inspired me to success. Knowledgeable producers and film directors thought, NAYA DAUR was a documentary and decided to bet against SADHNA because no film on a prostitute had ever clicked. Today, when I look back, I feel like patting myself on my back for the extraordinary courage which helped me to stick to my guns and not succumb to the criticism of the masters of trade. It may, perhaps, appear boastful if I narrate in detail my experiences on my later pictures because almost every time, I came into conflict with the popular opinion of the box-office experts. Luckily, however, my LIGHT did continue to guide me and I did have a good measure of success. Suffice it to say that with the help of my story department (which had extraordinary literary writers like Pt. Mukhram Sharma, Kamil Rashid, F.A. Mirza, C.J. Pavri, Akhtar Ul Iman, Dr. Rahi Masoom Reza, Satish Bhatnagar, Hasan Kamaal — not forgetting Sahir Ludhianvi who looked after my film poetry) and the madness in me to attack the windmill, God did decide to help me to some unusual reputation as the maker of socially significant pictures with socially relevant messages.
For all my success, I only give credit to the Kindly Light, and for all my failures, I pocket the shame myself. All in all, God has been kind, and the stupid-looking lad, who landed in Bombay in February, 1948, is really thankful to Him. Whether I deserved all this or not is not a subject of discussion. Miracles cannot be logicated. There is no mathematics in film, and what leads to success is only the divine inspiration.
You will now ask me that in spite of all this, why am I not making films now. The fact is that I do want to make a film. That is my life. But of late, I feel that I will not be able to fit in the film scenario of today. In my time, we used to make films. Some story, some themes, some social message. Today, the emphasis is not on 'the film' — it is on 'the money'. In my time, artistes loved to work for a good story, and price was not the only criterion. Today, money is supreme and the only criterion. Both, the producers and the artistes, just think of mathematics and their crores. To hell with the subject. With the result (excuse my saying so) that there is a hectic repetition both, in stories (if there is a story) and the items of entertainment in the shape of the music score.
Time was when a song was a part of story or a piece of dialogue. Today, songs are items (principally inspired by audio kings) and dances are choruses in parade helping the hero and heroine to express their love with the confirmation of the 50-and-odd dancing partners. There was once a time when the following picturies were running almost at the same time in 1957 to silver jubilee — MOTHER INDIA, DO ANKHEN BARAH HAATH, BHABHI, MISS MARY, NAU DO GYARAH, NAYA DAUR, ASHA, PYAASA and TUMSA NAHIN DEKHA. Do we have such a phenomenon today? I am not trying to boast about old films. I only wish, the crorepati pictures are also able to provide respectable variety of subjects. Money should not be the only consideration. Nor the only end. Picture and its quality may also be allowed a place in your heart and your pocket — if not a place of honour.
As a producer, I have no right to criticise the work of other producers but I can at least hope, it is a piece of popular and sensible entertainment. Box-office, yes, but not at the expense of quality. Public does want entertainment. We must give it. Nobody has a right to deny entertainment in a picture. But repetitive stories and riotous music is really not entertainment.
Any way, I at least will not be able to fit in the present atmosphere and quality for today's pictures. You might turn around and say, Chopra has grown old. You are right. In spite of my age, I keep asking myself – will I be able to adjust in this atmosphre which is ostensibly infested with all kinds of money, with no thought for the subject matter of a film? I again look up to Kindly Light and seek a response. Silence greets me.
Film atmosphere is further vitiated by the unfortunate introduction of the underworld in the affairs of the industry. The consequent nerve-shattering murder of Gulshan Kumar of T-Series and the murderous attacks on Rajiv Rai and Subhash Ghai have paralysed the industry. There is all-round panic, and the studios are giving a bleak look all around. Industry leaders have to join their heads to bring the industry back to health. We cannot allow the present state of panic to continue.
Join me in my prayer to God to bring back peace and sunshine to the entertainment industry.
We only try to bring cheer in the hearts of the people, so please help us God.
The famous English poet Wordsworth once wrote – "He saw the light which was neither on sea nor on land."
You will naturally ask what is that light which you can't see on land or sea. The fact is that the inspirational light is not tangible. You can only feel it — but that can equip you for artistic challenges which lead to wholesome entertainment which, in turn, will enrich your soul and create a sense of hypnotic pleasure. Box-office is definitely important. This alone can sustain the industry. But, are we really faithful to our box-office? Are we happy with our pictures?
The peculiarity of today's business is this, in a nut shell. Production is at its highest level. Success is at its lowest level. But there has been a great unheard of achievement. Crores have become cheap. An artiste may be good or not so good but if he or she appears in the TV ads which have become popular, he is crorepati and is busy upto the beginning of the next century — whatever the fate of his coming line-up. Producers and distributors are living on the thin edge of the wedge and are individually ganging up against each other and praying for a rare success. Shall we say, three cheers for such a wonderful situation where, except for a rare success, nobody is happy?
This article is meant only for introspection, so that we are able to draft a proper balance sheet and devise means of respectable survival.
Let us all look up to Heaven and say
Lead kindly Light –
Lead thou me on.
DIMAAG HAI PHIR BHI MANTA NAHIN
By RAMESH SIPPY (Distributor)
Not very long ago, we were in the august company of several successful and hit filmmakers. It appeared that finally the film industry was going through a phase that it had not witnessed for over two or three decades. The law of averages seemed to defy itself. The percentage of successes and super-successes touched an all-time high. HUM AAPKE HAIN KOUN..!, KARAN ARJUN, RANGEELA, DILWALE DULHANIA LE JAYENGE and RAJA HINDUSTANI. The list was long and unbelievable. There was fear lurking in some of our minds, kahin nazar na lag jaaye. How long would this phenomeon of success last? In the midst of the run of RAJA HINDUSTANI came a severe blow from the government of Maharashtra in the form of enhancement of entertainment tax from 50% to 100%. A lull in exhibition and distribution in the form of a retaliatory strike for a period of four weeks from 1st January to 30th January. One will never know whether this decision was right or wrong, because finally, the Bombay (Maharashtra) distribution and exhibition reopened to the enhanced full rates of entertainment tax earlier imposed by the government of Maharashtra. This was done at the behest of the government of Maharashtra committing to reduce the said entertainment tax within a reasonable period of time. During this period, films failed endlessly and most of us blamed the entertainment tax enhancement without considering the fact that the failures were on an all-India level where the entertainment tax structure had not been changed or affected in any manner. Obviously, something had gone wrong. Success had been taken for granted and some sort of complacency had set in. Genuine creative efforts had once again taken a back seat. The ceaseless creative efforts to continuously create and raise the levels of Indian cinema to levels comparable to any other in the world had become a dream.
It would be very difficult to analyse or make a post-mortem of the various causes of this change. But obviously, the very same audience, who reacted and gave their support to the major success of the abovementioned films since 1994, could not have suddenly turned their heads unless they had a strong reason to do so. A thirst for accumulating quick wealth had crept into some of the filmmakers, directors and artistes without taking into consideration the economics of over-production and consequences of over-exposure. Music companies like Venus and Tips found it more lucrative to produce their own films rather than pay fancy prices for music rights of films produced by others. In their over-enthusiasm, they launched nearly six/seven films each and paid phenomenal amounts to the artistes, music directors, directors and some of the technicians to procure priority dates and preference over other film producers. This was the beginning of the downslide. The artistes, technicians, etc. got a taste of blood. Prices of all artistes and technicians, including successful directors, were not only on the rise but on a rampage. As a consequence, even the supporting actors and other junior artistes and technicians jumped on to the bandwagon and decided to make hay while the sun shines. The attitude of each one was to grab and extract every rupee that one could during this fantastic spell of Hindi film production and its short-lived success story. Unfortunately, the principle, Everything that goes up must come down, did not apply to this set of industry people. It is indeed awkward and embarrassing to reduce one's price. But, in fact, it is the Order of the Day.
Over-exposure has also had its toll. It could be Sunil Shetty, Akshay Kumar or even David Dhawan. No one can survive the onslaught of over-exposure. A lesson to learn in this respect is Dilip Kumar of earlier times, and Aamir Khan of these times. They have proved the tested formula of that. Money for them will come and continue to come for a much longer spell than many others. It is not too late for others to take a cue. Some directors like Indra Kumar, Rajkumar Santoshi, Aditya Chopra and Sooraj Barjatya are our silver lining and, fortunately, they have not yet fallen prey to success. They are not in a hurry and are willing to bide their time to ensure and prove that their earlier success was not a flash in the pan.
Artistes, technicians and the rest of them have to awaken and face the reality of today's times and take the required action before it is too late. Forget about making all the money today. Tomorrow may be a better morrow.
From LAHOO KE DO RANG to DAUD, the films have only brought us tears and made us weary. Memories of success are but a mirage.
It's time we decided to work in tandem as a trade that needs to survive as a whole and not as a part.
A Happy Diwali to all of us and a hope that DIL TO PAGAL HAI and MUSTHAFA may help us forget our woes for a while.
Hollywood Films, Bollywood Ishtyle!
With so many Hollywood films being dubbed in Hindi, consider a scene where, instead of dubbing them, Hollywood producers decide to sell their Hindi remaking rights. Suggested below are some films which should be remade with the following Indian casts and crew.
The Last Emperor: Amitabh Bachchan should be cast as the hero of this film because we've not had an emperor at the box-office ever since the guy had to step down from the throne. The remake could be directed by Mehul Kumar so that there's no chance whatsoever of the Emperor striking back. Because if he did strike back, it wouldn't be appropriate to title the film The Last Emperor. What's more, the film should be produced by ABCL so that it can be sold to the same distributors who had released Mrityudaata — at half the price of Mrityu (short form for Mrityudaata).
P.S.: Amiabh has already acted in Shahenshah. Anyway, that was the first emperor (shahenshah). This would be the last.
sex, lies and videotape: The Bhatt family need not look outside to make a Hindi rehash of this flick. Pooja Bhatt can take care of the 'sex' in the title. The 'lies' bit can be taken care of by Mukesh Bhatt. And who better to understand the worth of a videotape than 'Hollywood remake director' Mahesh Bhatt.
Three Men And A Baby: Sridevi should turn a director with this film starring hubby Boney Kapoor and devars Anil Kapoor and Sanjay Kapoor with daughter baby Janhvi. The film will talk of how a baby changes the lives of three men. Since this would be the first directorial venture of Sridevi, Boney should use his good offices and seek help and assistance (on a friendly basis) from his past directors who've given him succesess, viz. Shekhar Kapur (of Mr. India), David Dhawan (of Loafer) and Raj Kanwar (of Judaai). That would be: Three men and a Devi for Three Men And A Baby.
Mission: Impossible: Manoj Kumar should produce, direct and also act in the Hindi remake of this film which will deal with the travails of a father (Manoj Kumar himself) who has been trying for the past 10 years to launch his son (Kunal Goswami). After interval, Boney Kapoor could face the camera and talk of his experiences in trying to launch, re-launch and re-re-launch brother Sanjay Kapoor. And the climax would have a special appearance by none other than Dilip Kumar in the role of a director. He would take a vow in the film, to never again try his hand at direction, after Kalinga because that has become his mission impossible.
The Empire Strikes Back: The Barjatya family will play the central roles in this film. It will, of course, be directed by Sooraj Barjatya who will narrate how, under his able hands, the Rajshri empire struck back. Like Liberty cinema in Bombay was renovated by Rajshri for HAHK..!, Bombay's New Empire cinema (which is already undergoing extensive renovation) should be further upgraded with the most ultra-modern sound system so that New Empire could announce: 'New Empire also strikes back'.
The Untouchables: Puru Raaj Kumar should team up with Sushmita Sen in this flick to draw public attention to how the two of them were being treated as 'untouchables' by the ruthless industry. Laxmikant Pyarelal should be the choice for music direction. Needless to add, the film should be distributed all over India by the producer making it, because that way, it will live up to its title. On second thoughts, its Hindi title can be …Aur Mujhe Chhuna Nahin, not to be directed by Rahul Rawail.
Police Academy: Jagdish Raaj deserves to be the hero of this film dealing with policemen, simply by virtue of having played a police inspector in the maximum number of films. Shah Rukh Khan, Salman Khan, Jackie Shroff and Aditya Pancholi, after their experiences with the Bombay police in the Gulshan Kumar murder interrogation, could play interesting special appearances in the film. Jagdish Raaj's son, Bobby Raaj, would be the best choice for direction.
West Side Story: Sanjay Dutt, Sunil Shetty and Salman Khan, who love to show off their bodies and flaunt their muscies, should be cast in this film which should be re-titled Vest Side Story to match their penchant for wearing vests. R.R. Hosiery could be roped in to present the movie which would not be too costly, as a lot of money would be saved on the costumes of the three heroes — they would move only in vests. And pants, of course, you silly.
Star Wars: This would be the biggest multi-starrer ever made in the world. It would have all the stars of Bollywood and could be a never-ending saga of the quarrels, fights, tiffs and, of course, wars between the stars. Actually, this film may never be completed in India because there'll be so many wars during its shooting. Ravi Chopra should be the first and last choice for directing this epic Mahabharat of sorts!
Honey I Shrunk The Kids: 'Kid' stars like Aamir Khan and Govinda will be the ideal choice in a rehash of this film. Dimple Kapadia could try her hand at direction with this film because by shrinking the two kids, she would make sure that two of Sunny Deol's toughest competitors (as far as successes and hits in recent times are concerned) pose no threat to him. For Sunny's sake, Dimple could call the film Sunny I Shrunk The Kids.
Dirty Dancing: Jackie Shroff, Juhi Chawla and Sanjay Dutt have no competition for starring in this flick because nobody's dancing could be worse than theirs. There would be no character artistes in the film which will, instead, have at least a hundred dancers in its cast. It should be directed by choreographer Chinni Prakash so that he comes up once again with his dirty direction as in Ghoonghat. And the dances in this film should be choreographed by a regular director.
Gone With The Wind: Rahul Roy should actually turn a director with this rehash instead of with Mera Joota Hai Japani. He could as well star in his maiden directorial venture and narrate his own story and show the world how he was blown off by the wind after Aashiqui. His co-star of Aashiqui, Anu Agarwal, who is also 'gone with the wind', could try staging a comeback with this one.
– K.S. SANJAY & KOMAL NAHTA

Dream Merchant
DIWALI DAAWAT
Diwali was quite hectic for me, what with so many invitations for lunches, dinners, high tea and even breakfast. Well, I dreamt of exactly that — lunches, dinners, tea, snacks and breakfast. But I dreamt of feasting with my friends in the industry — at their homes one by one for three days till after Diwali.
Actually, this was the first time I had accepted invitations of the film people. And, oh God, was I impressed! I noticed that each star, star-producer and star-director has his own distinct style of showing off how filmi he or she is.
My first host was good old Dharam-ji. He said, he had got made special Punjabi fare for me and as we sat down, the aroma of chhole puri, aaloo paratha, sarson da saag and makai di roti filled the air in the dining room which was close to the Deols' kitchen. I was stunned with what followed when even while we were digging into the parathas, a server was late by a fraction of a second in getting the second helping. Dharam-ji's nostrils flared as he thundered at the server, "Kutte, kameene, apne apko Dharmendra samajhta hai kya, jo late aata hai. Ab main tujhe zinda nahin chhodunga, jalaakar raakh kar doonga." Just then, Sunny came running from his room and stopped Dharam-ji in the nick of time. "Nahin Baba, aap aisa nahin karenge. Yeh mera shikaar hai," shouted Sunny. The server could bear it no longer. He mustered all the courage and did a Sunny Deol, "Main khud chhod ke ja raha hoon. Is-se pehle main jab Rajkumar Santoshi ke wahan naukri karta tha, tab mujhe mili tareef, tareef aur tareef. Aur iss ghar mein, main sirf ek gunehgaar ban-ke reh gaya hoon. Har roz mujhe aap dono ki adaalat mein bulaaya jaata hai par faisla kuchh nahin hota. Bas, tareekh padti rehti hai, tareekh, tareekh, tareekh."
Even while the war was on, I slipped out, carrying the last paratha with me. I had a tareekh with Anil Kaproor for lunch. Even before me, brother Boney Kapoor had reached Anil's house. As we sat on the dining table, Boney and Anil almost started hard-selling me the lunch the cooks had prepared. "You will love the vegetable makhanwala," boasted Anil. "And the baked paalak, you will freak out on it," added Boney. "Deewana, lay the table," shouted out Anil. "First , tell Mastana to send jaljeera," interrupted Boney and, turning to me, remarked, "You must taste this jaljeera, we've got it from London." But what was this Deewana and Mastana, I asked the Kapoor brothers. "Oh," Anil tried to be modest, "it's just that ever since my Deewana Mastana has clicked, I've named my two cooks Deewana and Mastana. At one time, they were called Ram and Lakhan. Just then Mastana came with glasses of jaljeera, but was stopped by Boney. "No, no, take them in again – iss mein kesar kahan hai, kaju kahan hai, pistey kahan hai?", he asked. "You know", he explained to me, "there are no producton values in the jaljeera." What followed for lunch was just rich, rich food. I noticed that Anil and Boney weren't really forcing me to eat as much as they were coaxing me to listen to the songs of their new film. "Hit music, no?" Boney asked. I replied, "I need to hit the bed now after this kind of heavy meal."
Next on my list was upcoming villain Shadab Khan, son of late Amjad Khan. The cook in that household was, for some strange reason, called Sambhar. After exchanging the usual pleasantries, we sat down for high tea. Calling out to Sambar, Shadab began, "Arrey O Sambhar, kitne dosey banaaye re?" Sambhar shivered, "Sarkar, tees." "Khanewale teen, aur dosey tees, bahut na-insaafi hai," thundered Shadab even as Kaalia, Sambhar's assistant, began to lay the table. "Ab aayega mazaa khilane mein," saying thus, Shadab offered me the dosas and idlis as if he were pointing a pistol towards me à la Amjad Khan in Sholay. "Le, kha, kha," he continued. "Khila-khila ke marega kya?", I wondered.
I almost decided to cancel my dinner appointment with action master Ravi Dewan that evening. After all, how much could I kha kha kha in a day. But Ravi would hear nothing of it. So there I was in the company of Ravi, surrounded by cooks and servants, who looked more like stuntmen of Hindi films. As soon as I entered, Ravi Dewan stretched out his leg in my path so that I tripped over it and fell on my face. Smiling his best smile, Ravi said, "Hello, that's my style of wishing people 'Happy Diwali'. I hope, you don't mind."
Mind and me? Did I want to be bashed up? "No, no, Ravi, not at all. It befits your profession to greet people like that," I replied, rubbing at my right knee which had gotten bruised. Three servants, called John, Michael and Jack, came charging towards us and asked Ravi in chorus, "Boss, kya khaayega?" Then, turning towards me, they asked, "Bol bidu, malai mukka, gaazar ghoosa, thanda thappad, lachhedaar laat ya hajmedaar hathoda?" I was petrified, in tears and wanting to run for dear life. But sensing the terror written on my face — or was it all over my trembling body — Ravi laughed, "No, no, don't be afraid. My cooks call malai kofta as malai mukka, gaazar halwa is gaazar ghoosa…. "Phew! Even before I could recompose myself, I heard the sounds of falling untensils and cracking cutlery emanating from the kitchen. "Oh, don't worry, my cooks do a lot of tod-phod while cooking," beamed Ravi. Just then, a container of hajmedaar hathoda came flying from nowhere and landed on the dining table which had a metallic top. Even before I knew what was happening, containers and dongas, plates and spoons, all were 'placed' before us in the same fashion. "A flying start," Ravi blushed. And I rushed — home, of course, after surviving the dinner and forgoing the dessert of 'caramel bharta, izzat ka falooda and julab jaamun".
That night, I prayed for a better morrow. I reached Subhash Ghai's Cliff Tower for an early breakfast. The Ghai household greeted and welcomed me in true Indian style , applying tilak on the forehead and doing aarti. "So Indian at heart," I was muttering to myself even as Subhash Ghai began, "This dish is Chinese, this is Spanish, this is American, that one there is Roman, that's Mexican, and that one is Italian, the drink is Japanese," pointing to what he called a seven-course meal prepared by what the Ghais call Saat Saheliyan (who were khadee khadee on their feet since 4 a.m.). "Nothing Indian?", I asked Subhash-ji, as we merrily ate the breakfast and discussed the industry. "No," he replied, "you must think international if you want to be international." I couldn't figure out what he meant, so I thanked him for the lovely breakfast and got up to leave. "Ram, Lakhan," yelled Ghai. I almost expected to see Jackie Shroff and Anil Kapoor come scurrying out but instead, out came two guys in uniform, one carrying a box of saunf and the other, of elachi-laung.
Lunch at Ramgopal Varma's new home in Bombay was quite a revealing affair — for more reasons than one. Ramu let me in on the scripts of his new films. He had an all-female staff in his kitchen, all smartly dressed in the colourful Rangeela costumes of Urmila Matondkar. "It's so hot, I've asked them to wear less clothes," said Ramu unabashedly. At his house, on the dining table were laid a variety of salads and all of them, without any dressing. "You know, I hate dressing for my salads and my heroines," Ramu remarked with a twinkle in his eye, which I could hardly see because the room was dimly lit like one of the many sets in his films. The names of the various dishes were quite revealing too. There was Sexy Simla Mirch, Lusty Lobsters, Oomph Aloo Dum, Nangi Naan, Urmilee Udad dal, Reshmi Rice, etc. When we were ready for dinner, Ramu gave the order — "Action," he shouted. And a musical voice came sailing in the air. "Aayee re, aayee re, shor machaa mat, aayee re." And sure enough, four beautiful girls came dancing from the kitchen, the casseroles neatly balanced on their wigs. We had a generally good feast and I just didn't know how time flew with Ramu.
Tea that evening was with Govinda. I reached his ashram-like home at the appointed time and was told, Govinda would be late in reaching home. Anyway, while I waited, I was taken care of by a roly-poly person who looked like David Dhawan but, of course, was the chef there. As Govinda later told me, "He is Cook No. 1. And I have a Servant No. 1." Like Govinda, his servants and cooks were also Late Lateefs. For, evening tea came at 9 p.m., which forced me to cancel my dinner with Nana Patekar.
So it was lunch the next day with Nana. No handshakes, no exchange of pleasantries, straight down to business — that was Nana's style. The gravy of aaloo mutter paneer was particularly tasty, and I asked for a second helping of it. By mistake, Nana passed me the bowl of bhindi. When I told him to pass the other bowl, one of his cooks, standing nearby, took offence. He took a spoonful each of the gravies of aaloo mutter panner and bhindi and, mixing the two, thundered, "Aloo mutter paneer ek Hindu ne banaya hai aur bhindi, maine, ek Muslim ne, Par isme koi fark nahin. Dono ko maine mila diya, ab fark bataiye, Kalamwale bhau, fark bataiye." I didn't know what to say even as Nana started laughing hysterically when he saw my perplexed face. I don't know whether I had bhindi after that or aaloo mutter paneer but I did hear the cook aaloo muttering to himself about nothing in particular.
The last on my host list were Amitabh and Jaya Bachchan. I made it a point to reach their new residence in time and was mighty impressed that the Bachchans were ready and waiting to receive me. "What will you have for dinner?" asked Amitabh in his deep unmistakable voice. "Oh, whatever there is for dinner. What do you have tonight?", I asked. Amitabh looked at me as if I had asked the wrong question. He replied, "Mere paas soup hai, roti hai, dal hai, paalak paneer hai, rajma hai, pulao hai, mithai hai, salad hai, aachaar hai. Tere paas kya hai?" Almost in the same breath, I replied, "Mere pas bhookh hai!"
Anyway, dinner was laid on the table and what impressed me the most was that everything was served in our plates in limited quantity, unlike in the other homes I had been visiting. I told the Bachchans, with what I was impressed, and Jaya explained, "We are a limited company and if we don't set an example by serving limited, who will?" I nodded in agreement and was thinking about the other areas in which their limited company had set examples. I couldn't think of any, so I let that be. The food was indeed really tasty but there was no cook in sight, so I presumed, Jaya had prepared it herself. "No, no, not at all, I don't cook," laughed Jaya. "Ever since we've started ABCL, where's the time to cook," she continued. To which Amitabh added, "We invariably don't have to cook at home or even order food from the restaurant. Generally, someone or the other from my innumerable fans gets lunch or dinner every day." I queried, "But don't you get tired of eating outside stuff every day?" "Not at all," replied Amitabh. "After all, we are a public limited company. Public ka maal khaane mein mazaa hi kuchh aur hai!"
– Komal Nahta

You Can Change The Grim Scene
Diwali is the festival of lights. But the lights in many of our studios are off. Shootings are being cancelled left, right and centre. Ditto for song recordings. The scene has not changed since August.
All the problems have hit the film industry simultaneously: Gulshan Kumar's murder; attempts on the lives of Subhash Ghai and Rajiv Rai; threatening phone calls from underworld dons, to collect extortion money; films flopping; financial crunch. Never have the problems been so many and so acute and never have they come together like that.
Veterans in the industry are perplexed and swear, they've never seen anything like that since the time they've entered this industry. In short, our industry is passing through the worst-ever crisis.
But the film industry has withstood all kinds of difficulties and hardships. It has surmounted the oppositions of floods and storms, of burning summer heat and chilling winter cold, of cricket matches and college/school examinations. This crisis, too, cannot remain forever. But this time over, we will have to work harder to overcome the turbulent times, else the industry may collapse.
And who are the "we"? All of us, each one of us. The main reason why the problems refuse to leave the industry is that everybody is talking about them, expressing their concern, revelling in indulging in self-pity and self-sympathy, but nobody is doing anything concrete to improve the situatioin. Perhaps, each one is thinking, what can I do alone. In the process, nobody is taking any step towards making the industry a better place to be in.
Yes, it is unfortunate that although everybody is seized of the situation, nobody wants to take the lead in bettering it. Our heroes and heroines don't want to think of contributing their mite by reducing their unrealistic prices to more realistic levels. They are, perhaps, scared that their heroism will take a beating if they do so, but it's not at all so. On the contrary, he would be the real hero who would announce a price reduction. Out technicians, too, need to revise their prices.
Producers have to give up their greed and price their films in tune with their budgets. Distributors need to show restraint while buying films so that there is healthy competition among them and not cut-throat competition between them. Our writers must put on their thinking caps and come up with fresher ideas rather than churning out the same fare in film after film. They must respect the audience's intelligence and not take them for granted.
If all the above people contribute in their own little way, the film industry can get back its lost glory. A number of foreign companies are keen to invest in the film industry in Bombay. At least for their sake, we should make a concerted effort to put our house in order. Otherwise, the foreign investors might run away from the industry even before entering it. Sounds harsh as a Diwali note? After all, Diwali is the festival when we all pray to Laxmi, the Goddess of Wealth.
Let's all then pray this Diwali to Goddess Laxmi and seek her blessings for a comfortable financial scene in the new year. And after having thus prayed, let us all do our bit to ensure a safe and secure financial scenario in our dear film industry.
– Komal Nahta
INFORMATION MEETS
"The more films you buy, chances are, the more you will cry."
– SUNIL BANSAL
Komal Nahta
There was a time when almost every big film used to be distributed in Rajasthan by one distribution office — Jai Pictures Pvt. Ltd. The business set up by dad O.P. Bansal was being handled efficiently by sons Rajprakash and Sunil. Then dad applied the brakes. His experience cautioned him that the prices which producers were demanding for films were unrealistic and suicidal. Enthusiastic Rajprakash and Sunil saw reason in the experienced remarks of their father and they reduced their buyings. Drastically. They continued to look after the empire set up by their father but refused to be baited by flashy muhurt parties and star names in projects. Even today, while distributing selected films, the Bansal family waits hopefully for normalcy to return. And when it does return, so will they.
Sunil Bansal was in Bombay recently. In this interview conducted at the Bansals' beautiful new residence in Bombay at Versova, Sunil speaks about business today, film prices, exhibition scenario (the Bansals also own and control cinemas), their action plan and other things.
What is the ratio of Rajasthan territory as a percentage of the main circuits?
– It varies from producer to producer and distributor to distributor. By and large, it is 20%, but in the case of films of some genuine and good banners, 25% is justified. But a price over 25% of the main circuit's price is not justified under any circumstances.
If that is so, how are films being sold for Rajasthan at more than 25% of a major circuit's price?
– When buyers are in competition with one another, a producer can demand any price. Actually, producers who are selling their films at more than 25% are playing a short-term game, they are not thinking about what will happen when their overflow becomes due. A distributor who pays more than the justified price will never be honest in giving his producer overflow. So, in a way, that producer has sold off his film outright to the distributor. What surprises me is that even a respectable production house like that of Gulshan Rai sold its Gupt at more than the justified 25% price.
Do you say this because you've released films of Gulshan Rai earlier but not GUPT?
– No, it is not that. Even today, Gulshan-ji and we have very good relations. We may buy his films in future too, you never know.
So you've kept the doors open for Gulshan Rai's future films.
– Who are we to close the doors? We like dealing with Gulshan-ji, he's a God-fearing and nice man. And Rajiv is a talented director.
Coming to your territory again, why is Rajasthan not as 'hot' as it used to be some years ago?
– It's because all the good and regular distributors of Rajasthan are waiting and watching. They'd rather wait for normalcy to return. Only then will they start buying again. The prices in the past one or two years have been crazy and beyond our understanding. It is because of false prices that cases like those of Mohabbat and Mr. & Mrs. Khiladi arise. Mohabbat was being offered by the producer, for Rajasthan at 32 lakh but had ultimately to be sold for 20. Similarly, the makers of Mr. & Mrs. Khiladi were asking for 60 originally but had to remain content with 31 finally.
Why has your concern almost stopped buying films?
– Because films prices are touching the sky. Either we commit to pay the sky-high prices first and raise our hands helplessly at the time of delivery or simply wait for things to normalise. We'd rather wait. Let the artificial prices of today come down. We'll strike back then. We've been in this line for 40 to 45 years and we intend being here for another 100 years!
So you feel, the current scenario is a passing phase?
– 101%, it is a passing phase. Genuine producers will always be in need of genuine distributors.
What kinds of films are better bets in Rajasthan?
– There's nothing like kinds of films. Those which fare well in the rest of the country, also do well in Rajasthan. Like, for example, Raja Hindustani has been a universal hit. But yes, very modern films like Rangeela do better business in Bombay and South. A film like Maachis must've done a business of 7 or 8 lakh in Rajasthan as against about 30, I believe, it has done in C.I. It was tax-free in Madhya Pradesh but that advantage apart, the disparity in business of the two circuits is vast. Anyway, the ratio of loss in Rajasthan is going up day by day. This is due to heavy prices of films and the increasing theatre rentals.
Why are cinemas of Rajasthan not so sound-conscious? That is to say, why are they not installing Dolby and DTS sound?
– It's mainly because the Rajasthan government does not allow cinemas to levy a tax-free service charge, as in other states. All the same, Premprakash cinema in Jaipur has already installed Dolby digital sound, and Raj Mandir has also installed it with Dil To Pagal Hai. In Jodhpur, Girdhar Mandir and Nasrani cinemas have Dolby sound, and in Udaipur, Chetak has installed it with Dil To Pagal Hai. If the response to the cinemas which have newly installed Dolby sound is good, more cinemas may be inspired to go in for Dolby. After all, it is a costly affair.
How is the Rajasthan exhibition scene today?
– For distributors, the scene is becoming very, very dirty. It's an exhibitors' market today. Exhibitors have formed pools in about 40% of the centres. That's also one reason for distributors not buying films today because where they used to get 2.5 to 3 lakhs from a centre, today they are getting 65 to 75 thousand only. Banswara, Gangapur city, Chomu, Sanganer, Bikaner…… the list of centres which have exhibition pools is long. Kota, too, had a pool but not now.
Who are the hot favourites of distributors and exhibitors, among stars?
– Sunny Deol, Shah Rukh Khan, Govinda, Ajay Devgan and Sanjay Dutt are the favourites. Shah Rukh is liked more in 'A' class centres. Among heroines, Karisma Kapoor, Kajol and Manisha Koirala are favourites. Any way, Rajasthan is hardly a heroine-oriented circuit. For that matter, no part of India is.
Has the risk factor of distributors increased considerably these days?
– It has increased tremendously. Sometimes, two or three bad films together can prove to be disastrous for their distributor.
Does it mean that Rajasthan trade is surviving on new blood?
– Yes. As it is, this industry has a boon of being able to attract young blood and new money.
Who is the young blood and new money today in Rajasthan?
– Bobby Anand and Baba Ramdeo.
It is said that films distributed by you run in a limited number of centres only. Why is it so?
– This is a myth. Our films run at 80% of the centres. They are not screened in the balance 20% centres because either the cinemas there are defaulters or non-members or are such that they'll book the film for one cinema and screen it in four or five or simply run away with the print. Just last year, we managed to seize no. 2 prints of several films of ours like Jeevan Ek Sanghursh, Ram Lakhan, Khal-nayak and DDLJ. Had our films been running only in limited centres, would we be able to do business?
Why has the CCCA not been able to effectively check the menace of no. 2 prints?
– The CCCA is doing its best. Actually, this matter should be taken up by the respective producers. They should take an undertaking, at the time of delivery, from all their distributors that such-and-such print numbers will remain with them. Then, say, every six months, producers should undertake physical checking of the prints with the distributors. Sunny Deol and Yash-ji did it for their Barsaat and DDLJ respectively and, therefore, the no. 2 prints of these films did not surface in the market for long. This is a menace to be fought jointly by the producer and distibutor.
What has been the percentage increase in business in your territory in the last three or four years?
– Proportionately the same as in other circuits, maybe a little less because no new cinemas are coming up in Rajasthan, and the state government has no tax-exemption policy like in other states.
Finally, why are distributors always crying?
– Do you see me crying? (Laughs loudly) Frankly, today, film prices have gone so high while the ratios of successes and flops have not changed. So the more films you buy, chances are, the more you will cry…..