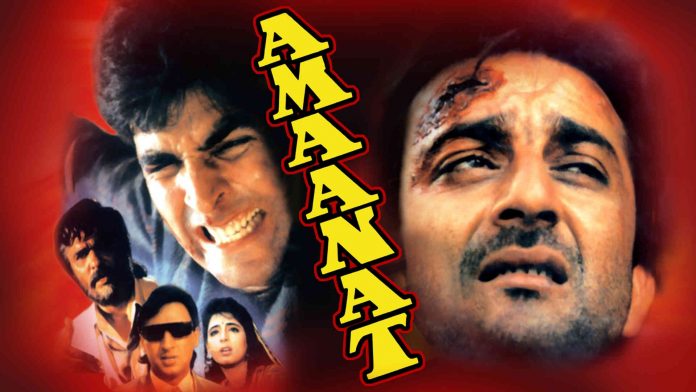 (From our issue dated 15th October, 1994)
Cinemakers Incorporated's Amaanat (A) is the story of a brave village youth who wants to save the villagers from the clutches of the tyrant landlord. The village has no drinking water and all energies are diverted towards installing a tube well. Constant references to the tube well and shortage of water make the film look dated.
It does not move on a single track. There are several stories within the main story as a result of which, there's barely anything to sustain interest. Screenplay is ordinary and so are the dialogues.
Sanjay Dutt does fairly well. His dances are excellent and, for once, don't look laboured. Akshay Kumar has a much less significant role, looking to his current popularity. He is alright. Heera Rajgopal is okay. Kaanchan does well. Kiran Kumar (in a double role) and Gulshan Grover are routine. Mukesh Khanna's acting and dialogue delivery are getting stereotyped. Farheen (special appearance), Paintal, Ram Mohan, Neelam Mehra, Navneet Nishan, Bhushan Jeevan, Mack Mohan, Satyen Kappu, Madhu Malhotra, Sudhir Dalvi and the others lend average support.
Direction is functional and lacks the fire. Bappi Lahiri's music score is spirited. 'Tujhse milna milkar chalna', 'Din mein kehti hai', 'Ladunga ladunga', 'Money Money' and 'Ho jaane do' are very well-tuned and also have lively picturisations. Action is devoid of thrill. Photography and other technical values are good.
On the whole, Amaanat does not have much to entertain. Its reasonable price and good opening (at many places), besides its music, are the only points in its favour.
Released on 13-10-'94 at Dreamland (matinee) and 7 other cinemas and on 14-10-'94 at 23 other cinemas of Bombay thru ABC Films. Publicity & opening: very good. …….Also released all over. Opening was not upto the mark in Rajasthan. 1st day Jaipur 1,09,782/- on 4 prints.
DO YOU KNOW?
* K. Pappu recorded an additional song for his RAGHUVEER at Sahara on October 12 and 13, for which he had eleven top electronic instrument players participating. The song, rendered by Alka Yagnik, Jolly Mukherjee and chorus, took two days to record. Music was composed by Dilip Sen Sameer Sen.
* HUM AAPKE HAIN KOUN..! has created a record by collecting 1,37,584/- in 10th week at Relief, Ahmedabad. It has also created a record by collecting 1,71,613/- (gross) in 10th week at Rajshri, Gandhinagar.
* HAHK..! has created a Bhavnagar district record by collecting 84,531/- in 7th week at Galaxy, Bhavnagar, in spite of Navratri festival. Total for 7 weeks: 14,22,492/-.
* HAHK..! has created a record by collecting 82,614/- in 9th week (21 shows) at Galaxy, Jamnagar.
* HAHK..! has created a record by collecting 70,342/- in 10th week (14 shows) at Galaxy, Rajkot.
* HAHK..! has created a record by collecting 2,04,374/- in 10th week at Mangala, Pune.
* HAHK..! has created a record by collecting 91,924/- in 9th week at Usha, Kolhapur.
* HAHK..! has yielded a distributor's share of 13,21,149/- in just 9 weeks from Novelty, Lucknow, which is equipped with Ultra Sterophonic sound. It has surpassed the previous U.P. record held by MAINE PYAR KIYA which had yielded a share of 12,95,253/- in 31 weeks' run at the same cinema.
* HAHK..! has created a new record by collecting a total of 7,47,463/- in 6 weeks at Prabha, Bareilly. 6th week's collection: 1,17,683/-.
* HAHK..! has created a record by drawing all shows full (3,37,442/-) in 1st week at Gagan, Amritsar.
* HAHK..! has created a record by collecting 3,82,954/- in 1st week at Aarti Palace, Ludhiana.
* HAHK..! has created a record by drawing all shows full (2,38,230/-) in 10th week at Hind, Calcutta. It has also created a record at Menoka, Calcutta by collecting 1,27,540/- (increased capacity) in 10th week. Its collection at Jayanti, Barrackpore in 6th week is 92,177/-, which is better than previous weeks and a record.
* HAHK..! has created a record by collecting 2,85,862/- in 6th week (28 regular and 6 morning shows) at Regent, Patna.
* HAHK has created a record by collecting 97,378/- in 10th week at Panchsheel, Nagpur. It has also created a record by collecting 1,01,014/- in 10th week at Smruti, Nagpur. Total (10th week) from 2 cinemas: 1,98,392/-.
* HAHK..! has created a city record by collecting 1,07,493/- in 10th week at Chitra, Amravati. This is better than the collections of each of 7th, 8th and 9th weeks. Total for 10 weeks: 10,42,766/-; share: 6,77,526/-, city record.
* HAHK..! has created a theatre record by collecting 48,075/- in 10th week at Vasant, Akola. Total for 10 weeks: 6,16,643/-. Share: 3,55,314/-.
* HAHK..! has created a record by collecting 99,332/- in 6th week at Raj, Raipur.
* HAHK..! has created a city record by collecting 1,13,031/- in 5th week at Vandana, Jabalpur. Total for 5 weeks: 6,59,938/-.
* HAHK..! has created a city record by collecting 72,387/- in 4th week at Jayant, Chandrapur. Total: 3,49,784/-, record.
* HAHK..! has created a city record by collecting 1,20,467/- in 9th week at Rambha, Bhopal. Total: 12,03,701/-.
* HAHK! has created a record by collecting 2,62,542/- (full) in 10th week at Raj Mandir, Jaipur.
* HAHK..! has created a city record by collecting 1,60,048/- in 1st week at Mayur, Kota. There were unprecedented crowds to witness the film.
* HAHK..! has created a theatre record by collecting 93,927/- in 1st week at Plaza, Ajmer.
* HAHK..! has created a record by drawing all shows full (4,60,435/- gross) in 10th week also at Maheshwari, Hyderabad.
* EENA MEENA DEEKA has created a city record by collecting 13,222/- on the opening day at Kanwar Talkies, Satna (C.I.).
* MOHRA has yielded a distributor's share of about 95,000/- in 13 weeks at Asha (matinee), Barsi, which is a record . Collection: 2,02,534/-.
MIX MASALA
FAN-TASTIC
Madhuri Dixit has never received as much fan mail as she has been receiving after Hum Aapke Hain Koun..!. It may sound unbelievable but it's true – currently, the actress is receiving letters not in tens or hundreds, but a sack-full every day! Hum aapke fans hain..! And so many hain..!!
NO DEAL ON 13TH
Number '13' is considered unlucky by many. Ramesh Taurani of Tips is one such person who avoids negotiating or striking any deal on the 13th. Even if the 13th happens to be the auspicious Dassera day.
YOU ASKED IT
Which is the strongest film association?
– The Central Circuit Cine Association. The Association of Tamil Nadu distributors has also become very strong these days.
Why has film production gone down these days?
– Because many filmmakers have migrated to the small screen.
If TV is the future, what is the big screen?
– It is the past, the present and the future – and will always be so.
How many of the numerous films announced for Diwali release will finally make it?
– Four or five.
M.G. HASHMAT DEAD
Writer-lyricist M.G. Hashmat expired last week at his New Bombay residence following a heart attack. He was 60 and is survived by a son. He had written a number of films like Kora Kagaz. He also wrote songs for a great many films. Bhagyawan was his last lyrical effort in films, and My Dear Ghost, in TV serials. He used to write all the lyrics of Sohanlal Kanwar's films.
'DARR' TAX-FREE IN MAHARASHTRA
Yash Chopra's Darr, which won the National Award in 1993, has been granted 100% tax exemption in Maharashtra. It has been released at tax-free rates in Bombay this week.
DHARMENDRA, BOB ANTHONY INJURED
Dharmendra and Bob Anthony injured themselves during the picturisation of an action scene for Pranlal Mehta's Mafia on 14th October at Verma stud farm. Bob Anthony had to be administered stitches on his hand. It was to have been Dharmendra's last shooting day for Mafia. The incomplete work will be shot today (Oct. 15).
SHARAT SAXENA'S HAND FRACTURED
Sharat Saxena fractured his right hand on 11th October in Hyderabad during the shooting of Guddu Dhanoa's Gundaraj.
DINESH GANDHI'S DAUGHTER ENGAGED
Engagement ceremony of Aarti, daughter of financier Dinesh Gandhi, with Vikas was held on 13th October at the Catholic Gymkhana in Bombay. It was attended by film and diamond trade personalities. The dinner served was delicious.
ARJAN LULLA'S SON TO WED
Sunil Lulla, son of Overseas distributor Arjan Lulla (Jupiter Enterprises), will wed Anjali (named Krishika after marriage) on 20th October. A reception to celebrate the wedding will be held the same evening at Centaur Hotel (Airport), Bombay.
KAMAL BOSE DEAD
Eminent cinematographer Kamal Bose passed away in Bombay at the Jaslok Hospital on 9th October following a brief illness. He was 80. He had suffered a stroke on 30th September and was admitted to the hospital. He slipped into a coma and died on 9th.
Kamal Bose had cinematographed a number of films. Among his notable films are Do Bigha Zameen, Sujata, Bandini and Devdas. A celebrated photographer, he had a long association with Bimal Roy.
He had been given the President's award for excellence in cinematography.
Kamal Bose is survived by his wife, a daughter and two sons.
ATTEMPT TO KILL SHATRUGHAN ABORTED
Dawood aide Chhota Shakil entered into a contract for Rs. 10 lakh with a gang of contract killers of Bombay to assassinate Shatrughan Sinha in April this year, but the plot was aborted. This was revealed by joint police commissioner of Bombay, M.N. Singh, at a press conference in Bombay on October 14.
BASU BHATTACHARYA ELECTED IFDA PRESIDENT
Basu Bhattacharya has been elected president of the Indian Film Directors' Association (IFDA) for 1994-95. Opender Chanana and B.R. Ishara are the vice presidents, and Madhusudan, general secretary. Raj Wadhwa, Paresh Nanda and Kedar Vyas have been elected joint secretaries. S.B. Sharma is treasurer.
The other committee members elected are Ashok Jethmalani, Apurbo Chakraborty, Chander Mohan, Gandhi Satya Paul, Gorakh Tripathi 'Gorakhpuri', Ravindra Tej Nath Zar, Sudarshan Kumar and Tarun Mohammad.
ONE KILLED IN BANGALORE CINEMA BOMB BLAST
A bomb blast occurred in Galaxy cinema of Bangalore on 11th October, killing a newly married man, aged 25. His bride and friend, who were with him, were injured. It is not clear whether the blast was linked to the wave of violence that has swept Bangalore in protest against the introduction of Urdu news on Doordarshan.
An unexploded bomb was found at Nartaki theatre in Bangalore the same day.
Collections in all cinemas of Bangalore have been affected following the bomb explosion.
PEOPLE…..
Are Talking About
* The 'Khatra Khatra' song of N. Chandra's Beqaboo. They predict, it will be a super-hit number.
* A song from Vinod Khanna's Himalayaputra, another potential chartbuster.
* The fantastic initial Suhaag is expected to take.
PEOPLE…..
Are Wondering About
* Who will be the new heroine in Subhash Ghai's Shikhar. She has not been finalised so far.
* Which of the films scheduled for Diwali release will be postponed. Obviously, all the six or seven or eight films cannot be released on 4th November.
PEOPLE…..
Are Confused About
* What the actual all-India business of HAHK..! would be. It can touch 35 crore or more, but not less!
* Who will come in place of Sanjay Dutt in Subhash Ghai's Trimurti. Sunil Shetty, Sunny Deol…..? Nobody knows.
LIBERTY , BOMBAY CASE HEARING ON MONDAY
The Bombay high court on 12th October adjourned to Monday (Oct. 17) the hearing of the writ petition filed by Liberty cinema, Bombay, against the Maharashtra government's circular which restricts the right of cinemas to unilaterally increase their nett admission rates. New Excelsior cinema has filed a similar petition and the division bench of Justices Mr. Pendse and Mr. Jhunjhunwala will hear both the petitions together.
The judges did not pass any order on 12th but said that the two cinemas could continue charging the public the old rates (which existed before the government ordinance and circular came into force). They, however, clarified that the cinemas would have to mention on the face of the admission tickets that the public would be entitled to a refund, if due (after the court order). The two cinemas would have to pay entertainment tax to the treasury at the old rate of 100%.
Therefore, Liberty and New Excelsior cinemas, which continue to charge the old admission rates, are collecting tax at 100% of nett.
In the meantime, a delegation of the industry will meet the Maharashtra chief minister, Sharad Pawar, at Mantralaya on 17th October to brief him about the losses the government's ordinance on entertainment tax has entailed on the cinemas which are following the compounded system of payment of entertainment tax. It is likely that such cinemas may be allowed to abandon the compound tax scheme forthwith if it suits them.
Karisma Kapoor Replaces Juhi in 'Ajay'
Karisma Kapoor has been signed in place of Juhi Chawla in Shree Krishna International's Ajay. Sunny Deol plays the male lead. Producer Suneil Darshan will himself direct the film. It will be cinematographed by W.B. Rao. Music: Anand Milind.
'Karan Arjun' Complete
Following the conclusion of the marathon 25-day shooting schedule at Samod near Jaipur, the entire shooting of Film Kraft's Karan Arjun is complete. Producer-director Rakesh Roshan returned to Bombay on Oct. 11.
The film stars Raakhee, Salman Khan, Shah Rukh Khan, Mamta Kulkarni, Kajol, Ranjeet, Amrish Puri, Arjun, Asif Sheikh, Jack Gaud, Ashok Saraf, Johny Lever, Dinesh Hingoo, Suresh Chatwal, Kailash Vohra, Rekha Parmar and Anil Nagrath. Written by Sachin Bhaumick and Ravi Kapoor, it has music by Rajesh Roshan, lyrics by Indivar, dialogues by Anwar Khan, photography by Kaka Thakur, editing by Sanjay Verma, sound by Navin Zaveri, dances by Chinni Prakash and action by Bhiku Verma.
Doordarshan To Reign In Coming Years!
There are some 30 TV channels currently available in India today, and this number is expected to rise to 50 within the next one year.
Addressing the Rotary Club of Bombay earlier this week, Mr. Chawla, joint secretary, Information & Broadcasting ministry, disclosed that among the new satellites due for immediate launch are Apastar2, Panamsat4 and AsiaSat2, all with a Pan-Asian footprint. All major global networks like NBC, ABC, ESPN and Disney Television will be available in India, he added.
Where will Doordarshan figure in this scenario? "Doordarshan, which has the largest terrestrial network in the world, with over 577 transmitters and potential audience of 250 million viewers, is very much in the business of meeting the challenge from the skies," he stated emphatically. "After the successful launch of the popular Metro Channels (DD2) last year, Doordarshan is ready to launch DD3, an upmarket channel, on October 15. DD is also running ten regional channels through INSAT 28."
There is a lot more in the pipeline. An international service is being planned. And then a Hindi movie channel has been announced.
Mr. Chawla painted a futuristic vision of the television revolution now sweeping the world. "Today, everyone is talking about the great direct broadcast satellite (DBS) revolution," he said. "But DBS is just the beginning. The next step will be multimedia. A composite television set will be wired to computer databases, pay TV channels, and will also receive stereo broadcast on FM. This will be possible in the next two years."
By the end of this century, we will have hi-definition TV with a wide screen, producing images that will rival 35mm film in quality. These sets will be wall projection units, either liquid-crystal displays or light emitting diodes. The size of the screen will have no limitation.
"There can be no denying that the nineties belong to the couch potatoes, and their favourite toy is the remote control," he said. "In the great power shift, there can be nothing more awesome than the hidden might of the channel switcher. With a flick of button, a name, a face, a product, even a nation can be sent into the dark recesses of unwatched channel space. This is the ultimate domination of television."
Token Fast By Tamil Nadu Industry Producers, Actors
All production activities in Madras came to a halt on 10th October when producers, directors, artistes and cine employees observed a day's token fast in Madras, demanding free trade in the industry.
The immediate cause of the fast was a "red circular" issued by the distributors' association, banning the exhibition of the Tamil film, Kadhalan, produced by Kunjumohan. The producer had sold the video rights before the film was released to the distributors and hence the ban.
The fast was inaugurated by Sivaji Ganesan in the premises of the South Indian Film Chamber of Commerce at 8 a.m. and was called off at 1 p.m. following the state government's assurance to resolve the dispute in 15 days. The state information secretary, Mrs. C.K. Gariyali, has issued a directive, asking the distributors' association to immediately withdraw its red circular. Its has advised against any section taking unilateral action. Kamal Haasan announced the directive signed by Gariyali. Director K. Balachander called off the fast.
Among the others who were present at the SIFCC premises where the fast began, were actresses Khushboo and Sukanya, director Bharati Raja and former SIFCC president P.K. Rajaraman.
Kadhalan, the film in question, was not allowed to be exhibited in Madurai and Ramanathapuram regions. Bharati Raja told the gathering that the issue of video rights related not just to Kadhalan but to other Tamil films too.
3-E
Education-Entertainment-Enlightenment
Goodbye Piracy?
Ten weeks have elapsed since the release of Hum Aapke Hain Koun..! and still, no video cassette of the film has surfaced in the market. The Venus people, too, have not yet released the video cassettes of their Main Khiladi Tu Anari. Nor have camera copies come out in two weeks. Seems, even pirates have given up the thought of bringing out illegal video cassettes.
Youthful Team
Subhash Ghai these days is a picture of excitement. He is thrilled with the way the script of his Shikhar is shaping up. And he is excited about the muhurt he is planning at the Golf Club in Surajkund which is on the Delhi-Haryana border. Revealed Ghai, "The government has volunteered to give me 40,000 armymen for shooting. My film deals with the army." In Shikhar, Ghai would generally be dealing with all youngsters — "below the age of 33", to quote Ghai. His music director, A.R. Rahman, writer, Anjum Rajab Ali, cameraman, Binod Pradhan, and art director, Nitin Desai, are all less than 33 years of age. Time will tell how this young team will scale the mountainous path and reach the shikhar.
Old Is Gold
One song of Salim's Baazi — 'Dhire dhire woh hamare dil ke mehman ho gaye' — has become very popular. And although it is written by Majrooh Sultanpuri, lyricist Qamar Jalalabadi is thrilled about it. It's because Qamar had written a similar mukhda years ago for Filmistan's Hum Kahan Ja Rahe Hain. The song was 'Rafta rafta woh hamare dil ke mehman ho gaye'. Majrooh made it a point to telephone Qamar Jalalabadi and tell him that he had used the latter's mukhda in the Baazi song.
Film Complexes
South's press baron and filmmaker Ramoji Rao's film complex in Hyderabad is nearing completion. Spread out on a land admeasuring 40,000 acres, the complex will be the only one of its kind in Asia. It houses studios, recording and dubbing rooms, permanent sets, laboratory etc. as well as a five-star hotel.
If Ramoji Rao has nearly completed his film complex in the South, Subhash Ghai is finalising plans of his film city in Haryana in the North. Ghai also plans to make it lavish and all-encompassing. And then, in the years to come, you might just find Bollywood deserted. Bombay producers may prefer going to the South/North with their scripts and coming back to Bollywood with the release prints from there.
Sonali's 'Honey Honey' Dance
If there's one song which has caught the fancy of ace choreographer Saroj Khan, it is the 'Honey Honey' number of Pravin Nischol's English Babu Desi Mem. Picturised on Sonali Bendre, it has the potential of becoming a rage, according to Saroj Khan. Says she, "I used to fire Sonali when she wouldn't get the tough dancing steps correctly on the sets, she used to even cry. But the effort, the girl has put in is remarkable. She will win accolades for that song, mark my words." Marked!
Hindi Films, English Titles
First came Jurassic Park. Universal Soldier followed. The third in line is Speed. Interestingly, all the three English films have been/are being released in Hindi under the same title. The fourth film is likely to be the animated film, Alladin. Even that will not have a change of title in Hindi.
'HAHK..!', 'Lamhe' In English
Like Maine Pyar Kiya, the Barjatyas will also be dubbing Hum Aapke Hain Koun..! in English. Although MPK did not fare well in its English version anywhere except in the West Indies, the Barjatyas will go ahead with the English dubbing of HAHK..! too. They are, however, planning to retain the Hindi songs, in the English version. In MPK, even the songs had been dubbed in English. Yash Chopra is also contemplating dubbing Lamhe in English.